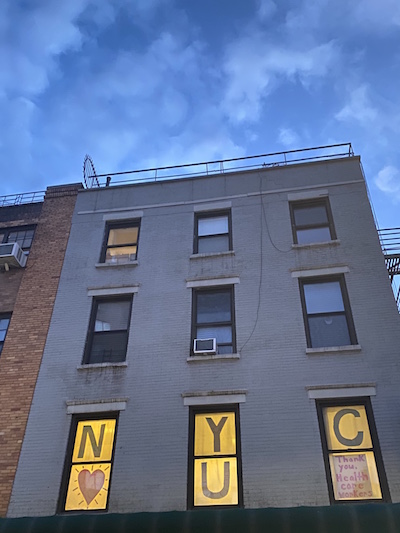 BY RANIA RICHARDSON | Ben G. has been teaching first grade students at a public school in Brooklyn for two years, but he has 19 years of experience in the field. In March, COVID-19 precautionary protocols compelled educators to leave the classroom and teach children remotely. Chelsea Community News spoke to Ben about how things are going.
Rania Richardson: Hi Ben. How are you doing?
Ben G.: I'm safe and healthy. The first three weeks of adjusting to remote teaching was really challenging, and socially, getting used to being alone a lot. I think I'm in a groove now where things are manageable, relatively.
Rania: Where are you now?
Ben: I live in Chelsea, in a 450 sq. ft. apartment. Half my living room is set up as a classroom with a library. My apartment is over an avenue and I've put a different letter in each of my six windows to say, "NYC 'heart' U" and also "Thank you, health care workers." The 7pm clapping applause here has been really sweet.
Rania: What is lost in not going to a brick-and-mortar school?
Ben: Beyond the academic content, students are learning how to socialize, how to learn with others, how to use resources, how to take turns. So much of what students learn is through their interactions with each other. The students are learning differently, which has advantages and disadvantages.
Rania: To teach, you use live video meetings. How does that work?
Ben: I can see all the students and they can see each other. I can present material, share my screen, and guide them through activities. I can unmute individuals to call on them one at a time. They have to all be on mute otherwise it's impossible to teach. They'll all be talking or you hear a dad in the background making a smoothie with the blender on.
Rania: What are the obstacles in remote teaching?
Ben: One concern for me now is that there's a gap in accessibility and resources. Some families have a printer, some don't. Some have iPads and some had to get basic laptops from the school. Any family in New York City who doesn't have a computer can apply to get one from their local public school. In my classes, a significant percentage of families had to request a computer. One family does not have computers because they want to minimize screen time, the others don't have the means. Some parents are working at home, two jobs and some are unemployed and have one kid and can give full attention to them. Other families have au pairs or live-in nannies with one parent working and the other available.
Rania: So it's not just a matter of income inequality right now?
Ben: That's right. One mother is working from home now. She is a single parent with three young children who have schoolwork to do. She's raising them and has to do another job!
Rania: It sounds like this highlights disparities.
Ben: Who's getting access to what? The concern with remote learning for me is that some students are learning more of the academic content. They have better access because of their home situation. Others have very limited access and don't have the same quality.
One of the beautiful things about public schools is that children are supposed to have access to everything, regardless of their situation or physical abilities. It's supposed to be guaranteed. When we're in the classroom, it's the opposite of what we have now. Once students step into the classroom they come with their experiences, but it's your responsibility as a teacher to ensure that everyone is learning in whatever way makes sense for them. In remote learning, it's very difficult to do that, at least at this point.
Rania: Can you tell how well they are learning?
Ben: It's extremely difficult to know all the time. I don't know what the process looks like for the student right now. I can't tell if it takes someone two hours to do an assignment or if it takes 20 minutes, if they've been sitting alone with the parent who is there to dictate, or if they're just sitting alone. It's hard to assess without live teaching. In some cases they seem to be incorporating the information even better at home. At school, you're responsible for an entire classroom of students, so you do your best to pair them up, you do small work groups, and you review things. At home, there may be parents there to reinforce the content, knowing exactly what you're teaching and how you're teaching it. For example, some students get to spend a lot of time reviewing high frequency words or phonic sounds that we're learning for the week. Some parents put signs up around the house with words that have those sounds in them. I can do that in the classroom, but it's not always as individualized.
On the other hand, there are some students who are not internalizing any of the information, which is made clear when I do my check-ins or "quizzes." I'll have them writing words, do a dictation or give them a math problem. Some of the kids are not getting it. What's interesting is that the kids who are really strong academically in a certain subject are not necessarily showing that they're strong at home in that subject, and some kids who are usually struggling are getting it done, but it's really hard to tell how much is having the parent there to help or feeding them answers.
Rania: Do you think some parents are doing their child's work for them?
Ben: Possibly, yes. They're expected to do dynamic subtraction and addition. Also, we're doing opinion writing so they're expected to create a topic sentence and support it with three examples. Sometimes in the live video meetings, I can hear parents whispering in the background when I call on the kids with questions.
Rania: How do you adjust to the differences?
Ben: I'm checking in with families regularly each day, reaching out to about 10 families. Occasionally I do one-on-one lessons with kids on video, if I see that they're not understanding the material. Some families are upstate in big houses but others are really struggling. I get to know what their living situations are like, what their limitations are like, what their fears and hopes are like. I'm sending out surveys at the end of every week. There's a stronger bridge between the family and the school.
Rania: What is your teaching style?
Ben: I like project-based learning in general, something they can invest a little bit in each lesson and then the end result is a beautiful thing they've worked on over the course of a couple of weeks. I had them build their owns cities. I had them explore the different components and I made a PowerPoint presentation so they could learn about things like public services or housing. They do some writing that shows that they've learned the content, they've internalized it, and then I assign a project to build a 3D city that includes all the elements. For housing it would be apartments, houses, retirement homes.
I really believe in doing things that are meaningful and fun and engaging. I'm not the kind of teacher who has them repeat what I say or copy what I say or have them sit still. I like to have them moving and participating in discussion, creating projects together.
Rania: How have your assignments changed?
Ben: This is such a unique experience and hopefully something we won't experience again in our lifetime but there are things you can only learn in these kinds of situations like how do you take care of your family, how do you take care of yourself, how do you stay connected to friends when you can't be around them physically?
I'm trying new things I never did in the classroom that I'll definitely bring back. We can draw on what's going on in their daily lives at home. It's a great opportunity to have them present things we wouldn't get to see, such as take pictures or make a video of your kitchen and show us the different appliances and then we can learn that vocabulary. Or I'll have them make a drawing of their bathroom and label it. I asked them to write stories of what they would be doing if they weren't stuck at home. I have them call each other and work with each other—there are still partnerships. I have pen pals set up to email each other. I ask them to check in with a friend and tell them two things they did today.
I used my own apartment windows as a project for them, to think of someone they want to thank, to explore text as a literacy lesson. I invited them to make signs for their windows or to write letters or send messages. I do cooking lessons with the kids now that I would never do at school. I'm in the kitchen cooking something and I'm having them write down the steps, count how many eggs I'm putting into whatever I'm making, how many pinches of salt, and we put on the timer. I ask, "Who can tell me what comes next?" All the content that is taught in the class traditionally like telling time, literacy, math, even sequencing, you can bring to life with activities that would be hard in the classroom.
Rania: Are your standards different now?
Ben: I'm committed to giving the best academic education I can, but at this point, I just want them to be engaged in the process of learning and feel a sense of security. I can't expect from them the same things I would expect in the classroom. I have to make some shifts.
Note: Parts of this interview have been edited for length, and rearranged for clarity.
Chelsea Community News is made possible with the help of our awesome advertisers, and the support of our readers. If you like what you see, please consider taking part in our GoFundMe campaign (click here). To make a direct donation, give feedback about the site, or send a Letter to The Editor via email, at scott@chelseacommunitynews.com.