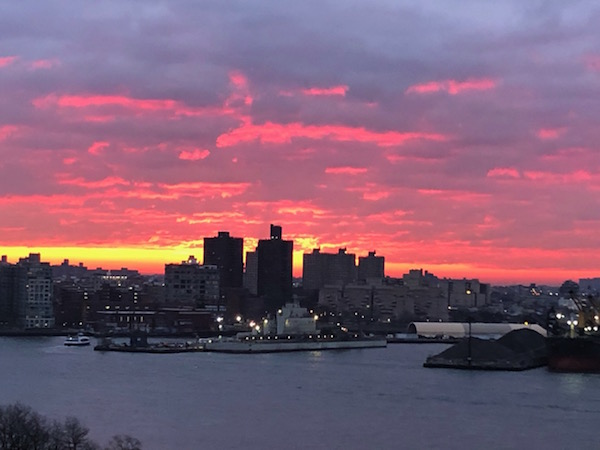 "Writing the Apocalypse" is a weekly series featuring the poems of Puma Perl, with subject matter influenced by her experiences as a NYC resident during the COVID-19 pandemic.
Gravity| By Puma Perl
——————————————————————————–
The night the birds fell
I dreamt of two women.
They perched on platforms
above the clouds,
bodies coiled like snakes
wild hair, long necks,
one blonde, one dark.
Unwinding their bodies,
they stepped out, arms
raised, tumbling gracefully
downward, free falls
to planet earth, a globe
forever in rotation, where
time is measured in darkness
and rain and the short,
hard lives of caterpillars.
The next morning I step over
broken wings, feathers,
and high heeled shoes.
Birds and beautiful women
have fallen from the sky,
magnetized by planetary forces.
Balls have stopped bouncing.
Clocks do not wind, high tide
drifts out to sea, oak trees
sway, waiting patiently.
Birds and women have fallen.
The earth has lost its force.
Only the stars still matter.
© puma perl, 02/14/13, originally published in "Retrograde" (Great Weather for MEDIA, 2014)
Puma Perl is a poet and writer, with five solo collections in print. The most recent is Birthdays Before and After (Beyond Baroque Books, 2019.) She is the producer/creator of Puma's Pandemonium, which brings spoken word together with rock and roll, and she performs regularly with her band Puma Perl and Friends. She's received three New York Press Association awards in recognition of her journalism, and is the recipient of the 2016 Acker Award in the category of writing. Her most recent books can be found by clicking here.
Chelsea Community News is made possible with the help of our awesome advertisers, and the support of our readers. If you like what you see, please consider taking part in our GoFundMe campaign (click here). To make a direct donation, give feedback about the site, or send a Letter to The Editor, email us at Scott@chelseacommunitynews.com.