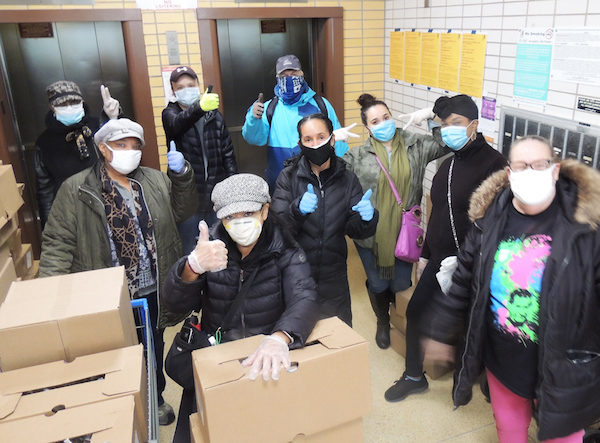 BY DONATHAN SALKALN | For those who didn't flee New York City, the last eight weeks of COVID-19 lockdown has been inspiring in how Chelsea locals have sprung together in helping those in need. Elected officials and staff, community leaders, EMS, police, tenant associations, non-profits, churches, neighbors, and local volunteers have done their part in many coordinated efforts dedicated to aiding one of the most aging and vulnerable communities in New York City.
A major force in the epic battle to keep everyone home and safe, is Hudson Guild (441 W. 26th St.), an organization founded in 1897 by Dr. John Lovejoy Elliott, who instilled a history rich in local civic service and pride.
Hudson Guild has also been a major source of food for locals. Until mid-March, it was preparing and serving some 42,000 meals a year to its Senior Center, and about the same number for young people, via Hudson Guild's early childhood and youth programs. Since the kitchens and facilities were ordered shuttered, Hudson Guild's staff of 175 workers have gotten many new job descriptions that demand high-tech skill sets. Most work remotely, using the phone and computer as they reach out to Chelsea residents, while also handling group programs by way of the online video conferencing service, Zoom. Others work alongside members of the tenant associations of NYCHA's Elliott-Chelsea Houses and Fulton Houses, in delivering food and supplies to the doors of those in need.
"Hudson Guild is an organization that is built on bringing people together, and that's specifically the thing we are not allowed to do right now," said Hudson Guild Executive Director Ken Jockers. "It is incredibly challenging to do this remotely. That said, our social services unit and other staff members are reaching out to everybody registered in our Senior Center, as well as other neighbors, and providing many of the services that we normally do. For seniors, that includes getting access to food, advocating for public benefits like Medicare, lease-related problems whether at New York City Housing Authority (NYCHA) or private housing, document translation, help with prescriptions, or just talking to somebody because they are having a hard time."
With Hudson Guild no longer preparing foods, the supply has come from a joint effort between GetFoodNYC, the Department of Aging, and NYCHA. The office of New York City Council Speaker Corey Johnson (whose area of coverage incudes Chelsea) also orchestrated a first wave of 2,200 food pantry boxes, and bags of produce donated by InterActiveCorp (IAC) and The High Line.
Said Jockers, "In addition, we've hired a catering company called City Beet Kitchens to make meals twice a week, in case someone gets skipped or missed." For children too young to go to regional schools that are distributing meals to school-age students, Jockers said, "Chelsea Market has provided food and gift cards toward those in our early childhood and in our children programs."
Hudson Guild has not only been reaching out to help the several hundred people registered within their Senior Center databank (which include elders from Elliott-Chelsea Houses, Fulton Houses, Penn South, the neighboring community, and some from other boroughs), but also to another 350 people registered with NORC (Naturally Occurring Retirement Community), a City program that provides social and human services for older adults who live in public housing.
In addition, Hudson Guild signed an agreement to handle, with discretion, the resulting contacts from a robocall by NYCHA to all its residents, giving them a choice of being called if they felt they needed help. That robocall resulted in the addition of another 500 Elliott-Chelsea and Fulton residents in need.
Said Darlene Waters, Hudson Guild Board member and President of the Elliott-Chelsea Tenants Association, "This is the third major incident that happened in Chelsea where we didn't have phone numbers of those who needed help. First it was 9/11, then it was Hurricane Sandy, and now we have this epidemic. With NYCHA's robocall, we finally got the names and where they live, so we can do what we need to do. We have 1,110 units in Elliott-Chelsea Housing and we try to serve all of them."
Miguel Acevedo, President of the Fulton Houses Tenants Association, said, "We're serving 450 to 500 seniors. We're working directly with Hudson Guild, NYCHA, Erik Bottcher of the City Council Speaker's office and [Manhattan Borough President] Gail Brewer. We are in contact with each other at least two or thee times a week."
Daisy Mendoza, Hudson Guild's head of Corporate Relations, is helping coordinate food distribution, and has reached out to locally to sign up volunteers to deliver meals to the doors of those most vulnerable.
For several weeks, this reporter joined a team of mostly women that included Darlene Waters, her fellow Tenant Association Board members, Hudson Guild staff, and other volunteers, to deliver food to Elliott-Chelsea's senior tower. It was a grassroots effort, with a few of our roots showing grey.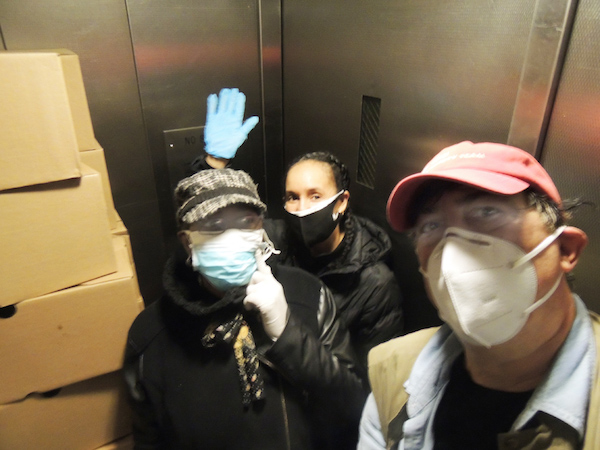 Tuesdays and Fridays, our group has unloaded truckloads of 200 food boxes in front of 436 W. 27th St., and brought them indoors to the tower's elevator. Then we distributed the boxes and even bags of masks to each apartment door. Anjeanette Smith, Barbara Green, and myself worked floors 8-14, delivering boxes to each of the floor's eight apartments. Anjeanette had an app on her smartphone, which indicated which apartments were required to receive more than one box (due to multiple tenants). Along the way, we delivered meals to Rita Corchado, a 100-year-old resident who survived the Spanish flu in 1920 and is now surviving the Coronavirus of 2020. Imagine you are 100 years old, and you have to stay inside and isolated in order to remain alive.
Most other residents answered their doors and were very thankful for the food. But a few apartments didn't answer. Some neighbors told us the tenants had left the city to be with family during the crises. We were also told by neighbors that two residents, in separate apartments, had died.
Mendoza, who also works with a team of social workers making wellness calls to the seniors, gave an assessment of how the residents are faring, noting, "We found out that in the beginning it was a very hard transition. But now that they have settled in and are staying home and staying healthy, they just can't wait to get back out. We are doing Zoom dances for our seniors. 'Zumba with Tia' is really popular!"
Said Jockers, "I'm concerned about the older adults getting negative messages, such as, they're the source of this disease, or they are the ones spreading this disease, or that they are going to die. If people are isolated, cover their mouths, and follow the rules, they shouldn't be victimized. They're not doing anything that is causing the problem."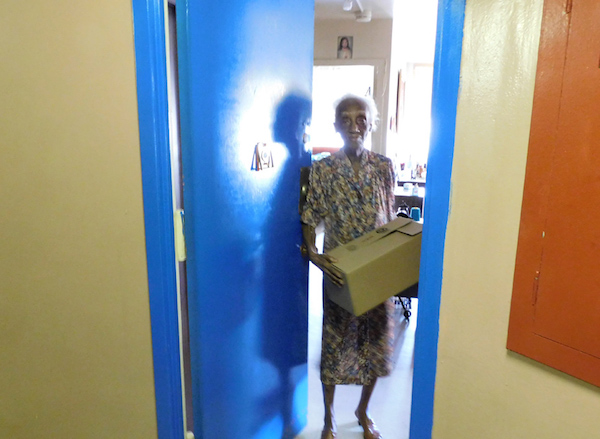 Chelsea Community News is made possible with the help of our awesome advertisers, and the support of our readers. If you like what you see, please consider taking part in our GoFundMe campaign (click here). To make a direct donation, give feedback about the site, or send a Letter to The Editor via email, at scott@chelseacommunitynews.com.