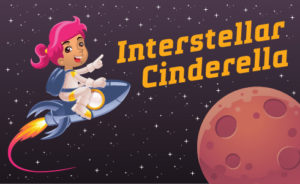 New York City Children's Theater Goes Online, with "Creative Clubhouse" | Although COVID-19 has drastically impacted this non-profit organization, they're forging ahead, and availing themselves, via online content. Their new spring musical, which was set to play Theater Row, has been cancelled, as has their Toddler Theater at Tribeca's The Flea, and plans to tour NYC schools and the tri-state area via in-school theater arts programs for K-8th grade students (not to mention, not for nothing, their annual Gala in April at The Edison Ballroom (at least 30% of their largest donation revenue for the year)—but through it all, NYCCT is committed to serving children/family audiences with their newly launched, family-friendly, Creative Clubhouse online digital program.
While most of the programming is available to all free of charge, they are offering essential workers as well as any family that has been deeply affected by this crisis to have free access to all paid content. This digital, interactive, and accessible storytime class mixes books you love with theater games the little ones will love—without having to leave home.
"When picking books for Creative Clubhouse stories with Caitlyn," they note, "we picked stories that teach emotional intelligence, community building and responsible decision-making in service of our mission to promote children's literacy, and social development through arts-in-education programming and professional theater productions.  Thursday, May 21 | Jack's Worry
Thursday, May 28 | Be Brave, Little Penguin 
Thursday, June 4 | The Rabbit Listened
All classes take place at 11:30am via Zoom. $10 | Free for Essential Workers. For more info, visit nycchildrenstheater.org.
Weekly Zoom Sunday Services from Chelsea Community Church | During the current social distancing, Chelsea Community Church is providing a Zoom service every Sunday at noon. The church is nondenominational, and has guest speakers as well as lay-led services that include traditional music. To receive an invitation, you can send an email to info@chelseachurch.org.
Chelsea Community Church is an inclusive, independent, lay-led and non-denominational Christian community. Due to COVID-19 concerns and recommendations, they will not hold in-person services until further notice.  However, the Church is currently holding virtual services via Zoom.  Visit chelseacommunitychurch.org.
May 24 will be a lay-led service. On May 31, the special guest is the Rev. Joseph J. Nicholson (American Fellowship Church) is Chelsea Community Church's pastoral counselor. He is also a chaplain with the EMS division of the New York City Fire Department. Ordained by the American Fellowship Church, a nondenominational Protestant church in 2017, Rev. Nicholson remains active in the Episcopal church. He is a licensed lay Eucharistic minister in the Episcopal diocese of New York and has been a lay service leader at St. Peter's since 2014. He received his master of divinity degree from Union Theological Seminary in 2016 and is currently enrolled in the master of sacred theology program there. He expects to receive that degree in 2020. Before beginning his seminary studies, he was an entrepreneur who developed several financial services enterprises and an apparel company that sold its products via the Internet.
Thursday, May 21, 7pm: Zoom, with Chelsea Reform Democratic Club. See the below flyer for details. To visit their website, click here.
Wednesday, May 20: Disability and COVID-19 Panel with FFDC, MYD, CRDC, and VID | COVID-19 has impacted all of our lives, the event organizers, note, "but it impacts the lives of people with disabilities even more." Four Freedoms Democratic Club, in collaboration with Manhattan Young Democrats, Chelsea Reform Democratic Club, Downtown Independent Democrats, and Village Independent Democrats, will be holding a Zoom panel on Wed., May 20, at 7pm, which will address the types of struggles people with disabilities are facing at this time, and how people without disabilities can be allies. The panelists will speak and take questions at the end. To attend the event, register by clicking here.
Chelsea Community News is made possible with the help of our awesome advertisers, and the support of our readers. If you like what you see, please consider taking part in our GoFundMe campaign (click here). To make a direct donation, give feedback about the site, or send a Letter to The Editor via email, at scott@chelseacommunitynews.com.