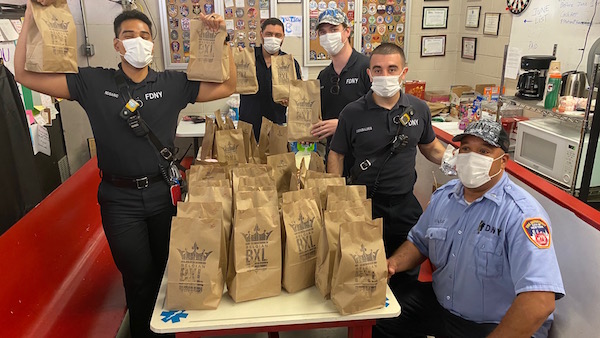 BY ZAC ROY | First responders in and around the Flatiron District are eating well in May.
The Flatiron/23rd Street Partnership is funding daily meal delivery orders, with the help of a GoFundMe campaign, to support neighborhood restaurants and feed local EMS workers, police officers, and firefighters who are on the front lines of the COVID-19 pandemic.
The Partnership launched the initiative, called "Feed Flatiron's First Responders," on May 4, and hopes to continue it through the end of the month.
The Partnership is purchasing more than 100 meals a day, seven days a week, from restaurants in Flatiron and NoMad—neighborhoods known for their critically acclaimed eats and culinary significance. The restaurants are delivering the meals to the EMS Station at Bellevue Hospital, two local FDNY Stations (Engines 3 and 14), and the NYPD's 13th Precinct, whose area of coverage includes parts of East Chelsea.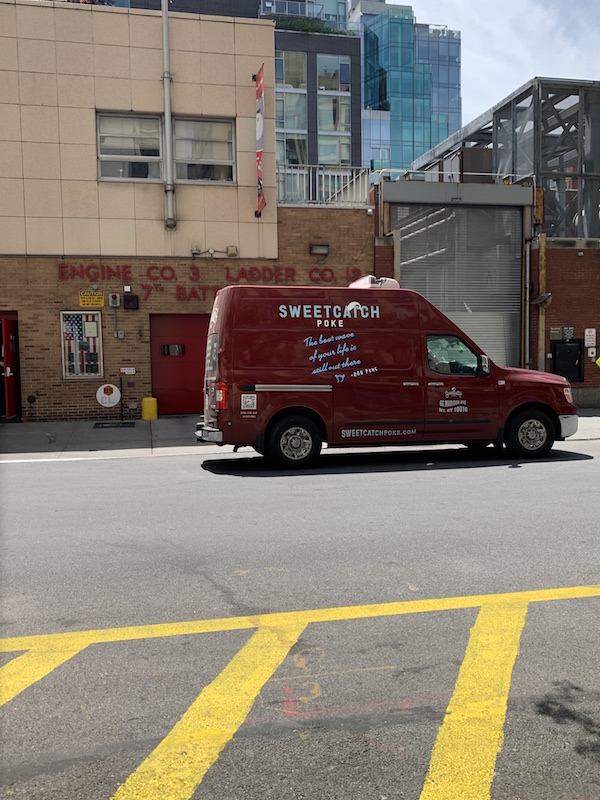 "Through our Feed Flatiron's First Responders program we are expressing our deep gratitude to the first responders in our community who are putting their lives on the line every day to fight this pandemic," said James Mettham, Executive Director of the Flatiron/23rd Street Partnership. "At the same time, this is a great way to support local restaurants that have contributed so much to our neighborhood's vibrancy, who are now struggling to stay afloat."
The Partnership committed an initial $10,000 to kick-start the program and is matching every donation, dollar for dollar, up to $10,000. They have raised over $6,100 via the "Feed Flatiron First Responders" GoFundMe page and purchased 1,944 meals so far. They hope to reach $10,000 so they can continue daily food deliveries for the full month of May.
"We are grateful to everyone who has generously donated so far," Mettham added. "We encourage people to continue contributing to the campaign to show our EMS workers, fire fighters, and police officers—as well as our restaurant owners and employees—that our community has their backs."
Participating restaurants that have prepared and delivered meals already—or will before the end of May, include: Mangia, Zucker's Bagels & Smoked Fish, Hill Country Barbecue Market, Sophie's Cuban Cuisine, Leonelli Taberna, Bourke Street Bakery, Bravo Pizza, Eataly Flatiron, Field's Good Chicken, Honeybrains, Memo Shish Kabob, areppas, Melt Shop, BXL Zoute, Sweetcatch Poke, Summer Salt, Om Juice Bar, Taim, Dig Inn, Mexicue, Zero Otto Nove, Little Beet, Blackbarn, Flatiron Plate, and Dos Caminos.
Note: Zac Roy, who authored this piece, is a Communications, Public Relations, Public Affairs, Marketing executive with anatgerstein.com, retained by the Flatiron/23rd Street Partnership.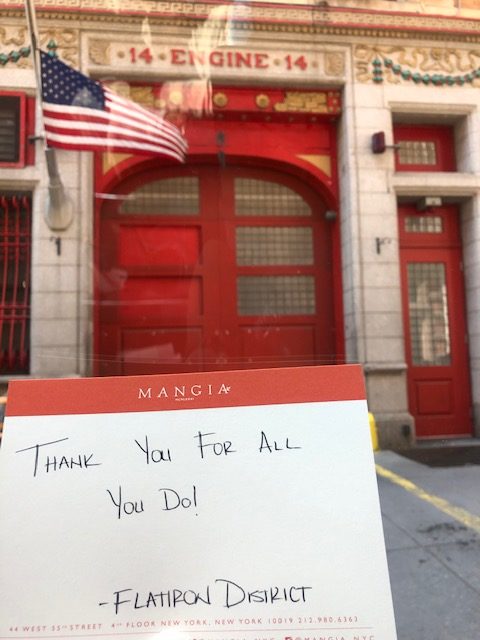 Chelsea Community News is made possible with the help of our awesome advertisers, and the support of our readers. If you like what you see, please consider taking part in our GoFundMe campaign (click here). To make a direct donation, give feedback about the site, or send a Letter to The Editor via email, at scott@chelseacommunitynews.com.