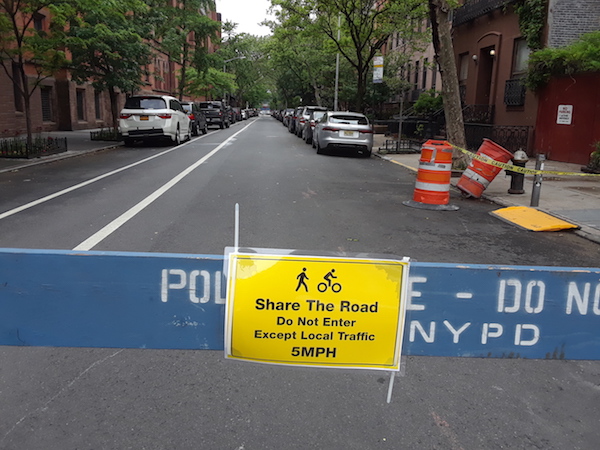 BY HIBA SOHAIL | It's an annual rite of spring—but this time, with a twist. As temperatures continue to climb, so too will the number of people crowding our sidewalks and flocking to our parks—moreso than usual, perhaps, given the cabin fever caused by the COVID-19 pandemic's shelter-in-place precautions.
In an effort to provide recreational opportunities and create greater social distance between pedestrians, New York City is looking to open up 100 miles to pedestrians and cyclists as part of its new Open Streets initiative, which made its modest debut on May 1, with a mere seven miles. As of this writing, the program has now expanded to 40 to account for social distancing during the COVID-19 pandemic. Open Streets are available daily from 8am to 8pm with no through traffic permitted. Local deliveries, pick-ups/drop-offs, necessary city service vehicles, utility vehicles and emergency vehicles are allowed on the condition that they adhere to the 5 MPH rule.
The Open Streets initiative aims to give New Yorkers an outlet to practice safe social distancing and is a collaboration between the Mayor's office, NYC Council, NYPD, Parks, NYC DOT, BIDs and local community organizations.
In Chelsea, W. 21st Street and W. 22nd Street are among those designated as Open Streets, thus far. In a statement to Chelsea Community News, NYC Council Speaker Corey Johnson (whose District 3 area of coverage includes Chelsea) said, "The Open Streets initiative citywide is about providing New Yorkers with much needed space to get outside but still maintain proper social distancing."
Organizations such as Chekpeds and StreetsPac, known for improving the safety and mobility of pedestrians, have campaigned for the implementation of Open Streets. Christine Berthet, co-founder of Chekpeds, said that Open Streets has "essentially provided people [living in apartments] with a front yard… having an opportunity to walk around is really important to your mental and physical health." Chekpeds is providing Chelsea and Hell's Kitchen with web programs to provide the signage for the barricades and serves as a broader help desk to other areas.
StreetsPac was involved directly with the Department of Transportation and advocated strongly for the city to continue Open Streets. With Central Park and Prospect Park being overcrowded, StreetsPac's executive director Eric McClure told us, "Open Streets is a way to give people a safe space… and opens up other places people can go in their own neighborhood."
Open Streets have impacted all five boroughs and McClure relays that it will "give us a blueprint for the way we treat our streets post-pandemic and rebalance the streets away from automobile domination." According to McClure, there has not been widespread resistance to the plan but there have been "localized" complaints of increasing noise and traffic on blocks that are not open.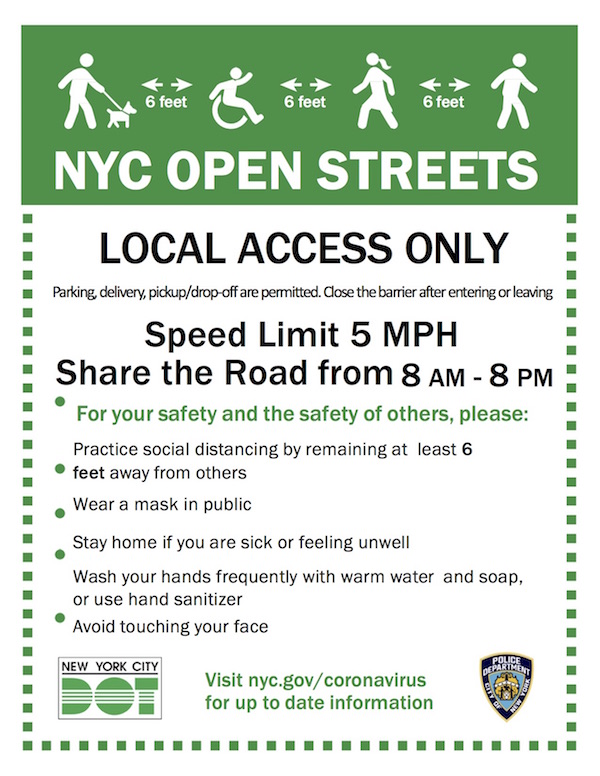 Meatpacking BID's executive director, Jeffrey LeFrancois, which maintains the district's public spaces in partnership with DOT, said that "as the city comes back online, the creation of safe space is really important to make [the public] comfortable with being out about again." Meatpacking BID has moved forward with what the city has allowed so far and barricades have been put in place.
In terms of how the initiative has played out in Chelsea, Paul Gronki, a member of Council of Chelsea Block Associations, noted there has been "little to no impact" and that the "block to block approach is very piecemeal and pits blocks against each other." He is in favor of an alternative plan that is to "make all the side streets in Chelsea 5 MPH for all vehicles."
Kimon Retzos, a resident of Chelsea, shares the same sentiment, and argues, "New York's transportation policies are being outsourced to lobbyists, most notably Transportation Alternatives. Chelsea [has become] an unwilling subject of another TA 'experiment.' "
Retzos would prefer doing away with turn restrictions altogether, and return 14th St. to a six-lane commercial street. Mary Conway-Spiegel, a resident of W. 17th St., has not seen any security measures in place—and while she thinks Open Streets is a "lovely" idea, would like things to "return back to the way it was" as it is not "necessary" in the area. LeFrancois, on the other hand, notes that there are logistics to be worked out, saying, "Every new plan to the city has its wrinkles, and by putting this into effect now, it is easier to learn what the needs of the district will be as the city comes back."
After COVID-19, the city plans on continuing Open Streets and many expect it to ensure there is no gridlock on the streets. After quarantine is lifted, Meatpacking BID sees this as a way to "help businesses be successful and better provide space for pedestrians and cyclists." McClure would like to see the plan reach the "upper end" of its goals and "think about how it can be made more equitable … for neighborhoods that have not had a lot of access to open space." For Berthet, Open Streets is a "dream come true" as it has reduced traffic and increased space for pedestrians.
Open Streets is still in its early stages—and as the plan is implemented properly and fully across New York City, Retzos says, "We need new leadership. Only then will we get our streets back to [being] safer, less complicated, [and] more convenient… for travel and commerce. That's exactly what roads were designed, and are still needed, for."
Speaking about Chelsea specifically, Speaker Johnson said, "I am really grateful to all my neighbors in Chelsea and all the organizations who helped us choose locations that would best fit our neighborhood. My hope is that we continue to see New Yorkers, especially families with young children, take advantage of these open spaces and get to enjoy being outside in our city during this dark time when playgrounds are closed and pools and beaches are in question this summer."
Chelsea Community News is made possible with the help of our awesome advertisers, and the support of our readers. If you like what you see, please consider taking part in our GoFundMe campaign (click here). To make a direct donation, give feedback about the site, or send a Letter to The Editor, email us at Scott@chelseacommunitynews.com.