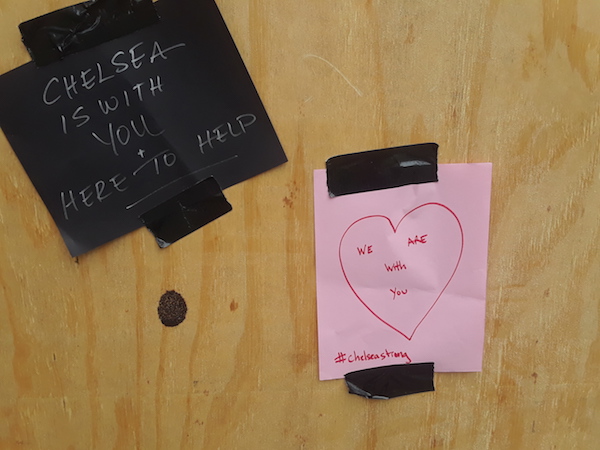 TEXT AND PHOTOS BY SCOTT STIFFLER | Add to the now-familiar sounds of sirens, helicopters, and the righteously angry chants of protesters marching down Seventh Avenue, the sounds of broken glass swept off sidewalks and nails driven into plywood.
That was the new aural normal on Tuesday, June 2, 2020, when Chelsea merchants boarded up their small businesses in anticipation of NYC's second night of curfew—and, many feared, a repeat of Monday night looting that left storefronts shattered and inventory stolen.
"Looters swarmed the neighborhood late last night," wrote the 300 West 20th Street Block Association's Eric Marcus, in a June 2 email to hundreds of local contacts. "Not protesters," Marcus noted, but "highly organized looters on cell phones who coordinated with cars that were dispatched to haul away the goods."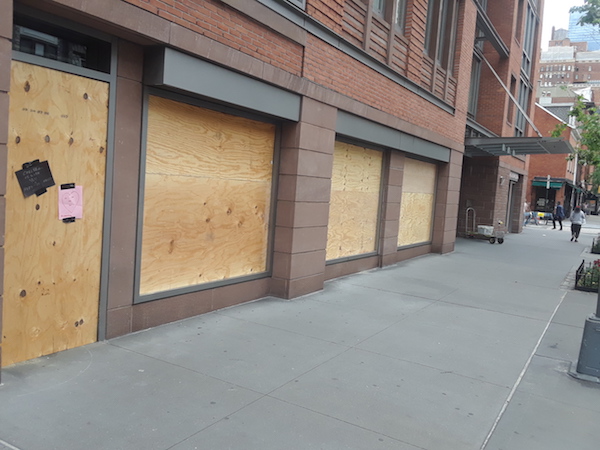 Wine on Nine (9th Ave. btw. W. 20th & 21st Sts.) was the "principal target," wrote Marcus, "and the Smoke Shop [Smoking N Vaping] just south of 20th on 9th was also looted. On 8th Avenue the bike store, Trek, was looted [See the below photo and caption for a correction of this info], and windows were smashed at several other stores. At about 12:30am I was awakened by loud voices on the street and looked out the window to see two young men running down the block with boxes, which they loaded into the trunk of a waiting car.
Several others ran down the block carrying champagne bottles, seemingly in a panic… This morning, we walked the neighborhood to assess the damage and saw officers from the 10th Precinct behind a barricade on the far side of 8th Avenue and 20th Street.  Where were our friends from the 10th Precinct last night?  Why was our neighborhood left unprotected? One of our neighbors who witnessed the looting on 9th Avenue (and was picking up debris in front of his building) said it took the police 90 minutes to arrive and 4-5 police vehicles drove by during that time and didn't stop."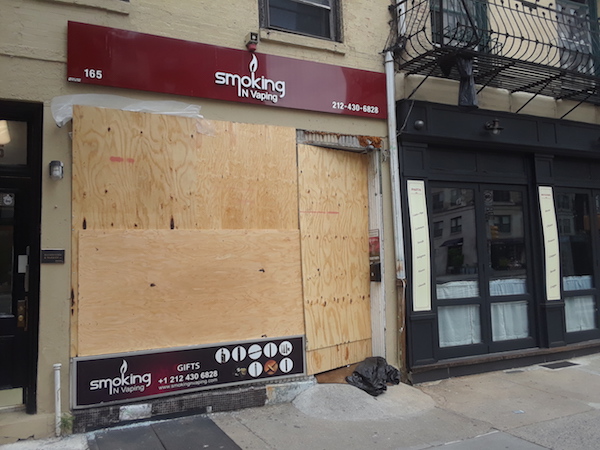 Marcus concluded his email with a call to action, saying, "If you have an account and/or photos to share, please email me. I promise to protect your identity."
When Chelsea Community News toured the neighborhood on the afternoon of June 2, we spoke with small business owners who were boarding up their shops, and reducing their already-reduced hours, so workers could get home before the citywide 8pm-5am curfew took effect.
For merchants and their staff already economically devastated by the toll of COVID-19 protocols and precautions, it was another devastating blow.
"I didn't see it happen, but everyone has been telling me how it went down," said Bruno, a manager at Barking Zoo (172 Ninth Ave.), a pet supply store across the street from Wine on Nine. "Everyone has been telling us how it went down. There was a U-Haul parked up next to the store. People were saying how casual it was, how slow they were to take things. The driver just waited," and then moved on.
Bruno noted they did not plan to board up, as Barking Zoo has railing protection. The business, which has been opened throughout the COVID-19 pandemic, will be observing shorter hours (closing at 5 instead of 6) throughout NYC's curfew period.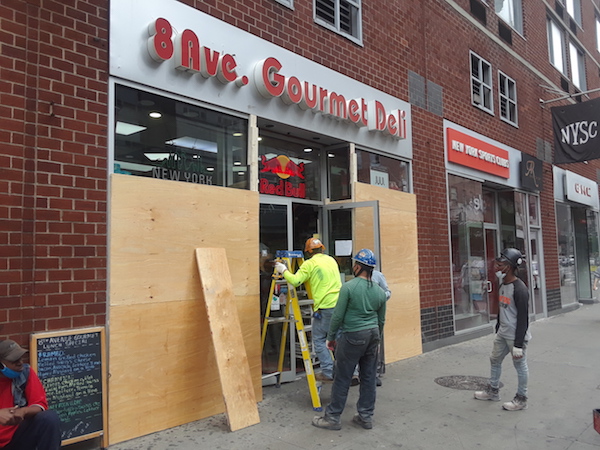 On Eighth Avenue at W. 17th St., Sam, owner of the 8th Avenue Gourmet Deli, was busy supervising the boarding up of his business, which has operated in the neighborhood for 25 years, and has remained open, 24 hours a day as best they can, throughout the COVID-19 crisis.
"Last night, I closed at 9pm," said Sam, of Monday night's events. "They broke in the deli at W. 15th Street. They broke in the Verizon store across the street from us… So we'll stay open as much as we can, but we have to protect ourselves."
A but further Uptown, on Eighth Ave., Jim Ortiz, Facilities Manager for iconic Chelsea dance destination the Joyce Theater (Eighth Ave. at W. 19th St.), was supervising a crew tasked with power washing (via a mix of water and graffiti remover) a blue spray paint declaration of "GAY PWR." This is the third time since the pandemic, noted Oritz, that the Joyce has been tagged with graffiti. One block away, the same blue GAY PWR tag could be seen on the storefront of sustainable seafood eatery Seamore's Chelsea (161 Eight Ave. at W. 18th St.).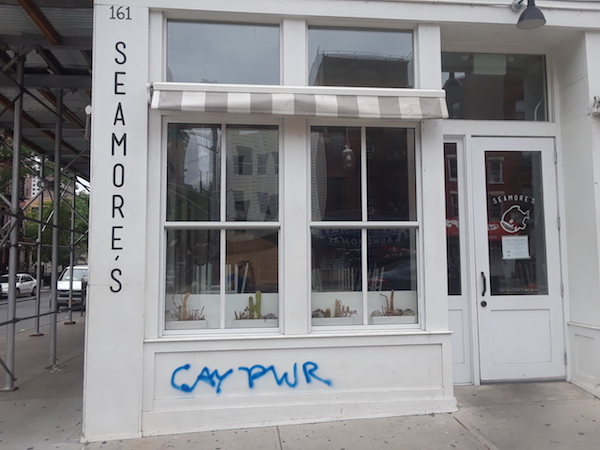 On Seventh Ave., merchants so far unaffected by vandalism and looting were boarding up their establishments while renewing their commitment to keep serve the neighborhood they love.
"We decided to open 10am-8:30am," said Peter, owner/manager of Champignon (202 Seventh Ave., btw. W. 21st & 22d Sts.). After having been closed several weeks because of COVID-19 concerns, the Mediterranean bistro, bar, and kitchen once again opened their doors last week—but this week's curfew put the kibosh on their already scaled-back hours. "We have to close by 6:30pm," noted Peter, "so my employees can get home safely, before the curfew takes effect."
The purpose of last week's reopening, Peter told us, was "to help the community return to 'normal' life, and change the mood. People are tired, fed-up with the lockdown. They want to have a more social life." Champignon will provide that, vowed Peter, but only within the context of curbside pickup and tables placed outside of his establishment that ensure safe social distancing.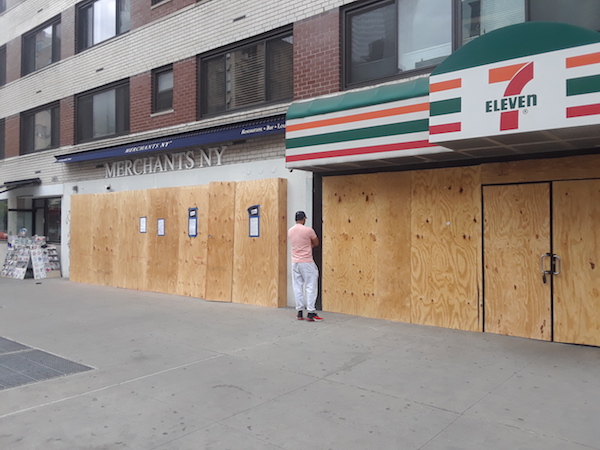 A few doors down, at Merchants NY (190 Seventh Ave. btw. W. 21st & 22nd Sts.), proprietor Adrienne had just opened up his recently remodeled business days before the curfew—but, like the ownership of Champignon, declared that he was back, here to stay, and ready to serve the Chelsea neighborhood to whom he is committed to serving.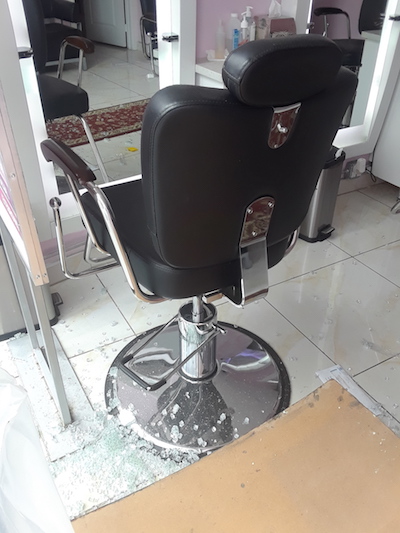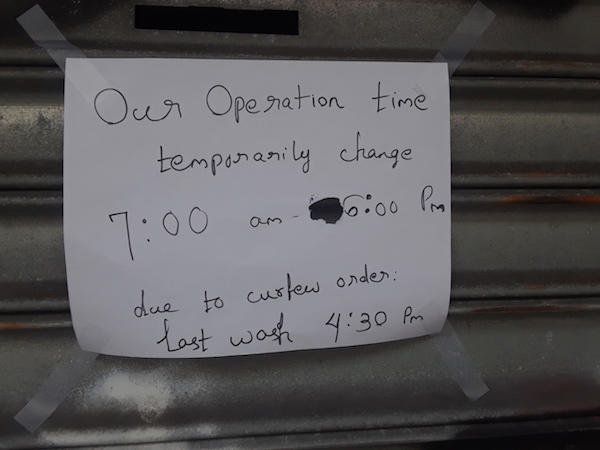 Chelsea Community News is made possible with the help of our awesome advertisers, and the support of our readers. If you like what you see, please consider taking part in our GoFundMe campaign (click here). To make a direct donation, give feedback about the site, or send a Letter to The Editor via email, at scott@chelseacommunitynews.com.