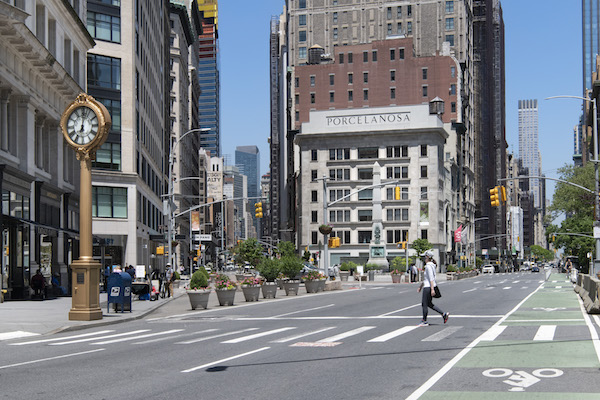 BY HIBA SOHAIL | Business Improvement Districts are tasked with funding projects within their boundaries—and more often than not, these are projects that merchants and community members deem inadequately performed by the City.
With the advent of COVID-19, many BIDs saw their public programming halted due to the necessities of social distancing. BIDs in Manhattan have continued their work amid COVID-19 precautions as well as the emergence of organized looting, whilst NYC fights two completely different pandemics: racism and the virus.
As New York entered Phase 1 of reopening this week, three local BIDs (Flatiron/23rd Street Partnership, Meatpacking District, and Hudson Yards/Hell's Kitchen Alliance) recount how COVID-19 and cases of looting have impacted their usual public programming, and how they're maintaining the areas that have been hit particularly hard, including small businesses.
As COVID-19 has hindered a return to normalcy, many organizations are looking for new ways to host events and initiatives.  Jeffrey LeFrancois, Executive Director of Meatpacking District, said, "We made a focus early on to pivot to bringing the district to people digitally… We had programming on our social media channels, everything from cooking channels to… making your own body scrub."
On June 13, Meatpacking District will relaunch its weekly YouTube series called "Meatpacking Unpacked" that was put on hold by recent looting and protests in the area. Most notably, Meatpacking has installed seven murals by Theresa Rivera, since the start of the pandemic.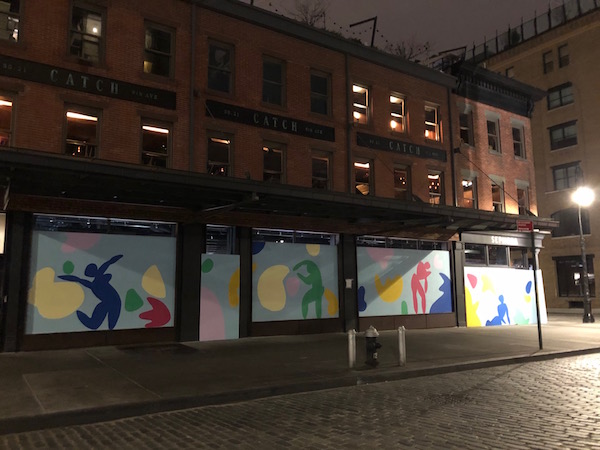 Finding ways to connect people to their neighborhood during this time is imperative, and requires creative, COVID-19-sensitive strategies. Said Robert Benfatto, Executive Director of Hudson Yards/Hell's Kitchen Alliance, "All our interactive programs such as yoga, fitness, and children's programs are being done online on ZOOM, as opposed to in [Bella Abzug Park]." The park, which falls under the Hudson Yards/Hell's Kitchen jurisdiction, is deemed essential but public programming has been halted until further notice.
James Mettham, executive director of the Flatiron/23rd Street Partnership, which represents the community around Madison Square Park, said, "What is usually a… vibrant, hustling and bustling neighborhood… is quiet. A lot of businesses have had to change their approach."
Flatiron/23rd Street Partnership uses the spring to prepare for a normally busy summer, in which they host a multitude of events in public spaces. Since those events have been postponed, Mettham emphasized, "We have focused a lot of our time on [providing] resources and making sure that businesses that are open are highlighted."
The Partnership also purchased meals for first responders the entire month of May, which was a "win-win [in terms of] recognizing our first responder's hard work during a time of crisis and providing an opportunity to restaurants to remain open." Flatiron/23rd Street was also one of the first BIDs to advocate for the Open Streets program, something that has helped residents and businesses practice social distancing. "Trying to creatively pivot," said Mettham, "has been a whiplash [but], we are ready to step in when the community needs it."
Benfatto advocated for the implementation of the open-dining plan, saying, "the City will probably allow it in the first week of July." Outdoor dining will allow restaurants and small businesses to regain some of their revenue through in-person dining, as well as take-out services.
BIDs are generally known for their sanitation collaborations that keep their designated regions clean—and while the pandemic poses health hazards, BIDs in and around Chelsea are dedicated to keeping neighborhoods as welcoming as possible. Hudson Yards/Hell's Kitchen Alliance's clean team is still operating, and the "cleaning has been going" during the entirety of the pandemic, Benfatto assured.
Said LeFrancois, "[Meatpacking BID] has continued sanitation services [while keeping] the team safe," as well as landscaping, which is deemed an essential service.
Flatiron/23rd Partnership has not "let up on" cleaning crews, public safety ambassadors, and their homeless outreach team. "All have made sure the District is well served and maintained," Mettham said, further noting, "We find it imperative to keep the District looking and functioning as close to normal as possible."
For small businesses, BIDs serve as a usual emergency contact, a responsibility that has only increased during this time. Notes LeFrancois, "We have been very involved in discussions of… outdoor dining and we are making sure the District is prepared for that by providing information." Mettham concurred, noting, "[Flatiron/23rd Street Partnership] has been an immediate, accessible resource through our website and social media channels… We positioned ourselves as a liaison to help businesses access [grants and loans]."
Connecting tenants and owners with resources is crucial at this time, something that all BIDs agreed on.
After the murder of George Floyd, New York City is seeing a wave of solidarity protests and riots, which has subsequently led to the looting of several areas. Meatpacking BID has increased their public safety team to be out seven nights a week, instead of three, and "absolutely encourages business and property owners to board up their stores."
Benfatto reported only two cases of window-smashing (including Neiman Marcus on 10th Ave.), and no looting in Hudson Yards/Hell's Kitchen, so the BID is mainly focused on COVID-19.
Mettham expressed his solidarity with the Black Lives Matter movement, saying, "We are absolutely angered and dismayed at the tragedy of George Floyd's murder." He says the destruction of small businesses was devastating, and urges the City government to lend a hand to help them back on their feet. "[Flatiron/23rd Street Partnership] helped pick up the pieces… with our clean team," said Mettham, "and [are] prepared for anything."
New York City is slowly getting back on its feet this month—aand while "there's so many unknowns, I find that adding a layer of empathy to everything… will help us get through this, being considerate is so critical in the work that we do," Mettham reassured. Benfatto said the biggest surprise has been learning, "We can still function remotely" and joked, "It's actually easier to hold meetings now." LeFrancois remarked, "New York City creativity, ingenuity, ability to pivot never ceases to amaze me… Even though direction has not always been very clear from the leaders and government, we are doing the best we can right now."
Chelsea Community News is made possible with the help of our awesome advertisers, and the support of our readers. If you like what you see, please consider taking part in our GoFundMe campaign (click here). To make a direct donation, give feedback about the site, or send a Letter to The Editor via email, at scott@chelseacommunitynews.com.