BY ELIZABETH ZIMMER | The bad news: We've been shut in for months, and we're feeling shack-wacky. The good news: If you can read this, you have access to an astonishing variety of dance, theater, music, and film—much of it free, right on your computer or phone. Presenters from all over the city, the country, and even across the world are filling our electronic space with performances, panels, online dance and exercise classes, and special events for kids. It's a cornucopia of opportunities, on Zoom, or prerecorded. You can even study Yiddish!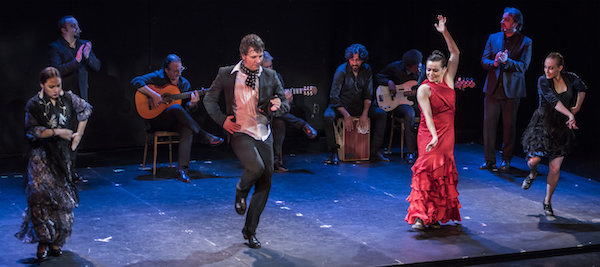 With their "JoyceStream" programming, Chelsea's Joyce Theater has been leading the pack, streaming events we'd otherwise watch on their stage. Now until 10am on June 19, see a 70-minute triple bill of works by Eliot Feld, performed by what amounts to the Joyce's resident troupe—Ballet Tech Kids Dance. Starting at 7pm on June 19, Soledad Barrio & Noche Flamenca will streaming until 10am on June 26. Visit joyce.org/joycestream.
Are live outdoor concerts in city parks your jam? Don't give up hope: Capital One City Parks Foundation SummerStage Anywhere moves to a new digital platform, and celebrates the 155th Juneteenth this coming Friday, June 19, with Creative Outlet Dance Theatre (CODT), Hope Boykin, and RudduR Dance. These black artists commemorate the end of slavery in the U.S. Ailey dancer Boykin leads a conversation that's part of a panel discussion, followed by CODT in Hanging Tree, with vocalist Marcelle Lashley and poet Carl Hancock Rux; Christopher Rudd offers an excerpt from his troupe's Witness: Part 1–Yesterday. Friday, June 19, 6–7pm at SummerStage Instagram, and 7-8pm at SummerStage YouTube. Just think: all this, and no mosquitoes! Check out the whole season's offerings via YouTube, by clicking here.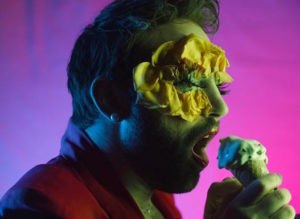 If you've felt defeated by the trek to the Guggenheim Museum, or the cost of a seat to its Works & Process series introducing new works, take heart: WPA (Works & Process Artists) Virtual Commissions, rarely more than five minutes long and composed and performed in the artists' homes during the pandemic, have been offering premiere showings every Sunday and Monday at 7:30pm, since April 19. From June 20-29, there will be new works every single night! Click here to catch them live or binge-watch the playlist—which, as of this writing, offered over 20 already-premiered Virtual Commissions featuring Jamar Roberts, Caleb Teicher, Chris Celiz, Kamala Sankaram, Dance Heginbotham, Joshua Bergasse, Sara Mearns, a cadre from Philly's BalletX, and more.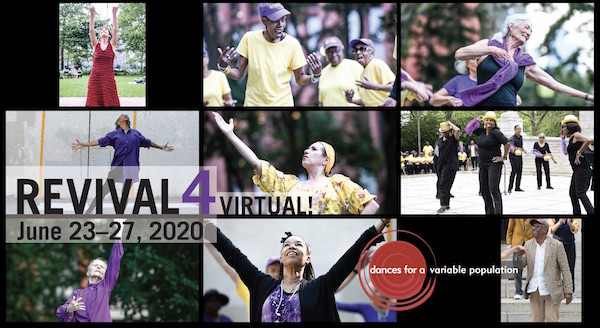 Dances for a Variable Population, a nonprofit that provides opportunities to the city's senior citizens to take dance and exercise classes and view free performances, continues to do so online. At dvpnyc.org, the group's founder, Naomi Goldberg Haas, and her troupe offer free remote classes in basic fitness and modern dance, by phone or over Zoom. Since 2017, Haas and a collection of veteran dancers have offered June concerts on the plaza at Grant's Tomb. This season, at Revival4.com, you can join in REVIVAL 4: Virtual!—a celebration of joy, resilience, and the vitality of age at DVP's free, five-day dance festival, June 23-27, from noon until 7. A final performance and closing celebration takes place June 27 at 6pm, followed by a live-streamed Q&A panel with the multi-racial guest artists. Revival, a film about the first year of this project, screens online at the deadCenter Film Festival through June 21. To purchase individual tickets ($10) and festival passes, click here.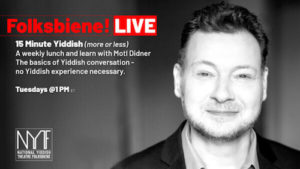 The National Yiddish Theatre Folksbiene, based way Downtown at the Museum of Jewish Heritage, offers the online events series Folksbiene! LIVE. Its programming includes weekly living room concerts on Thursdays at 7:30pm, featuring distinguished musicians like Zalmen Mlotek, the group's artistic director, and associate artistic director Motl Didner. On Wednesdays at 7:30pm, there are theater events, like June 17's Vos-Ver-Vu: The Great Yiddish Theatre Quiz, hosted by Mikhl Yashinsky. And perhaps the most fun, Tuesdays at 1pm, 15-Minute Yiddish is a weekly lunch and learn with Motl Didner, who plays many parts with great aplomb. You know you've always wanted to do this! Get all the details on events, watch rebroadcasts, and make donations if you can, at their website, nytf.org/live.
Ordinarily you'd have to truck out to Brooklyn's Prospect Park, but now you can attend Moliere in the Park's livestream presentation of Moliere's Tartuffe, translated by poet Richard Wilbur. In the cast are Raúl Esparza, Samira Wiley, Kaliswa Brewster, Naomi Lorrain, and more. Tartuffe streams live on June 27, at 2pm and 7pm. Later, a recording will be available on MIP's YouTube channel (https://www.youtube.com/moliereinthepark) through July 1, 2pm EST. Viewing is free, but make sure to reserve at https://www.eventbrite.com/e/molieres-tartuffe-registration-108729177898. For more info, click here.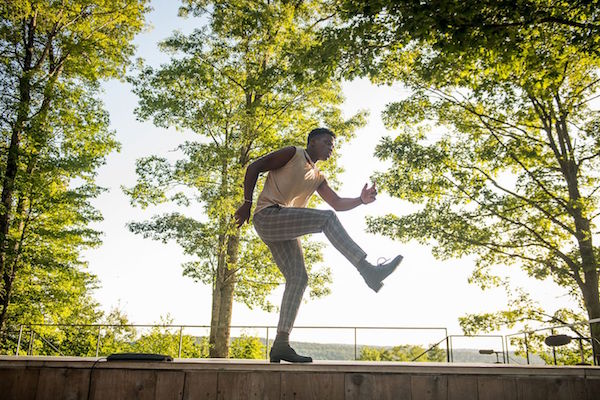 In these trying times you can even escape to the Berkshires, visiting the Jacob's Pillow Dance Festival with the touch of a key. Its regular summer season is cancelled, but June 20, at 7pm, you can attend Dance We Must, a virtual event hosted by Wendy Whelan and Kyle Abraham and featuring performances by Kyle Abraham's A.I.M, Michelle Dorrance, Irene Rodríguez, Jabu Graybeal, Daniel Ulbricht & Danielle Diniz, and Christopher R. Wilson, plus pop-up visits, surprise guests, and the presentation of the 2020 Jacob's Pillow Dance Award. It's free, but the Pillow, like all the other arts groups referenced here, would love your donations. Register by clicking here.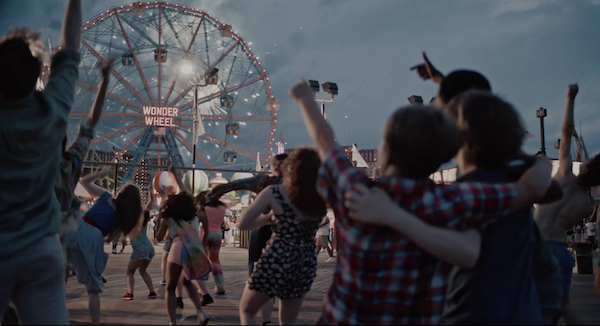 And finally there are virtual feature films, dribbling out from a variety of distributors, charging admission but in some cases providing discount coupons. Aviva, a startling new movie directed by Boaz Yakin, opened this week, stuffed with dancing, singing, shadowed sex, confusing video, gender fluidity, and an utter disregard for theatrical convention that will either delight or infuriate you, depending, I think, on your age.
Shifting between Paris, New York, and Los Angeles, it stars dancer-choreographer Bobbi Jene Smith (formerly of Batsheva), Or Schraiber (another Batsheva alum and Smith's spouse), Zina Zinchenko (in the title role, which constantly shifts from person to person), and Tyler Phillips (a bit of a stiff), and features dozens of interesting movers cavorting in parks and clubs. There's a free live stream Q&A with the director, Smith, and Schraiber Saturday, June 20 at 7pm. Register by clicking here.
Aviva is available this week via the Angelika. It opens nationwide next week.
Chelsea Community News is made possible with the help of our awesome advertisers, and the support of our readers. If you like what you see, please consider taking part in our GoFundMe campaign (click here). To make a direct donation, give feedback about the site, or send a Letter to The Editor via email, at scott@chelseacommunitynews.com.