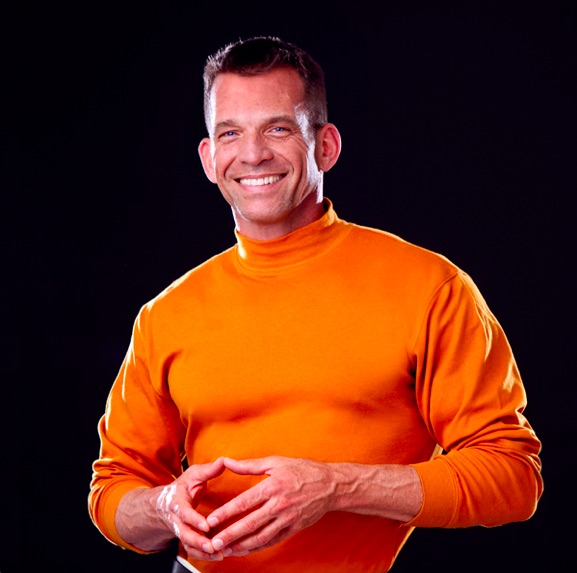 Graphic Artist/Entrepreneur seems a fitting encore, when your resume already includes Broadway actor (Cabaret), musician (musical director for Charles Busch), composer (Whit Stillman's Metropolitan), house flipper, political activist, author (Laid Bare) and, for a couple of years, adult film star "Gus Mattox."
It was during the building of Gus' fan website that Tom Judson—the man who lived those eclectic, abovementioned credits—became interested in graphic design, a pursuit that made possible Tom's Trendy Tees, Judson's clever, eye-catching line of  apparel, postcards, mugs, and more, most of which directly invoke, lovingly reference, or playfully reimagine memorable moments from music, film, and theater, and Broadway.
Judson is a familiar name in the NYC arts world, having been a songwriter, arranger, and/or accompanist in many productions by Charles Busch. Whether sharing the stage in theatrical productions or cabaret performances, their chemistry comes across more like alchemy—or at least that's how they make it look; effortless and magical. The more likely explanation is practice, practice, practice, and the kind of shorthand that accumulates when you've know each other for over 30 years.
This reporter has seen them on stage multiple times—and yet, was completely clueless as to the TTT aspect of Judson's creative life, until seeing a late May Facebook posting from Busch.
Singing the praises of Judson's T-shirts, Busch note, "They certainly are something that might put you in a good mood when you start your day with a comforting cup of coffee in quarantine." Reached via email for further comment, Busch—who always has a kind word for the people and projects that touch him deeply—genuinely gushed, "Tom is the most fascinating person. He is the king of reinvention. I've known him through several 'lives' and each one is more intriguing than the next. This current persona as a T-shirt designer is right up there with the best of 'em. What remain constant is his wit and more importantly, his great generosity of spirit."
We recently spoke with Judson about how his varied career informs Tom's Trendy Tees.
Scott Stiffler, for Chelsea Community News (CNN): We've already mentioned the many things that comprise your professional background. As the bio on your Etsy page notes, "Tom's Trendy Tees reflect all of those things, with the common thread (hah!) probably being an interest in the esoteric aspects of those categories." When did you create Tom's Trendy Tees, and when/why did the line expand, to offer things other than apparel?
Tom Judson: In November of 2016, shortly after the election, I was sitting at home, seething over the turn in the direction the country had taken. Out of frustration I created a "Resist" T-shirt design for myself. (That sentiment seems sadly quaint, seeing how things have degenerated.) I live in the upper Hudson Valley in a very Red area, and thought, if nothing else, I could raise a few eyebrows. I was having lunch with a friend who has a longstanding vintage shop on Etsy and she suggested I open a shop of my own to sell political T-shirts. She gave me a crash course on Etsy, I created a few more designs and launched the shop just in time for the Women's March the following January.
The shop featured only T-shirts until just a few weeks ago when I decided to add a line of coffee mugs featuring the more popular designs. I think I did it mostly out of boredom from sitting around the house all day. They've been selling!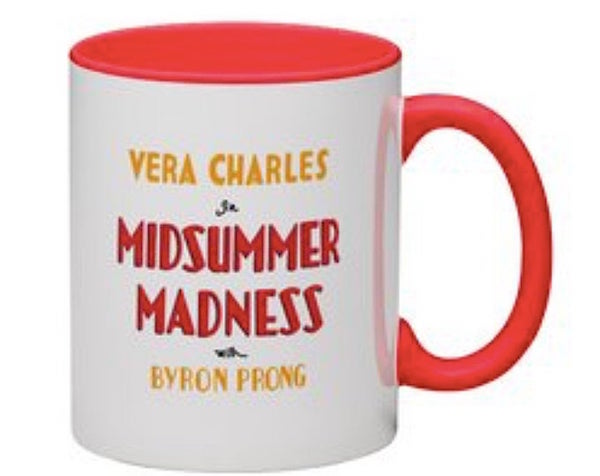 CCN: Has the subject matter changed over the years and, if so, why?
JUDSON: To my surprise (and a little disappointment), the political-themed shirts have never really sold. I don't have a theory as to why that is, but it is the case.
Now you'll have to indulge me in a little flashback: when I a kid growing up just north of NYC I would take the bus into the city to see Broadway shows. This was in the mid-'70s, when (I believe) the practice of shows selling T-shirts with their logos began. By the time I left for college—NYU as a film student; never finished—I had a box full of these shirts sitting in my closet at home. At some point the box got discarded. Over the years I've thought how fun it would be to sport one of these vintage Broadway show shirts, and now it occurred to me that, since I had access to a custom shirt printer, I could reproduce them myself and that they might make a nice addition to my Etsy shop. When I started looking online for ideas, it occurred to me that a T-shirt with the logo from Moose Murders would be a whole lot more interesting than Annie. Thus was born the idea of featuring only flop shows in my collection.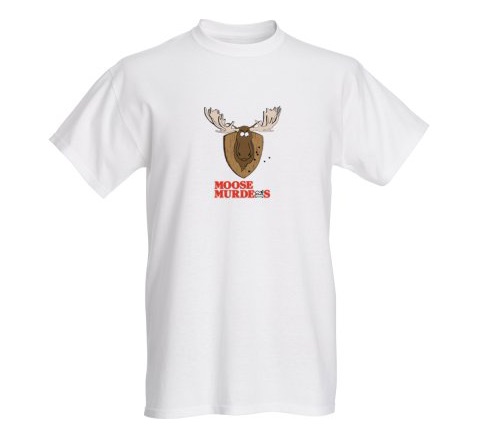 The other major line in my catalog is pretty esoteric and not a little geeky: I recreate signage featured in films. As everyone reading this article probably knows, Bette Davis' character in All About Eve is starring in a play-within-the-movie called Aged In Wood and at one point, she walks past the show poster in the lobby of the theater. That became a T-shirt. In Lolita, Shelley Winters sends Sue Lyon off for the summer to Camp Climax. There was another idea. And things like Bailey Bros. Building and Loan [from It's a Wonderful Life), and the marquee announcing Susan Alexander Kane's nightclub act in Atlantic City. I've also reproduced director credits directly from film frames. They've sold surprisingly well. (See what I mean about being geeky?)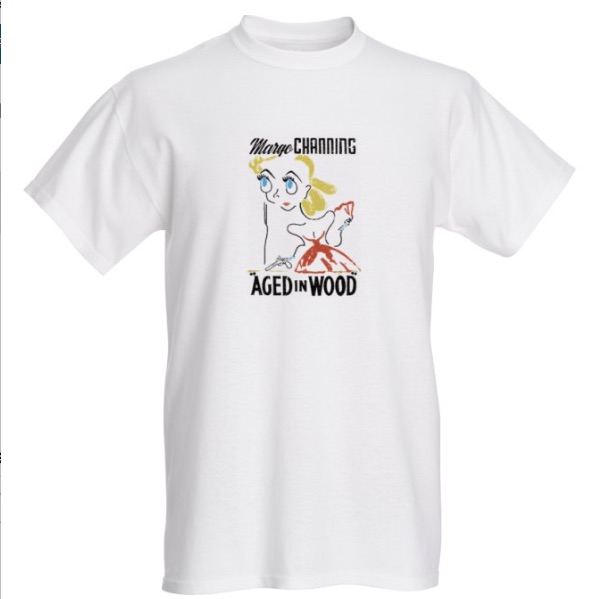 Most recently, I convinced my friend of 30 years, Ann Magnuson, to let me reproduce some of her artwork for a new line in the shop. Her stuff is so great—and a real departure from (and complement to) the other designs in the collection. Her David Bowie portrait (from when she was in high school!) is just terrific.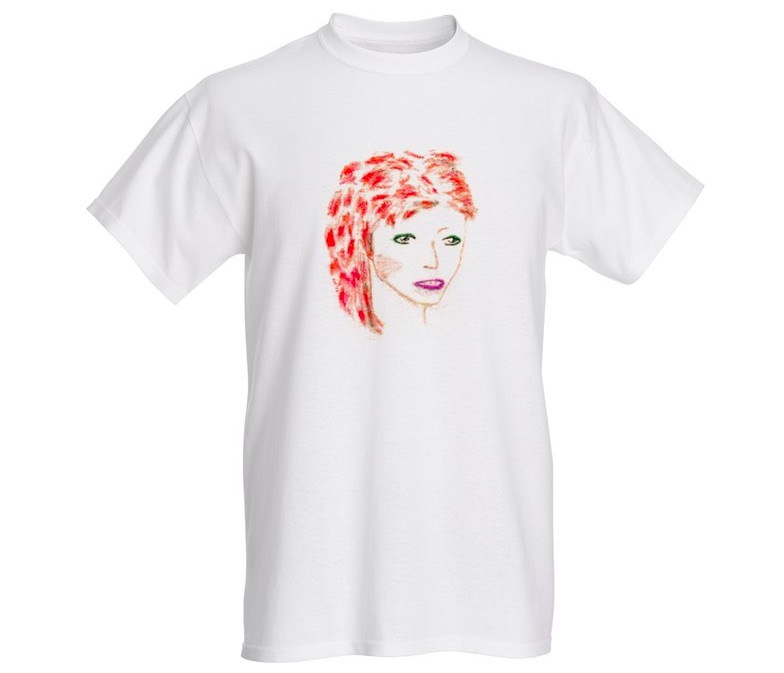 CCN: What offerings are of particular interest during this time of Pride Month, COVID-19, and public protests?
JUDSON: I can't imagine a gayer collection, so pretty much anything would be appropriate for Pride, but maybe it's time to push those "Resist" shirts again.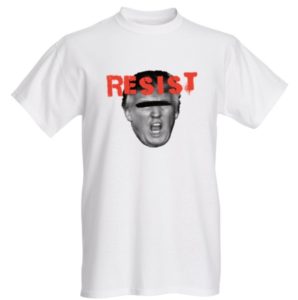 Ann has a great faux-campaign design called "WTF 2020" that is spot-on. I haven't done any designs specifically for the multiple disasters we're enduring right now. I couldn't possibly profit off this latest nightmare we're living through.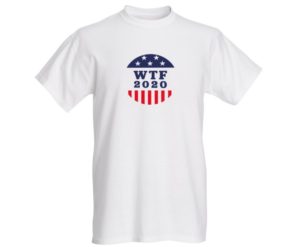 CCN: You share a love of Old Hollywood, Broadway, and glamour with Charles Busch. How have each of you influenced the other's work and interests?
JUDSON: I'd never to presume to think I've influenced Charles's work, other than drilling him on rhythm and pitch (that's his joke, by the way) but he has definitely given me some great suggestions for the T-shirt line. Aged In Wood was his, in fact. I'm not half bad as a literary editor and occasionally Charles will send me a bit of prose he's working on for a looksee. But otherwise, our interests are very closely aligned.
CCN: What are some of the (all-time and current) most popular items, and why do you think that is?
JUDSON: "Carrie, the Musical Hands down. Two other big sellers are Aged In Wood and—another Charles suggestion—Midsummer Madness, which is the play-within-the-movie that Auntie Mame so disastrously appears in with her pal Vera Charles. The cult status of those films probably accounts for the sales of those designs. At the suggestion of a customer I did a Helen Lawson design, and it's been flying off the shelves. I made a cartoon of Scout's Ham costume from To Kill a Mockingbird, which has been quite popular. And then, unexpected items, like the poster art from Katherine Hepburn's Coco and Debbie Reynolds's Irene sell quite well. The biggest surprise, though, is the final image from the opening credits of What's Up Doc?. I created this one for myself and listed it on the shop thinking it wouldn't sell a single copy. Boy, was I wrong! It's one of my biggest, most consistent sellers. And it's always a treat when someone connected with the shows or movies orders something. In fact, Arthur Bicknell, the author of Moose Murders, purchased the shirt from his show. He was such a good sport about it he posted to the Etsy shop a picture of himself wearing the shirt.
CCN: Talk about the conceptual and design element of your work.
JUDSON: I do it all. I love working in Photoshop. Really, every design in the collection needs work before it can be printed as a T-shirt. The images from the movies, whenever possible, come directly from the film frame, and that involves hours of preparation. Occasionally I have to recreate something from scratch or assemble it from multiple sources. That's the fun part for me. I just created (at the suggestion of the same customer!) the marquee from the show-within-the-movie (are you catching the pattern here?) of Neely O'Hara's cataclysm of a return to Broadway, Tell Me, Darling. There just wasn't a clean enough shot in the movie itself. So I reproduced it entirely in Photoshop.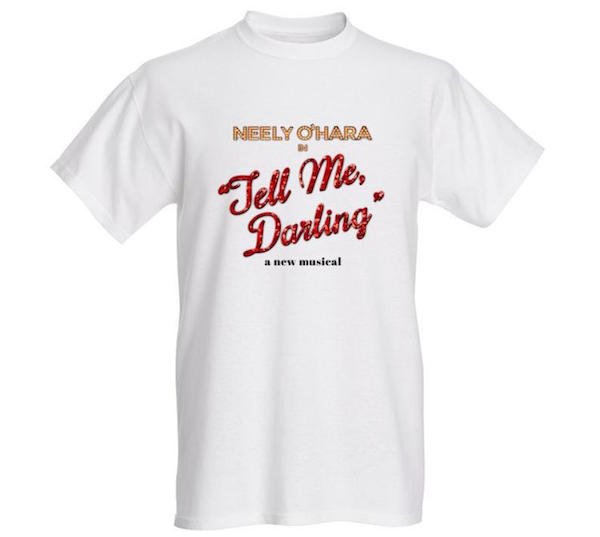 CCN: How has COVID-19 impacted your personal and creative life, and, if in any matter, the way you do business?
JUDSON: Since I live in the middle of the woods in a little cabin I built myself, my day-to-day life is pretty hermit-like to begin with, so daily life is mostly unchanged. The T-shirts are shipped to customers directly from my printer, so I don't have to get involved with trips to the post office and dealing with other people on that level. But my work as musician came to a dead stop by mid-March.
CCN: Discuss your most recent touring with Charles Busch. Are there plans for live performances/tours down the pike, at a time when we can gather in public again?
JUDSON: Touring with Charles Busch. That's more fun than should be allowed by law. Charles and I have been friends since 1985, when I wrote original music for Vampire Lesbians of Sodom, and we know each other very, very well. You asked earlier about our influence on each other's work; we have an ideal collaboration when putting together each new edition of our cabaret act. We take each other's suggestions very seriously, while at the same time knowing when deferral to the other is warranted. We've each pushed for things the other didn't want at first, and whoever feels strongest about it usually prevails. And we've never once had an argument. It's rather remarkable.
That said, we have a brand-new show featuring songs from movies that has never been performed! We were scheduled to do our first performance of this new show the last week of March. That performance got the axe and then, one by one, the cancellations rolled in. As of now we have a few dates on the calendar for the fall, but who knows? Broadway isn't thinking about coming back until at least February, and I imagine performance venues around the country will follow suit. It's very frustrating, but it doesn't take much to see that the problems of two little cabaret artistes don't amount to a hill of beans in this crazy world.
CCN: How do you deal with copyright issues regarding the designs in your shop?
JUDSON: Other than my own original artwork, I don't own the designs. My policy from the beginning has been that if someone comes to me and shows me they own the artwork I will gladly take it down from my shop and turn over all profits from that particular design. So far, that has not happened. Frankly, does an entity still even exist that controls the artwork to Via Galactica or (sorry, Bruce Vilanch) Alexis Smith in Platinum? But, as I said, anyone who claims these design will have my full cooperation with how they're used. On the flip side, a friend of mine gave Walter Marks, the composer of Golden Rainbow, that shirt for Christmas last year. He was ecstatic.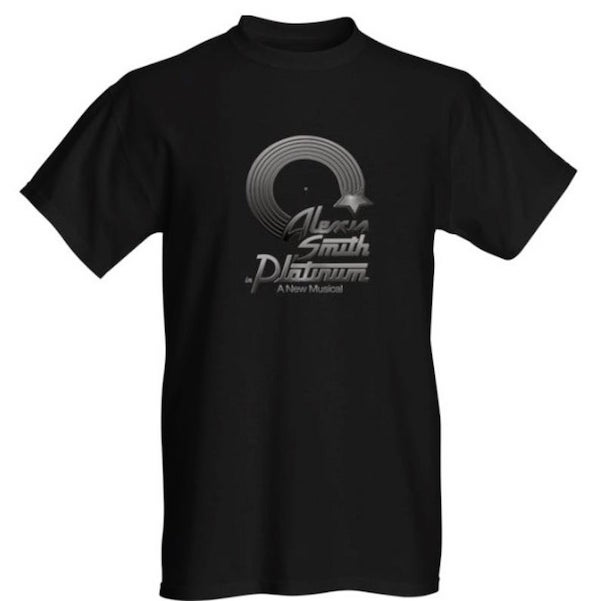 Tom says, via his Etsy page: "T-shirt sizes listed are Men's. Women's sizes and long-sleeve shirts are available—just ask!
A note on sizes: The shirts I use for my stock are a soft, comfortable 100% cotton. They're not the commonly used Gildan brand, which, in my opinion, don't fit well. The fit is flattering and I've found sizes run a tiny bit on the small side, so if you're in doubt I suggest ordering up a size.
Long-sleeve shirts are available. Please contact me directly so I can quote you a price.
Please note: Since shirts are printed to order, exchanges are not possible."
Chelsea Community News is made possible with the help of our awesome advertisers, and the support of our readers. If you like what you see, please consider taking part in our GoFundMe campaign (click here). To make a direct donation, give feedback about the site, or send a Letter to The Editor via email, at scott@chelseacommunitynews.com.