BY HIBA SOHAIL | New York City is often hailed as the city that kickstarted the modern LGBTQIA+ liberation movement, with the Stonewall Riots being of massive importance, cementing the movement across the nation. This year is the 50th anniversary of the first-ever NYC Pride March. Held on June 28, 1970, and called The Christopher Street Liberation Day March, it didn't just commemorate the first anniversary of Stonewall—it established a tradition, presented the community as one of great variety rarely seen in public events and press coverage, and set the stage for decades worth of personal growth and political activism.
Today, the 1984-founded NYC Pride (aka Heritage of Pride) and the 2019-founded Reclaim Pride Coalition (RPC) are each working in their own way to acknowledge, and build upon, the legacy of the very first NYC Pride March. But in 2020, a year that has been like no other, both groups are acknowledging current political and public health threats, and changing formats, strategies, and messages accordingly.
COVID-19 has compelled all elements of commerce, culture, and society to reimagine life virtually, while, at the same time, leaving NYC Pride and RPC grappling with the issue of non-performativity, challenging them to address systemic racism head-on, after the murder of George Floyd and human rights outrages against Black Americans. Many corporations and organizations have seen a wave of intense criticism for only including the Black Lives Matter movement in their statements, products, and agendas, because it is now at the center of international attention.
Regarding this, David Correa, interim executive director of NYC Pride, noted they "use our events to inspire, commemorate, and educate… We want to make sure we see diverse voices throughout. "
The group's NYC Pride March—held on the last Sunday in June, and always drawing millions of participants and spectators—was cancelled this year, because of COVID-19 concerns. However, NYC Pride isn't letting June 28 go by without celebrating the LGBTQIA+ community, and addressing contemporary concerns.
On that day, NYC Pride will present a Pride Broadcast on NYC's WABC-TV Channel 7. Noted NYC Pride, in a press release, "This year marks the 50th anniversary of the first Pride March held in 1970, and though it will be a very different type of celebration, the tradition of commemorating the LGBTQIA+ movement will continue. In this unique year, NYC Pride is committed to saluting front-line workers alongside several leaders in the community being honored as Grand Marshals." 
Those Grand Marshalls include The Ali Forney Center—which, their website notes, functions to "protect LGBTQ youths from the harms of homelessness and empower them with the tools needed to live independently."
NYC Pride has, Correa noted, been "working at the intersection of queerness and Blackness for almost 20 years. The Ali Forney Center has brought Black Lives Matter New York into the conversation. We have to be very smart about how [we include Black Lives Matter], because we don't want to make ourselves the expert in anything we are not… and we are very excited to see how the conversation [between The Ali Forney Center, Black Lives Matter, and NYC Pride] is broadcast."
"It is important," Correa said, "to see and hear yourself, now more than ever, especially surrounding COVID and racial injustice… [We need to] give the platform back." He mentioned that the movement was originally a platform of trans women of color and "those voices should be at the front."
In regards to the pandemic, NYC Pride's entire programming has moved online to Facebook, Instagram, and YouTube. The annual Pride March (referred to as The Rally), the Human Rights Conference, and other events have shifted to provide a virtual experience. Speakers and hosts include Jonathan Van Ness of Queer Eye, Chef Amanda Freitag, and activist and journalist Ashlee Marie Preston. For the full calendar and schedule for June, click here.
However, in more recent years, NYC Pride has faced backlash for becoming a "parade of corporations" which leads to "pinkwashing" LGBTQIA+ identities by including the New York Police Department in its march, said an article published in Quartz.
This led to the creation of the Reclaim Pride Coalition. Recalled RPC co-founder Jay Walker, "Reclaim Pride Coalition was founded in the spring of 2018 in response to Heritage of Pride not placing enough resistance against Donald Trump in a prominent position." RPC had several meetings with NYC Pride, to prioritize certain things that are very important to the most marginalized members within the LGBTQ+ community, specifically the over-policing and over-barricading of the Pride parade, the inability of those watching the parade to join in, and the over-corporatizing of the Heritage of Pride parade."
RPC believes NYC Pride puts the publicity-seeking, needs, and wants of corporations above marginalized communities. After reforms were not made, RPC decided to commemorate the 50th anniversary of Stonewall with its own Queer Liberation March, calling it, "A real people march, something that had no corporate involvement and no police officers in uniform… something that everyone could join."
Walker said there was no doubt amongst RPC's membership that their 2020 march would completely center on Black Lives. He reiterated that there is absolutely no NYPD involvement in any of the decision-making of the march. RPC wants this year's march to be "as inclusive as possible of all our communities within the LGBTQ+ and Black world."
He continued, "[RPC] was in part founded because the lives of Black people, specifically, Black trans women, were not honored enough in the general Pride celebration. That has been part of our ethos since the beginning… the [participants in the] rally after our march were mostly people of color." RPC has addressed issues surrounding police violence in communities of color, and the murders of Black and Brown trans women.
When asked about standing in solidarity (previously and currently) with Black Lives Matter, Walker noted RPC "has, and is, partnering with numerous organizations led by Black people. We are working with them to determine what is the best route to take [at the moment]. All the issues that we are focusing on during the march will be… carceral state, defunding the NYPD… and rebuilding the criminal justice system."
This year, the Queer Liberation March gets an updated name, and a specific purpose. Touching off from Foley Square at 1pm on Sunday, June 28, the Queer Liberation March for Black Lives and Against Police Brutality will be an open-to-all, outdoor event. Explained Walker, "Most of our members are already out marching everyday [for Black Lives Matter]… It would be silly to make our own march virtual."
As noted in RPC's press release announcing the march, "Marchers are asked to wear face masks to protect against COVID-19 and to maintain safe distancing." Walker emphasized that RPC will be providing extra masks, gloves, water, and hand sanitizers, while urging social distancing. The March will be livestreamed on YouTube, Facebook, and Periscope. For more details, click here.
In a year when COVID-19 kept our community from gathering publicly—a hard-won right solidified by post-Stonewall activism—Pride Month resonates, reminding us that we still have a long fight ahead for true inclusivity, and that for a true revolution, we must take it upon ourselves to have proper representation—something both organizations feel strongly about.
As Correa recalled, the movement was originally a platform for trans women of color, and "those voices should be at the front." Walker took pride (no pun intended) in the fact that RPC's very foundation was based on the work of Black trans women.
Both NYC Pride and RPC have remained committed to making their Pride events welcoming, while simultaneously honoring those who came before them in this fight.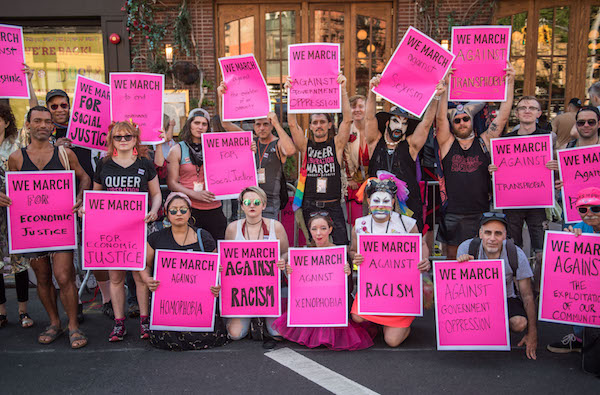 Chelsea Community News is made possible with the help of our awesome advertisers, and the support of our readers. If you like what you see, please consider taking part in our GoFundMe campaign (click here). To make a direct donation, give feedback about the site, or send a Letter to The Editor via email, at scott@chelseacommunitynews.com.