Note: The following is a June 25, 2020 letter sent to New York City Council Speaker Corey Johnson, reprinted with the author's permission.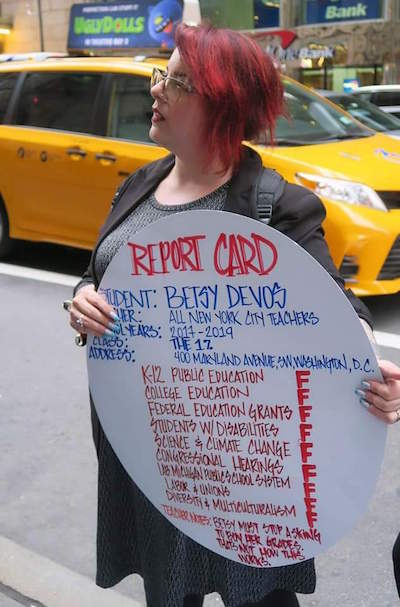 Dear Speaker Johnson,
I know you are very busy, but please take a moment and read this. As you know I'm a proud public school special education teacher. I have been teaching remotely for the last few months and I will be teaching summer school as well. Remote teaching is not ideal at all for my population. However, it is necessary for health safety reasons, and we are doing our best to make it work.
Many of my students have experienced loss because COVID-19. One student lost six family members. We lost a beloved paraprofessional, as well. She was loved by students and staff alike. Speaking for my kids, although they receive counseling services online with one of our two counselors, it will not be enough. My kids are extremely lucky to even have those two. Thank goodness for a legal document called an IEP. During this time, children's needs were met as best as we could, and they got all of their services. Can all other schools say this? Probably not. We got the services because they are legal mandates. General education populations are not so lucky, because they don't have those mandates.
We are going to need lots of counselors, citywide. There is no getting around that. Our kids are scared, confused, and who knows what else. The unknown is scary for all of us. If schools are going to open in any way, safety procedures and guidelines must be put in place and followed by all, for the safety of our families, students, and staff. This will cost money, of course. We are already stretched thin financially, and school funding has been an issue forever. That's THE reason I walked to Albany four years ago. Of course none of us could've predicted that this would've happened, but we cannot afford any more cuts. Not one cent! How can we keep everyone safe if there's no money? We need the Heroes act, and we need no more slashing of funds.
We (teachers) are fed up with the lack of leadership and real planning from the Mayor and the Department of Education (DOE). Also, if we are expected to go into these buildings without the much-needed safety guidelines, we will NOT enter them (ATTENTION: Speaker Johnson). Teachers will refuse to do so, even in hybrid mode. There has to be safety procedures and guidelines to be followed by all (and that includes the custodial staff), to actually do their jobs appropriately. Again, this costs money.
All too often you hear about how the kids need to be back in school. I agree, but what about us, the school staff? We have never stopped teaching—not even during the spring break that was taken away from us. We never stopped! We love our kids and we have been doing the best we can to try to make our kids happy, safer, and less scared.
So now we "plan" for September. However, once in the building, then what? You have staff that uses public transportation back and forth, to interact with others who traveled by trains or buses, to work with children who came on buses from their homes. If safety is not a priority, you are guaranteeing a second wave.
I'm sorry, but as an educator, activist, community leader, constituent, and caring, empathetic human being, I cannot be quiet about this—and I refuse to do so. We cannot allow those cuts to go through. Our kids, our schools, will desperately need that money!!!
Please keep all of this in mind. You have always been a friend to our schools, and you are well-respected by our union. We need you to be our local hero and save us from those cuts!
Sincerely,
Mindy Rosier-Rayburn
NYC Educator / Advocate / Organizer
President of Chelsea Reform Democratic
Club (CRDC)
UFT Political Team Co-Chair
UFT Executive Board Member, At-Large
Founding Member & Board Member of
NYPAN
NOTE: Guest Opinion pieces do not necessarily reflect the opinion of Chelsea Community News.
Chelsea Community News is made possible with the help of our awesome advertisers, and the support of our readers. If you like what you see, please consider taking part in our GoFundMe campaign (click here). To make a direct donation, give feedback about the site, or send a Letter to The Editor via email, at scott@chelseacommunitynews.com.