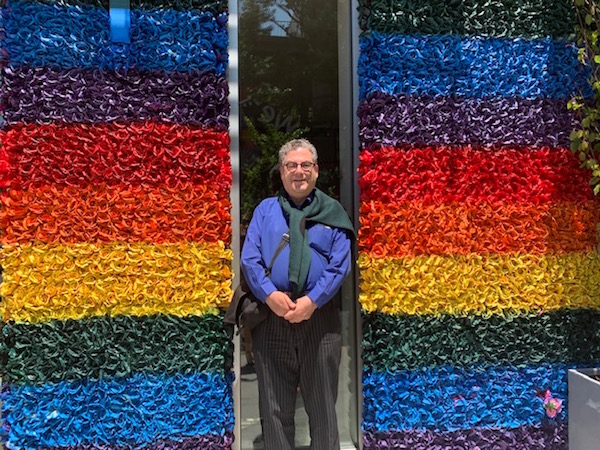 BY MICHAEL MUSTO | I've always assumed the role of an outsider, and that's tended to help my journalistic career. Getting access to all kinds of creative and cultural scenes while not being pulled onto center stage in any of them, I have a knack for being the fly on the wall and observing everything, also managing to project a passive tone, so people pour out their secrets to me and I get great copy.
But being a perpetual outsider isn't always all that gratifying as a lifestyle. In fact, there have been many times when I've felt like I didn't even fit in with the LGBTQ community.
Way back in the late 1970s, I went to my very first gay bars, assuming I'd be welcomed with arms and legs akimbo. After all, I was now out and (reasonably) proud and just knew that the community would give me a big, "Hello, Dolly!"-style greeting every time I entered the room. Wrong! This was way before Internet and hookup apps, so gay guys went to the bars and discos primarily to get picked up, not to celebrate each other's wit or knowledge. And I hardly looked the part of a hot dish. At this point, when the cartoonishly macho disco group Village People were a sensation, many gays were affecting an impossibly manly pose, whereas I was scrawny, had bad skin and terrible hair, and wore zippered turtlenecks that my mother had procured me from the Sears-Roebuck catalogue when I was in high school.
Far from being toasted as a relatively new member of the community, I was persona non grata. I remember a night at the Barefoot Boy—a popular disco slash pickup bar on the East Side—when I asked a guy I was talking to if I could buy him a drink, thinking that might somehow be a prelude to something more. He looked like he didn't even want me to do so, but gave in, enjoying the cocktail while giving me the cold shoulder. That moment took me back to my old schoolyard, where I'd always been the last one selected to be on a baseball team, and sometimes not picked at all. (Yes, even straights rejected me, lol.) It's rough to feel out of step with those around you as you grow up, waiting for the moment to connect with others like you, only to finally try to do so and be sidelined again. I didn't even belong to my own people!
I found much more of a community in '80s clubs, where I had made myself someone on the scene by sheer determination. Some groupies were even throwing themselves at me, and though I didn't partake of that, it certainly felt vindicating, considering my self-pitying history as the reject in the corner.
And the AIDS crisis wound up bringing us all closer together, out of sheer necessity. We were clinging together for dear life, while sharing our outrage and channeling it into action. In 1987, I walked into my first meeting of ACT UP—the AIDS activist group—and was happy to find that the grassroots organization spanned various threads of the community, including lesbians, who aren't always in the same room with gay men. ("Why do lesbians care?" some cynically wondered. "They're not getting AIDS." Well, it's because their community—LGBTQs—was getting it, so they stepped up to plate and kicked ass for the team.) With an urgent common cause—demanding that people, especially the government, take note of HIV—it did feel like a community, and a fierce one at that, and I was thrilled to be part of it. I wasn't "fabulous" here like in the clubs, but I felt useful and fed off the brilliant energy at the meetings and protest actions, using our communal clout to make a difference.
But in the '90s, the macho thing took over again, and suddenly all the guys at the Roxy dance club on gay Saturdays had bulging pecs and were obsessively anxious to show them. I understood why this had become the craze—it was thought to be a defense against AIDS and also bashing, though it didn't really work—but I felt left out once again, since I hate the idea of ritualized pain at the gym. Besides, if I did work out, I'd simply look like a weird guy with some muscle. So I'd always push through the dance floor and go to the upstairs area, where there was more of a mix and you were actually allowed some love handles. Body fascism had taken hold of the community, and I was finding crafty ways around it for my own spiritual survival. I was fitting in, albeit only with the other kids who didn't fit in.
Too often, the LGBTQ community dictates what kind of queer you're supposed to be, adding to the oppression you already get from a homophobic society. Gays have to be "straight-acting" (whatever that means), trans people have to pass and be tasteful, and so on, until the only possible act of liberation is breaking free from queer rule. I was never that kind of gold-star gay. Even as a writer for the Village Voice, I wasn't embraced by the corporate gay establishment, seeing as I wasn't invited, honored, or acknowledged. I wore zany thrift store clothes, shook up the celebrity closet, and had no patience for "well-meaning," self-defeating gays, especially ones with family money or entitlement. I was pretty fruity and not the kind of gay they wanted to promote—or even give support to, when I asked for it—and it took years for the powers that be to take note of me.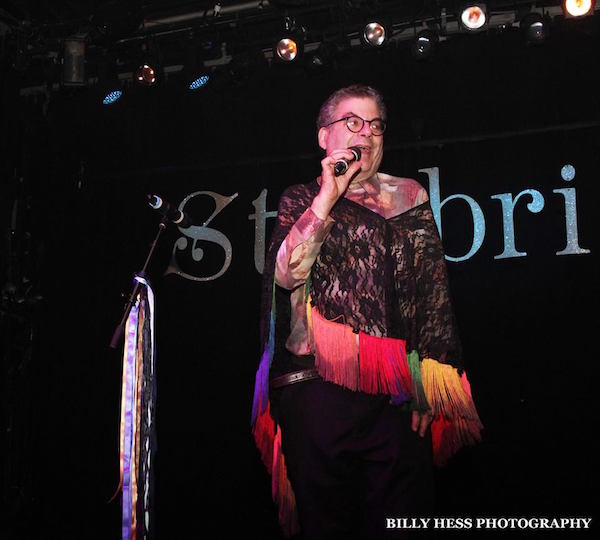 Since then, the community has come around—drag queens were once banned from the Pride parade, but now corporate gays covet anyone from Drag Race—so I've made strides as a left-of-center gay who does feel like part of a community these days. In fact, the word "gay" almost always accompanies my name, and that's fine with me. And I'm now wise enough to realize that the bar scene and the corporate arena aren't the community—they're just two strands of it, and you don't have to be embraced by every single person in your "family" to be part of it.
What's more, gays are people, flaws and all, and if I had to actually achieve something and show up in a lot of Netflix documentaries in order to get recognized, so be it. I now have a seat at the gay table and I feel like I have brothers and sisters I can turn to. Now to get back our seat at the straight table.
NYC-based Michael Musto is a longtime nightlife chronicler and pop culture commentator. Follow him on Twitter, via @mikeymusto.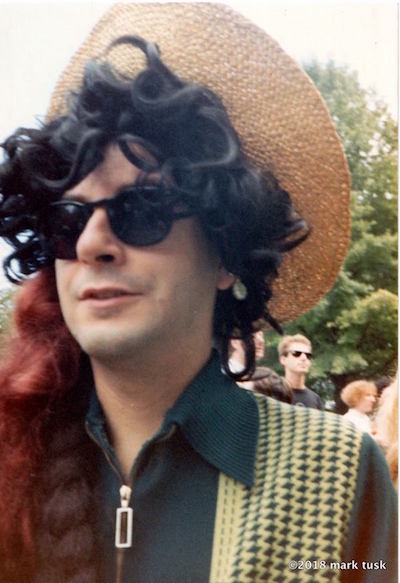 Chelsea Community News is made possible with the help of our awesome advertisers, and the support of our readers. If you like what you see, please consider taking part in our GoFundMe campaign (click here). To make a direct donation, give feedback about the site, or send a Letter to The Editor via email, at scott@chelseacommunitynews.com.