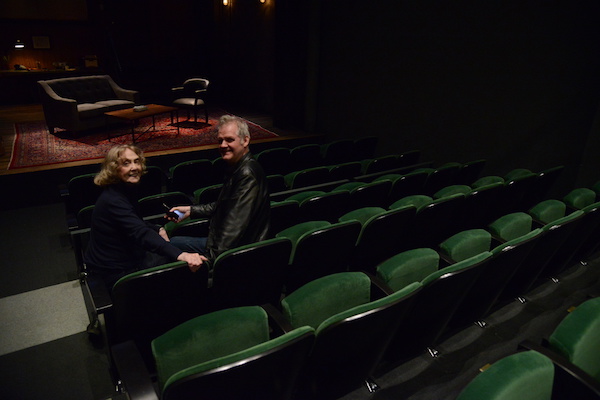 BY SCOTT STIFFLER, WITH ADDITIONAL REPORTING BY HIBA SOHAIL | Since putting down roots in Chelsea in 1994, the Irish Repertory Theatre has seen many challenges—only a handful of them causing the acclaimed Off-Broadway destination to shutter its 132 W. 22nd St. space.
There were brief closures after 9/11, the blackout of 2003, and 2012's Hurricane Sandy—and a much longer one in late 2014, when the Irish Rep embarked upon a 20-month, $14 million home improvement project. While upgrades were made to administrative, rehearsal, lobby, and performance spaces, the show went on—more than one of them, in fact, at Union Square's DR2 Theatre.
How long the current closure will last, nobody knows. Like all NYC theatres, COVID-19 precautions compelled the Irish Rep to suspend performances at its 148-seat Francis J. Greenburger Mainstage and configuration-specific 45-62-seat W. Scott McLucas Studio Theatre. While a ghost lights burns on the Mainstage until actors return to tread its boards, the show, as it has in the past, goes on—this time, with a twist that gives each new offering a global reach.
The Irish Rep became one of the city's first theatres to establish a COVID-19-compelled digital presence, when The Show Must Go Online premiered on March 17, 2020 (which, even the non-Irish know, is St. Patrick's Day). The prolific digital series, produced by the Irish Rep and Michael Mellamphy, features content created by Irish Rep company members. For info, click here.
On Monday, July 13, 7pm, the Irish Rep generates another original online program, designed to serve as a virtual version of their annual gala fundraiser. (Tailor-made for rubbing elbows, social distancing put the kibosh on the 2020 version of that intimate affair.)
The Irish (Rep)…And How We Got That Way: A Celebration of Endurance and Perseverance Through Hard Times offers a special screening of a 1998 taping of the Irish Rep's world premiere production of Pulitzer Prize winner Frank McCourt's The Irish…and How They Got That Way, described on the theatre's July 13 event page as "an irreverent history of the Irish through the tumultuous 20th and 21st centuries."
Viewing of The Irish (Rep)…And How We Got That Way is free of charge (donation suggested, and welcome), and the program will remain accessible online through July 19, via the Irish Rep's YouTube channel. Click here to be taken there.
For those who want the sort of exclusive content and intimate interaction their gala offered during its good old brick-and-mortar days, the Irish Rep offers VIP pre-show celebration, via Zoom. Supporters will see a live performance by Ciarán Sheehan, and live conversations with the cast and creatives. VIP and pre-event tickets start at $500. Other special benefits start at $100. Advance reservations are required. To do so, and get more info about the 6pm/7pm programming, click here.
Those joining in at 7pm will also enjoy a VIP-ish perk, via an all-new video introduction featuring Irish Rep board chair Kathleen Begala, Ellen McCourt (Frank McCourt's widow and Irish Rep board chair emerita), and Frank McCourt's brother, Malachy McCourt. Also appearing in the video will be Irish Rep co-founder and artistic director Charlotte Moore and co-founder and producing director Ciarán O'Reilly, both of whom spoke with Chelsea Community News earlier this week, about rising to yet another challenge, and finding a new way to reach audiences in the process.
Said Moore, of their 1998 production, "I look forward to seeing it again. One more time is always a pleasure for me!" O'Reilly called the rewatch "nostalgic for us. It was one of the first shows we had that went to public television, and we're all very good friends with everyone in the show."
The Irish…and How They Got That Way, recalled Moore, ran for "a long time [at the Irish Rep], as well as in Boston, Chicago, and… features Rusty Magee, who we lost a few years ago—and it's always wonderful to see him again."
The Irish Rep has taken advantage of down time at their home base to repaint, renovate, and freshen things up. Upgrades from these rainy day projects notwithstanding, Moore said, "We can't wait to go back."
Noted O'Reilly, "It's very strange… it's quite surreal [to see the theatre closed], but we are staying in touch with our supporters and patrons. We had our digital summer season, with many different ZOOM events … [including] The Show Must Go Online and Meet the Makers." Meet the Makers featured people from different aspects of productions (musicians, designers, composers, and choreographers) and "gave them an opportunity to talk about their process," Moore explained.
The theatre has more content planned for the summer, including The Weir by Conor McPherson, directed by O'Reilly himself. "The play was shot remotely," he explained. "There were five actors [all in five different states], but they all end up in the same pub in the end, which was a challenge!"
The pair expressed their excitement to return to live performances in Chelsea, with O'Reilly reassuring, "We will be guided by the state and government as to what is allowable. The first opportunity that we have… We will hit the ground running. Broadway has given a date of January 2 [2021], but we're hoping in the fall we can do some programming at the theatre."
Regarding potential programming in the fall, Moore emphasized that it will be with "careful social distancing, air filtering, and a spotlessly clean, disinfected theatre. [We will] take every precaution we can possibly take."
"Essentially, we just tried to make COVID work for us," O'Reilly said, with Moore adding, "And we have made it work for us."
Chelsea Community News is made possible with the help of our awesome advertisers, and the support of our readers. If you like what you see, please consider taking part in our GoFundMe campaign (click here). To make a direct donation, give feedback about the site, or send a Letter to The Editor via email, at scott@chelseacommunitynews.com.