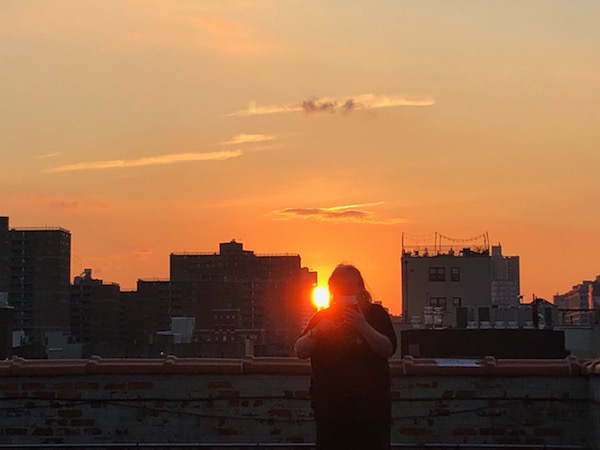 "Writing the Apocalypse" is a weekly series featuring the poems, essays, and recollections of Puma Perl, with subject matter influenced by her experiences as a NYC resident during the COVID-19 pandemic.
When Dreams are Nightmares and Nightmares are Dreams | By Puma Perl
In a year,
or two,
or three,
when we come back
from this nightmare
as if waking
from fevered dreams,
I will read my datebook
notations
like a poem.
Walked with Diva, Yoga
Plank
Joff live Fine Fare
Meditation White Russians
Talked to Jack
Volunteers of America
Zoom Dennis died
People Have the Power
Joe's brother Bob
Yoga Zoom Diva
Heroes
Yoga Plank
Chinese food Steak
Yoga Plank
Rooftops
I wrote down
every single thing
I did
to prove to myself
I was alive
I will compare
the "before"
and "after" photos
Pollution
created beautiful
sunrises
The air cleared
and the colors
faded
I rarely
took selfies
and was never
alone
in the "before,"
but in the "after"
I have no sunrise
photos
Just the river
and the empty highway,
the smiling dog,
protesters,
and selfies,
masked
and unmasked
Last week
we did poetry
on an Avenue C
rooftop
Sunset
and vodka,
masks,
words,
stairs,
people,
voices,
laughter,
poems
Finally,
my datebook
reflects
a memory
of a happening
in my life
and yours,
off the screen
and into the sky.
© puma perl, 07/22/20
Puma Perl is a poet and writer, with five solo collections in print. The most recent is Birthdays Before and After (Beyond Baroque Books, 2019.) She is the producer/creator of Puma's Pandemonium, which brings spoken word together with rock and roll, and she performs regularly with her band Puma Perl and Friends. She's received three New York Press Association awards in recognition of her journalism, and is the recipient of the 2016 Acker Award in the category of writing. Her most recent books can be found by clicking here.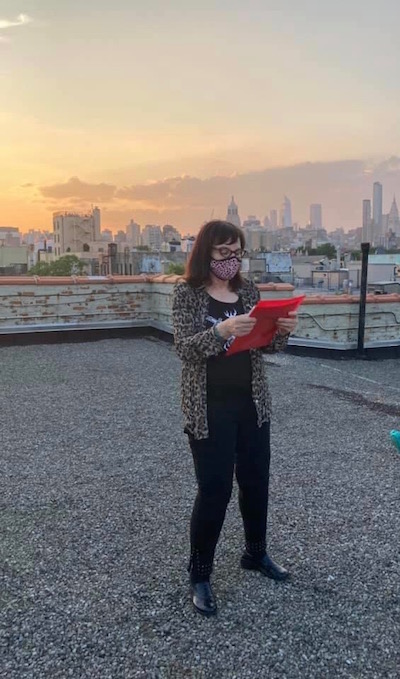 Chelsea Community News is made possible with the help of our awesome advertisers, and the support of our readers. If you like what you see, please consider taking part in our GoFundMe campaign (click here). To make a direct donation, give feedback about the site, or send a Letter to The Editor, email us at Scott@chelseacommunitynews.com.