BY RANIA RICHARDSON | Plans are underway to reopen New York City schools on September 10—but nothing is guaranteed in these pandemic times. City officials, health experts, school administrators, educators, parents, and other related parties are meeting to prepare for School Year 2020-21, knowing that their work is in a dynamic state and subject to change in accordance to new information, or a rise in the local COVID-19 infection rate.
There are 1.1 million students in the city's public school system, the largest in the United States, making the reopening project a colossal task, to say the least.
With more than 20,000 members of the community in attendance via video conferencing, New York City Department of Education (DOE) Schools Chancellor Richard Carranza spoke at July 16's Return to School Family and Student Information Session, the first in a series of virtual opportunities to learn more about the DOE's plans for the 2020–21 school year.
Carranza said that the go-ahead to reopen would be made in early August, by Governor Andrew Cuomo. Until then, the DOE is preparing for a year with 100% commitment to the health and safety of all. Plans need to be nimble because the facts regarding the epidemic are changing on a weekly or even daily basis.
"Students will be learning five days a week," said Carranza, who described a "blended" approach that combines on-site and remote education on different days. Most students will be in the classroom two or three days per week, reducing the number of people in buildings, in the interest of maintaining social distancing. Each school can choose one of three programming models, or request an exception to meet specific needs.
Two other models are available for District 75 schools that provide specialized support for students with significant needs such as Autism Spectrum Disorders and sensory impairments. School programming models that indicate scheduling are available by clicking here.
Any family may select 100% remote learning for their child, avoiding school buildings altogether. The deadline to make this choice is August 7, in order to get accurate counts for faculty and class sizes. Enrollment periods during the year will allow for switching between 100% remote and blended learning.
To ensure adequate physical separation in schools, one-half to one-third of students will be in class at the same time. Cafeterias, gyms, and satellite (non-DOE) spaces will be employed. The outdoors will be used as much as possible. If someone gets sick at school, there will be an "isolation room" available.
Carranza said that masks, hand wash, sanitizer, wipes, and nightly deep cleaning will be standard protocol, and announced that cleaning supplies and PPE (Personal Protective Equipment) will not come out of individual school budgets.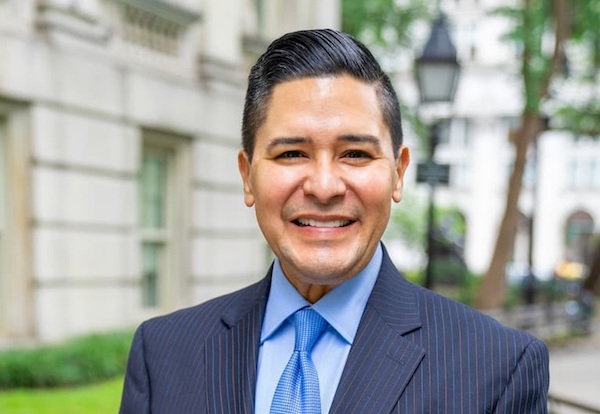 The question of taking temperatures upon school entry is one of logistics. It can work for a small school, said the Chancellor, but at Bronx High School of Science, with 3,000 students, "It could be the equivalent of a TSA check-in."
Carranza said that schools will give all kids what they need to excel, particularly in the light of systemic racism and correcting inequities such as the digital divide. The DOE will ensure that all students have computers and Internet connectivity, as well as support for trauma.
Mental health will be prioritized, particularly in the first few weeks of school, with a focus on social and emotional support. "We make no apologies for this," he said.
By way of explanation, the Chancellor mentioned that he "led Hurricane Harvey learning." (In 2017, during his tenure as superintendent of the Houston Independent School District, catastrophic rainfall-triggered flooding devastated the area and took many lives.)
Lightening the mood, when issues were brought up regarding certain specific topics, Carranza said he wanted to, "Phone a friend," referencing the request on the Who Wants to Be Millionaire? game show, and then called upon one of the DOE's staff experts to speak to the issue.
The DOE's John Shea, Chief Executive Officer, Division of School Facilities, responded to the question of indoor ventilation. Critical to creating an environment safe from disease outbreak, HVAC systems must be upgraded for better airflow, a challenge due to varying equipment across schools. Mitigation devices such as MERV 13 air filters can take the coronavirus out of the air, and will be used if possible. Some older buildings have windows with exhaust fans. Those windows may be opened for outside ventilation.
LaShawn Robinson spoke from her purview as the DOE's Deputy Chancellor for School Climate & Wellness. "We believe deeply in supporting the whole child," she said, noting, "Parents can expect a strong focus on community connections and relationships." That will include opening circles to set up the day and closure activities at the end of lessons to gauge how well the students are processing.
In the best case scenario, NYC's reopening plan will be a way forward for the rest of the country, still struggling with the ever-changing pandemic
—The DOE will host virtual citywide Return to School Family and Student Information Sessions from 6:30-8:30pm on Tuesday, July 28; Wednesday, August 12; and Thursday, August 27.  To register, click here, where you can select your preferred language (English, Spanish, or Chinese), and submit a question.
—To read Chancellor Carranza's message to families (the July 8, 2020 letter Return to Schools), click here. Please bookmark schools.nyc.gov/returntoschool2020(Open external link), where more information is available, and which will be regularly updated as we get closer to reopening.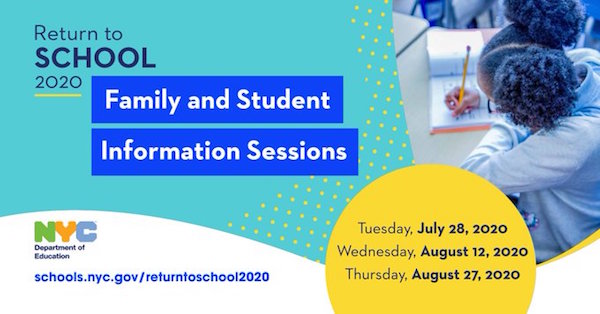 Chelsea Community News is made possible with the help of our awesome advertisers, and the support of our readers. If you like what you see, please consider taking part in our GoFundMe campaign (click here). To make a direct donation, give feedback about the site, or send a Letter to The Editor via email, at scott@chelseacommunitynews.com.