BY SCOTT STIFFLER, WITH ADDITIONAL REPORTING BY HIBA SOHAIL  | As New York City spends its long, hot summer determined to build on the gains of Phase 4 reopening status, the recently launched Open Streets initiative spends 12 hours a day, every day, transferring ownership of the road from cars and trucks to parents, kids, joggers, bicyclists, dog walkers, and pedestrians happily freed from the surly bonds of the sidewalk, whose narrow nature makes the six-foot-rule nearly impossible to obey.
"People come out the moment the cars are blocked off, just walking, or kids with their scooters. It's immediate," said Melodie Bryant, of Open Streets' magnetic pull.
Bryant, who lives on one of Chelsea's Open Streets, said the new reality of accessing a whole crosstown block for recreation or relaxation is "wonderful. Chelsea has exploded with street life. It's been really good for all of us." So good, in fact, she already envisions a future in which her block's recent quality of life upgrade takes hold, with a few notable improvements. "I'd like to see more bike parking, and more public seating," she suggested, "if the plan becomes permanent."
Describing herself as "wholeheartedly in support" of Open Streets, Pamela Wolff, co-president of the preservationist group Save Chelsea and a member of the Council of Chelsea Block Associations, described herself as "wholeheartedly in support" of Open Streets. In think-ahead mode, however, she wondered, "How amazing would be if we could civilize our city by creating park-like streets, say, every third cross-town in residential neighborhoods? Our neighborhoods would then begin to belong to the people instead of the cars!"
Noted Christine Berthet, Co-Chair of Community Board 4's Transportation Planning Committee and co-founder the pedestrian advocacy group CHEKPEDS, Open Streets are "really being used as a shared space, which is beautiful. Parents are teaching their kids how to ride a bike, and people are just out walking. It's building a community and a neighborhood."
A collaborative effort between the Mayor's office, NYC Council, NYPD, Parks, NYC DOT (Department of Transportation), BIDs, and local community organizations, Open Streets made a modest, 7-mile debut in early May.
Since then, its reach has expanded to all five boroughs, currently accounting for 70.58 miles of the 100 committed to when the program was announced.
Through traffic is not permitted, and vehicle traffic is limited to deliveries, pick-ups/drop-offs, necessary city service vehicles, utility vehicles, and emergency vehicles. During times when Alternate Side Parking (ASP) is in effect, vehicles must be removed from the street, and may return when ASP over. The DOT advises extreme caution and a speed of 5 mph for any vehicle in an Open Street block during its active hours.
Unless otherwise noted, Open Streets are available 8am to 8pm daily, for pedestrians and cyclists to use the roadbed of the street while maintaining social distancing. As start time approaches, barricades spanning the width of the street are set up on both ends of the block. Some come from community partners and the DOT, but most are of the blue sawhorse and silver French Barricade variety, via the NYPD.
But the barricades' effectiveness is at the mercy of driver compliance.
Berthet was disheartened to hear of barricades being not-so-politely removed by angry drivers determined to gain access (as noted in this June 28, 2020 article NY Post article). but still rejects a scenario floated in the pre-launch days that would have stationed NYPD officers at the barricades, at all times. "The program should not require somebody to be on guard," she said, while insisting improvements can be made to prevent, not merely discourage, through traffic scofflaws. Speaking for herself as well as CHEKPEDS, Berthet said, "The barricades' material is very flimsy. They should be [made of] much heavier material."
As such, she noted, CHEKPEDS and other community stakeholders who collaborated on creating Open Streets and continue to advise, are "talking about using construction barriers that are plastic and filled with water," but can be arranged in a manner that "leaves space for legitimate traffic to enter, without having to move them."
And, Berthet further suggested, the DOT "could install some signs that look more official."  (Current signage is of the boilerplate "Do Not Remove" variety one would find on barricades used for crowd control at parades. Berthet's envisioned upgrade would include DOT and NYPD logos.)
Bryant and others on her block aren't waiting for the installation of better barricades, bolder signage, or outside assistance.
Shortly after their block became an Open Street, recalled Bryant, "We took control, by not expecting the NYPD to place and remove the barriers on a morning and evening basis. So I moved them myself."
She's wasn't alone in that effort for long. Not long after posting a few signs encouraging her neighbors to be aware of removed barricades, the block become "self-sustaining," said Bryant. "More than once, I've come out to move barriers and found someone has already done it, Or I see a big SUV come through, and find the driver moved them back [into place]."
Bryant said the NYPD "hasn't been a hindrance" to their efforts, noting the program works better when more autonomy is given to the residents of an Open Street. "On other successful blocks," she said, "community volunteers have a schedule [for barricade set-up and removal], and go by that."
Referencing, among other sources, a study released last week by biking, walking, and public transportation advocacy group Transportation Alternatives ("The Unrealized Potential of New York City's Open Streets," in which she is quoted), Bryant said, "If you have had a chance to read some of the stats, the Open Streets which depended on the NYPD have fallen apart, because no one in the community stepped up." To access that study in full, click here.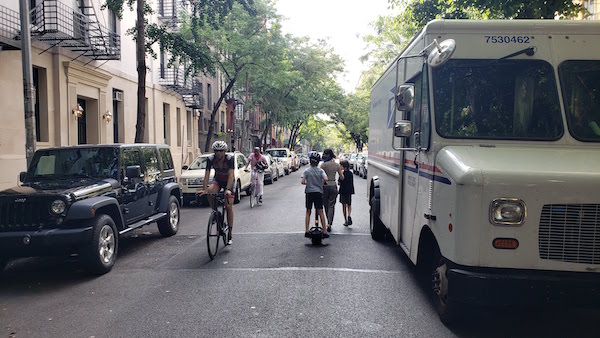 Regarding congestion from vehicles permitted to enter her block during Open Streets hours, Bryant said there are sometimes "up to five trucks—movers, oil delivery, window cleaners, what have you—and without traffic honking at them, they just get their work done and go. They don't have to come out and move their trucks and drive them around the block to make room for someone who wants to get by. No arguments. No noise. No idling, no honking, and no pollution. My point being: You can still do business on an Open Street."
Business is indeed being done, and for a far longer stretch of time than it takes to fill a homeowner's oil tank. July 4 weekend saw the establishment of Open Streets: Restaurants—which, the DOT notes, allows "individual food establishments" to apply online and "self-certify to use the sidewalk or curb lane adjacent to their business." Community-based organizations, BIDs, and collectives of three or more restaurants can apply for weekend-only outdoor dining. Current local destinations include the block of W. 22nd St. between Fifth and Sixth Aves., and Broadway between W. 25th and 28th Sts. (both under the purview of the Flatiron/23rd St. Partnership BID).
Also with an eye on the long-term, Berthet said CHEKPEDS and others who played a part in the creation of Open Streets would like to see NYC enact an appropriately adapted version of the Barcelona model, where "the smaller streets are designed to be dedicated to the pedestrians." Open Streets also, noted Berthet, needs to be "better organized, and expanded for communities that need it the most." (Posted on July 27 to Streetsblog NYC, "Mayor's 'Open Streets' Are In Wealthier Neighborhoods, Data Show" said that while its current 70-plus miles "are more equitably distributed than they were earlier in the program," Open Streets still "caters to the rich.")
Reinforcing their own findings "that the open streets are disproportionately in high-income areas," Streetsblog noted the Transportation Alternatives study "also found that only 37 percent of New Yorkers live within walking distance of an open street, and only 20.5 percent of New Yorkers who live within walking distance of an open street are Black." Still, the study noted, of its warts-and-all findings, "Open Streets are ripe with potential."
With persistence from the voices of constructive criticism and adaptations based on lessons already learned, there appears to be time for a multitude of potentials to take hold: Currently, no end date is scheduled for Open Streets.
Open Streets, from Chelsea to Hudson Yards  
Ninth Ave. btw. W. 14th & 15th Sts.
W. 21st St. btw. 9th & 10th Aves.
W. 22st St. btw. 7th & 8th Aves.
W. 25th St. btw. 8th & 9th Aves.
Hudson Blvd. East, btw. W. 35th & 36th Sts.
Hudson Blvd. West, btw. W. 35th & 36th Sts.
Chelsea Community News is made possible with the help of our awesome advertisers, and the support of our readers. If you like what you see, please consider taking part in our GoFundMe campaign (click here). To make a direct donation, give feedback about the site, or send a Letter to The Editor via email, at scott@chelseacommunitynews.com.