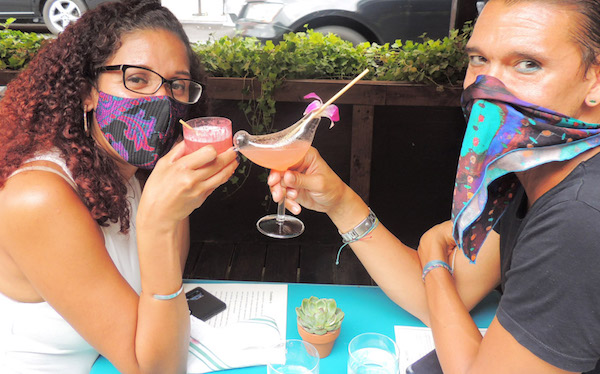 TEXT AND PHOTOS BY DONATHAN SALKALN | If you live in Chelsea or are just there for a visit, you don't need a plane ticket, a backpack full of masks, and 14 spare days for quarantine to experience other parts of the world. Chelsea is home to extensive culinary options for the domestic and international palate.
With a surprisingly well-coordinated effort between Mayor Bill de Blasio, the NYC Council, and NY Governor Andrew Cuomo, the launch of Phase 4 (the fourth and final stage of reopening) has brought an explosion of dining tables, soft music, and colorful flora to sidewalks and streets of Chelsea, transforming it from a take-out and delivery-only zone into a wonderful, international happening!
I recently went on a couple of global trips, all within Chelsea's borders. While smelling the aromas of sizzling shrimp and guindilla peppers, I closed my eyes and let the sangria roja swirl my head to the restaurant's music of Flamenco. Yes, it was during a heat wave—yet the perpetual summer breeze off the Hudson River tempered any discomfort, and I felt I was along the coast of Valencia, Spain. My moments of being back in Spain tickled my soul. When I opened my eyes, I was at the Socarrat Paella Bar on West 19th Street.
On another evening, I decided to go to Cuba. Why not? After a short walk, I blindly tossed back a Mojito while listening to Cuban Salsa and, gnawing on a succulent bone of spiced goat neck, I felt like I was vacationing in the Caribbean. When I opened my eyes, I was under the scaffolds of London Terrace, at Calle Dao restaurant. It's greeter, Okita, told me that the scaffolding is great, in that it keeps the sidewalk cool all day, and is the ultimate protection when a thunderstorm hits.
Later in the week, I decided to go to Gloucester, Massachusetts. True, it's not international, but I had just watched Perfect Storm, and Sebastion Junger's establishment, Half King, on West 23rd Street near Tenth Avenue, has closed its doors. I instead walked to Eighth Avenue and enjoyed Seamore's daily catch, called the "Reel Deal." The dish of Montauk scallops with cauliflower mash was delicious!
Local diners are greeted by the smiling faces of restaurant workers—faces that were idle for over nine weeks. Said Tao's greeter Ariel, "We missed our regulars and we even missed each other. Some of us have been at Tao for over ten years and it's special to be all back together."
The best seats for dining might be street booths situated away from sidewalk panhandlers and even those individuals temporarily or permanently off-kilter. Although these seats are close to traffic, they will buffer diners from interaction from (or altercations with) passersby. And, although private seating in a restaurant's backyard garden might be tempting, there is much more circulation of fresh air outside the establishment. For best times of street circulation during Chelsea's sunny summer day, take note: A strong offshore breeze begins around noon, and calms down as dusk approaches.
Below is an alphabetical list of Chelsea restaurants, all eager to serve food and drink. Many of these restaurants have happy hours and dinner specials too numerous to mention here.
Bon Appétit to your Chelsea travels across a world of tastes!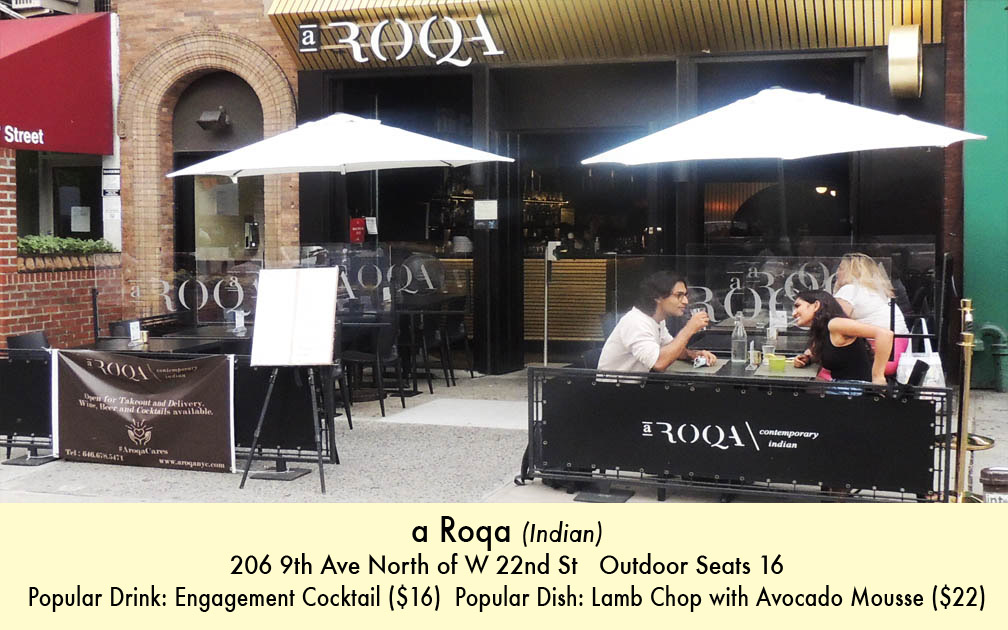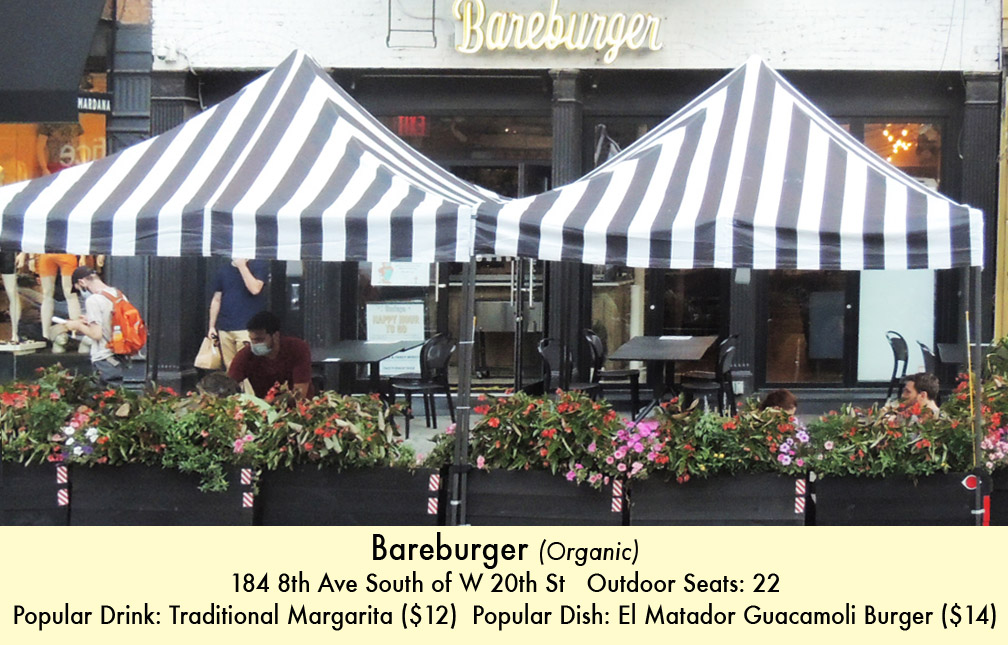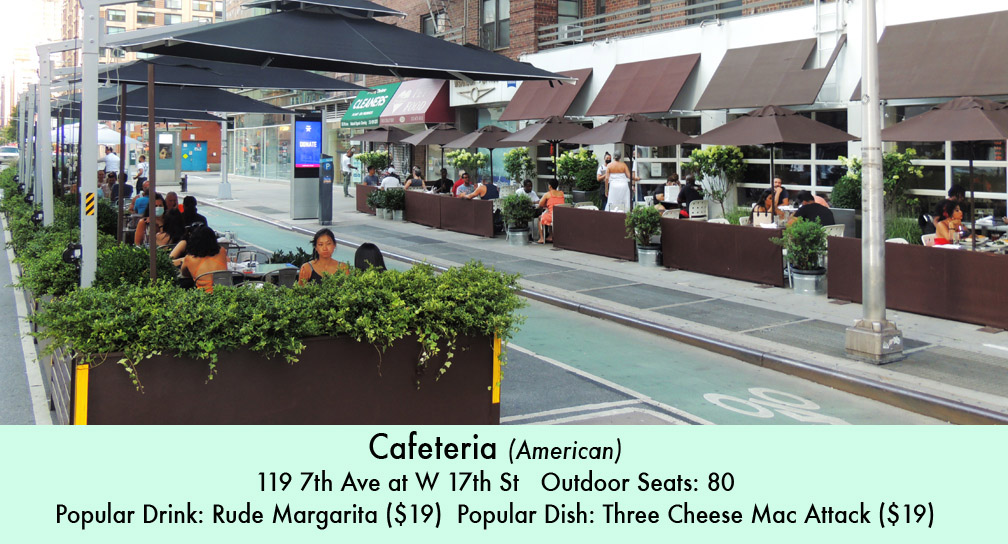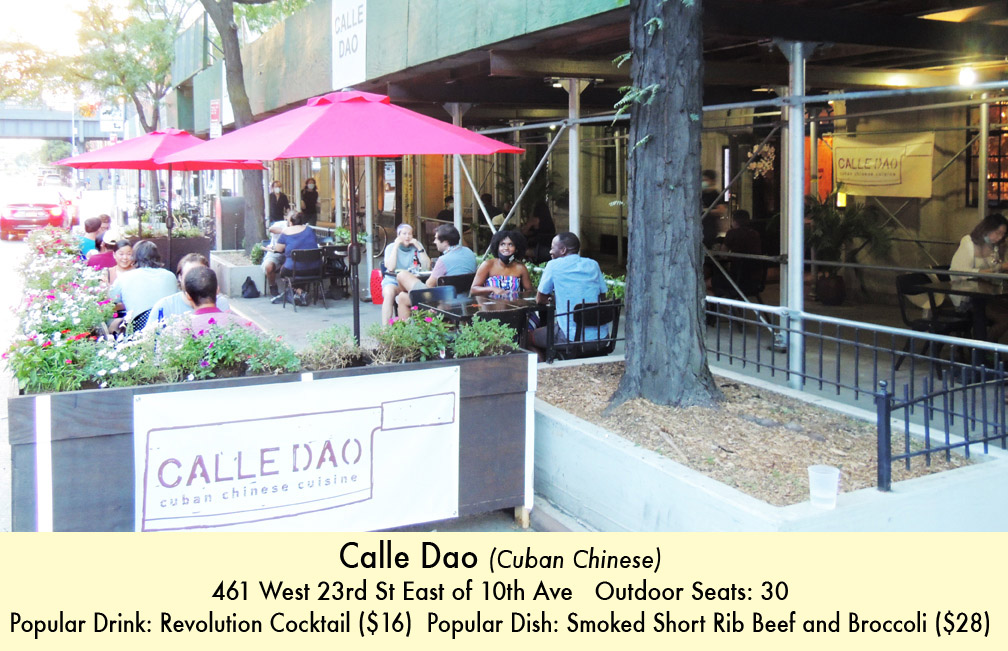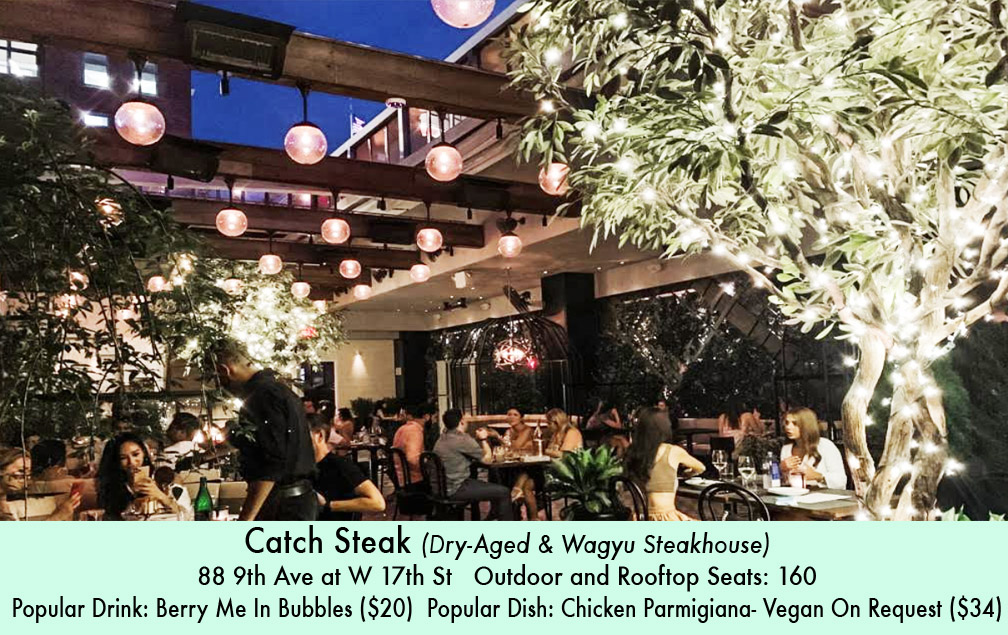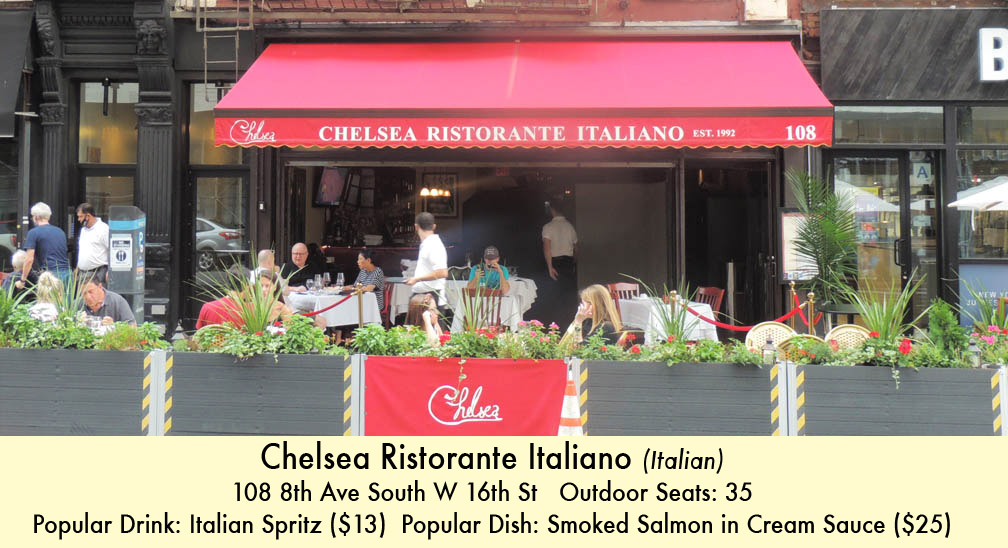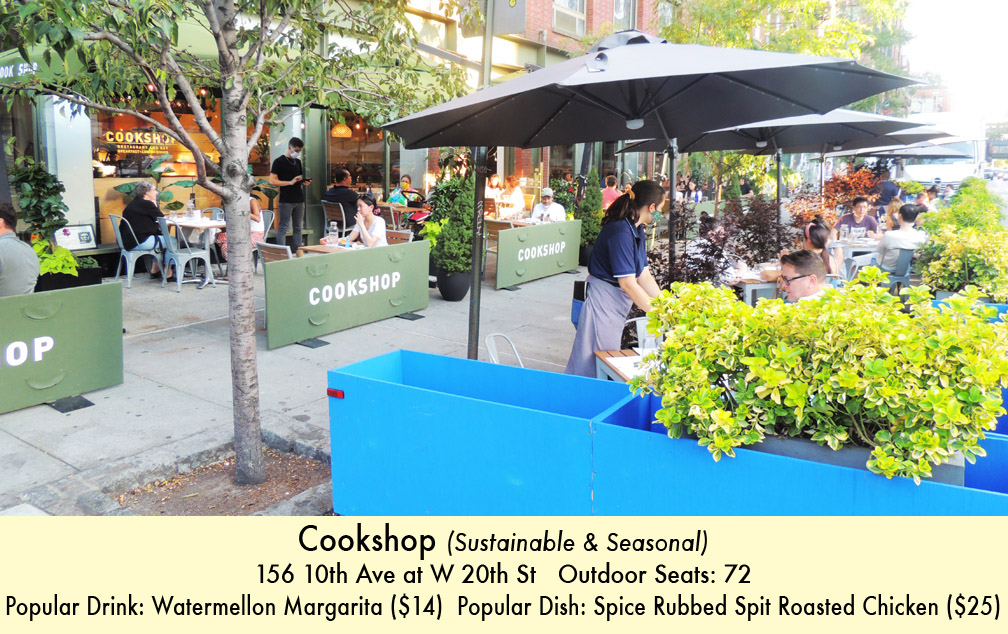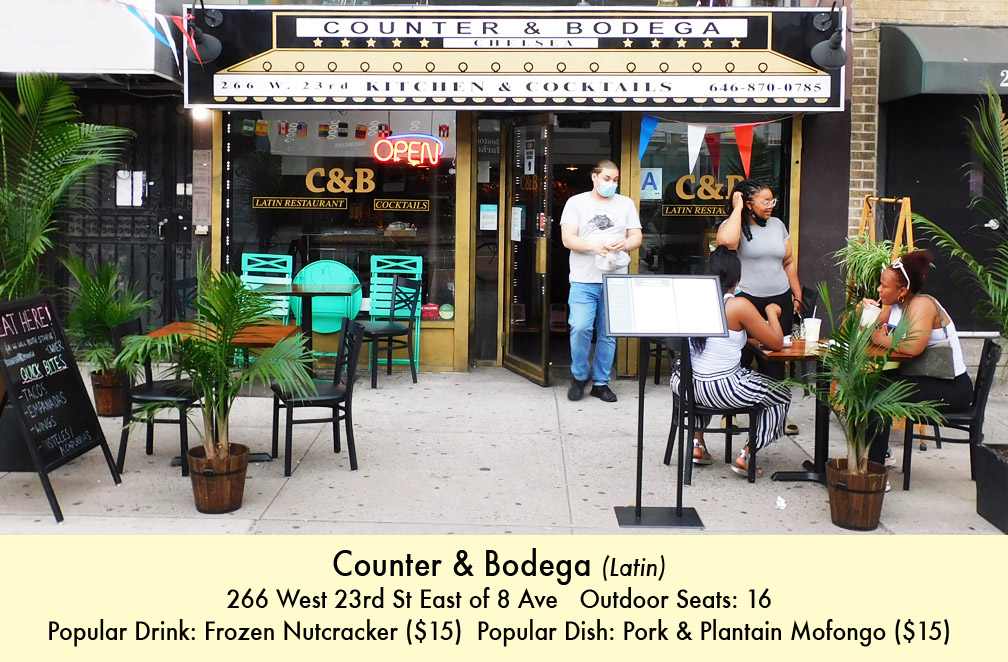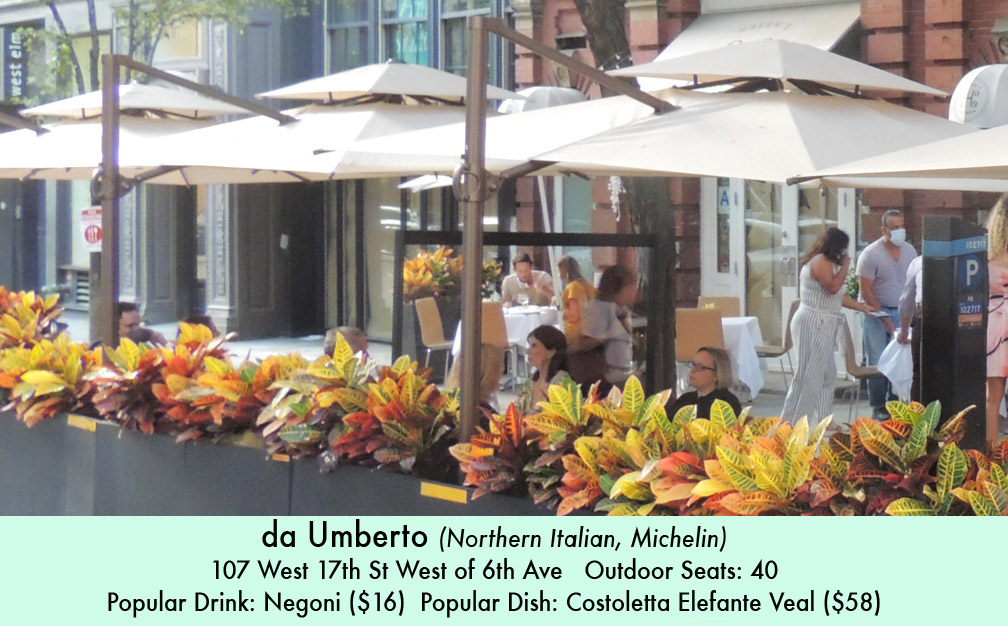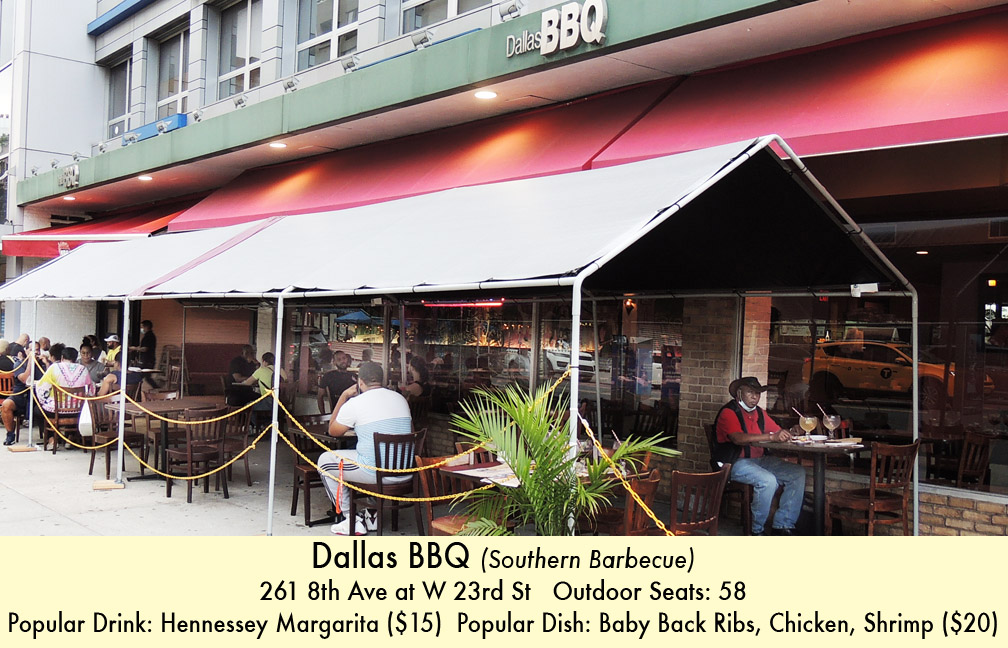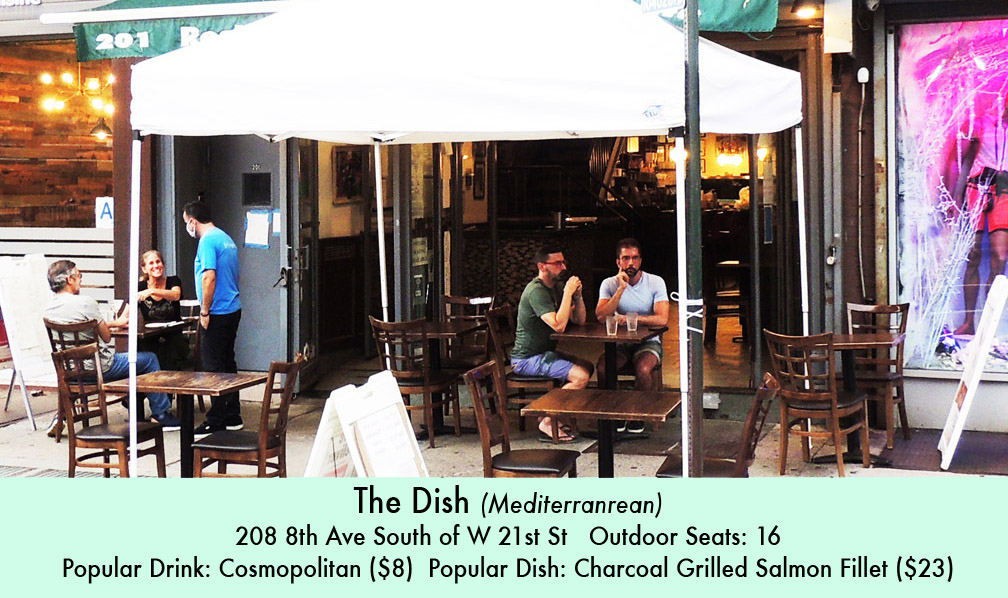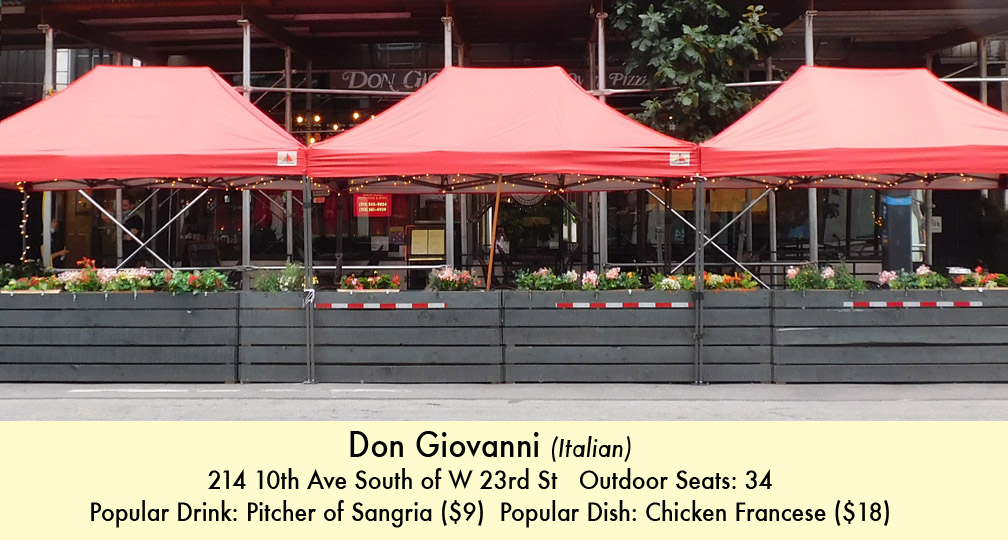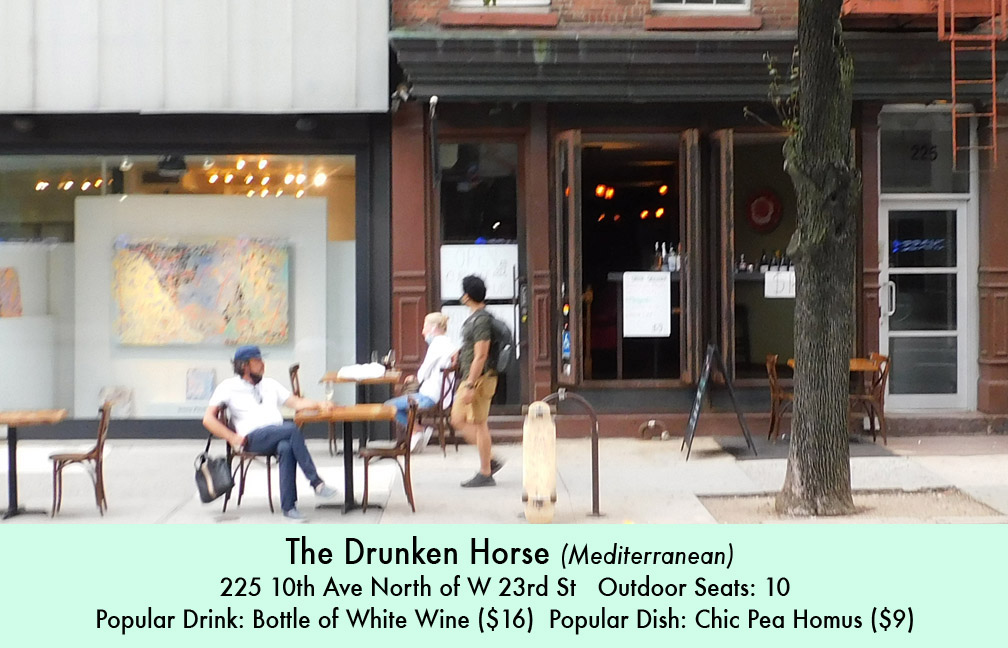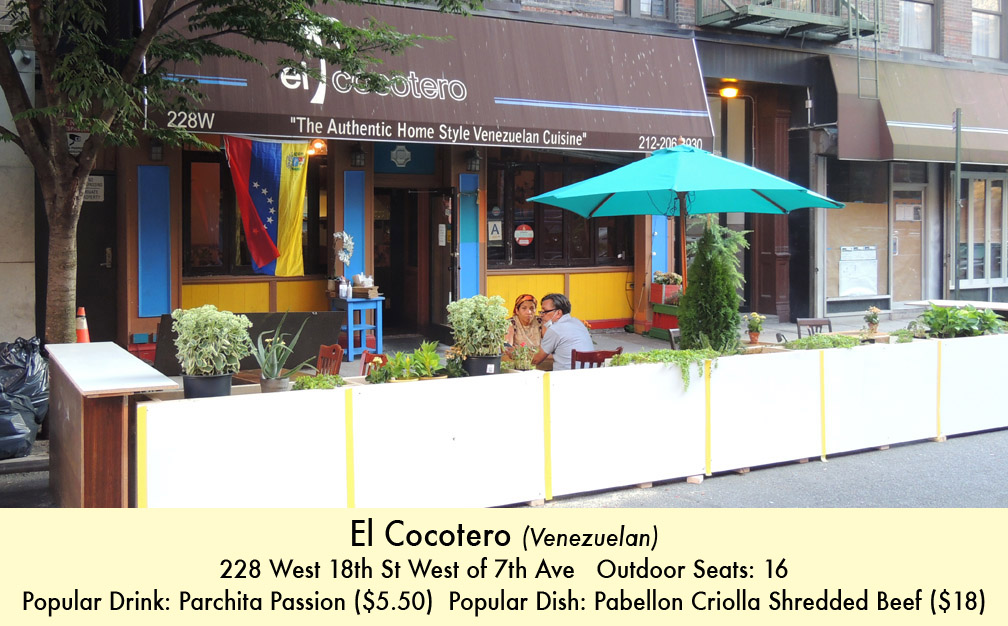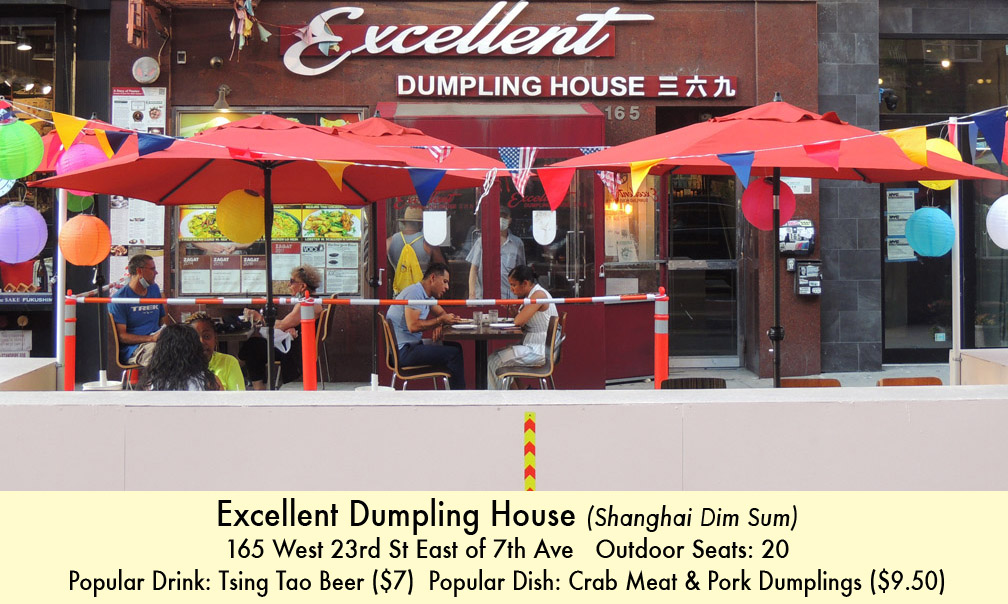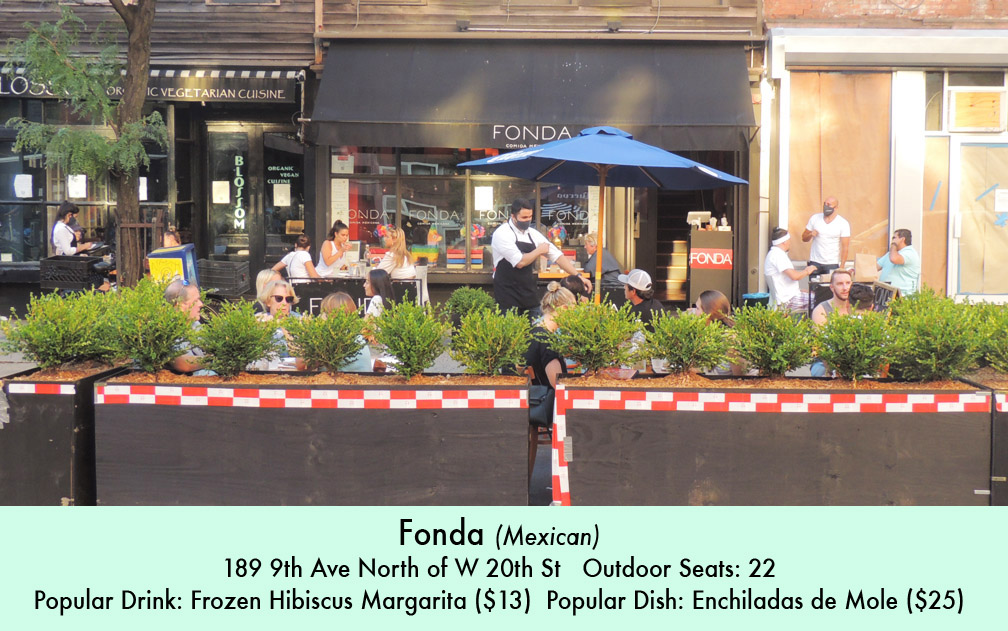 NOTE: Shortly after this article was published, Good Stuff Diner closed, permanently. An open letter to their customers, left in the front window, said the decision was due to "the obstacles of the COVID-19 Pandemic." Those obstacles, they noted, included the "lack of rent reduction" and "the lack of a plan from the city in terms of the return of indoor dining."  (September 30's return of indoor dining to NYC was announced shortly after Good Stuff closed.)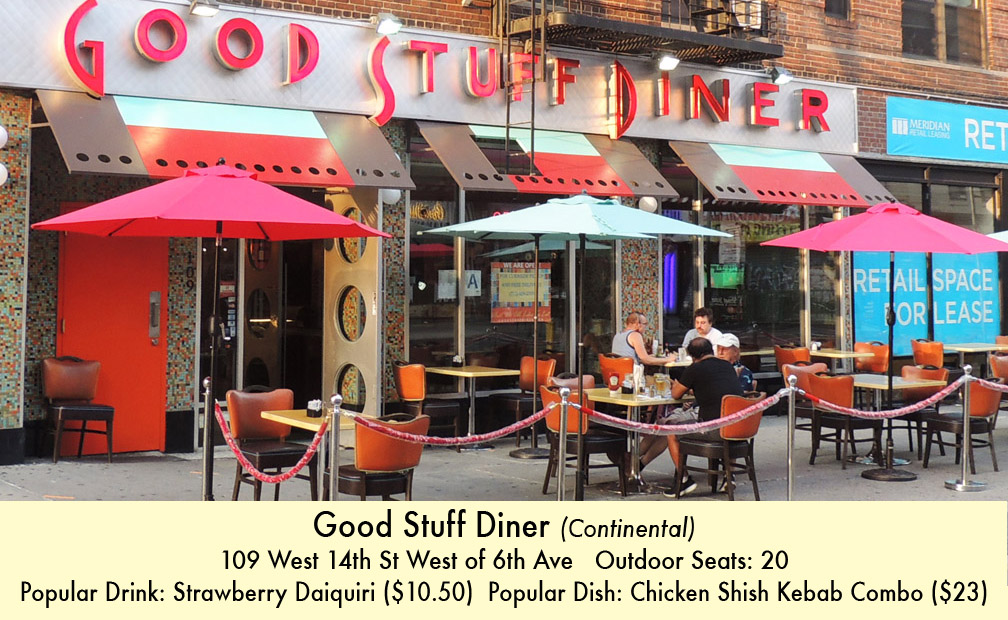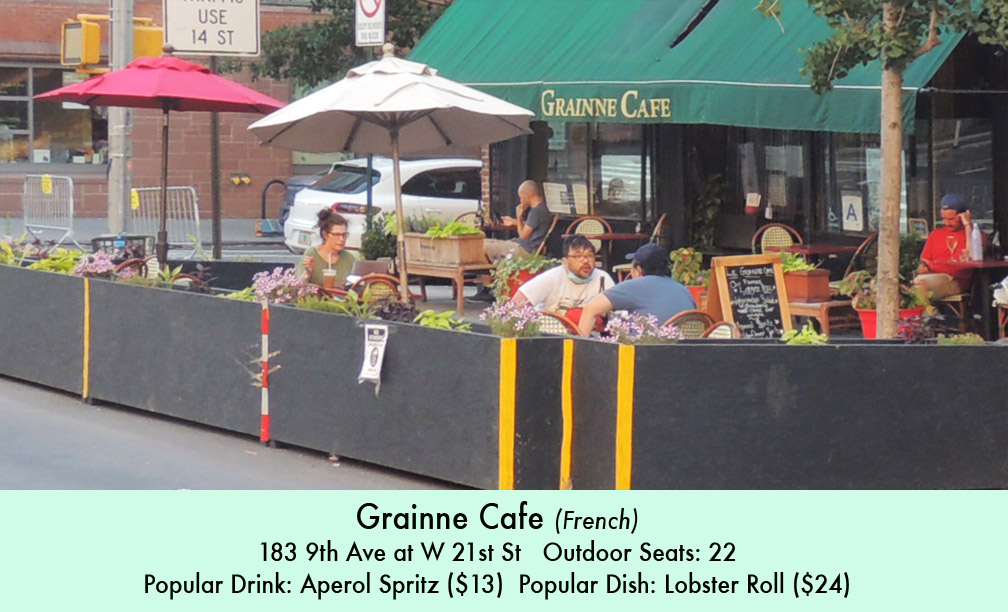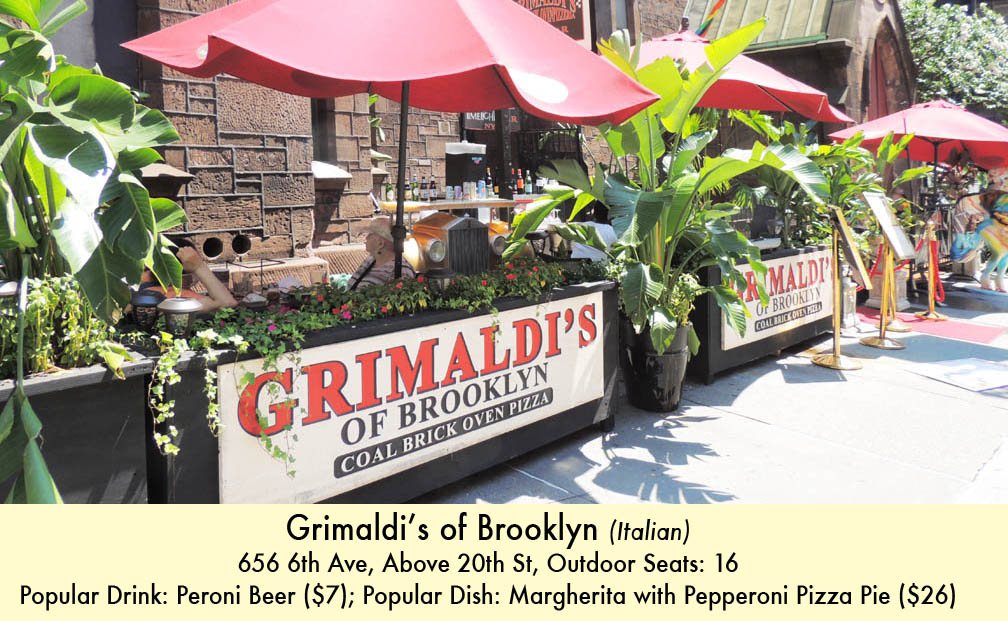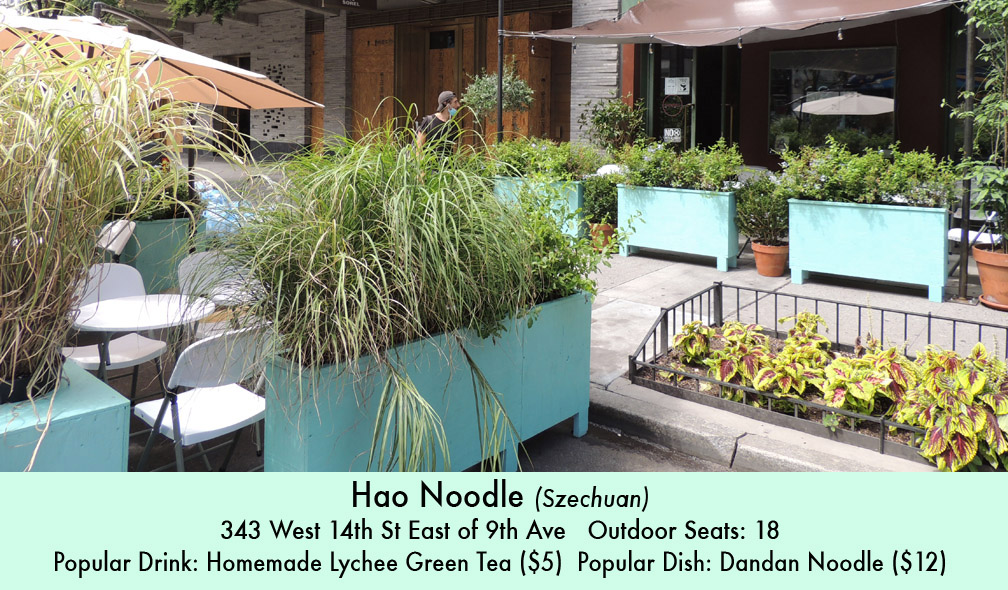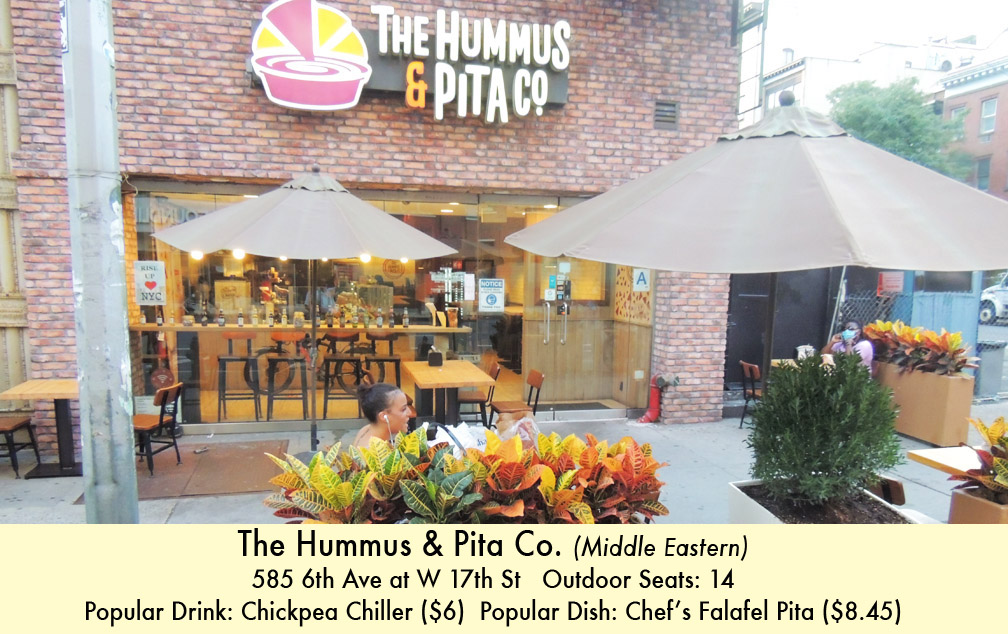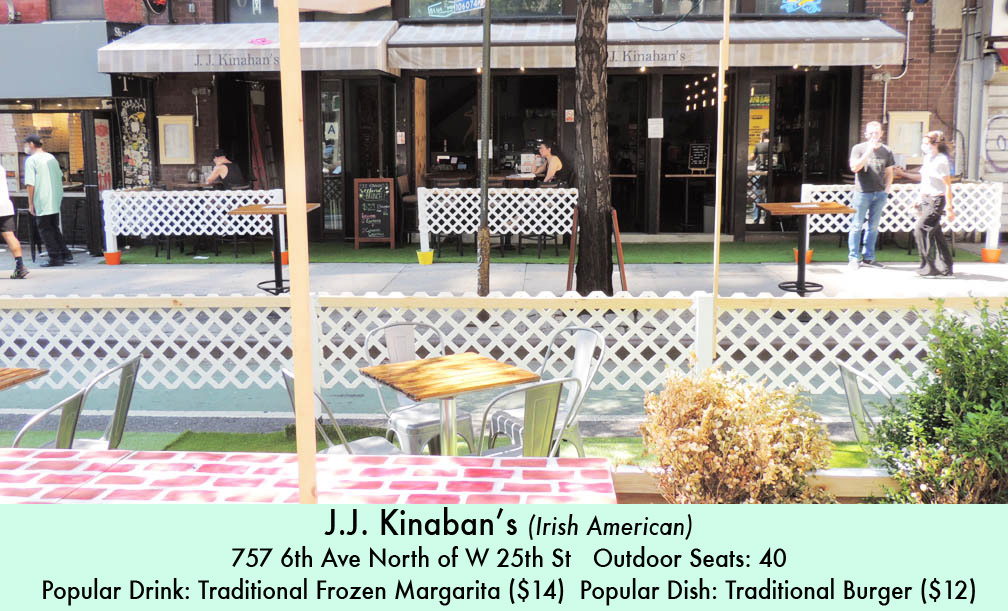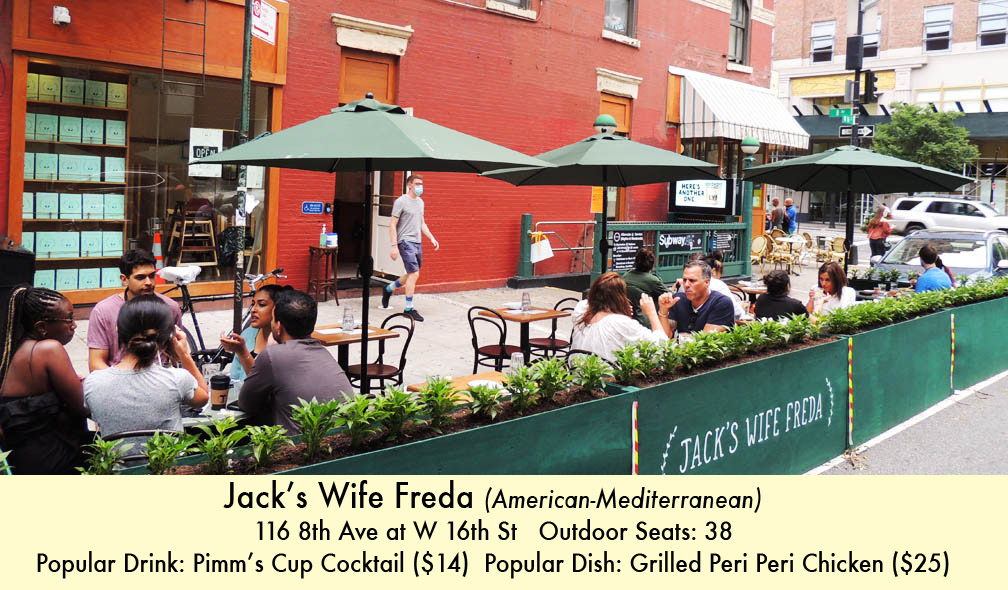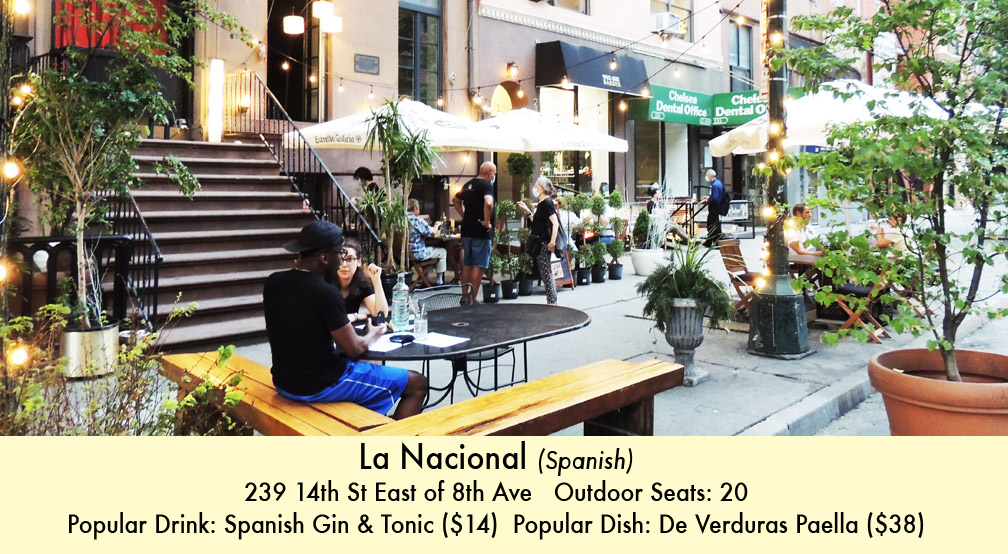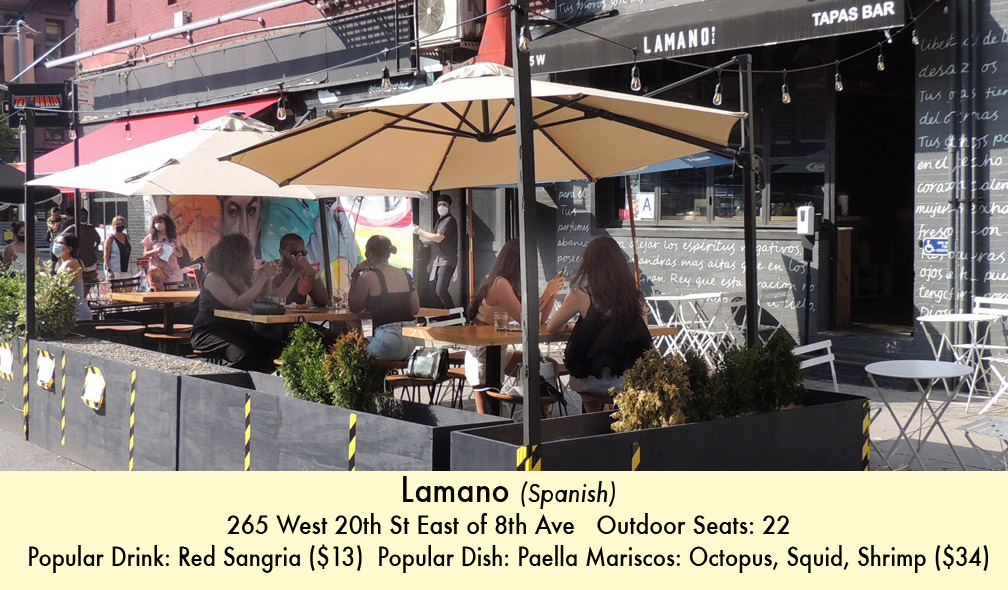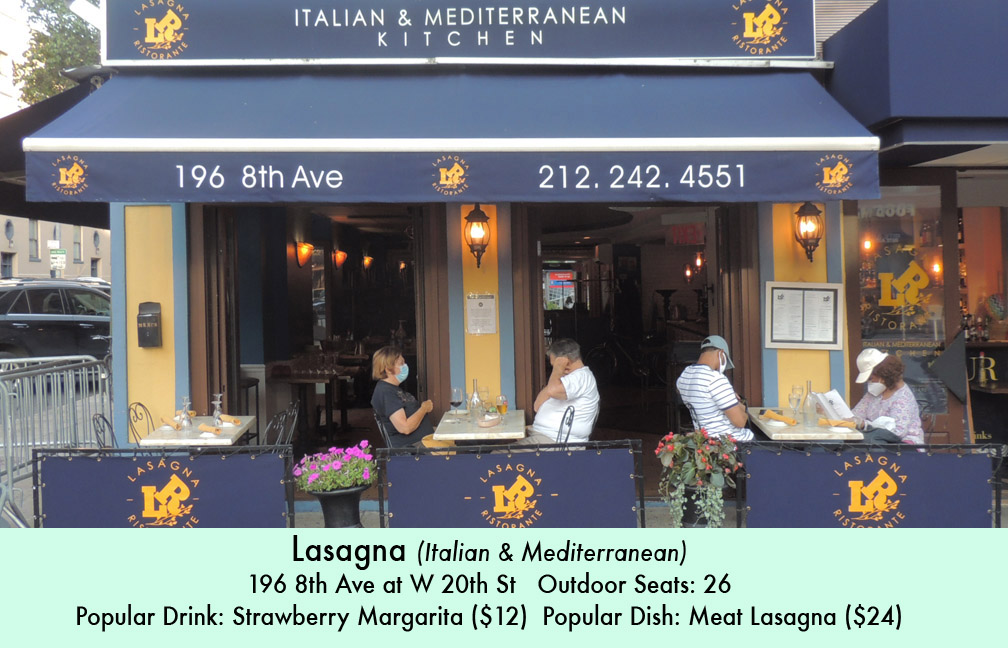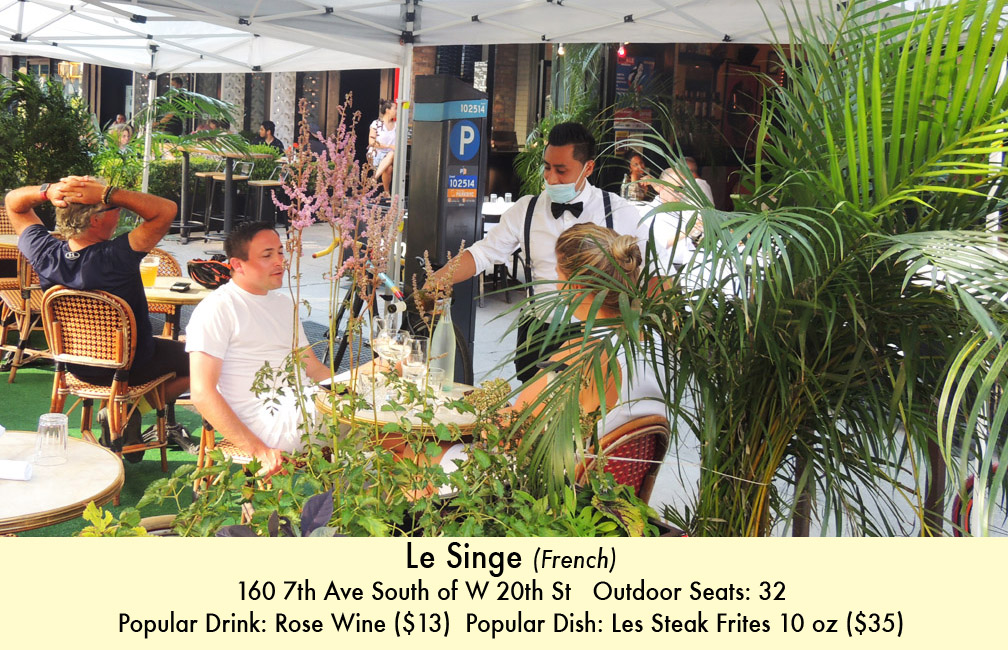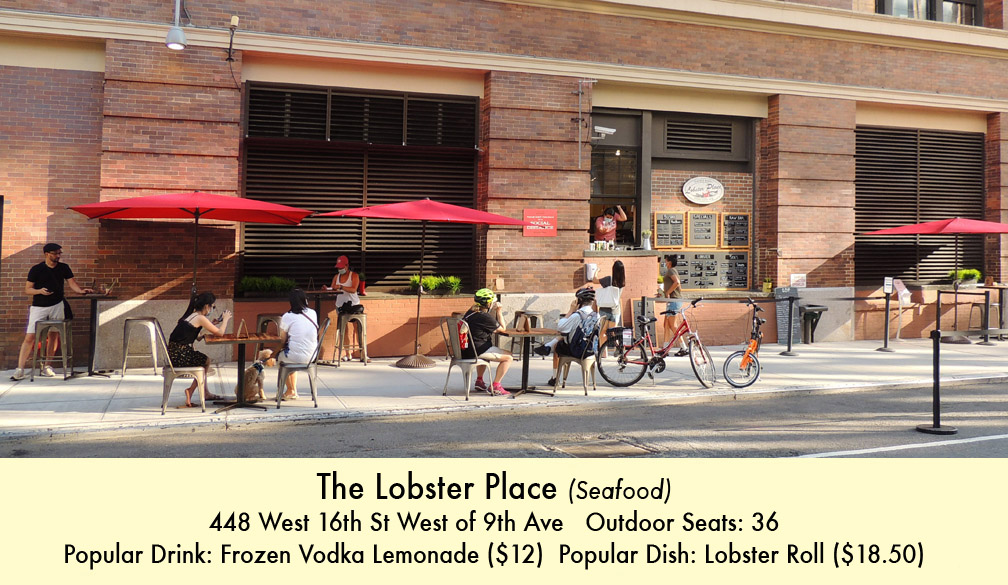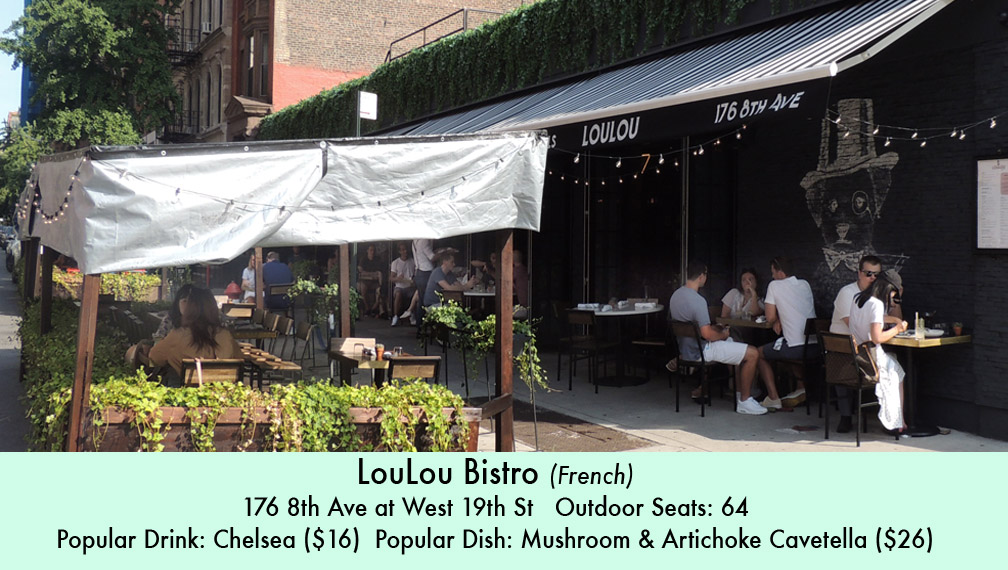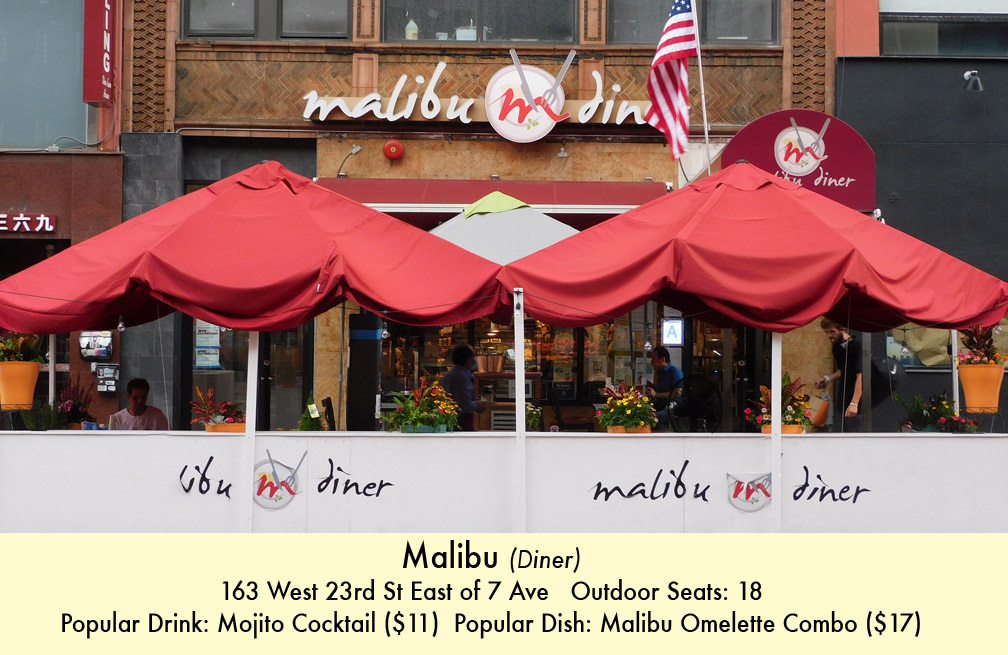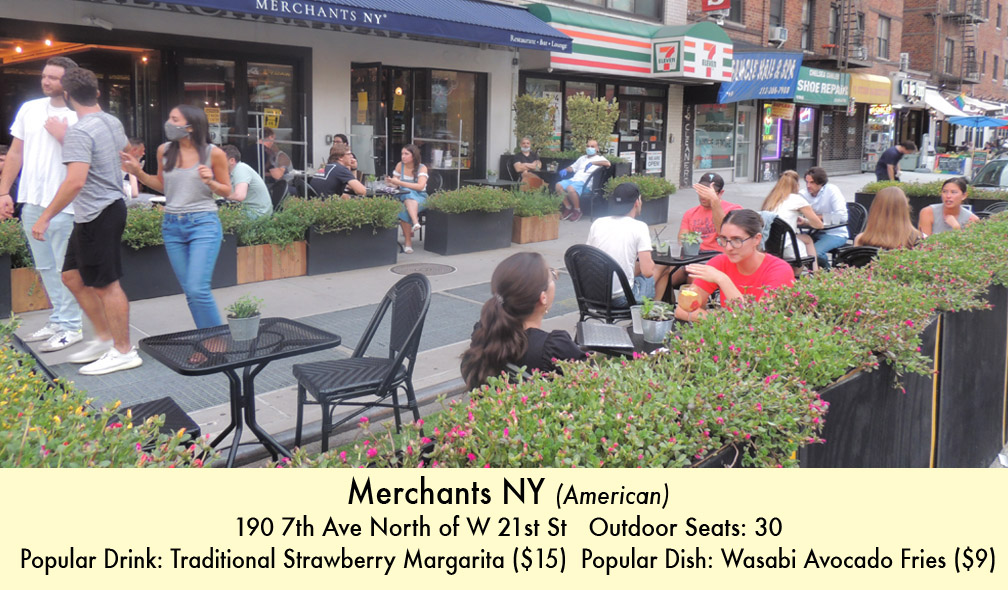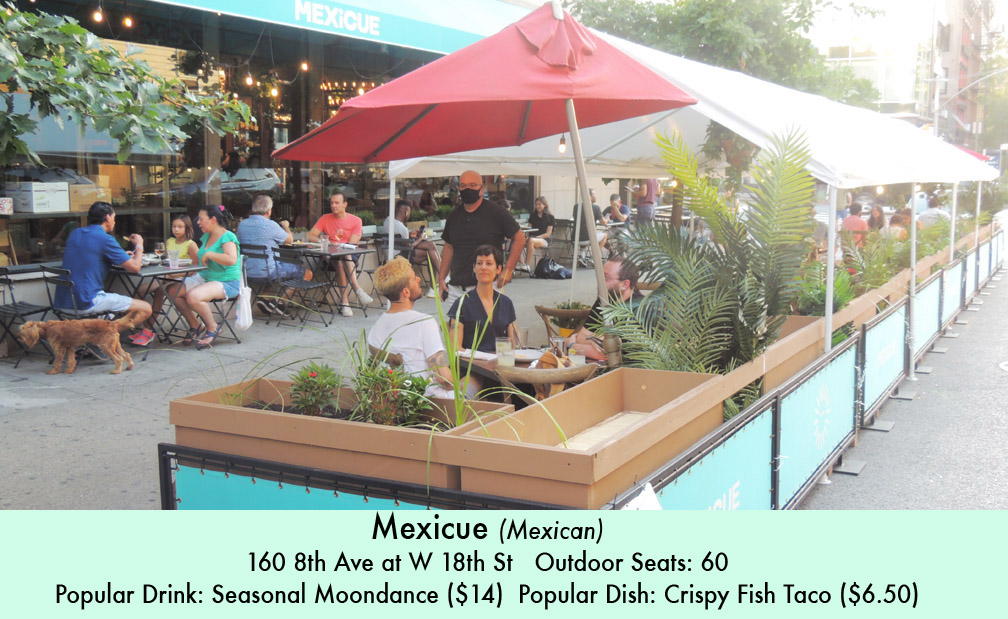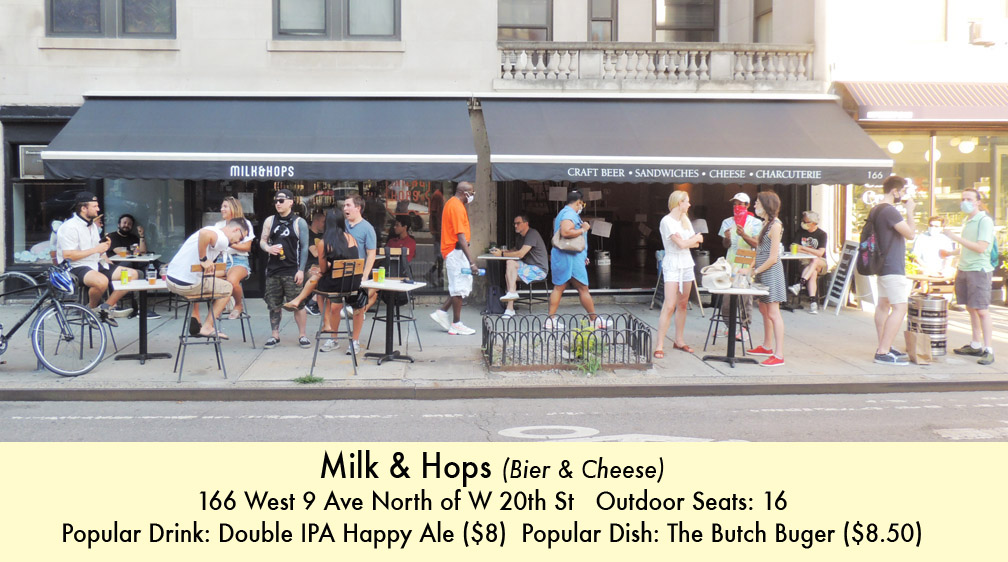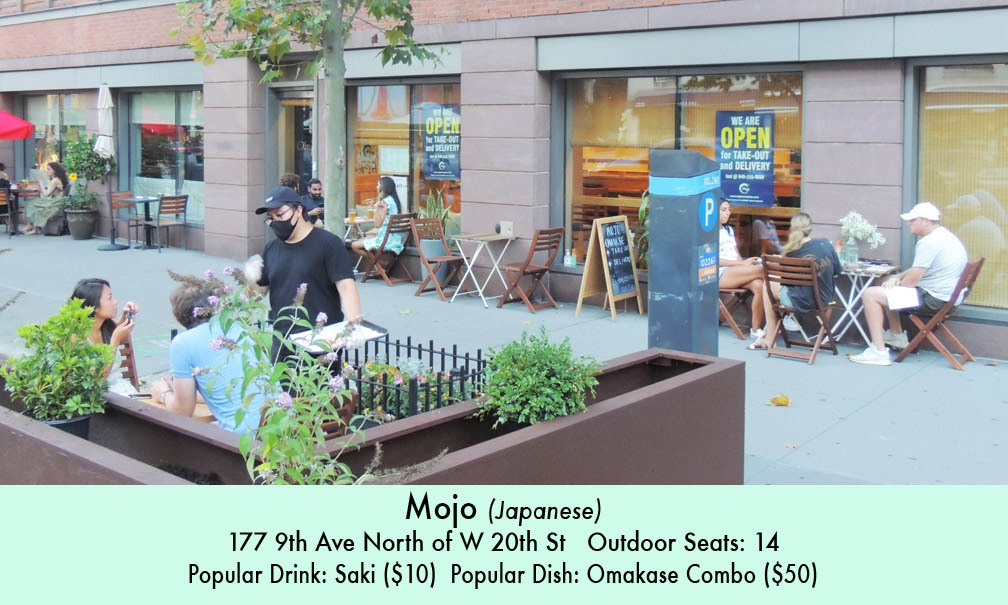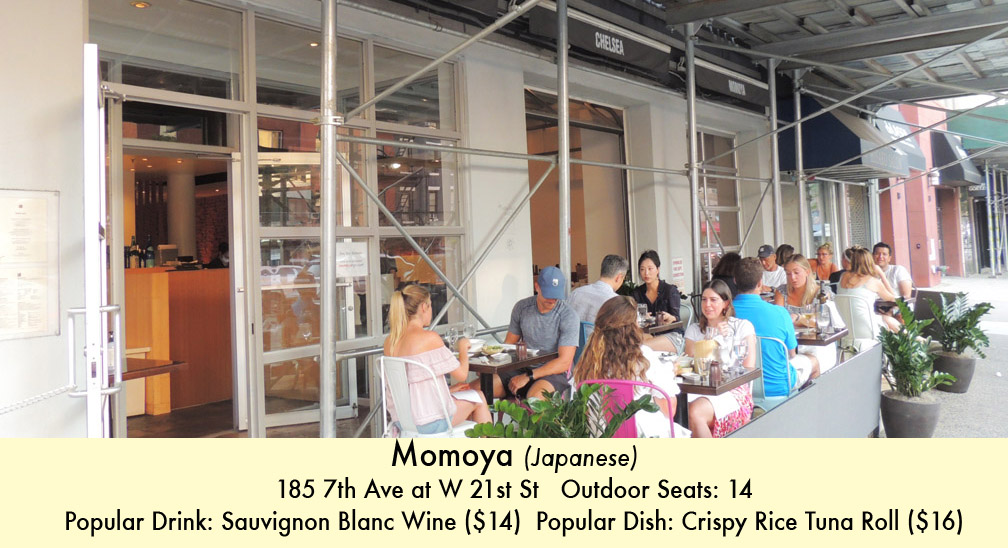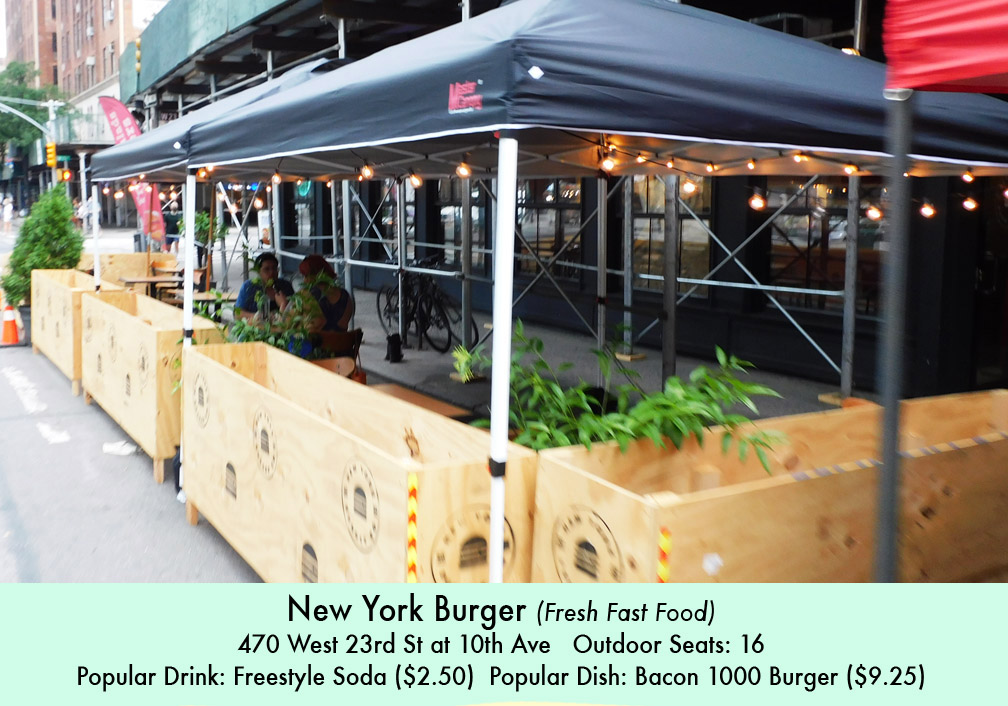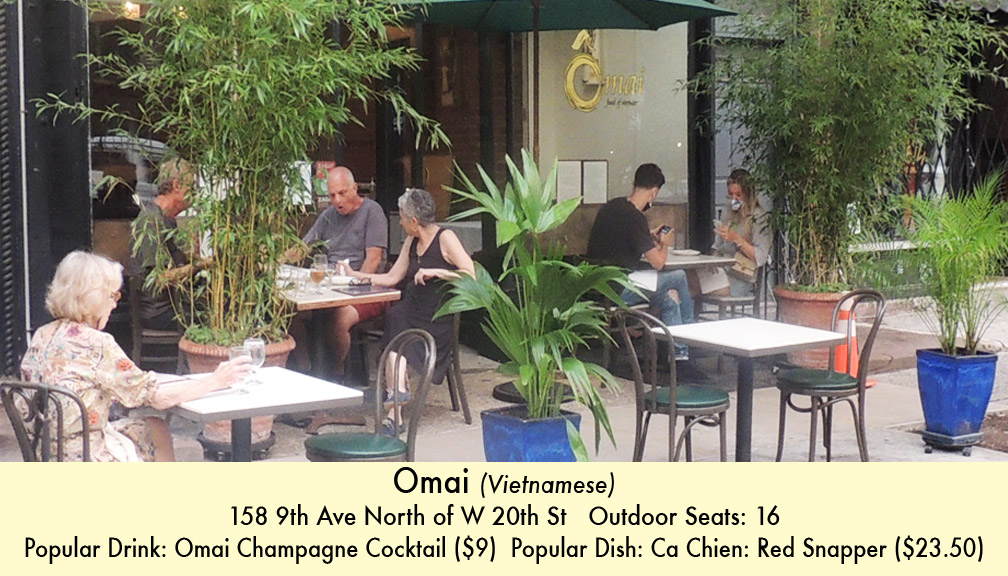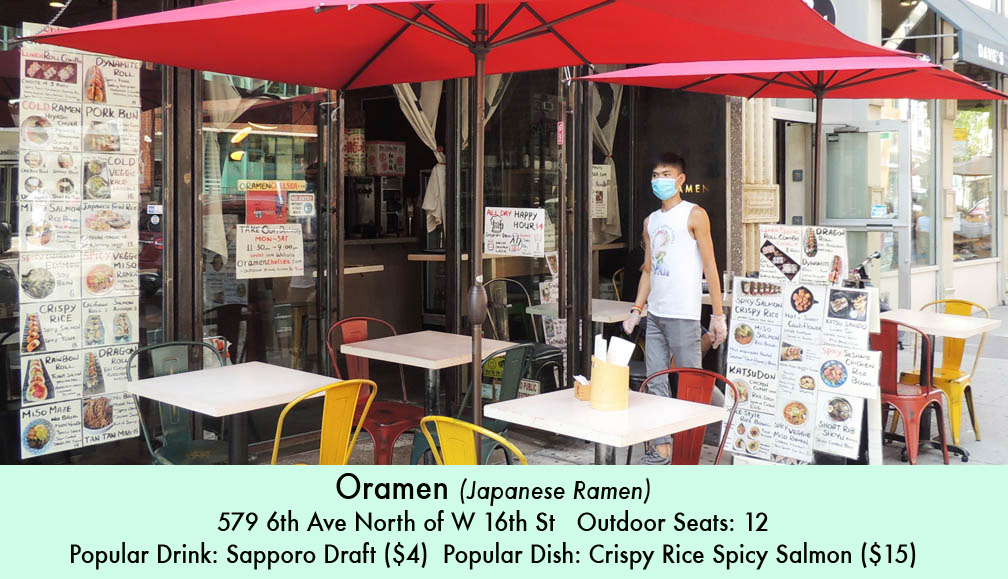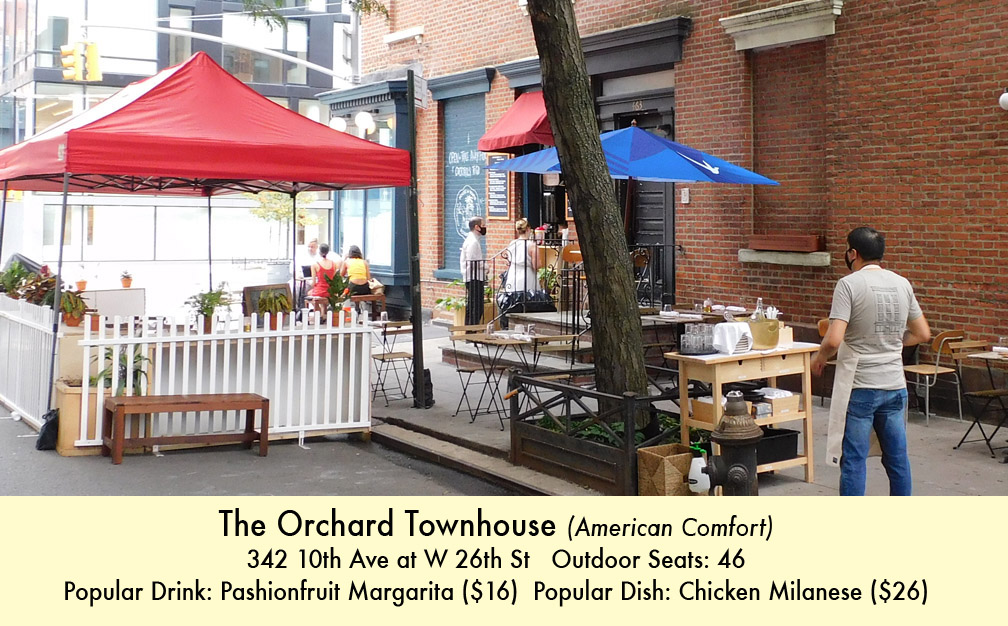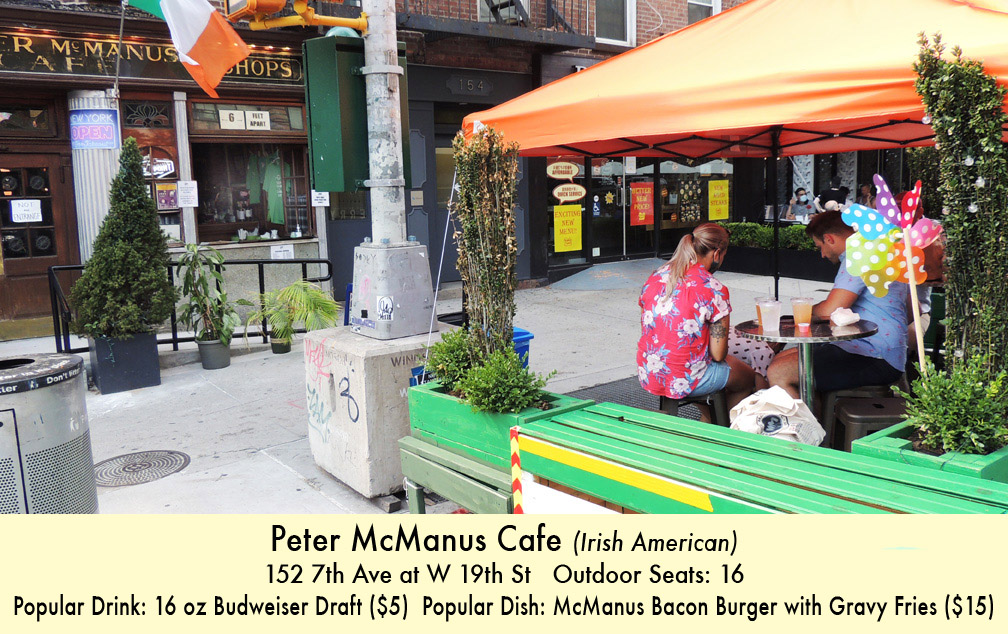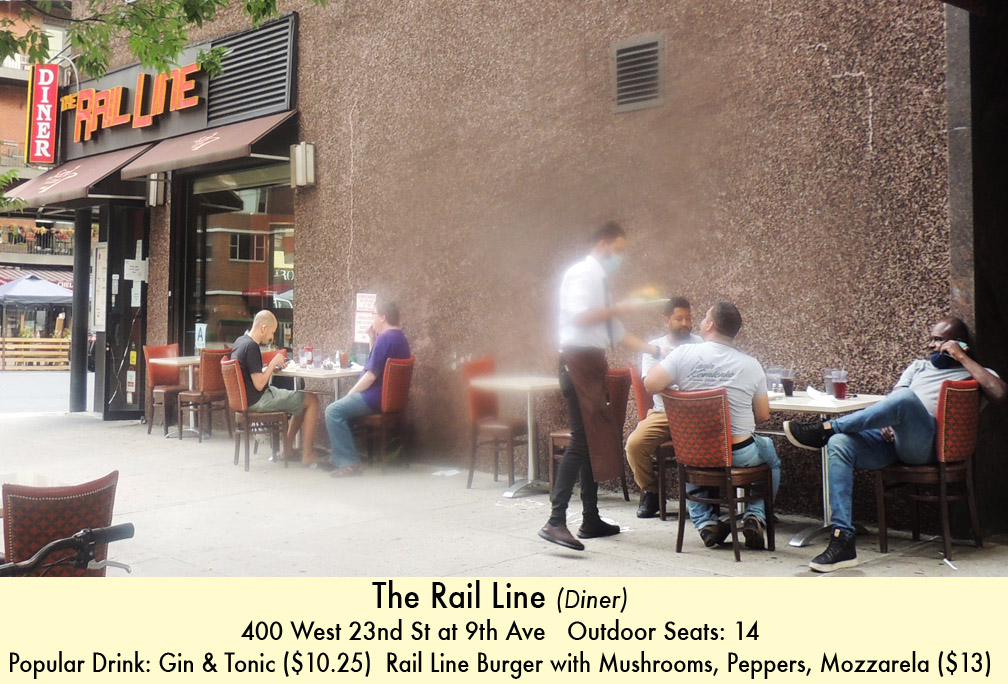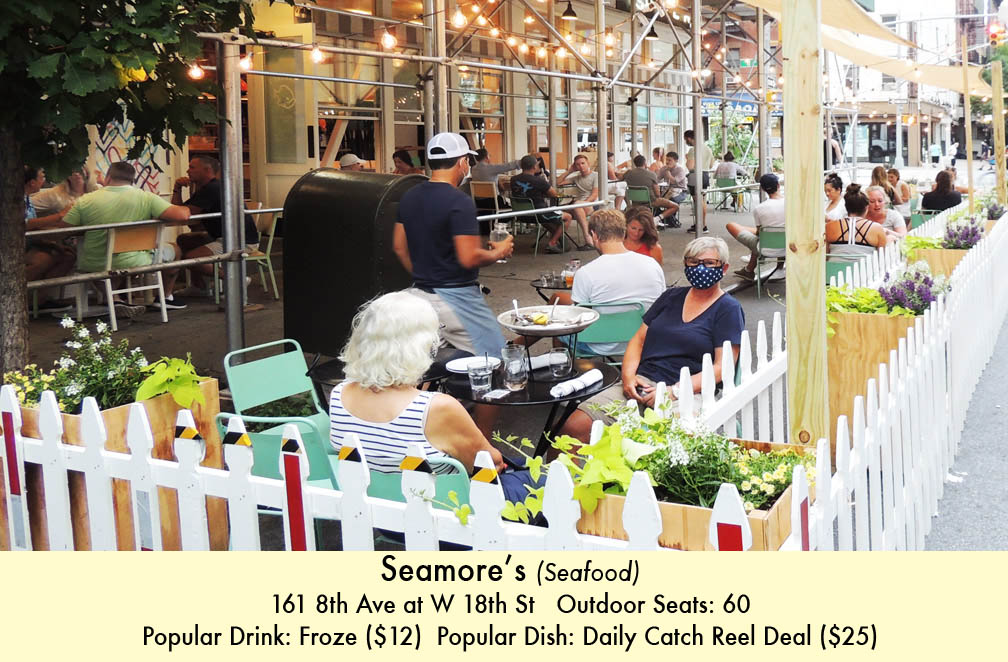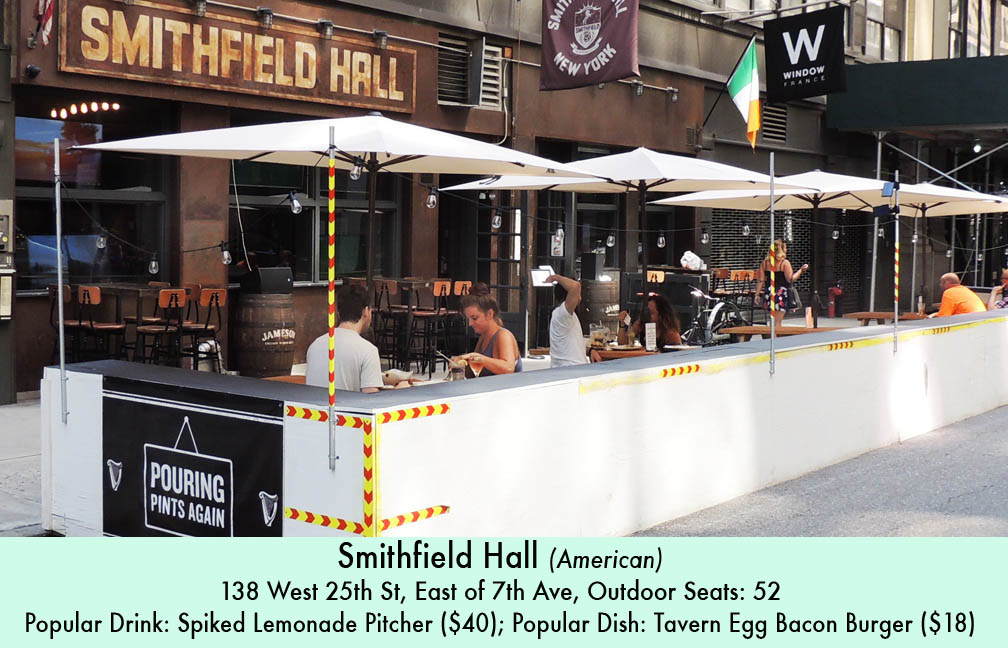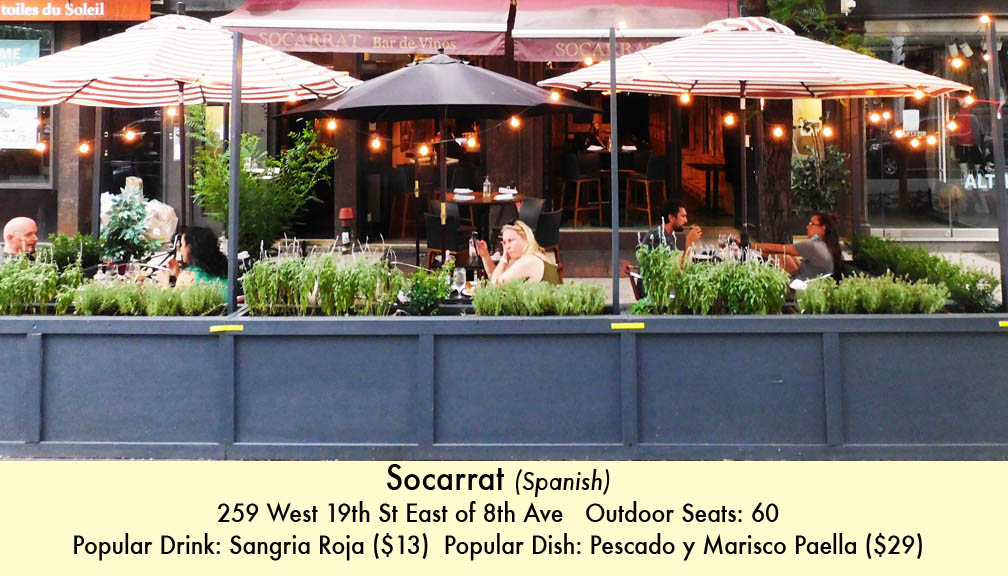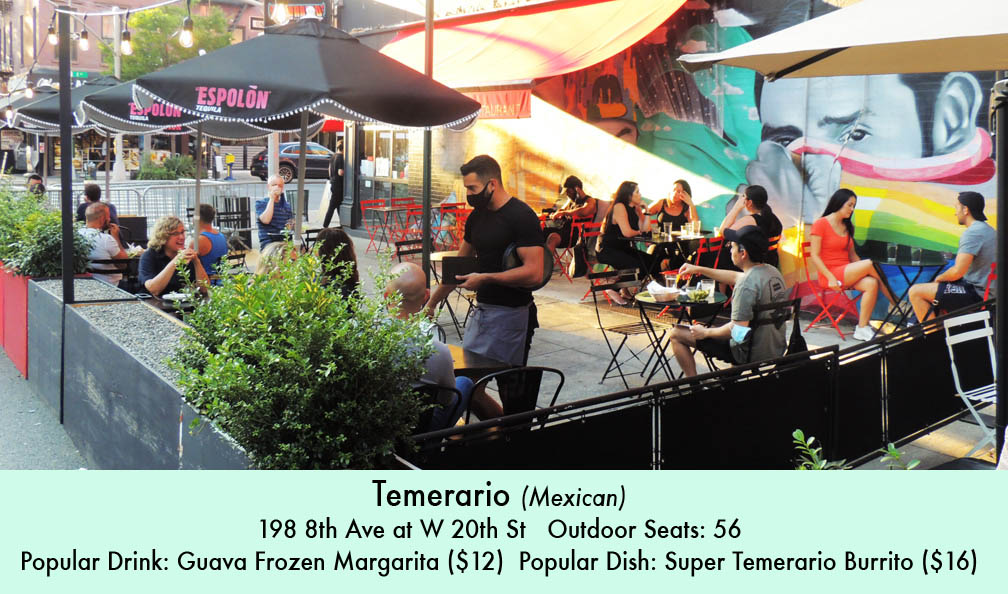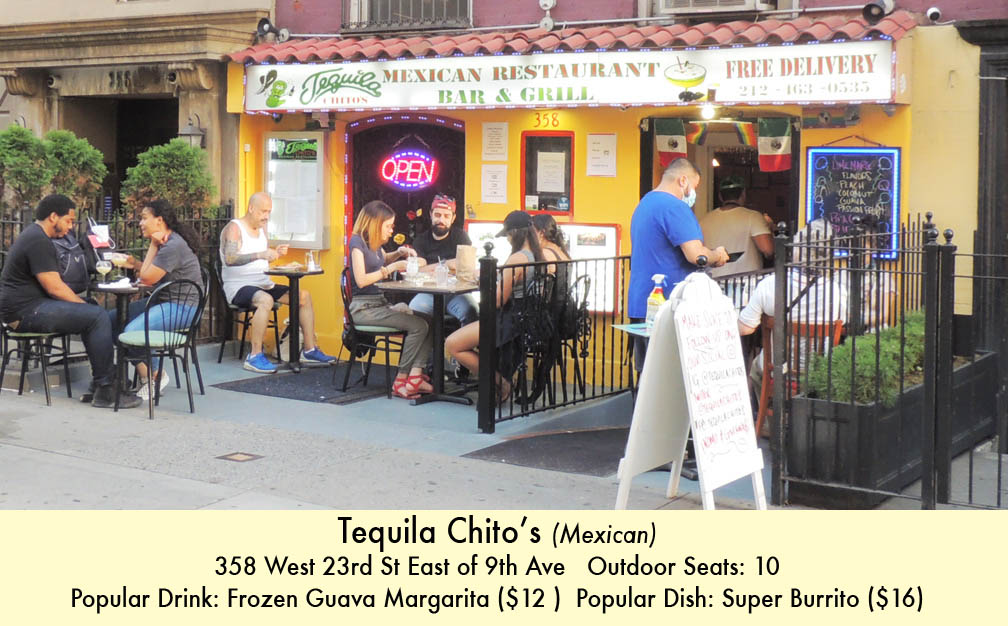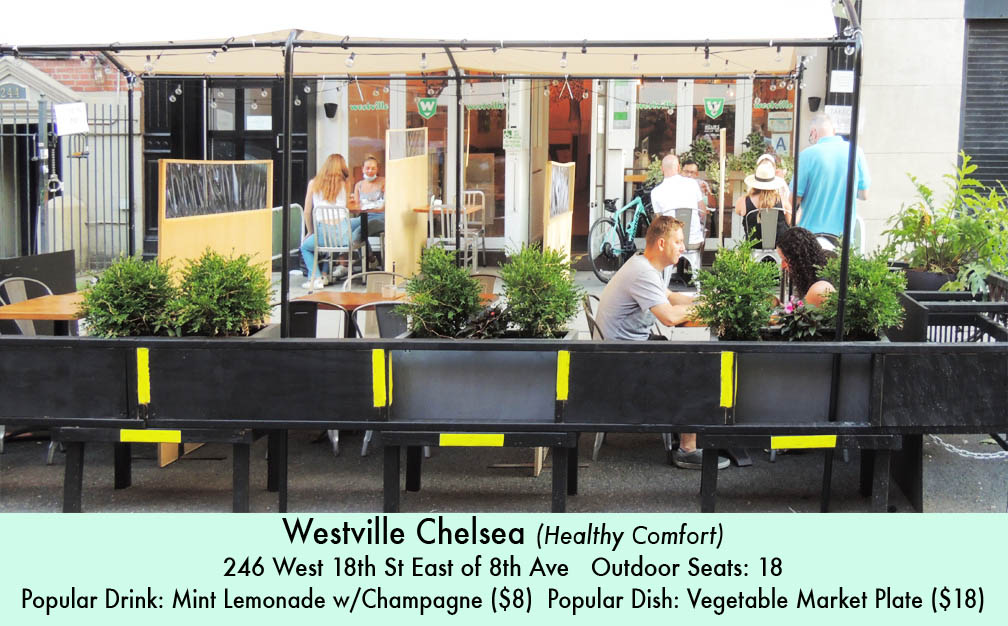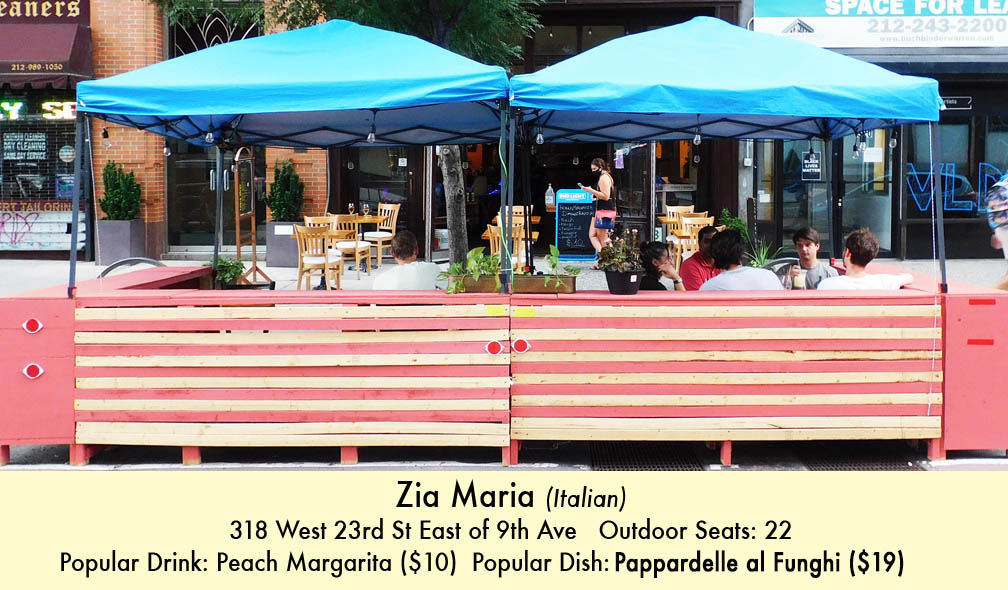 Chelsea Community News is made possible with the help of our awesome advertisers, and the support of our readers. If you like what you see, please consider taking part in our GoFundMe campaign (click here). To make a direct donation, give feedback about the site, or send a Letter to The Editor via email, at scott@chelseacommunitynews.com