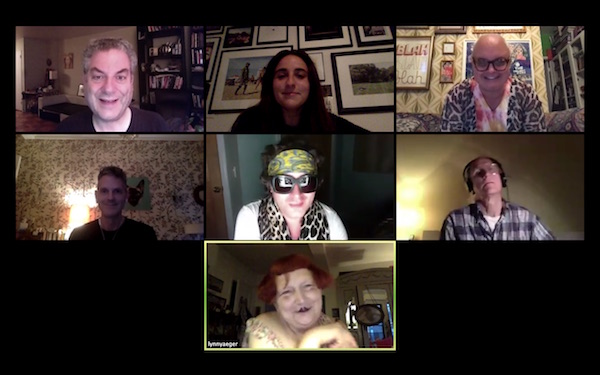 BY MICHAEL MUSTO | When the COVID-19 crisis started escalating in March, I packed up and moved my entire life—to Zoom. That marvelous app is sort of like a big conference call, but it's visual too. It's the kind of incredibly clever thing we dreamed about when growing up ("Someday there'll be a telephone where you can see each other"), and it certainly saved the day when it became clear that leaving the house was no longer such a popular phenomenon.
All in recent months, I did a chat session with a friend, to catch up with gossip face to face; I was part of a reading and a musical revue; and I've also been watching movies with friends, all thanks to the magic of Zoom. I no longer cared if I learned about FaceTime or any other trendy gimmick—I now had Zoom to fill my hours, help me connect, and entertain me. And it didn't even matter what you wore—and no mask was needed!
But for all the wonders of Zoom, there's a lot of annoyance too (and I'm not just talking about the dangers of being hacked). I'm too cheap to get a membership and have no idea how to send meeting links, so those things generally have to be set up and sent to me by someone savvier. Alas, when it comes time for the hookup, I'm often frantically trying to click on Zoom, only to realize, "Wait a minute—this interview was actually set up on Skype!"
And when I do get connected on Zoom, there are always technical issues galore, and you might wonder why you didn't just do that phone call like in the old days. Someone's audio and/or video is inevitably not working (it could be because of their Wi-Fi), the sound goes in and out, and worst of all, when two people talk at once, you get that weird trombone sound, like when the grownups speak on Charlie Brown cartoons.
Last month, I was interviewed for a Zoom chat show and thought I did well, answering all the questions about movies and journalism with speedy élan. But when I watched the interview after the fact, the sound delay destroyed the whole discussion. There was such a weighted pause between the questions and answers that it looked like I'm dazed or even downright stupid.
Another problem on Zoom is that you're always wondering, "Do I look at myself on screen or at the person I'm talking to?" I always look straight ahead, but in this case, it came off like I was avoiding eye contact with the interviewer, and it also registered as if my eyes were at half-mast and I was practically falling asleep. But that's OK; though the host had claimed he has virtually a million viewers, YouTube listed the number of people who tuned in to this meeting of remarkable minds as 48!
A reading I did on Zoom was fun, though my glasses glared, so I took them off, and there were other problems—stuff that wouldn't happen in a real theater. Another project I did had one of the other performers watching TV without being muted, not realizing it was drowning out my whole performance. Maybe it was a blessing. But a house party on Zoom may be the most awkward non-event of all time. You're suddenly forced to commune with people you don't know, and you can't really go off in the corner with someone you like—you're basically stuck with the group. Sometimes everyone blabs and other times there's deafening silence (not even the sound of someone watching TV). What's more, you don't know how to gracefully "Leave Meeting" without offending the host. Just click off and hope they don't notice?
But I must say that my long-running Movie Club has positively flourished on Zoom. Seven of us used to get together at my place and watch a good/bad film I selected, commenting throughout on the rancid glory of it all. Because of everyone's schedules, we were lucky if we were able to do this once a month. But on Zoom, thanks to everyone's newfound availability, we now do it twice a week—and new members have joined as well. Every Thursday and Sunday, we connect on Zoom, I pick a free film on YouTube and share the screen, and we all talk through it, while also texting bitchy and/or gushy comments to each other. (You can type chat messages on Zoom itself, but that tends to distract from the main event.)
Unfortunately, the group-viewing experience isn't nearly as smooth as when people came over. For some of the club, the picture is blurry and the sound isn't synced. Once, the whole group was logged in, but when I clicked "Join with computer audio," it did nothing, even when I kept turning off the machine and restarting it. (Eventually, it worked, after I randomly clicked on anything I could find.)
Also, muting and unmuting become life-changing issues, along with clicking the camera icon so the line goes away. But it's all been worth it because we've managed to share some fun escapism, glitches and all, to help us through this dark period.
The truth is, I don't think I could live without Zoom. In fact, it's been so seductively appealing that I might eventually find it hard to talk to people in person.
Follow Michael Musto on Twitter, via @mikeymusto.
Chelsea Community News is made possible with the help of our awesome advertisers, and the support of our readers. If you like what you see, please consider taking part in our GoFundMe campaign (click here). To make a direct donation, give feedback, or send a Letter to the Editor, email scott@chelseacommunitynews.com.