BY RANIA RICHARDSON | Realistic about the challenges ahead after a summer of COVID-19, citywide demonstrations, and escalating quality of life concerns, Deputy Inspector Kevin J. Coleman, Commanding Officer of the 10th Precinct, kicked off last week's full board meeting of Manhattan Community Board 4 (CB4) by inaugurating what will become a regularly scheduled series of appearances before the board.
Said CB4 Chair Lowell Kern, of the circumstances that found Coleman at September 2's Zoom-held meeting, "We formed a social justice working group back in June and we had recommendations from that group in our July meeting, which were voted on by the Board. One of those recommendations was on a regular basis to invite officers from each precinct [10th, 13th, Midtown South, Midtown North] to report to CB4 about their community outreach efforts and other community concerns."
There will be, Kern further noted, three reports per year from DI Coleman, who stated that he was always happy to attend public meetings, but preferred to be in-person during normal times. (He'll get that chance on Sept. 30, when the 10 Precinct's Community Council returns to brick-and-mortar meetings, after an extended hiatus brought about by COVID-19 precautions.)
As with the traditional opening remarks of those Council meetings, DI Coleman began with a review of crime in the 10th Precinct, specifying that it covers W. 14th to 29th Sts., from Seventh Ave. "to the water" and W. 29th to 43rd Sts. from Ninth Ave. "to the water," and comprises Chelsea, Hudson Yards, and the "bottom of the southern Hell's Kitchen area."
Year-to-date, he noted, crime is down 9.3%, in part due to COVID-19, which saw fewer perpetrators and fewer potential victims on the street. Currently, the primary drivers for crime in the 10th Precinict are motor vehicle theft and burglaries. (For the most recents stats at the time of this article's posting, click here.)
Packages in residential buildings can, and do, lure thieves, noted DI Coleman, who recommended a few simple strategies to reduce the "crime of opportunity" that takes place when anyone can "walk up to the front door and see a package." Caretakers can "take those packages and either secure them or at least move them away from the line of sight from the door." Otherwise, he noted, "Someone walks in, they see packages, multiple packages, they think it's Christmas, they try to get in the door and take the packages. If they don't see packages, it's likely that they'll move on somewhere else."
DI Coleman repeated the oft-heard common sense advice to not buzz strangers into your building, and, in the case of car thefts, to not leave keys in the ignition, even for a quick run into a corner store.
There has been one homicide in the precinct this year, he reported. On Aug. 22, at 39th St. and Ninth Ave., two people experiencing homelessness had an argument, and one took out a sharp object and fatally cut the other. The following day, the perpetrator was arrested, and he is now in jail.
DI Coleman continued, noting that the increase of homeless people on the streets is one of the top complaints all over Manhattan. Some hotels were converted into temporary shelters, initially for the duration of COVID-19—but it is unclear when that program will end.
The Cachet Hotel on 42nd St. was one of those hotels, with 101 people staying there. After a recent water main break, all residents were evacuated and moved to Brooklyn. The hotel is no longer being used as a shelter.
This summer there was a shift to hold the NYC Department of Homeless Services (DHS) more accountable for their role in homeless services. When there is an encampment, the NYPD is to notify DHS. The 10th Precinct will continue to help out where they can.
"At the end of the day, we understand that we cannot arrest our way out of the problem, that arresting homeless people, even for minor infractions, is not what will be the solution" he said. "Ultimately it is a public health issue."
The 10th Precinct had several meetings with the Hell's Kitchen Neighborhood Action Committee—created, its website notes, "for New Yorkers by New Yorkers as our city experiences a seismic shift due to COVID-19" and committed to "the betterment of our neighborhoods."
The coalition requested more foot post officers in the area and a few were added from W. 41st to 43rd Sts. between Ninth and 11th Aves.
Said DI Coleman, "I have been told that a lot of quality of life concerns have gone down up there as a result of having officers visible on foot post. And that's the idea. You have uniformed officers that are visible, and then you have officers walking the streets. That creates a deterrent for crime and quality of life, and I think people like to see the police out on the street. It can make people feel safer."
He concluded his presentation by addressing neighborhood policing in general, and conditions following NYC demonstrations in the wake of the May 25 killing of George Floyd.
"We recognize that there are people that are upset with policing and they have legitimate issues to be concerned about, but our goal here at the 10th Precinct is we want as much as we can to cooperate and work with the public."
He stated the Neighborhood Policing philosophy that NYPD Commissioner William J. Bratton put into practice in 2015, and has continued with Commissioner James P. O'Neill and Commissioner Dermot F. Shea, is "to have good relationships with the public, to build good rapport with the public so that we can work together, cooperate, and do our job of public safety, efficiently and effectively."
"Frankly," he continued, "if the public doesn't trust us and the public doesn't see us as legitimate, it makes our job not only more difficult, but almost impossible, because we need public cooperation. We need to work together."
Citing an example, DI Coleman said that, should one become the victim of a robbery, "the first thing we need is that victim to cooperate with us. If there are witnesses, we need them to come forward and work with us. If someone has evidence, video footage, we need them to work with us.
"Finally, he said, "Public safety is a shared responsibility and we take our relations with the public very seriously. Unfortunately, I think with everything that happened this summer, including the looting, I think that's been a major setback for us in policing, because I think we've made great strides over the past few years. In fact, 2017 was a historic low for crime in New York City, in 50 years. And then in 2018, we actually beat 2017 and had a second historic low, two years in a row."
With everything "that's going on citywide," he continued, "we're up in shootings, we're up in homicides—we are going to get through this. We are doing everything we can to combat crime and local issues. Here in the 10th Precinct we want to continue to have good relationships. We're working to rebuild relationships and continue to expand, to have more relationships and reach out to the public as much as possible."
Following the presentation, DI Coleman answered questions from CB4 members.
Paul Devlin, co-chair of the Chelsea Land Use Committee and a member of the Clinton/Hell's Kitchen Land Use Committee, was concerned with W. 43rd St. and Ninth Ave., a problematic intersection because three precinct lines cross there. Officers are on duty and visible, but will not cross when drug dealers, aware of precinct dividing lines, move their transactions to the other side of the street. DI Coleman was familiar with the complaints regarding border issues, and said he would speak to the Commands and the Neighborhood Coordination officers (NCOs) of the other precincts. He said that detective squads and precincts investigate crimes in their own jurisdictions, and it is out of the hands of the others.
Colin Wright, a member of the Waterfront, Parks & Environment Committee as well as the Transportation Planning Committee, asked the DI if he had observed supportive services from the City for the homeless, such as case workers or medical personnel and if not, does he think it is necessary and is there something the community can do to help those people get the services they need?
DI Coleman responded that this is a problem in every major city in the United States.
"When we offer services, they are often refused. I believe that research shows that it takes about 200+ times offering services to the same individual before they actually accept. And so it is a very challenging problem. I do think the ultimate answer is everything involved in providing services to individuals experiencing homelessness probably needs to be expanded… It goes far beyond the NYPD. I do believe the answer is a joint effort, multi-agency effort, social workers, health care workers, and a large strategy."
Maria Ortiz, co-chair of CB4's Housing, Health & Human Services Committee, asked if the Hell's Kitchen Neighborhood Action Committee's request for more foot patrol would go beyond the original plan of eight weeks.
"I am down 33 cops compared to September 2019. It hurts my deployment drastically… I wish that were not so," he said. He will be modifying the plan based on resources and manpower, but does "want to keep something going there."
Ortiz asked if the previously mentioned homicide concerned homeless individuals who lived on the street or in a shelter. DI Coleman did not know if either were in the shelter system or, as she phrased it, "street homeless" (i.e. living on the street). Kern asked when the barricades would be removed on the blocks around W. 20th St., for the 10th Precinct and 54th St., for Midtown Precinct North.
(On Sept. 2, Manhattan Borough President Gale Brewer called on NYPD Commissioner Dermot Shea to remove the barricades around Manhattan police precincts that were erected for protection during the recent period when the city "faced emergency and civil unrest," but are no longer necessary.)
DI Coleman responded that the decision will come from above him. "I think it will ultimately come when we're certain there is no further unrest."
He went on to revisit the events of the summer. "We respect everyone's right for a peaceful demonstration. I believe that Floyd was murdered and it was wrong how that was handled. Our job is to ensure that people can exercise their First Amendment rights and 99 percent of the demonstrators are peaceful, maybe you could say 100 percent are, but what happens is people are opportunists, just like in any system, people are trying to take advantage of an opportunity… There are people where there are mass demonstrations, they try to take advantage of that to cause problems, to cause violence, to cause vandalism.
At that time, for that small group of people doing that in New York and across the country, the target was police officers, police stations, police cruisers, and we had to insure that we're protecting our resources, our station houses, our police facilities, our vehicles, so that we can respond. If we have a station house that is set on fire or something like that, it's going to hamper our resources in responding to everything else. That's why those barriers were originally set up. There were over 200 police vehicles vandalized…. There were police officers assaulted, including officers within the confines of the 10th Precinct."
Finally, DI Coleman stated that W. 20th St. is not closed. "Although we have our barriers set up, I don't even have officers stationed at the ends of each block. Anyone can walk down the street. Anyone can drive down the street. The block is not closed in any type of manner right now. The barriers are still set up in case something happens and we have to quickly take control of the block."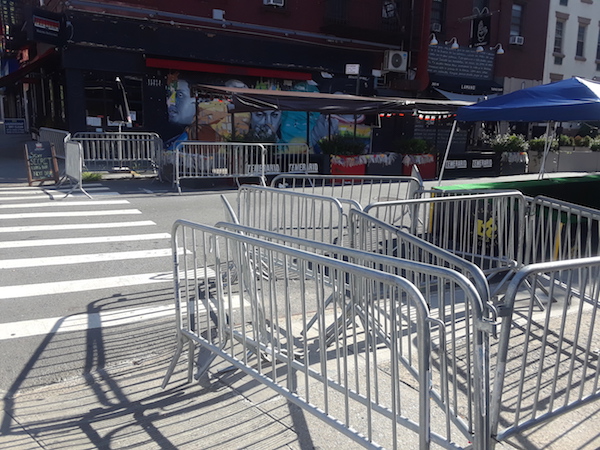 The next Precinct Community Council Meeting will be held at Manhattan Plaza on Wed., Sept. 30 at 7pm. It will be an in-person meeting with COVID-19 safety protocols.
The 10th Precinct serves Chelsea, Clinton/Hell's Kitchen South, and the Hudson Yards neighborhoods. At Build the Block meetings, Neighborhood Coordination Officers (NCOs) speak with the public about neighborhood crime and safety concerns. Chelsea-area sectors A, B, and C, he said, are, respectively, 14th to 21st St., 21st to 29th St., and 29th to 43rd St. For info, click here. The 10th Precinct's Community Affairs Office can be reached at 212-741-8226. The precinct's main number is 212-741-8211. On Twitter: ‪@NYPD10Pct. On Facebook: www.facebook.com/NYPD10PCT. For access to NYPD crime statistics particular to the 10th Precinct, click here.
Chelsea Community News is made possible with the help of our awesome advertisers, and the support of our readers. If you like what you see, please consider taking part in our GoFundMe campaign (click here). To make a direct donation, give feedback, or send a Letter to the Editor, email scott@chelseacommunitynews.com.