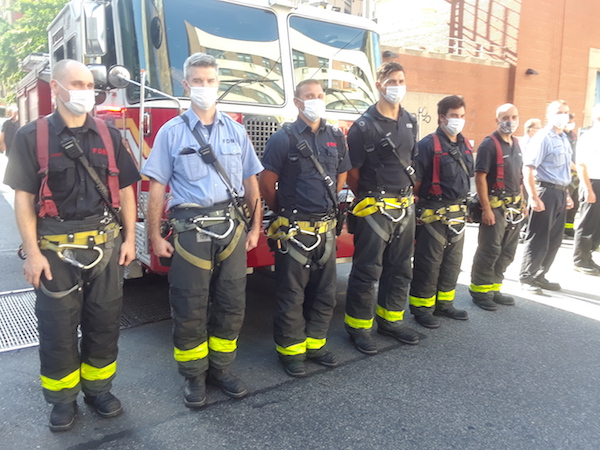 BY FRANK MEADE | Sunday, September 6 was a beautiful end-of-summer, September 11 kind of day. The sky was a soft yet vibrant blue that seemed to be limitless, out to the horizon and far up into the heavens. The cops—paid professionals and volunteer Auxiliaries—and firefighters (having just returned from a run), had turned out by 8:30 that morning to await first sighting of the Father Mychal Judge 9/11 Walk of Remembrance, as it would come down Seventh Avenue toward West 19th Street, when they would form up in perfectly aligned ranks to continue the day's celebration.
Fr. Mychal was first among those thousands when his life was stolen as he renounced it for a much greater good and, surely, God was with him and the other 2,977 almost 19 years ago. Rejoice and be glad! Fr. Mychal, listed as Victim 0001, was taken first among the elect so he might welcome each of those victims, with no regard to faith or any other foolish distinguishment, as they approached to join him in eternity and he would shepherd them through the gates in joyful celebration and harmony.
The Walkers, many carrying photos or other mementos of loved ones, followed a 13,000-pound brass bell, a 1972 Battalion Chief's Plymouth station wagon, and an NYPD Color Guard. The commonality and their community was rooted in loss, acceptance, and a somber, though not sad, remembrance of the life and sacrifice of Fr. Mychal Judge, O.F.M., a Fire Department Chaplain, and the 2,977 others whose lives were stolen on September 11, 2001, as well as the many survivors who have been diagnosed with related diseases, and the thousands who have succumbed.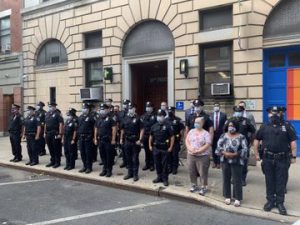 The NYPD Color Guard made a precision left-about-face to stand alongside their Fire Department brothers.
After the names of five firefighters who showed up to work on West 19th Street and Seventh Avenue almost 19 years ago to serve the Chelsea community (but would not go home again), and 23 New York City Police Officers (who would not be greeted by their loved ones after that Tuesday morning of the perfect blue skies) had been read, and an excerpt of Fr. Judge's last homily had been delivered, an NYPD Honor Guard Sergeant called, in perfect military pitch, "Present Arms," and some 50 uniformed personnel snapped crisp military honors as civilians either bowed their heads or offered civilian honors.
Two NYPD buglers played the hauntingly sorrowful notes of Taps as the 75 Walkers—those who lost a spouse, partner, parent, child, friend, cousin, or neighbor on that beautiful September morning—stood in great pride, and indefinable sorrow of their losses.
In the Catholic Church's gospel of the 23rd Sunday in Ordinary Time, this beautiful end-of-summer, September 11 kind of day which fell on this Day of Remembrance, the closing sentence is, "Where two or three are gathered together in my name, there I am in the midst of them."
Many people are due recognition for making this Day of Remembrance so successful.
First among them, the late Detective Steven McDonald, NYPD, who, with his wife PattiAnn and son Conor, was the moving force who originated The Walk. And, of course, Capt. John Bates, New York Harbor Pilot, and all members of The Organizing Team who have been there for 19 years, and countless days and hours beyond that.
Profound thanks are due Deputy Inspector Kevin Coleman, Commanding Officer, 10th Precinct,  Lt. John Schillinger, 10th Precinct Platoon Commander, P.O. Ramon Sandoval, 10th Precinct Auxiliary Coordinator, the members of Engine 3/Ladder 12/Battalion 7, the FDNY Ceremonial Unit, Supervisors and Officers of NYPD's 10th, 6th and 13th Precincts, 10th Precinct Auxiliaries,  NYPD Ceremonial Unit buglers and Color Guard and ESU Truck 1 (and anyone I may have missed) for their turnout and participation in the Fr. Mychal Judge 9/11 Walk of Remembrance on Sunday, September 6, 2020.
And, of course, to the Chelsea Community members who joined us. Chelsea shall Never Forget.
Bravo Zulu to all!  Damn fine work!
Mychal, you were a friend to my mother—and for that, you have my eternal gratitude.
Chelsea Community News is made possible with the help of our awesome advertisers, and the support of our readers. If you like what you see, please consider taking part in our GoFundMe campaign (click here). To make a direct donation, give feedback, or send a Letter to the Editor, email scott@chelseacommunitynews.com.