BY ELIZABETH ZIMMER | One morning in 2013, while recuperating from a total knee replacement, I found myself in a class at the Chelsea Recreation Center (W. 25th St. btw. 9th & 10th Aves.).
The floor was carpeted with yoga mats containing my neighbors, mostly older, mostly female. Sitting in front was Frederick Schjang, a large, bald man who reminded me of Shreck until he opened his mouth and, in his deep, resonant voice, began sharing the simple instructions that make up the Feldenkrais Method. This is perfect, I said to myself after my first lesson—exercise crossed with resting!
All these years on, mid-pandemic, the Rec Center is closed, as is the Edie Windsor SAGE Center (305 Seventh Ave. btw. W. 27th & 28th Sts.), where the class moved a couple of years later. (SAGE, their website notes, "is the country's largest and oldest organization dedicated to improving the lives of lesbian, gay, bisexual and transgender (LGBT) older adults. Our mission is to lead in addressing issues related to lesbian, gay, bisexual and transgender (LGBT) aging.")
Also closed until recently was the Equinox chain of fitness clubs, where Schjang built a career in fitness over close to 30 years. But his decades of experience in the Feldenkrais Method have made him nimble: When the studios shut down, he pivoted to Zoom, where he's been offering daily classes to several dozen people, all lying on mats in their own homes. The gentle actions don't work up a sweat, so people can practice during a lunch break if they're still working. I alternate hours at my computer with stints on the floor doing the lessons; the chronic back pain that afflicted me throughout my career as a writer has almost completely disappeared.
From Tuesday, September 22 through Sunday, September 27, Schjang is offering a Feldenkrais Festival ("The LGBTQA Online Feldenkrais® Festival") free of charge, to everyone within the sound of his Zoom-amplified voice. He'll teach alongside some of the most interesting practitioners from across the country, who'll teleport from California, Minnesota, D.C., New Orleans, Seattle, and elsewhere. To register, click here. A previous online festival, held the first week in May to coincide with International Feldenkrais Week, had over 1,000 sign-ins from all over the world.
What, exactly, is the Method? "It's a series of slow, controlled movements," says Schjang, "done in awareness, to teach you how to interact with your environment more effectively. The majority of classes are done lying on the floor on your back; some are on your side, your belly, or seated or standing."
The work was developed in the mid-20th century by Moshe Feldenkrais (1904-1984), who emigrated in 1920 from the Jewish Pale, now Ukraine, to Palestine, now called Israel. After working in construction and damaging a knee playing soccer, he moved to Paris for advanced training in the sciences, got an engineering degree and a doctorate, wrote a classic textbook on judo, and fled France just ahead of the Nazis, in 1940.
Feldenkrais spent the war years in London and Scotland, returning to Israel in 1951, where he continued to teach and develop his method; one of his students was Israeli prime minister David Ben Gurion. He brought the method to Europe and America beginning in the late 1950s, and started training teachers here.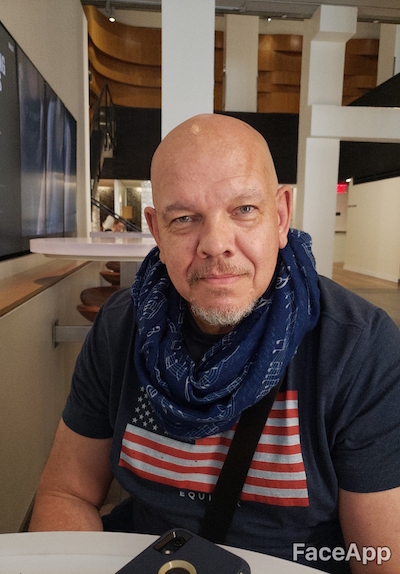 Frederick Schjang was an unlikely recruit to the Feldenkrais Method, which tends to attract quiet, contemplative folks. A native of Harlem with roots in the Caribbean, he came early to a love of music and is now as much a cheerleader for the city's jazz scene as he is a coach for people's physical well-being. He played defensive end on his high school football team.
"I went to Haverford, where the sports were cricket and lacrosse, sports that I as a boy from Amsterdam Avenue had no interest in. So I studied fitness. I was pre-law, but I ended up with an excellent education to prepare me for a career in fitness. I got a job in a gym, so they would pay me instead of me paying them. I hated the white-collar jobs I was bouncing around in, and decided to stay with fitness. I had a successful career as a personal trainer, ran a small club, and when Equinox opened, I joined them."
Equinox was, recalled Schjang, "revolutionary in 1991 in that they had a race-blind hiring policy, and many people of color who'd been under-employed became stars. It's as if you had an emporium for jazz featuring Nat King Cole, Ella Fitzgerald, Louis Armstrong, and Sarah Vaughn; all the rooms would be filled. The fitness director there asked me to develop a training program. I heard there was a training for Feldenkrais, and figured I could cut and paste the training program onto fitness, but I didn't realize it was a four-year program, radically different from fitness, much more sophisticated. My skills were exposed as irrelevant. I knew about strength training, cardiovascular training, and flexibility. In a Feldenkrais class, we did none of those things. We moved quietly, and with awareness, and after 10 minutes of these silly movements I found myself absolutely transformed."
Schjang was "frankly, floored. I decided to go back to school to study and after four years I learned how much I didn't know, so I continued my studies with Mia Segal, Moshe's first apprentice, for an additional three years. I then introduced the method to Equinox, as well as to the [NYC] Parks Department, and many other fitness facilities. I taught outdoor fitness classes on the High Line in 2010. My cousin died of obesity-related diseases that year, so when the city started a program called Shape Up NYC, I volunteered to teach in it. On the first day, one person showed up; over time the class grew to over 100."
It was supposed to go for six weeks, but Equinox continued it through the summer. "I reintroduced it at the Chelsea Rec Center in late 2010," said Schjang, "and then Scott Fraser took it over, and I moved to SAGE… As an educational modality, Feldenkrais is very progressive in terms of gender identity and romantic and sexual preference," noted Schjang. "Long before it became fashionable to do so, studios had gender-neutral bathrooms and a choice of pronouns was introduced. At SAGE, Feldenkrais become one of the foundational offerings, attracting many people. Most fitness programming of any sort had not been successful at SAGE; they sought me out. Members range up to age 90; people come as guests who are not quite 60. It's a good mix of male and female, with some ethnic diversity as well, although it's mostly white people."
In mid-March, when all fitness facilities shut their doors, SAGE wanted only to distribute food and make phone calls to check on their members. "I suggested that they also continue programming over the Internet," said Schjang. "They asked me if I knew how to do that. I told them yes. Now the classes are very well-attended, and other programs are also on Zoom."
The enrollment in Schjang's two weekly SAGE classes, available free to members of the center, has doubled since they went virtual in March. "Students can take class from the comfort of their own homes," he said. "It's still intimate enough that I'm able to give them individualized feedback. There's more intimacy through the screen than there was in person, and better attendance; all they have to do is turn on their devices. Many members have told me it's what's keeping them sane in this crazy time."
You don't have to look at the instructor in a Feldenkrais class; what's important is that he or she be able to look at you. "There are blind students in class. A future project in Chelsea is to have classes specifically for the blind."
The Feldenkrais Institute, on the second floor at 134 W. 26th St., is an umbrella housing several different operations; it is looking to reopen soon. The Feldenkrais Foundation, also housed there, offers advanced trainings, low-cost group classes, and individual lessons. The biggest Feldenkrais organization on the planet, it and the New York Region of the Feldenkrais Guild of North America are underwriting the upcoming festival along with SAGE. For full information and to register for the free virtual event, visit feldenkraisfestivals.com.
Chelsea Community News is made possible with the help of our awesome advertisers, and the support of our readers. If you like what you see, please consider taking part in our GoFundMe campaign (click here). To make a direct donation, give feedback, or send a Letter to the Editor, email scott@chelseacommunitynews.com.