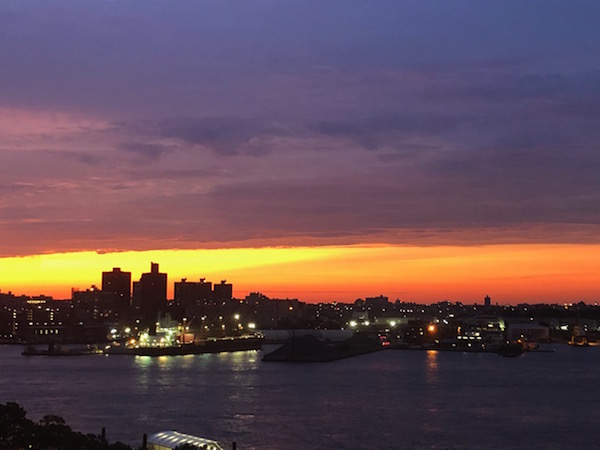 "Writing the Apocalypse" is a weekly series featuring the poems, essays, and recollections of Puma Perl, with subject matter influenced by her experiences as a NYC resident during the COVID-19 pandemic.
Breathe| BY PUMA PERL
beneath a purple sky
yellow and orange sunbursts
creep into the bedroom
half asleep, I take photos
from the one available window
the others are blocked
by air conditioners, flowers,
and plants named after dogs
I hadn't seen colors so intense
in many months and when I'm
fully awake I realize that
morning beauty has deceived
me once again, posing as
a welcoming new day but,
in reality, is a cataclysmic
combination of dust, pollution,
smoke, and haze moving
slowly across the country
while the West Coast burns
yesterday, I laid on the couch
for hours, staring at the ceiling,
unable to move, not knowing
what to do next or how to do it
I closed my eyes and breathed,
counted to ten, and breathed again,
counted to ten, and finally arose,
20 minutes of renewed energy
before sinking back into existence,
depression making me depressed
about being depressed…
what right do I have?
it's almost my birthday
birthdays are like New Year's Eve
forced smiles but with cake
Be happy Be happy Be happy
you fucking ingrate eat cake
the dentist's office pretends to care
Today is a day to reflect, relax, and recharge,
they write, fill your day with laughter!
your friends at @$%# Dental Office
I'm already filled—with wire,
krazy glue, and failed root canals,
thanks to my dentist "friends"
I receive similar messages from Allstate,
Blink Pharmacies, and an audiologist
I don't recall ever contacting
stop being depressed, advises Joe,
get your head into the show on Sunday
I calculate that I have four full days
before I need to elevate my mood
the day after my birthday
a friend and I eat lobster rolls
at a place in DUMBO,
then I take the ferry home,
one stop to Corlear's Hook
a woman approaches me
as we walk down the ramp
Are you Miss Perl? she asks
I look around, it must be me
I read your poems every week
and want to thank you, she says
Especially for that one about hugs,
and she sort of hugs herself
she rides away on her bicycle,
I think her name was Maggie
if you are reading this poem,
thanks again, Maggie,
for reminding me that
somebody is always listening,
even while you're staring at
the ceiling, lost in blank space,
while dancing angels turn to smoke.
© puma perl, 09/18/20
Puma Perl is a poet and writer, with five solo collections in print. The most recent is Birthdays Before and After (Beyond Baroque Books, 2019.) She is the producer/creator of Puma's Pandemonium, which brings spoken word together with rock and roll, and she performs regularly with her band Puma Perl and Friends. She's received three New York Press Association awards in recognition of her journalism, and is the recipient of the 2016 Acker Award in the category of writing. Her most recent books can be found by clicking here.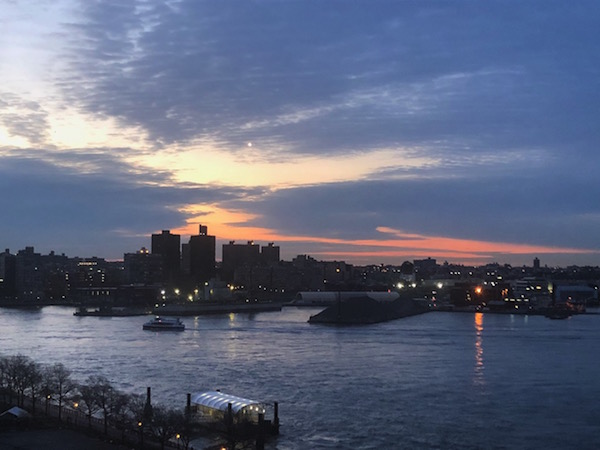 Chelsea Community News is made possible with the help of our awesome advertisers, and the support of our readers. If you like what you see, please consider taking part in our GoFundMe campaign (click here). To make a direct donation, give feedback, or send a Letter to the Editor, email scott@chelseacommunitynews.com.