BY MICHAEL MUSTO | Nothing has stopped the 58th annual New York Film Festival (Sept. 17-Oct. 11) from going forward, and though this time I've been watching links rather than wear pants and bike up to Lincoln Center, it's still rewarding. Among the highlights: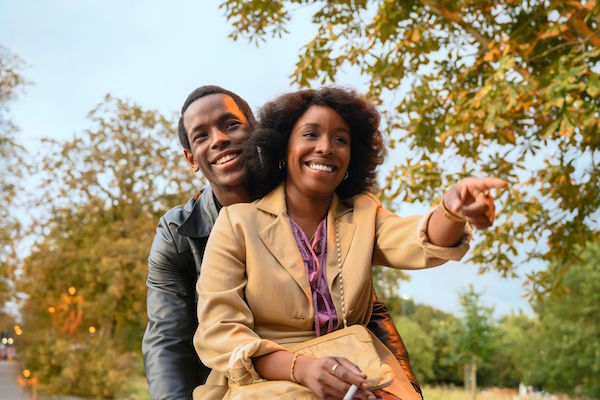 LOVERS ROCK | The opening night attraction, Lovers Rock is part of Steve McQueen's Small Axe anthology, a miniseries of five stand-alone but interconnected films set to premiere November 20, on BBC One and Amazon Prime. The series focuses on London's black West Indian community from 1968 to '85, a transitional time where spirit battled oppression and vice versa.
Lovers Rock happens to be a romantic style of reggae, and this film pulses with it, the continual score matching the colorful costume design by Lisa Duncan, the tactile cinematography by Shabier Kirchner, and the vivid acting by a cast headed by Amarah-Jae St. Aubyn and Micheal Ward. Primarily set at a house party in 1980, the movie serves a stream of reggae and pop/disco (Kung Fu Fighting, He's The Greatest Dancer), as the characters move to the beat in between carefully navigating their relationships. McQueen (the London-born Oscar winner best known for Shame, 12 Years a Slave, and Widows) and co-screenwriter Courttia Newland go for a purely atmospheric piece, one where you can taste and feel each swirling moment, those moments purposely free of much narrative drive. McQueen's love of the characters—and the music—is as evident as it is infectious, though the result would definitely come off as relentless for those who require more of a plot.
A memorable scene happens when the partyers are dancing to Janet Kay's 1979 single Silly Games, and the DJ music fades out, so everyone simply sings the song a cappella while continuing to dance. The music never ends—but there are also some dark doings, a hint of same sex love, and more dancing, dancing, dancing. As McQueen explained during a virtual press conference presented by the fest, "Dialogue can bring you somewhere, but it's more about mood… I trust film. Hopefully we make an atmosphere that allows things to happen."
Get virtual tickets here, playing from October 3 at 8pm ET to October 5 at 8pm ET. Steve McQueen and his collaborators will participate in a free talk on Sunday, October 4 at 2:00pm ET. Free registration is required here.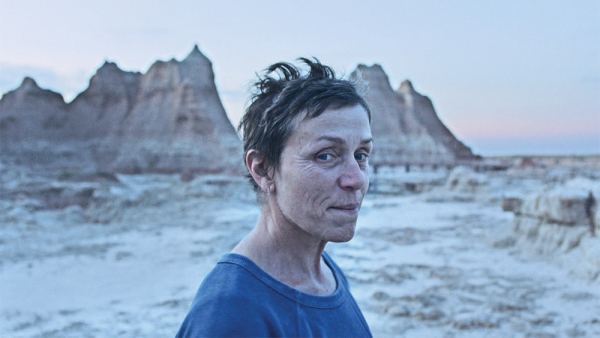 NOMADLAND  | "No, I'm not homeless. I'm just houseless. Not the same thing." So says Fern (Frances McDormand), a feisty Nevada woman whose town has basically become extinct after a factory closing brought on by the 2008 recession. What's more, Fern's husband has died, so in the wake of such loss, she bravely takes to her van (which she christens "Vanguard") and seeks seasonal work, while becoming part of the often-interconnecting nomad community.
Written and directed by China-born Chloe Zhao (The Rider), based on the book Nomadland: Surviving America in the Twenty-First Century by Jessica Bruder, the anecdotal result is a beautifully photographed, scored, and acted tribute to the pioneering spirit, as well as a tale of adaptability, escape, grief, possibility, and connection with nature. McDormand anchors it with a gorgeously real performance, David Strathairn plays a new friend, some actual nomads deftly portray versions of themselves, and if everyone seems exceedingly nice, it's because the characters all recognize each others' vulnerabilities and are always there for a hug and some advice. (They also feel like a real goodbye is never in order because you will always run into each other again—and that even includes the spirits of loved ones who've died.)
Fern quotes from a famous speech in Macbeth ("Tomorrow and tomorrow and tomorrow…") about the tedium and meaningless of life, but she also references the Bard's Sonnet 18 ("Shall I compare thee to a summer's day?"), which summons the power of indomitable beauty. Clearly, the characters in Nomad struggle to take charge of their lives and give it meaning, while encompassing the "eternal summer" of that sonnet with their bold iconoclasm. This very topical movie makes them true American heroes.
Please note: This film's limited rental window at NYFF58 has ended. Explore the full schedule here.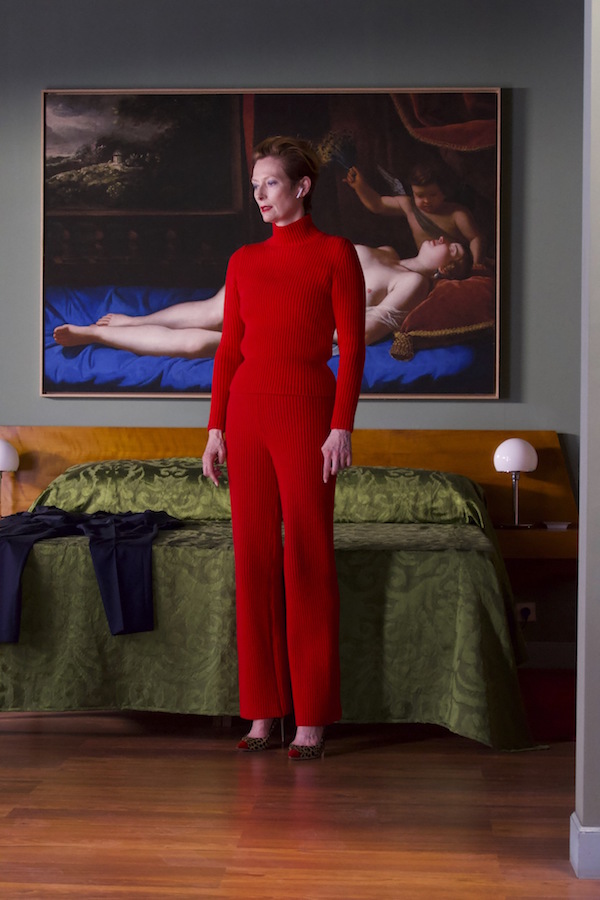 THE HUMAN VOICE (La Voz Humana) | A potential nomad in the making, "Woman"—the primary character in Pedro Almodovar's short film The Human Voice, loosely based on the play by Jean Cocteau—seems dead set on torching her past. This disturbed (but well-dressed) lady is so rattled by her lover's leaving her after four years that she buys a hatchet, swallows some pills, and harangues him on the phone with her concerns, regrets, confessions, and manipulations, knowing that this will be their last conversation.
This piece has been done before with titanic actresses like Ingrid Bergman and Anna Magnani. Here, the uniquely qualified Tilda Swinton fits the bill, and so does the intricately thought out design of the film. Production designer Antxion Gomez employs a lush palette and Jose Luis Alcaine's photography is suitably gorgeous, emphasizing artifice vs. reality as Swinton's character sulks and paces through an obvious soundstage which becomes her home and back again.
In the past, actresses were glued to the phone through the whole piece, but thanks to modern technology, Swinton listens via an earpiece, so her hands and body are free for other gesticulations. She is magnetic, the movie reeks of Almodovar's quirky humanism, and though she promises, "In the future, I'm going to be a practical woman, for a change," you sincerely doubt that—until the triumphantly bizarre ending. Thirty minutes of cinema bliss.
Get virtual tickets here, screening through September 29 at 8pm ET.
Chelsea Community News is made possible with the help of our awesome advertisers, and the support of our readers. If you like what you see, please consider taking part in our GoFundMe campaign (click here). To make a direct donation, give feedback, or send a Letter to the Editor, email scott@chelseacommunitynews.com.