BY CHARLES BATTERSBY | Among the fringe benefits of being a journalist in New York City is the opportunity to attend industry conventions, with full access to things the general public doesn't get to experience. My last con was February 2020's Toy Fair, at the Javits Center. Most of the companies I spoke to said they expected a slight delay, about two months, in getting their products to market, due to some virus that was affecting parts of China at the time. In that same week, there was a Boston-based video game convention called the Penny Arcade Expo [PAX] East, which was 2020's last big convention targeted at the gaming and comic subcultures. Soon after, there was cascade of canceled cons in March, then April, and May.
Even outdoor events like the annual Cherry Blossom Festival at the Brooklyn Botanic Garden (a mecca for cosplayers and anime fans) were called off, including the NY Renaissance Faire, and the local Medieval Festival at the Cloisters. But by summer, the cons had begun to adapt and evolve. The Games For Change (G4C) Festival went to a virtual format in June, and panels were broadcast live online, for attendees to watch and chat. New York's gay geeks held out hope that August's annual Flame Con, touted as "the world's largest and New York City's first LGBTQ comic convention," would be the first con to happen live—but it also went virtual. By this September, other installments of the Penny Arcade Expo around the country switched to the online format as well. Even New York City's big October con, the New York Comic Con, will be going online.
These conventions are a source of social activity for introverted fans, but they also provide crucial career mentoring for young game designers, comic artists, and writers. We spoke with organizers from several of NYC's major comic, gaming, and geek-centric cons, to learn about how an often socially isolated community is adapting to the absence of much-anticipated real world interaction, and whether we've entered a world where online-only events are here to stay—with or without the return of a Javits Center swarmed with cosplayers packed like sardines as they pose for group photos, or strolling elbow-to-elbow down the aisles of narrow exhibit halls.
Raul Carvajal is the Festival Producer of the Games For Change. The annual civic-minded festival happens every summer in New York City, and was among this year's first cons to switch to an online-only format. Carvajal explained how G4C was scheduled at the sweet spot to make the abrupt change in format.
"At the outset," he recalled, "we had already been planning this event for a couple of months, with the intent that it would be physical. That started in December/January. Of course, our open call for talks, which generally yields hundreds of responses of people pitching their talks and sessions, all of that was finalized in February. So all of those submissions were ahead of the COVID scenario that we found ourselves in."
By April, the team had decided to ask speakers to reevaluate their material for relevance to a pandemic that unexpectedly emerged, and quickly spread.
"We did already see a bunch of speakers who were interested in this idea of social isolation, and quarantine collaboration, and mental health during this time," noted Carvajal, who said that from a curatorial perspective, the G4C team "knew that that [COVID-19] dovetailed nicely into our broader themes for the entire event. Resilience, interconnectedness. These were things we were using as soft themes for our entire program."
The festival had a panel called "Games to Address National Health Crises" along with a few other panels introduced to broach current events. Carvajal told us, "We had a roundtable organized by Russell Shilling called 'Winning Against Pandemics: Games as Essential Tools for Planning and Response,' where we invited a bunch of game developers who had been working on Pandemic Simulations, as gamified experiences or otherwise." (There is a whole genre of strategy games where players try to create an apocalyptic virus, or fight against a pandemic—for fun!)
Kevin Gilligan is the Convention Head at Geeks OUT and the Head of Experiences for Flame Con, the LGBTQ+ comic/pop culture convention that took place in NYC every August for the last half-decade. This year, they switched to an online-only con called Open Flame. Gilligan told us via email, "Unfortunately, due to the pandemic, we had to cancel this year's in-person event, as we didn't want to risk the health of our community. But, we still wanted to provide a way for everyone to connect with each other and enjoy the Flame Con experience virtually. Since we regularly hear positive feedback about the panels, workshops, and performances featured at Flame Con, we decided to focus Open Flame on great programming. And, of course, we wanted to signal boost the creators who make Flame Con possible on our social media channels."
ReedPop is the producing organization of the Penny Arcade Expo (PAX) events, as well as the New York Comic Con and many other conventions around the world. We spoke to Kristina Rogers. ReedPop Event Director, about how the pandemic altered 2020 events scheduled and announced before the pandemic's emergence. Asked about how they reacted to the early reports of COVID-19, in anticipation of February 27 through March 1's PAX East, she told us, "The PAX Team worked hand in hand with the venue and the City of Boston to create a cleaning schedule, and was very transparent with the attendee base on what they were doing to keep them safe and the venue sanitized during the show. A few exhibitors did pull out from a global company decision, but from the post-show feedback we got from the attendees, it was positive and they felt safe."
Although the cons overtly serve as promotional opportunities for media companies to tantalize fans, they also provide a social outlet for introverted fans to meet with each other in person. Of course, the naturally introverted are well equipped to deal with the isolation of a quarantine, but the eight-month quarantine stretches the limits of even the most introverted. Fortunately, mental health has been an increasingly large portion of content at the events. Most cons have some form of "Quiet Room" where people can escape noisy show floors for a few minutes. (At video game cons like PAX, these are called "AFK" rooms, as a reference to being "Away From Keyboard" during an online game.)
We asked ReedPop's Rogers about addressing mental health issues, in a manner particular to this year's unique challenges. The PAX team rose to the challenge, she said, noting they have been actively "engaging the same communities that host our mental health programming to bring them into PAX x EGX Online [an online-only con which ran in September] through panels streaming all week as well as creating community spaces on the PAX Discord channel. We're looking to do the same with our Discord for our upcoming NYCC x MCM Metaverse."
ReedPop's next event will be the online version of the New York Comic Con (NYCC), October 8-11. "We don't have programming scheduled during the event that focuses solely on isolation," noted Rogers, "but are bringing those elements and topics onto our Discord community, to help craft a space where fans can connect with each other to help alleviate that. One of the best parts of cons, I think, is the communities they create and support, so our focus is very much on bringing that into the digital version of our event."
Flame Con's Gilligan spoke about their work addressing mental health at previous cons. "Looking back at what we've done," he recalled, "many panels have discussed mental health in varying degrees. While some panels discussed it as part of a larger discussion, like 'A World That Hates and Fears Them: On Comics and Hope' that featured a discussion with Steve Orlando and Tana Ford, where as part of their panel they talked about their own process for combating emotional fatigue, and what keeps them believing in a better version of the world."
Gilligan also noted other panels that "expertly discussed" the subject, such as "Comics and Mental Health," which featured "Tana Ford, Sina Grace, and two mental health professionals, Shannon Carroll and Noel Hunter, and they discussed the unique power of comics to reinforce a marginalized identity, to address a broad spectrum of adversity, and to heal both artist and reader."
For this year's online-only Open Flame, Flame Con presented a panel called "Reclaiming My (Oo) Time: Navigating the Intersections of Mental Health and Gaming," where the panelists discussed how gaming "continues to be a retreat for some during Corona, how folks find themselves gaming less and what they have learned, and where gaming has been used to respond to our mental health struggles in ways we haven't before. All of which was a common theme through the entire Open Flame event, in which gaming has been [and continues to be] a form of self-care for people during the pandemic."
A big component of the cons is the cosplay community—and cosplayers have certainly had plenty of time to sew new outfits in 2020. During NYCC, the area outside and around the convention center is filled with photographers and cosplayers doing impromptu shoots. Rogers, of ReedPop, hopes that YouTube and the relatively new online community, Discord, will help.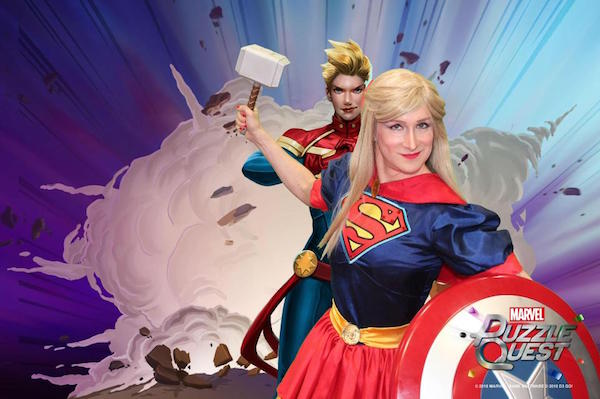 "People want to connect with people and it's our jobs to craft the spaces for them to do that in," she told us, adding, "Cosplay photo shoots in the Inner Roadway at NYCC, for example, are going to happen on YouTube Community tab through prompting our cosplayers to share selfies and meetups will head over to Discord." Rogers later added, "We're so bummed we're not flooding your sidewalks with amazing cosplayers and fun people-watching this year."
A much more serious aspect of the cons is industry networking and mentorship. Young game designers, comic artists, writers, journalist, and even cosplayers looking to improve their craft can all meet with more established members of their industry. Rogers commented that ReedPop reacted addressed the needs of this aspect of the community by hosting "a Retailer Roundtable for retailers and publishers in August that was such a joy to be a part of. These business people hadn't connected with each other since the beginning of the pandemic, and there's a critical need for it! We'll be hosting professional networking opportunities the week after NYCC Metaverse, and continuing to roll things out in early 2021 to help continue supporting this part of our industry."
Gilligan explained that among the LGBTQ geek community that Flame Con was created to serve, "We've seen some of it move to social media, where creators put out a call to do portfolio reviews, AMA sessions [Ask Me Anything], and posts for BIPOC artists & creators to promote themselves in their thread in an attempt to boost their profiles."
At Games For Change, there is a special focus on education and mentoring. Carvajal said that mentoring was among their first concerns when the team decided to switch to a virtual con.
"The streaming of content and of the talks themselves is the easy part," explained Carvajal. "We also came to the obvious realization that folks are coming for so much more than talks. They come to the event to connect with their peers, make new connections, do this networking and mentorship. All of that is extremely valuable; a core part of the Games For Change experience. So we knew that we needed to have a virtual solution that was not just a way to receive content, but also a way to engage folks and not make them feel like not just viewers or attendees, but participants."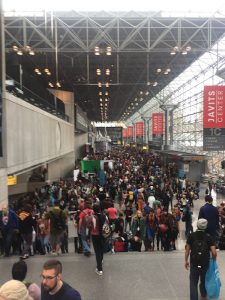 We asked everyone if these virtual cons are going to be a regular part of their industry going forward, even if it isn't a pandemic-related necessity. Teri Yoshiuchi of Flame Con told us, "At Flame Con 2021, you may see more live-streaming of events since the technology has evolved so rapidly. It's definitely a wish list item-we'd love to be able to bring Flame Con to people that are not able to make the trip to New York."
Rogers agreed, noting that digital versions of ReedPop shows "will definitely live on when we're back to doing physical events again. What we're seeing is this wonderful way to reach fans that may not be able to or feel comfortable attending shows or live in other cities, but very much want to participate and join this community, and I'm really looking forward to developing this alongside one of our physical shows in the future."
The good news, said Rogers, "is that most everything we do can translate online, and we're still learning new ways to do all of this. Something that felt impossible to do eight months ago is now possible through new tech, and hurdles that we experience now in building up to PAX and NYCC may have solutions a few months down the road. All that to say, we haven't had to cancel anything, other than our beloved cosplay group photos, but we are getting very creative in finding new ways to make these things still happen."
In previous years, recalled Carvajal, there was nothing in the past to keep G4C "from doing a virtual event like this… With the massive success we've had, we're enthused and looking for more opportunities to continue on the virtual side. And that may be a hybrid form that may continue into a purely virtual series of programs that either sit alongside an in person thing, or otherwise… We've had such a positive experience that we're looking for other ways to incorporate engaging virtual programming in the future."
Yoshiuchi told us that feedback about after the this year's virtual Flame Con, was, overall, "very positive. As hopeful as people may have been about there being an in-person Flame Con, the reality of a continued lockdown could not be ignored. There were many expressions of sadness over the cancellation, but still excitement for a comeback in 2021. The announcement of Open Flame was very well received. I think a lot of people have been starved for queer geek content and were happy to hear about Flame Con: Open Flame… Feedback received during the actual event was also very positive and it was really nice to be able to see so much of it in real time as people typed comments into their chat boxes. It's a very different experience from being at a live in-person panel. You may not get clapping or cheering from the audience, but you do get a lot of really well thought-out comments from participants that you would not otherwise hear."
Carvajal assured us that, despite the new format, "The vast majority of folks felt that we met the bar of what it means to go to the G4C festival, outside of the huge programing slate. They were able to connect with one another, plug into particular pieces of program relevant to their experience or work. Or share things with pieces of our community who historically had never been able to attend… We really opened it up to a global audience. Those folks, who had heard about us but had never had an opportunity to come, really felt included… The great privilege of our organization is that were reaching a community that is interdisciplinary. We have students, educators, developers, both indie and AAA, funders, government policy makers—all of these difference people who have a stake in the success of games that have a positive social impact. I just love festival, getting the opportunity to get those folks in the same room and hearing those conversations."
Fans looking to join in with the next big virtual con will be able to virtually attend the New York Comic Con x MCM Comic Con Metaverse, October 8-11.
Chelsea Community News is made possible with the help of our awesome advertisers, and the support of our readers. If you like what you see, please consider taking part in our GoFundMe campaign (click here). To make a direct donation, give feedback, or send a Letter to the Editor, email scott@chelseacommunitynews.com.