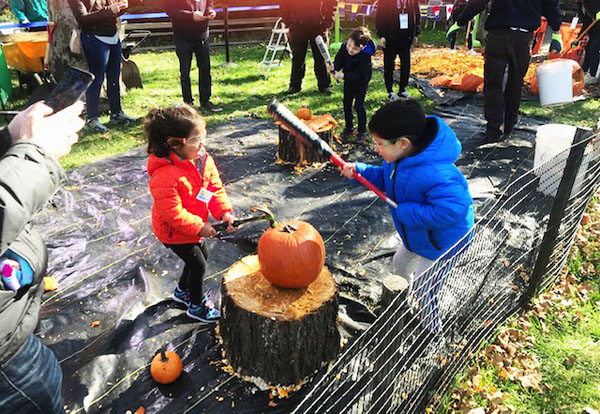 BY DONATHAN SALKALN | For those celery stalk huggers who, for too long, have saved bagged food scraps in refrigerators: Rejoice! Let loose of your banana peels, release those freezer-burned cucumber skins, liberate your bags of coffee grinds and apple cores, and set free all those broken egg shells from your breakfast moments of bright morning expectations. Both the Hudson River Park Trust and NYC Compost Project have reopened collection sites and even created new ones for those eco-hugger chefs.
Hudson River Park Trust Compost Collection Sites
The Hudson River Park Trust has not only opened it's seven original compost drop-off sites (closed for COVID concerns), but also created three new ones, including one locally at W. 26 St. and Pier 66. HRPT's compost program has been very successful. Last year alone, it processed 450,000 lbs. of organic and horticulture waste.
Said Matt Post, HRPT's Senior Director of Maintenance and Horticulture, "The park mixes the food scraps with the park's own horticulture waste to make healthy compost which we use to enrich the soils of our plant beds and trees with much needed nutrients."
Said Madelyn Wils, President and CEO of the Hudson River Park Trust, "Promoting a greener, more sustainable city is a core part of our mission at Hudson River Park and we have worked hard over the years to build out one of the largest, most accessible park-based composting programs. Composting food scraps has become an embedded part of New Yorkers' routines and we are proud to welcome them back to the Park as the program starts back up again this fall."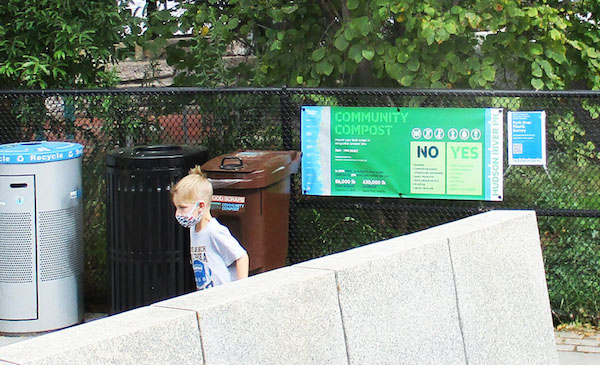 A popular composting West Side event is the Chelsea Waterside Park's Pumpkin Smash. The 2019 affair produced 2,000 lbs. of compost, while supplying the neighborhood children a ton of real fun. HRPT has tentatively scheduled this year's Pumpkin Smash to be the Hudson River Park's first trial of a reduced in-person event. The plan is for a socially distancing and pre-registered event, set for Sat., Nov. 7, from 11am-3pm. HRPT will soon provide details. Stay tuned with pumpkin smashing mallets in ready.
NYC Compost Project and GrowNYC Food Scrap Program
The NYC Composting Program, which partners locally with GrowNYC and the Lower East Side Ecology Center, was a victim of Mayor Bill de Blasio's budget cuts. The Mayor has since restored 13 out of its 66 compose collection sites across the five boroughs, a small number, but a result of a herculean effort by environmental advocacy groups and members of the City Council.
NYC Council Speaker Corey Johnson, a major source of resources and advocacy toward composting, told the Chelsea Community News, "Reducing the amount of waste we send to landfills is a key part of our fight against climate change. I am so proud that the Council's work to restore funding for drop-off sites for organic waste has gotten results. I want to thank all of my neighbors and the advocates and volunteers who helped make this happen. I encourage all New Yorkers to separate their organic waste and utilize the newly opened drop-off sites."
Kathy Nizzari, Executive Committee Member of the Chelsea Reform Democratic Club (CRDC), who spearheaded CRDC's efforts in reinstating the program, told Chelsea Community News, "The city spends upwards of $400 million a year just exporting our trash. If compostable garbage makes up one third of all garbage, why would you eliminate composting's $7 million budget."
Said Nizzari, continuing, "Not only that, when you put food scraps into landfills it releases methane gas which is 86 times more warming to the planet than carbon dioxide. Not only is it costing more money to ship it that we don't have to spend, it's also terrible for the environment. There's no logic behind not reopening all composting sites across NYC."
Although the numbers for citywide composting seems to be a compelling argument on paper, New Yorkers are a long way from separating 9 billion pounds of food scraps every year (roughly one third the weight of annual garbage). The Mayor's promise to virtually 'zero out' its garbage exports by 2030 needs to be revisited. NYC's compost program in 2018 processed 86 million pounds of food scraps, or .9 percent of its target. While a good start, it is hardly a number to shout out from atop the tallest landfill. Much more education, more collection sites, and follow through needs to be put in place in order for such a goal be reached.
Compost away!
AREA DROP-OFF SITES
The below locations are part of Hudson River Park's Community Compost Program.  Deposit your food scraps in the brown bins at the following sites, from 7am to 7pm daily. For more info, click here.
Pier 25 at N. Moore St. near the Pier 25 Play Area
Pier 40 at Houston St. near the Leroy Street Dog Park
Pier 46 at Charles St.
Pier 51 at Horatio St. near the Pier 51 comfort station
14th Street Park at the southwest corner of 15th St. and 10th Ave
Chelsea Waterside Park at the 23rd St. and 11th Ave. entrance
Pier 66 at W 26th St. (NEW)
HRPK's Compost Center at W 34th St.
Pier 84 at W 44th St. near the Pier 84 Dog Park
Pier 96 Boathouse at W. 55th St .(NEW)
For hours of operation and more information on these locations, click here.
–14th St. Park @ W. 14th St.
–Spring St. @ 6th Ave.—NE Corner, Wed.
–W. 23rd St. @ 8th Ave.—SW Corner, Wed.
–Union Square Greenmarket @ NW corner, M.,W., F., Sat.
–Stuyvesant Town Oval @ 14th St., Sun.
–E. 7th St. @ Ave. A, Sun.
Chelsea Community News is made possible with the help of our awesome advertisers, and the support of our readers. If you like what you see, please consider taking part in our GoFundMe campaign (click here). To make a direct donation, give feedback, or send a Letter to the Editor, email scott@chelseacommunitynews.com.