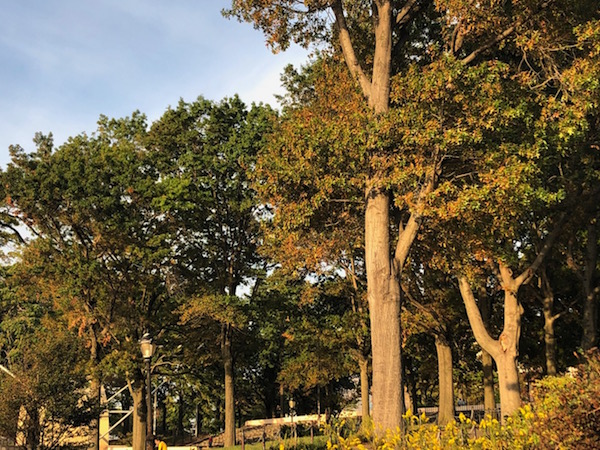 "Writing the Apocalypse" is a weekly series featuring the poems, essays, and recollections of Puma Perl, with subject matter influenced by her experiences as a NYC resident during the COVID-19 pandemic.
Every Walk in the Park | BY PUMA PERL
A random week in May
Took Diva to the park five times,
to the vet once, and, on Memorial Day,
my son drove us all to Coney Island
On the second of the park days
I met up with two friends
It was an exciting week
I no longer write down
every phone call,
every time I wash the floor,
every walk in the park
In October, so far,
I've made three notations
Two pertain to my car,
the third to my hair
There are no entries
about our walks in the park
Soon, those walks may end
Come November, the plan
is to destroy the East River Park,
kill our trees,
bulldoze the fields,
tear down the amphitheater
A disastrous strategy
in the name of flood protection
Every morning I look out the window
to see if the park is still there
The slaughter grows near
Will 100 bodies stop a bulldozer?
Will 1,000 bodies stop a bulldozer?
Will 100 million bodies stop a maniac?
Kind and gentle people
who've never wished harm
upon friends or enemies
struggle with hate in their hearts
I know that we hurt ourselves
when we can't forgive
and wish others well, but…
I hate him, I hate them,
and I have no well wishes to give
The best I can do is to hope he gets
exactly what he deserves
Nobody needs to ask who I mean by "him"
It's like Harvey Weinstein's office,
relocated to the White House
I'd like to believe the park can be saved
I'd like to believe in humanity, but…
The president threw a COVID party
Then we watched him circle the grounds
of Walter Reed Hospital doing a photo op
So, we know, if we didn't before,
that everything vile is possible
My question is, are miracles still possible?
I ask a friend what Leonard Cohen might say
about our reactions and the concept of schadenfreude
Probably something that I wouldn't fully understand,
she responds, but that would fill me with wonder
Can we still fill ourselves up with wonder?
And, again, miracles possible?
© puma perl, 10/07/20
To help save the East River Park and learn more, visit https://eastriverparkaction.org.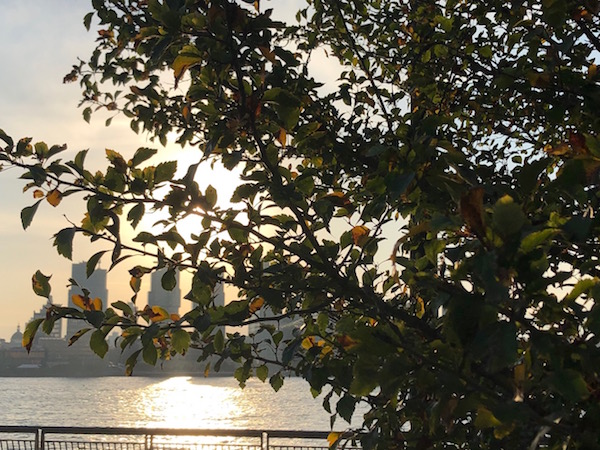 Puma Perl is a poet and writer, with five solo collections in print. The most recent is Birthdays Before and After (Beyond Baroque Books, 2019.) She is the producer/creator of Puma's Pandemonium, which brings spoken word together with rock and roll, and she performs regularly with her band Puma Perl and Friends. She's received three New York Press Association awards in recognition of her journalism, and is the recipient of the 2016 Acker Award in the category of writing. Her most recent books can be found by clicking here.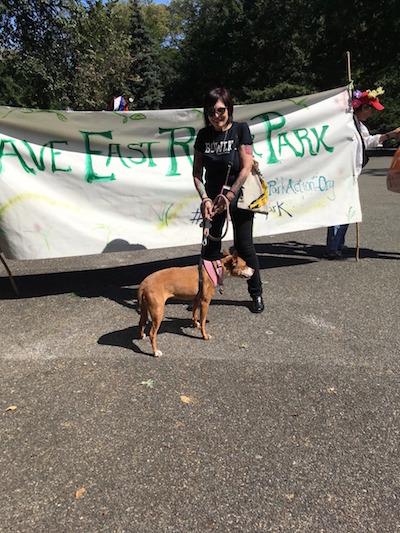 Chelsea Community News is made possible with the help of our awesome advertisers, and the support of our readers. If you like what you see, please consider taking part in our GoFundMe campaign (click here). To make a direct donation, give feedback, or send a Letter to the Editor, email scott@chelseacommunitynews.com.