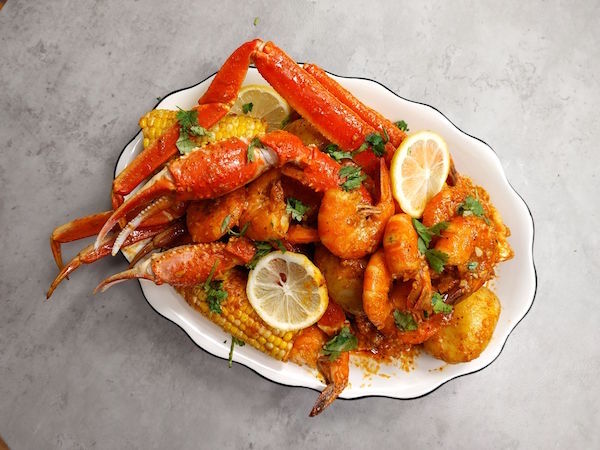 BY WINNIE McCROY | To open the newest location of the popular seafood franchise, Boilery Chelsea, on Ninth Avenue in Chelsea. Things got stalled a bit, and then came COVID-19. Lee was shut down before he could even open.
Fast-forward eight months, and New York City is tentatively beginning to re-open restaurants for indoor dining at 25 percent capacity, with winter approaching. As businesses around him shut their doors for good, Lee is taking a brave chance by opening his upscale iteration of Boilery NYC to dine-in or to go.
As the saying goes, "Safety First"—and Boilery Chelsea meets that metric. Upon entering the location, a masked host offers hand sanitizer and quickly scans customers with a digital thermometer to make sure they don't have a fever. Then, a masked waiter will escort you to your seat, socially distanced from other patrons, where you can take off your mask and enjoy a cocktail.
And what cocktails they are! In addition to a fine selection of craft and imported beers like Saison Dupont, Hite, and Montauk Seasonal, The Boilery boasts 10 Artisanal Cocktails to set your taste buds atingle. Winners include Death By Sunset, a mix of tequila reposada, Grand Marnier, blood orange, lime, and a cinnamon stick, set alight on a silver salver, to stimulate the senses, said Lee.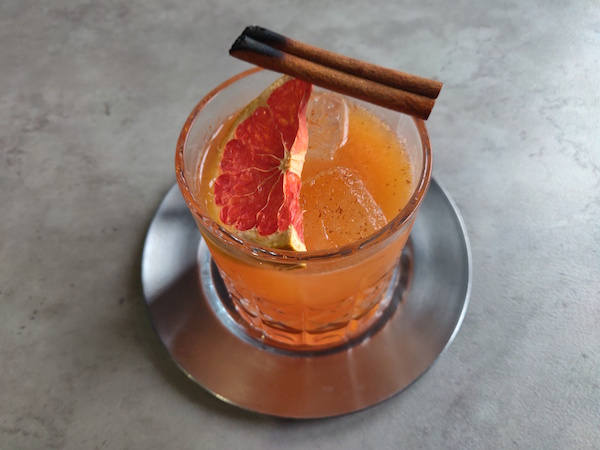 "Our drink program is something else that will definitely set us apart in the community," said Lee, who pointed to his dedication to using top-shelf liquors rather than cheap rail booze to make the best cocktails possible.
Those sitting in the restaurant's open floor-length windows can enjoy a view of the Empire State Building as cool breezes flow past them toward the glass bar. Green leather banquettes and muted green wooden walls project a classy, understated elegance under a circular chandelier of Edison lightbulbs. In the back, a faux fireplace lends a cozy feel to dining. This, in addition to the all-new ventilation system, makes one feel safe enough to chance dining indoors for the first time in a very, very long time.
So bring your appetite. Being a seafood restaurant, there are of course, the standard raw bar offerings available, plus unexpected treats like Red Snapper Ceviche: large chunk of fresh red snapper soaked in coconut milk, with ground cashews at the bottom, flavored with coriander, celery, shallot and lime. It brings and unexpected, savory element to ceviche.
There's also a nice Starters section, with delights like Grilled Oysters, drenched in garlic shallot compound butter redolent with herbs, and toasted nicely with Parmesan Romano. It eats like a steak! The Blistered Shishito Peppers come topped with nuoc mam, smoked sea salt and lime zest, with thin curls of bonito flakes animatedly dissolving atop. And a pair of fresh Fish Tacos boasts large pieces of battered cod with tomato, roasted pepper, and a drizzle of chipotle aioli. It's particularly toothsome.
Said Lee, with a smile, "If I wouldn't eat it, I wouldn't serve it to my guests.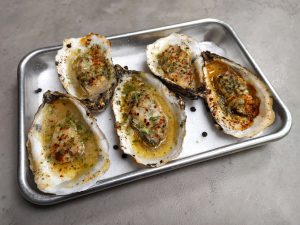 For a quick bite, dive into the Sandwiches & Baskets section, where you can chomp down on a Maine Lobster Roll, Crispy Shrimp Po'boy, or Softshell Crab Sandwich. But those in the know will go straight for the main attraction: Boilery Chelsea's Seafood Boils. Whether you pick a pre-arranged combo—like the Fisherman's Combo, with a pound each of fat, juicy shrimp and long, luscious snow crab legs—or Build Your Own Seafood Boil, with your choice of steamed seafood, corn and potato served in your choice of spices.
If you're a big garlic lover, you're not going to want to miss the Boilery's Signature Sauce, a spicy orange amalgam of Aleppo chili and garlic. If not, go instead for the Old Bay Lemon or Garlic & Butter. Your waiter will bring the whole shebang to table for you to dig into. Do yourself a favor and get the plastic bib—because if you're ordering the peel-and-eat seafood, you're for sure not on a first date—and start cracking those claws with your beloved.
You'll eat it all up, and then look around for some crusty garlic bread to soak up the remaining sauce—or, as Lee suggested, a side of their delicious Garlic Butter Noodles. It's a great way to make this mind-bogglingly good concoction last just a little bit longer.
Lee is still working on the dessert menu and wine list, and says that a brunch menu will be forthcoming in the near future. For now, said Lee, "I am keeping the menu flexible until the neighborhood tells us exactly what they want."
Based on the rapid turnover of delivery bikes coming and going on a recent Saturday evening, the neighborhood is already making their message heard: Chelsea is craving the taste of fresh seafood, and Boilery Chelsea delivers. And, welcomes you to safely dine indoors.
 Boilerys Chelsea location is at 235 Ninth Ave. btw. W. 24th & 24th Sts. There are also locations in the East Village and on the Upper West Side. For more information, call 646-850-0288. email info@boilerynyc.com, or visit https://www.boilerynyc.com/menu.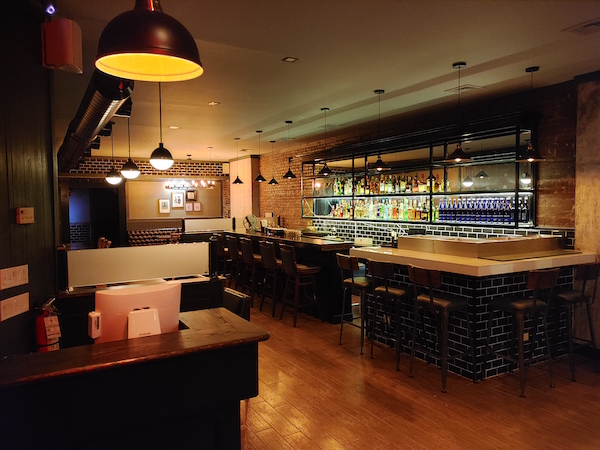 Chelsea Community News is made possible with the help of our awesome advertisers, and the support of our readers. If you like what you see, please consider taking part in our GoFundMe campaign (click here). To make a direct donation, give feedback, or send a Letter to the Editor, email scott@chelseacommunitynews.com.