BY CHARLES BATTERSBY | It's the sunny Saturday afternoon of Oct. 10, and Chelsea is filled with people enjoying the kind of warm fall day we'll be seeing less and less of. What's more, with COVID-19 restrictions loosening, there are plenty of shoppers and pedestrians on the street at this time of day.
This isn't what I thought "Patrolling for Crime" would look like.
Since Sept. 26, the Guardian Angels have been patrolling the neighborhood, twice weekly: Thursdays beginning at 7:30pm, and Saturdays at 1pm. This patrol is my second, having joined them on Thursday. In all that time (each patrol lasts about four hours), there have been no fistfights with colorful gangs, no overt crimes thwarted. The most common event is a passerby stopping to thank the Guardian Angels for their appearance in the neighborhood. (Founded in 1979 as a Bronx-based, 13-member unarmed crime prevention patrol, their 41-year-old public image as scrappy protectors of NYC's crime-ridden subways and streets hovers over everything done by the global, all-volunteer non-profit.)
This afternoon's patrol group includes two veteran Angels who have been with the organization for decades, plus three new members who have been with them for less than a year. There are also two Chelsea residents who are considering joining the group.
The Chelsea locals are a father/daughter pair. The daughter, Esmae, is 17. Her father, Dave, has lived in the neighborhood long enough to refer to the 10th Avenue apartment complexes built in the '90s as "new."
Dave and Esmae decided to accompany the Guardian Angels on this patrol, after seeing a recruitment flyer posted near a bookstore—something that Chelsea residents have likely seen on mailboxes, payphone booths, and utility poles all over the neighborhood. As the team walks up Ninth Ave. from W. 14th St., the response from the community is entirely positive. On every block, someone stops to talk; a few offer tips on locations where suspicious people are loitering. But most of them just say, "It's great you're back!"
Middle-aged people stop to reminisce about seeing the Guardian Angels "back in the day." One man even informs the group that his sister was a model in the '70s, and he insists that the Guardian Angels are, "Half the reason she's still alive." Another woman who looks to be in her twenties says that her mother was an Angel. She stops to take pictures with the Angels, and with Curtis Sliwa.
Of course, people yell out, "Hey Curtis!" at the Guardian Angels, referring to the group's founder, Sliwa. He was on W. 14th St. with the group at the start of the patrol, but has headed off to join another group. People still yell, "Yo Curtis!" even when he isn't there. With their COVID masks on, it's hard to see their faces, and any one of them might be Curtis under the mask and red beret.
It's easy to understand why people are happy to see a civilian "Safety Patrol" in the neighborhood (and the Guardian Angels refer to themselves as a "Safety Patrol"—not crimefighters or vigilantes). There are suspicious characters all over Chelsea. None of them overtly commit violent crimes in front of the patrol, but many are clearly "Emotionally Disturbed Persons"—perhaps drunk, maybe on drugs, maybe suffering from mental illness, or just ordinary people having a particularly rough year.
But this isn't a Charles Bronson movie from the '70s. Our patrol doesn't encounter any machete-wielding maniacs, or The Warriors-sort of gangs in flamboyant costumes. The veteran Guardian Angels assure me that they would disarm and detain a person who began menacing people with a weapon but, today, there is no broad daylight crime. And the Guardian Angels don't intervene just because someone is committing a misdemeanor or violation.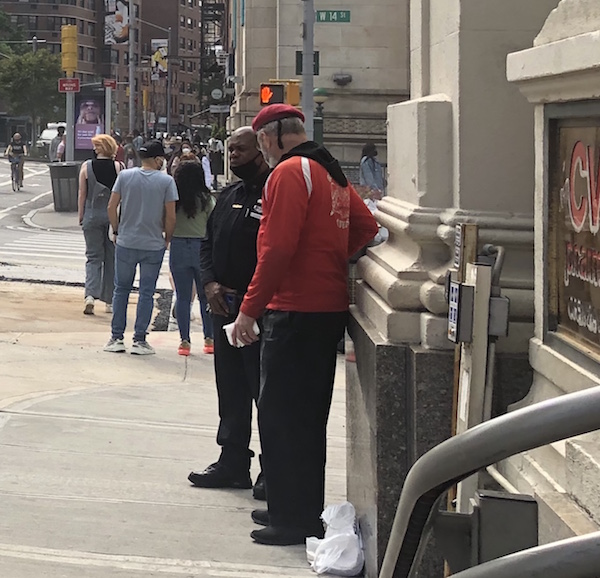 Dave, the civilian whose daughter is joining the patrol, says that he has noticed a change in the neighborhood over the last year. He cites a few potentially violent incidents, a man menacing people with "a 12-inch kitchen knife," another man who was waving a bottle at pedestrians. Due to COVID-19 restrictions or consequences, many businesses are closed or out of business entirely, and street traffic is mainly limited to outdoor diners, or people on their way to essential businesses. According to Dave, "It's a ghost town." We walk along a nearly empty section of Ninth Ave. in the West 20s, approaching Hudson Yards, and he tells me that he fears the streets with be even more deserted once winter arrives and the outdoor dining shuts down.
Esmae tells the patrol leader, who goes by the nickname "Negro," about a spot where criminal activity frequently occurs. It's a stretch of W. 21st St. between Seventh and Ninth Aves. whose halfway point intersects a similarly troubled part of Eighth Ave. between W. 20th and 22nd Sts. The area, as Chelsea Community News noted in a series of recent articles, has long been on the radar of elected officials, block associations, homeless services organizations, and local law enforcement—but continues to generate quality of life, drug dealing, and intimidation complaints.
The Angels split into two groups, and head from W. 14th St. towards W. 34th. One group goes up Seventh Ave., and the group I follow goes up Ninth Ave. We meet up with the other half of the patrol on W. 21st St. and compare notes.
This 300 block of W. 21st St. (btw. Eighth & Ninth Aves.) has construction scaffolding enveloping PS11 and its sidewalk shed, to create a tunnel that runs the length of school. Across the street more sidewalk sheds and scaffolding, with sections of the block covered by orange plastic fencing stored construction materials. It is narrow and dark, even in the afternoon. At night, it would offer plenty of places for a cunning predator to lurk, or a wily criminal to hide after committing a crime. Citizens have told the other patrol leader, a veteran Angel named John, that prostitution takes place here, along with open-air drug sales.
Fortunately, the Saturday afternoon patrol ends with no drama. The patrol leaders consider it a success; they gathered information about the local hot spots of criminal activity, and they might have recruited more members to the organization. Negro points out that the Guardian Angels' effort "doesn't work unless people in the community are patrolling, taking care of their own."
My first patrol with the Guardian Angels was slightly more dramatic; a dark Thursday evening.
As I set foot out of my apartment building, the sun abruptly slipped over the horizon. If my life were a gritty superhero comic book written by Frank Miller or Alan Moore, this timely dusk would be a metaphor. The caption would read: "The city plunged into darkness as I began my evening patrol. Gotham grows darker more quickly each night. Soon it will be eternal nightfall…"
I was filled with preconceptions about what the Guardian Angels do, as I walked through my Brooklyn neighborhood, towards the subway that would take me to W. 14th St. (Angel patrols begin at W. 14th St. & Eighth Ave.).
I assumed that I was in for an evening of cracking skulls with a team of costumed vigilantes. I looked around my neighborhood with, what I thought, was a sharp eye for criminal activity—and caught sight of a bodega on the corner, whose recently added display of bongs dangled in its dirty window. A tiny, nearly imperceptible sign read, "For Tobacco Use Only." I didn't need Wolverine's superhuman sense of smell to detect marijuana on the breeze. A second "Smoke Shop" had opened around the corner from the bodega. A shirtless, shoe-less man was sprawled between the two businesses.
Still in Williamsburg, I passed a barbershop, which had weathered the financial crisis well enough to stay open, but two doors away was an empty store with a "For Rent" sign in the window. Another "For Rent" sign next door to that one. A third on this side of the street, and a fourth on the far side. At the corner, a fifth storefront for rent. Across the street from that was another bodega that unabashedly serves as a front for local drug dealers. There have been several shootings on this corner in the past few years, and I'm only one block from my starting point.
I imagined myself quite the clever crimefighter with my Robocop vision scanning for scofflaws. But none of the people on the corner are wearing convenient gang colors, or leather jackets proudly advertising their membership in a gang. (Negro, it turns out, was raised in my neighborhood in Brooklyn, and informed me about the "Dirty Ones" and other gangs he remembers from the '70s.)
I headed to 14th St. to meet the Angels for that first patrol, still fancying myself as a crimefighter. When I arrived at the patrol's start point, Guardian Angels founder Curtis Sliwa was there. The trademark red beret and jacket made him stand out. I had met him once before when he was a celebrity judge a local beauty pageant. On patrol he is all business, not the flamboyant persona he assumes when on TV or making public appearances. Tonight he makes no mention of politics or his run for mayor.
The other Guardian Angels only briefly comment on politics, and their views are very moderate, even left-leaning. Later that night, marchers (a good term to use, when evidence doesn't lend itself to calling them protesters or demonstrators) will pass by the patrol route. Some of the march participants wave the Transgender Pride flag, or carry signs with "Black Lives Matter" on them. Some smile and wave to the Guardian Angels, and the Angels wave back. These aren't the "Tough On Crime" bruisers I had expected, and Negro specifically states that the group is "apolitical."
Already waiting with Sliwa on 14th St, was K.C. a veteran Guardian Angel with 22 years of experience in the organization. Aside from street patrols, K.C. works with the Angels' recently created "Perv Buster" division that deals with sexual crimes in the subway. She also helps stray animals as part of her work with the Angels. There's more to them than the subway patrols that middle-aged New Yorkers remember from the '70s and '80s.
Two more veterans arrived a few minutes later. A husband and wife team named Milton and Sylvia, each with decades of experience as Guardian Angels. The fifth member of Thursday night's patrol was a new recruit to the Angels, a 17-year-old from the Lower East Side, named Elijah. He arrived dressed in civilian clothing, and only put on his beret and jacket after joining the rest of the group. Later that night he'll tell me that the Guardian Angels don't wear the uniform when traveling alone, for safety reasons. Although Chelsea is friendly towards them, the Angels still have enemies around the city.
Before patrol began the group frisked each other. They don't carry weapons; no guns, knives, nightsticks, pepper spray, or even improvised weapons, like canes. If confrontation is necessary, they'll settle it with their skill and their numbers.
Sliwa headed off to join another patrol elsewhere in the city, and the four Angels split up, two of them on each side of Eighth Ave., walking North, and putting up flyers. I walked with the husband and wife team. Milton immediately pointed out some areas of interest—an empty lot, for instance.
I thought I was very clever by imagining a criminal lurking in the shadows of the vacant lot, but Milton observed, "When criminals do their crime, they want to run somewhere right away to hide." He and Sylvia pointed out other spots that criminals could use to escape pursuers, including climbing up streetlights onto sheds or wriggling under cars.
Then there are the new outdoor dining kiosks. "When they're closed up at night," Milton said, as he pointed to an all-black kiosk with a pile of black garbage bags in front, noting, "They're another place to dive in and hide." This is something I hadn't thought about. I had been thinking only from the perspective of thwarting a crime as it happens, not how to help after one has already been committed. My Robocop scanner wasn't as effective as I had thought.
I joined K.C. and Elijah on their side of the street, and peppered them with questions about the menacing people I saw lurking around the neighborhood. We saw a person sitting near a Wi-Fi kiosk. My first thought was that they must be lurking for some nefarious purpose, but K.C. wondered if they needed help. As we got closer, K.C. noticed a phone charging cord connected to the kiosk. My crime-fighting instincts failed to detect that this Suspicious Lurker was just charging their cell phone.
Later in the patrol, we spotted a much more suspicious man beneath a scaffold. We stop on a nearby corner to observe him for a while. The Angels determined that he simply didn't have any place to go, and wasn't waiting around to commit a crime. The Angels sometimes give food and water to homeless people. Milton pointed out that waking up to find a sandwich or a bottle of water next to them can make someone who needs help, "Wake up happy, instead of angry and aggressive."
As Thursday night's patrol continued, we passed Sixth Ave. and W. 24th St, where there was a large NYPD spotlight illuminating the corner. A police car was parked a few feet away from it. In the middle of the block were three men, one asleep in an office chair in the middle of the sidewalk. A second man teetered back and forth on one leg like a ballet student doing his first arabesque. The third man was falling asleep on his feet. It doesn't take Spider-Sense to determine that these men were all drunk, on drugs, or both.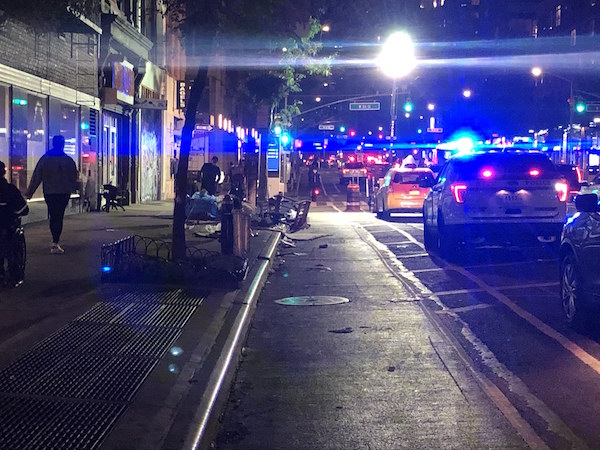 There was clutter scattered along the sidewalk. Piles of garbage, broken furniture, blankets, food. It was the remains of an improvised homeless encampment. Pedestrians took a wide path around the man who was just barely standing upright while on his opiate high. The Angels and I walked past this scene. The police were already monitoring the situation, although not taking action yet. The men might be readily presumed to have consumed illegal drugs in the recent past, but they were not committing a crime at that moment. The police waited in their car and observed. The Angels continued their patrol. Pedestrians continued walking around the obstruction. It's easy to imagine the locals being frustrated at the way that no one seemed to be authorized to resolve this situation immediately.
About halfway through Thursday night's patrol, the four members of the patrol met up again at the northern part of Chelsea. We walked as I interviewed K.C. about the group's work in the old days. Suddenly—mid-sentence—there was a commotion across the street. The four Guardian Angels immediately turned towards the raised voices. I didn't see or hear any sort of signal exchanged between them but, as a group, they moved. They all knew this was likely to be trouble, and definitely worth investigating.
I was secretly hoping to see the Guardian Angels in combat, but their mere presence resolved this issue without the need for violence. It was a man and woman having a verbal argument. The Angels approached, and I followed a few feet behind. The Angels remained at a tactical distance (well within COVID-19 precautions, and out of sucker-punching range), and addressed the couple. The man immediately disengaged. The woman declined any further help, and even seemed angry at the offer. It seemed reasonably possible that the incident could have escalated to violence, and a crime was deterred by the Guardian Angels' simply being there.
That was as dramatic as my patrols with the Guardian Angels got in this neighborhood.
During my second patrol, on Saturday afternoon, Dave the Chelsea local, and Negro, the patrol leader, would occasionally reminiscence about the old days in New York. They joked about the lack of air-conditioning on the subway cars, and fighting with rats for a seat—and how, when the Guardian Angels were youngsters, they had to earn respect from the old "Transit Police" (a pre-Giuliani reference that would be lost on the younger members of the patrol).
Despite the fondness of their shared memories, they both see signs of those old days returning, and are concerned about what will happen in the months ahead. Dave commented that the Guardian Angels' presence in Chelsea is a way to augment the work of the police. The Angels, in his words, "Have been doing it a long time. They're highly trained. They know how to handle volatile situations. New York City is going to need all the help it can get, going forward."
Chelsea Community News is made possible with the help of our awesome advertisers, and the support of our readers. If you like what you see, please consider taking part in our GoFundMe campaign (click here). To make a direct donation, give feedback, or send a Letter to the Editor, email scott@chelseacommunitynews.com.