Wednesday, October 28, 7pm via Zoom: The 10th Precinct Community Council |In a year that has seen the already charged phrase "cancelled until further notice" repeatedly painted with a fresh layer of uncertainty, September saw the 10th Precinct Community Council resume its regularly scheduled last-Wednesday-of-the-month brick-and-mortar meeting schedule. After a six-month hiatus, its reassuring return to form checked off all of the expected boxes (local crime stats, public safety tips), alongside never-before-seen pandemic-era features (temperature checks at the doorway, six-foot distances between chairs).
The meeting further distinguished itself by becoming the first-ever opportunity for the public to interact with the 10th Precinct's new Commanding Officer (CO), Captain Robert Gault, who arrived at his new assignment on Sept. 21 after two years heading the Times Square Unit. In keeping with the night's theme of "return," Captain Gault remarked that it wasn't his first time at the 10th Precinct Rodeo, noting, "I was a sergeant here 10 years ago, so I know this is a great place with great people, and I look forward to being with you for the next two or three years."
Captain Gault then jumped into the fray of the meeting's Q&SA session, by addressing several concerns found on Eighth Ave. btw. W. 20th & 22nd Sts., whose alleged drug use and drug deals, prostitution, and harassment of local residents went from simmer to boil when the city emerged from its months of sheltering in place to find the virus seemingly fading into the background, pushing pre-pandemic problems to the front burner once again.
Click here to see our full report on the September Council meeting, and click here for our own Q&A with Captain Gault.
The 10th Precinct Community Council's October 28 installment will fulfill the previous month's promise from Council President Larry O'Neill and, in doing so, make history as the first-ever Council meeting held via Zoom. As such, there will no brick-and-mortar version. To attend the meeting via Zoom, click on this link prior to the 7pm start time. O'Neill assures viewers that the Q&A section will remain intact, and Gault will be back behind the podium to provide, if not complete answers, a commitment to work with the community to find them.
Wednesday, October 28, 12pm-3pm: AID for AIDS Medicine Recycling Drive | Taking place at the New York City AIDS Memorial (Seventh Ave. at W. 12th St. & Greenwich Ave.), this recycling drive collects unused and unexpired medication bound for the business end of your garbage can and hands them over to the immigrant-focused social services organization AID FOR AIDS. Founded ins 2001, notes their website, "to provide social and support services to immigrants with HIV in the New York Metropolitan Area," the scope of their programming expanded to meet a greater diversity of needs–needs that are being met far beyond our own borders: AID FOR AIDS redistributes the medicines it collects to people in other countries who lack access to them. For more info, see the below flyer from the event's partner: New York City Council Speaker (and Chelsea's District 3 rep), Corey Johnson.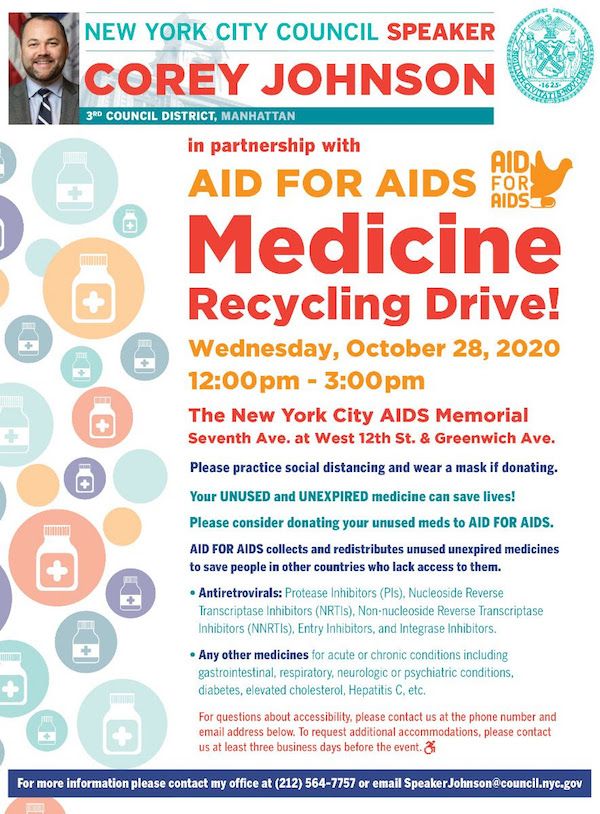 ENCORE PRESENTATION: Hudson Guild Theatre Company Presents A Five Mile Radius | Last Friday through Sunday, Tasha Partee's new play received its world premiere in a way the entire world could see, and in a virtual format that broke new ground for the always-innovative Hudson Guild Theatre Company. A Five Mile Radius was filmed using the Zoom format technique so very few of us were aware of—until COVID-19 changed the way we experience everything from business meetings to family reunions. Directors Jim Furlong and Devin Klos used Zoom's visual format (one screen, many squares, multiple participants moving in real time) not only for its built-in "draws you in" effect on viewers, but also as a way to heighten what the already-strong script has to say about class, race, guns, and social media. In their choice of material and the manner in which to present it, the collective has created a fitting end to Hudson Guild Theatre Company's 25th Anniversary Season—and a clear message that the best is yet to come, whether the future finds us watching them on stage, screen, or a little bit of both with a new, unexpected element thrown into the mix
The Plot: Set in a Staten Island apartment complex on the evening of July 4, the story is a crisis point in the life of popular local food critic Edie Pfeiffer, whose working class roots are at once her shield and her Achilles heel. She finds her life upended when a neighbor's seven-year-old son is accidentally shot, leading her to post a controversial picture of the boy on Twitter, asking for prayers that he survives. When a sensitive issue from her past emerges in connection to the boy's plight, she finds her life beginning to unravel.
The Encore Presentation of  A Five Mile Radius can be seen on Hudson Guild's YouTube Channel (click here to access the channel) any time, free of charge, from Fri., Oct. 30 at 7:30pm through Sun., Nov.1 at 3pm. Running time is 90 minutes. Streaming ends on Nov. 1 at 5pm.  For more info about Hudson Guild, click here.
Down to Earth Farmers Market: Saturdays in Chelsea | Down to Earth Farmers Market has a presence in Chelsea, Saturdays, 9am-3pm, through December 19, along the sidewalk on the North side of W. 23rd St., east of Ninth Ave. The Market has altered its shopping guidelines, in accordance with COVID-19 precautions. Click here to read the guidelines, and arrive prepared to browse while maintaining social distance. To visit the website page specific to their Chelsea Market, click here. Go to the Manager's Tent to use your SNAP EBT card and get tokens to spend with our vendors. Health Bucks available. FMNP WIC/Seniors checks can be used at the farm stands through November. Note: Food scrap recycling collection is on pause. Please do not bring items for composting to the farmers market.
–Compiled by Scott Stiffler
Chelsea Community News is made possible with the help of our awesome advertisers, and the support of our readers. If you like what you see, please consider taking part in our GoFundMe campaign (click here). To make a direct donation, give feedback, or send a Letter to the Editor, email scott@chelseacommunitynews.com