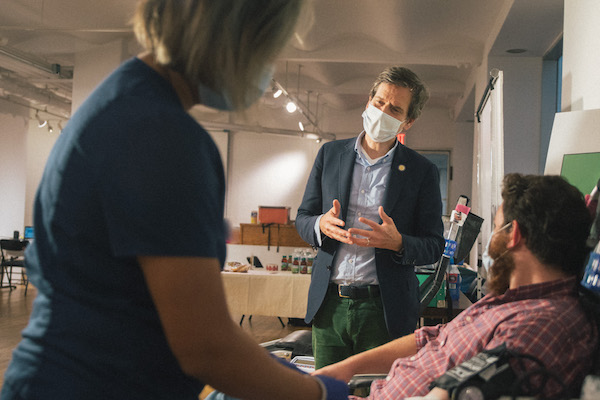 BY DONATHAN SALKALN | There were no tricks, only treats —like Oreos, Lorna Doones, Kettle Cooked chips, and fruit juices—for those that answered the call of the New York Blood Center (NYBC) mobile set-up Westbeth Gallery (578 Bethune St.) on Mon., Oct. 26. The afternoon blood drive, co-sponsored by the office of NY State Senator Brad Hoylman, resulted in the registration of 37 people dressed incognito as heroes and their donation of 32 pints of life-saving blood.
"It was wonderfully successful," exclaimed David Blatt, NYBC's Manhattan Account Manager for Recruitment, adding, "Each pint helps three patients. That's 96 patients that are able to benefit! The number one need of blood are cancer patients, with number two being mothers giving birth and their newborns. The circle of life continues."
The blood drive that Senator Hoylman titled Donate Blood For Those Who Can't has helped supply critical blood shortages in New York during the COVID-19 pandemic, while also raising awareness of the ongoing restrictions on LGBTQIA+ blood donation.
Said the Senator, who sits on the NY State Senate Health Committee, "We've been facing a blood shortage throughout the pandemic. Simultaneously, the FDA still clings to homophobic pseudoscience preventing members of the LGBTQIA+ community from donating blood. So if I still cannot donate blood I wanted to do my part to tackle this shortage and the Donate Blood For Those Who Can't drive stems from that desire."
One blood donor, Aaron Ghitelman, Hoylman's press secretary, felt some anxiety. "I'm absolutely terrified of needles and have never donated blood before," said Ghitelman, in relating his experience at Westbeth Gallery. "But I hate injustice far more than I hate needles and felt compelled to give for those who cannot. The last seven months have shown the importance of community-minded thinking when it comes to health. My temporary discomfort certainly was worth it knowing the impact I can make to those in need."
NYBC specialists that made the blood donations manageable and comforting were Tonya Brown (team leader), Yamileth Torres, Cynthia Ayuso, Nilsa Padilla, and Viviana Pizarro.
Amid Pandemic NYBC and Area Hospitals Launch Initiative to Increase Blood Donations
On Tue., Oct. 27, area hospitals and academic medical centers including NYC Health + Hospitals, Northwell Health, NewYork-Presbyterian, Weill Cornell Medicine, Columbia University Irving Medical Center, Mount Sinai Health System, Montefiore Health System and Catholic Health Services of Long Island joined forces with the non-profit New York Blood Center to work together in increasing blood donations. The COVID-19 pandemic has created a chronic shortage that is showing no sign of improving.
Prior to the pandemic donors would stop by community blood drives at mobile locations, but nearly all high schools, colleges, offices and other community groups have had to cancel their blood drives due to COVID-19. Blood donors can now make appointments to visit donor centers, but donations are at just 65% of pre-pandemic levels—well below what is needed by hospitals and patients in the NY/NJ area.
"Seventy-five percent of all our donations were from our mobile blood drives," said Blatt. "Typically we did five hundred and fifty to 600 each month. Now we're doing one hundred and fifty to 200. We're about 40 percent, but that figure varies upon area," Blatt said of NYBC which has 18 donor centers dotting New York City, Long Island, Upstate, and New Jersey. "I'm in Manhattan and I'm about twenty-five percent. Many of my donors that would be in their offices are now working remotely and are donating in their hometowns."
Upcoming Mobile Blood Drives: 
—At 27 Union Square West (NYBC: 1-800-933-BLOOD) | Saturday Oct. 31, Wednesday Nov. 4, Saturday Nov. 7, Wednesday Nov. 11, Wednesday Nov. 18, Wed., Nov. 25, Sat. Nov. 28.
—New York Blood Center | | Port Authority Midtown Donor Center  625 8th Ave. @ W 41st St., South Wing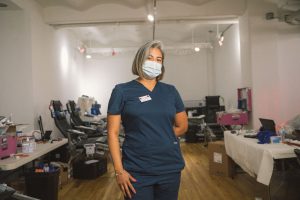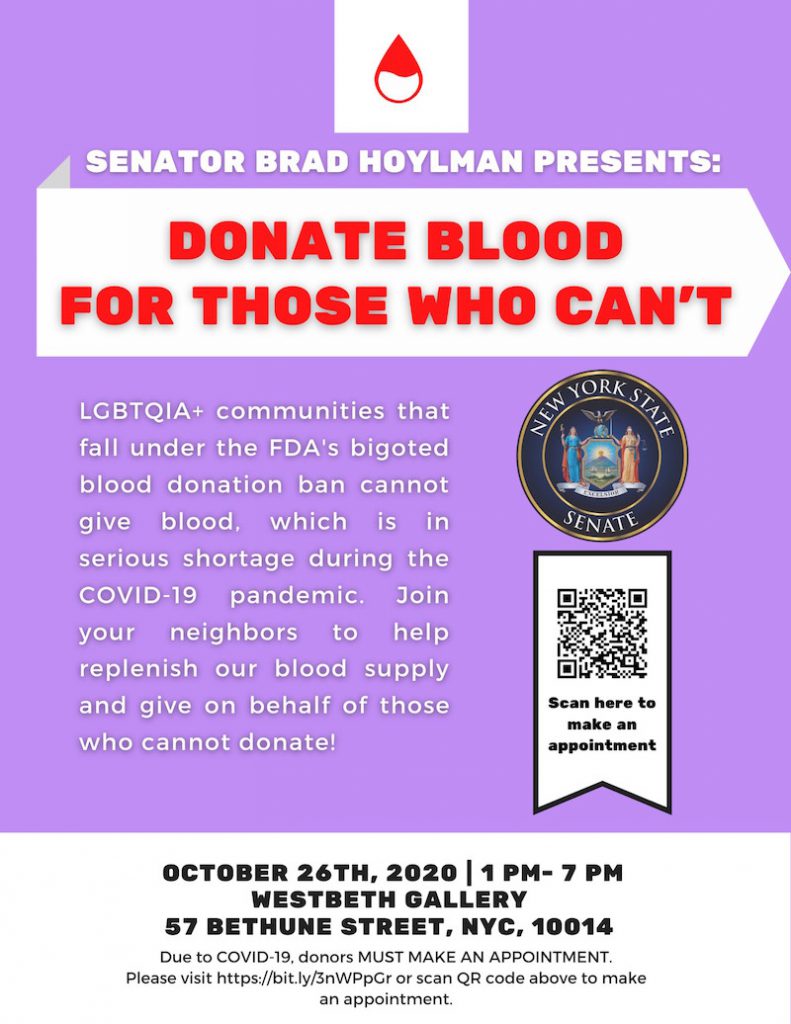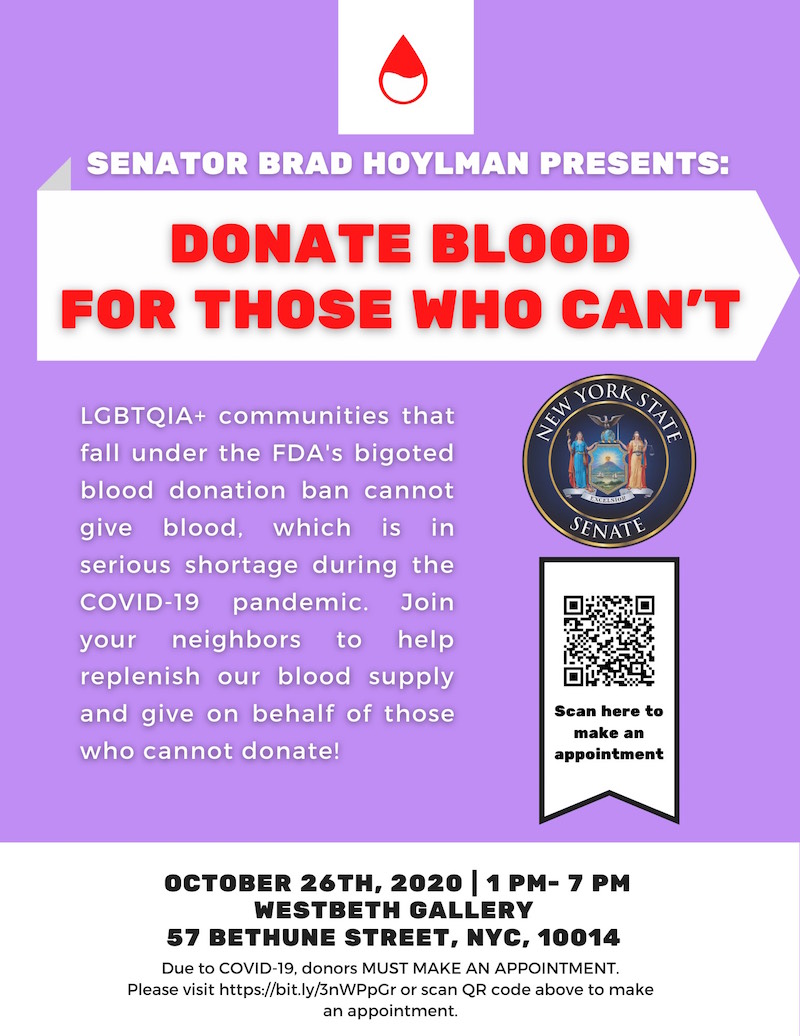 Chelsea Community News is made possible with the help of our awesome advertisers, and the support of our readers. If you like what you see, please consider taking part in our GoFundMe campaign (click here). To make a direct donation, give feedback, or send a Letter to the Editor, email scott@chelseacommunitynews.com.