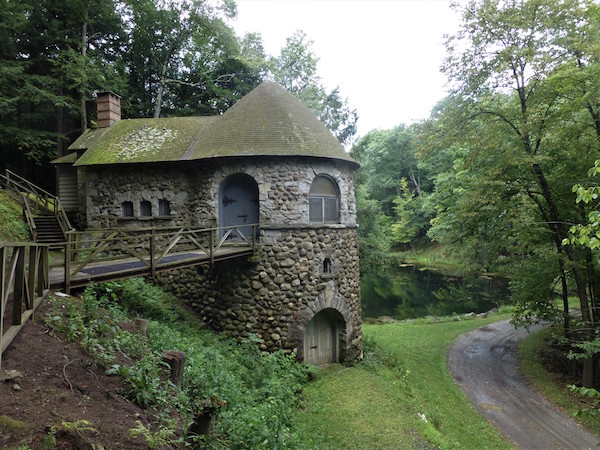 BY GERALD BUSBY | It wasn't quite Halloween when I moved into the Chelsea Hotel, late September 1977, but ghostly fun—which is what I'd call my early days at 222 West 23rd Street—started in right away.
I had just returned from working with Robert Altman on the movie A Wedding, shot in and near Chicago, and I'd met the love of my life, Samuel Byers, who came with trunks bulging with his collection of keepsakes that included a fraternity paddle signed by every one of its members, the year Sam graduated from Ohio State University.
Virgil Thomson, my mentor as a classical music composer, got me an apartment at the Chelsea, No. 1016, at the very top of the building, just off the famously spooked stairwell where several young aspiring artists had gotten stoned and took their last plunge. The day Sam moved in with me, a folk singer named Tex had a heated argument with his girlfriend that culminated in her setting fire to all of Tex's fancy cowboy shirts that forced the evacuation of all the building's residents, many of whom were rescued from the wrought-iron balconies that adorn the 23rd Street facade of the building.
To have lived and created music of all kinds, as I have, for 43 years in the Chelsea Hotel—where such superstars as Janis Joplin, Jimmy Hendrix, Dylan Thomas, and Arthur Miller had created many of their major works—is to have submerged myself in an environment that bridges the gap between the spiritual and the palpable, the very definition of a ghost. Guests and tenants have witnessed unexplained things here for decades, but I am not one of them.
In fact, my entire history of ghostly experiences—from confronting spectral energy to glimpsing a fleeting image—happened in Saratoga Springs, New York, at Yaddo, an artists' colony on the grounds of a 400-acre country estate purchased in 1881 by American financier Spencer Trask.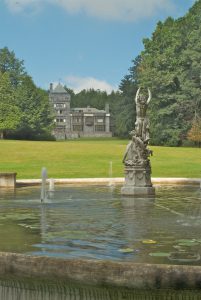 When I arrived at Yaddo in the early '80s, as an artist-in-residence, my assigned workspace was the chapel (aka the Stone Tower), a small, circular building whose wooden bridge took visitors from the main path to its large metal front door. Created at the request of the Trask family as a place of worship and contemplation, it was now a music studio for composers.
During most of my month-long stay at Yaddo, I worked in the chapel only during daylight hours. All residents picked up their lunches in the kitchen and took them along to their studios so as not to interrupt their work. I remember being asked if I wanted raw carrot and celery sticks included in my lunch basket.
The woman who asked me blinked when she said the words carrot and celery. She was Pauline Hanson, the administrator of day-to-day operations, and was herself a poet whose work was published by Alfred A. Knopf, one of America's most distinguished literary presses. I composed a cycle of Pauline's poems entitled From Creature To Ghost, for mezzo-soprano and string quartet. They contain vivid images of the eerie sights and sounds generated by the Yaddo estate at night.
The creator and grand mistress of Yaddo was Katrina Trask, who untiringly turned the famous mansion next to the Saratoga Springs racetrack into a premier artists colony in the United States. Her guest list included the crème de la crème of international artists who wrote books, composed symphonies, and painted canvases. That list grew through the years to include filmmakers and other creators working in every artistic medium.
Katrina's invitation to Yaddo was meant to reflect the highest and most prestigious recognition of artists and their work, and she expected their social behavior, especially during cocktails and dinner, to live up to her expectations of proper conduct. She wouldn't hesitate to write notes the next morning reprimanding even notable guests for whom alcohol was an embarrassing issue.
Katrina's life (1853-1922) was filled with personal tragedies, such as infant and childhood deaths of all four of her children due to drowning in the lakes or being kicked in the head by a horse. Her husband Spencer, a prominent Wall Street banker and financier, died in 1909 in a railroad accident. She dedicated her life and finances to Yaddo, and she succeeded. Her tomb is now part of the garden, so her indomitable spirit may still permeate those transcendent grounds.
My own experience with this paranormal aspect of Yaddo came one night after dinner, when I decided to return to the chapel, after dinner. The glowing glass lamps created by Louis Comfort Tiffany glass lamps that lit the path to the chapel glowed warmly in the underbrush, light yellow with a streaks of read. As I entered the chapel, I turned on the lamp beside the upright piano not far from the door.
As the light came one, the atmosphere of the room changed, the temperature dropped, and the hair on the back of my head stood up. There was a palpable presence in the room other than mine, yet somehow the fear it generated came from an awareness that everything I was experiencing originated from within me.
This stone studio had been incubating new compositions long before my arrival—Aaron Copland composed 1930's Piano Variations in the same place where I stood\. Like the Chelsea Hotel, it had become a perfect repository of raw energy waiting to be turned into shape. Immanuel Kant referred to this energy as "noumena" in the process of becoming phenomena—and as such, my participation in this paranormal event was necessary to realize the images I felt, but could not see.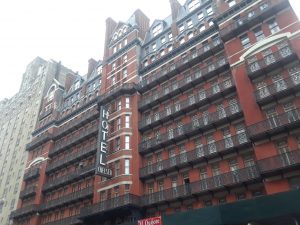 Chelsea Community News is made possible with the help of our awesome advertisers, and the support of our readers. If you like what you see, please consider taking part in our GoFundMe campaign (click here). To make a direct donation, give feedback, or send a Letter to the Editor, email scott@chelseacommunitynews.com.