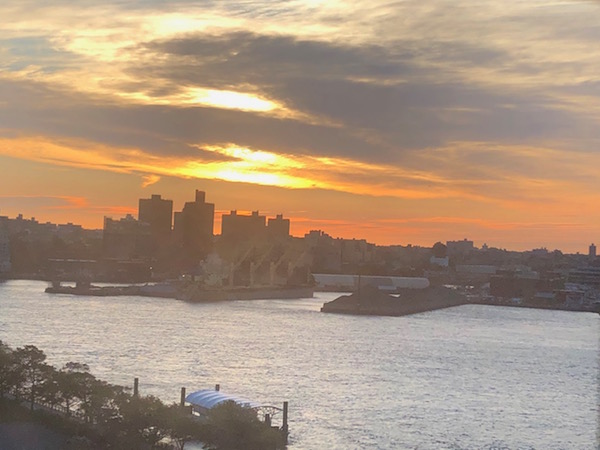 Writing the Apocalypse is a weekly series featuring the poems, essays, and recollections of Puma Perl, with subject matter influenced by her experiences as a NYC resident during the COVID-19 pandemic.
Window Panes | BY PUMA PERL
We took lots of acid,
placed bets
on whether the sun would rise
in the morning.
I don't recall who was president
Maybe LBJ.
We were still too young to vote.
By daybreak,
nobody remembered
the odds or how they'd betted.
Everyone was half right.
Everyone was half wrong.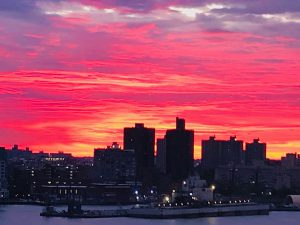 Nobody won.
The sun came up anyway,
same as today,
careening indifferently
between bridge and sky.
The sun doesn't care.
We wait.
No Zen Master
has ever spent more time
in the moment.
For two days
there was no hot water.
It didn't matter.
I'd decided not to wash
my hair until he's out.
Like those ballplayers
not changing their socks
during a series
or eating fried chicken
before every game.
Yesterday,
we sat outside a bar,
talked of other things
and talked of nothing else.
Diva knocked over a drink
and tried to finish it.
Who could blame her?
At 3AM my hot water returned.
I took a shower
but did not wash my hair.
The sun came up again,
reminding me of its indifference.
Everybody burns.
Sometimes.
© puma perl, 11/05/2020
Puma Perl is a poet and writer, with five solo collections in print. The most recent is Birthdays Before and After (Beyond Baroque Books, 2019.) She is the producer/creator of Puma's Pandemonium, which brings spoken word together with rock and roll, and she performs regularly with her band Puma Perl and Friends. She's received three New York Press Association awards in recognition of her journalism, and is the recipient of the 2016 Acker Award in the category of writing. Her most recent books can be found by clicking here.             
Chelsea Community News is made possible with the help of our awesome advertisers, and the support of our readers. If you like what you see, please consider taking part in our GoFundMe campaign (click here). To make a direct donation, give feedback, or send a Letter to the Editor, email scott@chelseacommunitynews.com.