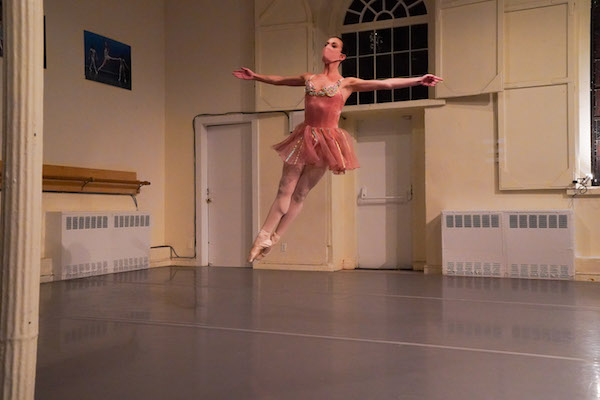 BY ELIZABETH ZIMMER | With live performance shut down all over the city, those of us who survive by ogling beautiful movers and making sense of their art are starved for stimulation. Thus it was that the mere promise of living, breathing dancers floating barefoot or in pointe shoes, and accompanied by actual musicians sharing the actual space, was enough to lure us Downtown and up a long flight of stairs at St. Marks's Church-in-the-Bowery, into a double-height chamber bisected by a couple of tall columns.
New York Theatre Ballet's studio, headquarters of a thriving school, has been transformed into LIFT Lab Live for a four-week series of 45-minute shows composed of very short pieces by 14 different choreographers, nine on each of two bills.
The aesthetics range from classical ballet on pointe to serpentine, barefoot modern dance by the late Mexican choreographer José Limón, and hit a number of bases in between, including Martha Clarke's mysterious Nocturne and a section of Tickling Titans by Steven Melendez, a young dancer-choreographer raised up in NYTB's LIFT program, which supports children from underserved populations. I attended both programs, each time taking buses from my Chelsea digs to the East Village. (Since the city has got its infection rate well under control, I did not travel in fear.)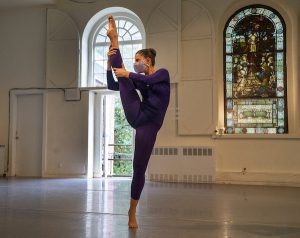 NYTB, a chamber troupe gracing local stages for over 40 years, began life in a church on E. 31st St., and relocated to its current digs when its original home was "redeveloped" out of existence. Founded and directed by Diana Byer, who trained at Juilliard and has performed nationwide, NYTB is feted for its rigorous technique, wonderful costume design and execution, and the diversity of its repertoire.
In an ordinary season it would be offering hour-long programs for children, including a beloved Nutcracker, at Florence Gould Hall, as well as evenings of exotic contemporary ballets for adults. "Showing up is an act of courage," Byer reminds the audience at each performance.
The second-floor playing space in the church, about the size of a one-bedroom apartment, has two stained-glass windows and two doors. The one to the outside is kept open during performances; 10 audience members are welcomed to each show, separated from one another and from the pianist and cellist by clear plastic partitions. The masked dancers enter from the front, the back, the sides, and from a loft overlooking the stage. Five young company members and guest artist Miki Orihara (a Graham company alumna), along with everyone else involved, donated their services to get LIFT Lab Live up on its feet; the solos offer rare close-ups of a regal form; you can watch the dancers' breath as it inflates their masks.
The duets, one on each bill, are socially distanced and both feature Julian Donahue, the sole man in this undertaking, partnering Giulia Faria on program A, in A Tango by Margo Sappington, and Mónica Lima on the other bill, in Antonia Franceschi's Topogo' (In One Spot). The roster of dancers also includes Amanda Treiber and Alexis Branagan.
The season's final performances of New York Theatre Ballet's LIFT Lab Live are sold out, but check about cancellations via www.nytb.org. Tickets must be purchased in advance online and will not be sold at the door. Through Sat., Nov. 14 at St. Marks's Church-in-the-Bowery (131 E. 10th St., entrance on E. 11th St.). Wed. 12pm & 8pm, Fri. 8pm, Sat. 7pm. Entry no earlier than 15 minutes before showtime. Audiences will be limited to 10 guests per performance to allow for proper social distancing. NYTB utilizes IQAir filters, seats will be separated by clear partitions, and doors and windows will remain open for added ventilation. Masks are required to be worn at all times by everyone. Each performance will run approximately 40-45 minutes with no intermission.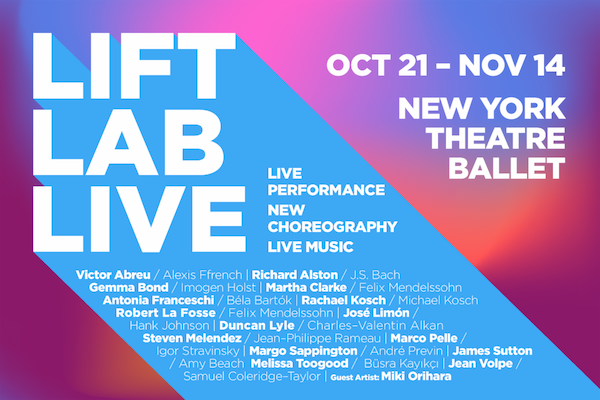 ABOUT NEW YORK THEATRE BALLET | With its ever-expanding repertory, New York Theatre Ballet's cutting-edge programming brings fresh insight to classic revivals paired with the modern sensibilities of both established and up-and-coming choreographers. Going strong for 40 years, New York Theatre Ballet's diversity in repertory explores the past while boldly taking risks on the future.
Chelsea Community News is made possible with the help of our awesome advertisers, and the support of our readers. If you like what you see, please consider taking part in our GoFundMe campaign (click here). To make a direct donation, give feedback, or send a Letter to the Editor, email scott@chelseacommunitynews.com.