Tues, Nov. 10, 4-6pm: Virtual Housing Clinic | On the second Tuesday of the month, New York City Council Speaker Corey Johnson's office presents this Housing Clinic–which, like almost everything else, made the pivot to an all-virtual format upon the arrival of 2020's COVID-19 pandemic. Appointments last about 20 minutes, during which time you'll learn a lot, courtesy of a courteous housing attorney. You still need an a appointment,which must be booked in advance by calling 212-564-7757 or email SpeakerJohnson@council.nyc.gov. See the below flyer.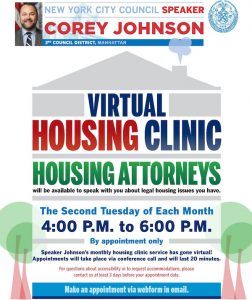 Thursday,  November 12,  6:30pm: The 13th Precinct Sector B Build the Block Meeting | "Neighborhood Policing is changing the way the NYPD keeps your neighborhood safe," they note, on an explainer page for Build the Block meetings (click here to visit that page). "Neighborhood Coordination Officers (NCOs) are assigned to and remain in a sector, or neighborhood, for the duration of their tour. Additionally, NCOs are given the time and flexibility to make strong bonds with the community they serve." Forming and strengthening that bonds is one of the functions of this Build the Block meeting, at which you can talk about neighborhood safety and make sure your concerns are heard, and your questions are answered.  For the No. 12 meeting, doors open at 5pm for refreshments, and the Meeting starts at 5:30pm. At Cafeteria (19 Seventh Ave. at W. 18 St). Masks are mandatory, and social distancing will be observed. There is no virtual access to this event. For more info about the 13th Precinct (located at 230 E. 21st St., btw. Second & Third Aves.). For more info on the 13th Precinct, click here.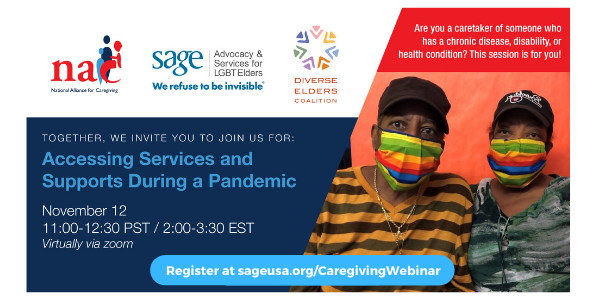 Thursday, November 12, 11am-12:30pm & 2-3:30pm: Accessing Services and Supports During a Pandemic | Are you a caretaker of someone who has a chronic disease, disability, or health condition?: This 90-miuutre session, presented twice via Zoom, gives LGBT elders, aging people, and their caregivers information and resources on accessing support during the pandemic. Presened by SAGE (fdddefP NAC (fdfd) and the Diverse Elders Coalition. To register, click here.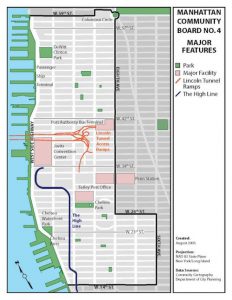 Via Zoom: Manhattan Community Board 4 (CB4) Committee Meetings  
Business Licenses & Permits Committee (BLP)
Tuesday, November 10th, 6:30 p.m.
Video/Phone Conference Registration: Click Here.
New Liquor, Wine, Beer & Cider License Applications: 
338 W 39th Street – JPO Concepts Inc.
348 W 52nd Street – Advanced Aerospace LLC
442 W 33rd Street – JDDC Elemental LLC
857 9th Avenue – Lotus Manhattan Corp.
20 Hudson Yards, RU 401B – Miznon at Hudson Yards LLC
113-117 W 24th Street – Chelsea 24th Street Managers LLC; Chelsea 24th Street LLC 745 9th Avenue – Los Andes Group
857 9th Avenue – Lotus Manhattan Corp.
Alteration/Class Change/Method of Operation Applications: 
164 9th Avenue – Milk and Hops 2 LLC – Serial# 1289444 (seeking to upgrade to an on- premise liquor license)
New Wine, Beer & Cider License Applications: n/a
Waterfront, Parks & Environment Committee (WPE) Thursday, November 12th, 6:30p.m.
Video/Phone Conference Registration: Click Here.
Update: Update from Hudson River Park Trust on Long-Term Planning for Pier 76 and Interactive Discussion about Possibilities for Interim Public Recreational Uses at Pier 76
 To visit the home page of CB4's website (recently upgraded design makes it easier to find what you want, click here).
Register for "Poets and Play" Theater Workshop at Hudson Guild | Hudson Guild Theatre Company members teach this workshop designed for ages 16 and up, taking place Tues. and Thurs., Dec. 10/17. See the below flyer for details. To get info on how to register, email info@hudsonguild.org..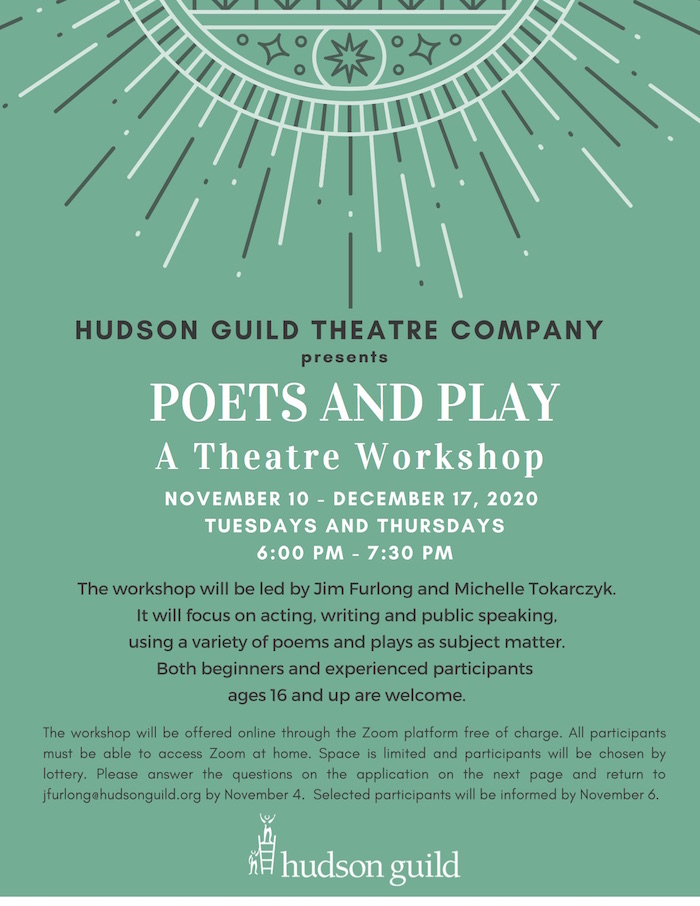 Down to Earth Farmers Market: Saturdays in Chelsea | Down to Earth Farmers Market has a presence in Chelsea, Saturdays, 9am-3pm, through December 19, along the sidewalk on the North side of W. 23rd St., east of Ninth Ave. The Market has altered its shopping guidelines, in accordance with COVID-19 precautions. Click here to read the guidelines, and arrive prepared to browse while maintaining social distance. To visit the website page specific to their Chelsea Market, click here. Go to the Manager's Tent to use your SNAP EBT card and get tokens to spend with our vendors. Health Bucks available. FMNP WIC/Seniors checks can be used at the farm stands through November. Note: Food scrap recycling collection is on pause. Please do not bring items for composting to the farmers market.
–Compiled by Scott Stiffler
Chelsea Community News is made possible with the help of our awesome advertisers, and the support of our readers. If you like what you see, please consider taking part in our GoFundMe campaign (click here).To make a direct donation, give feedback, or send a Letter to the Editor, email scott@chelseacommunitynews.com