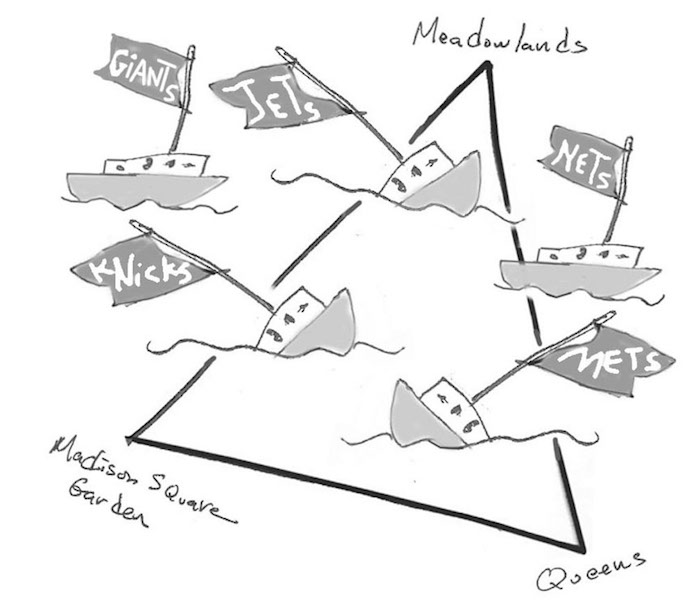 BY DONATHAN SALKALN | New Yorkers have been lucky with the Yankees—a somewhat stable organization with seasons of mostly winning records and a history of retaining its stars. I'm very thankful to the Steinbrenner family and current general manager Brian Cashman for bringing my dad, during his twilight years, a new generation of players that bang the ball out of the stadium and win games night after night. They might not win everything, but, boy do they make it a nightly competition.
Life goes on, and so do the Yankees: Mickey Mantle, Roger Marris, and Whitey Ford, to then Reggie Jackson, Thurman Munson, Ron Guidry, and crazy Billy Martin, to then Don Mattingly, Dave Winfield, and Ricky Henderson, to then Paul O'Neill, Mariano Rivera, Derek Jeter, and Andy Pettite and to now Aaron Judge, DJ LeMahieu, Gerrit Cole, Gleyber Torres and Gio Urshela. Being a Yankee fan is like a heaven of sport icons hovering over my dad and I for decades.
Most dangerous to many franchises are the pundits that kick them when they are up, as opposed to kicking them when they are down. Often, when a team doesn't win everything, there's an attitude of "The sky is falling!"
Although those from Philadelphia come to mind, the most offensive statement I've ever heard came from here in NYC by ESPN radio host and gasbag Michael Kay during the 2010 Winter Olympics. He shared with his afternoon listeners his confusion of an American speed skater celebrating the winning of a Silver Olympic Medal. "Why is he happy?" asked Kay. "Would the Yankees be happy in coming in second? No!" —Maybe Kay should be sent to the Siberia of sports, calling Jet games where the radio broadcast signal is non-existent.
Other New York City teams? It's so sad that no matter how great the forecast is, how sunny the skies are, or how calm the seas appear, the Jets, Knicks, and Mets all inexplicably sink to the bottom in spectacular fashion. Different crews, different managers, different owners, yet the same spectacular wreckage. The Giants seem more stable and the Nets are becoming relevant although they go through promising coaches like bottled water (most recently Kenny Atkinson).
NEW YORK JETS:  Legends Joe Namath, Don Maynard, Emerson Boozer, Matt Snell, and George Sauer. It was 1968 and my dad and I were watching the Jets leading the Oakland Raiders 32-29. There were 68 seconds left in the game when the telecast suddenly switched to the opening credits of the movie Heidi. We later found out that the Raiders scored two touchdowns to win. Even though the Jets went on to win a Super Bowl, it was a precursor to the Jets sinking into a black hole of the bizarre. My mom, a cheerleader in her youth but a distant fan from our family's kitchen, once observed, "It seems like the Jets always try to lose."
And lose they have. After almost a thousand Jet games there are only two coaches with winning records: Bill Parcels (29-19) and Al Grogh (9-7). The Jets even lost their home turf in moving in 1983 from Shea Stadium in Queens to Giant Stadium in New Jersey. I was there with a giant banner "Hess: Keep your GAS in NJ —Keep our GAS-tineau in NY!" The Jets lost the game to Terry Bradshaw and Franco Harris, and I helped bring down the goal posts.
Jets fans have lived through calamity after calamity: There was the 1992 tragic sack attempt by Dennis Byrd who ran head-long into his own teammate and lost the use of his legs. There was the infamous "Fake Spike" game against Miami, when Quarterback Dan Marino's faking a spike to stop the clock and throwing a touchdown that won a pivotal 1994 game. Thanksgiving day in 2012 when Mark Sanchez fumbled the ball when running into the buttocks of his guard and then being sat on after which the ball was run in for a touchdown by the Patriots. So many of my favorite players fell victim to the Bermuda Triangle: Curtis Martin, Joe Klecko, Marty Lyons, Wesley Walker, Wayne Chrebet, Kevin Mawae, Nick Mangold, Vinny Testaverde, and most recently Quinnen Williams, Sam Darnold, Mekhi Becon, Robby Anderson, and Jamal Adams. Oh that's right. Anderson and Adams were thrown overboard.
THE NEW YORK KNICKS: When I think of the Knicks, I think of Walt Frazier, Willis Reed, Dave Debusscherre, Bill Bradley, Dick Barnett, Earl the Pearl, and long-armed Phil Jackson. They won NBA Championships. It doesn't hurt that Frazier continues to be the heart, soul, and voice of Knick games. The next generation of stars were Patrick Ewing, Charles Oakley, and Anthony Mason. Yet they had their Bill Buckner moment in game seven of the 1994 NBA Championships when teammate John Starks shot the ball eighteen times with only two going through the hoop.
Years later a wimpy Knicks coach named Jeff Van Gundy tackled the leg of Miami Heat's 6′ 10″ Alonzo Mourning during a 1998 playoff melee. Not since then have the Knicks been relevant. Like a ship bearing down on rocks, the Knicks have gone under. Charges of sexual harassment torpedoed its corporate offices, followed by the infamous Phil Jackson 'Bermuda Triangle Offense.' Yet nothing prepared the Knicks fan base for the horrific Madison Square Garden handcuffing of former Knicks favorite Charles Oakley. It was an ugly moment for the owner and only highlighted the dysfunction that continues to sink this team.
THE NEW YORK METS:  Met fans should retire the number 19 as in the Covid 19. The pandemic caused the loss of team gate receipts and exposed the feeble finances of the Wilpon family and forced them to sell. The Wilpons, big profiteers in Bernard Madoff's  Ponzi scheme, have been frugal in retaining star players after the fraud was discovered.
Being a Yankee fan, I leave it to my friend Jack Christensen from Centerport, NY, a life-long Met fan, to fill in the disasters that have swirled around this team.
"Rooting for the Mets began from anguish of lovable losers to euphoria of champions when my grandfather took me to Game 3 of the 1969 World Series," Jack recalled. "It was an overcast day with the Mets ahead 5-0. Nolan Ryan closed the game with a strikeout in relief. I missed school that day ruining my chance for a perfect attendance certificate and also missed a soccer game in which my replacement scored 2 goals." Jack said, continuing, "Ryan, a future Hall of Famer, became the first of many unfortunate trades when the Mets sent him packing in exchange for 'past his prime' shortstop Jim Fregosi."
"The next memorable game I attended was the return of Tom Seaver to Shea after being traded to the Cincinnati Reds in 1977," Jack related. "A sold-out Shea Stadium rooted for the former Met, and Seaver even hit a double off Jerry Koosman while pitching an eleven strikeout victory for Cincinnati. Seaver (considered by many as the best right hand pitcher in baseball history) continued his Hall of Fame career, while the Mets sank into oblivion."
"The dark years from the mid -70s to mid-80s ended with the Mets becoming World Series winners in 1986," Jack continued. "My favorite player on that team was Daryll Strawberry with the sweet swing, so, of course, he was lost to free agency to the LA Dodgers. The '90s brought more embarrassing trades and moments. Brent Saberhagan squirting reporters with bleach. Vince Coleman tossing firecrackers at fans. Bobby Bonilla saying 'You'll never get this smile off my face,' to eventually getting into a face of a reporter and threatening physical harm. And only the Mets can provide an anomaly of a pitcher losing 27 straight decisions (Anthony Young).
Recently, the promising years have been ultimately mismanaged by ownership. One deal was for an 'over the hill'  Robinson Cano along with pitching reliever Edwin Diaz. In 2019, Diaz, the prospective candidate for 'fireman of the year' turned into 'arsonist of the year' when he set a major league record by giving up 15 ninth inning home runs."
Jack concludes, "Now with new Met owner Steve Cohen there is light at the end of the tunnel. Yet, as Lou Holtz once said (while coaching the NY Jets),  'Sometimes the light at the end of the tunnel is an oncoming train.' "
Chelsea Community News is made possible with the help of our awesome advertisers, and the support of our readers. If you like what you see, please consider taking part in our GoFundMe campaign (click here). To make a direct donation, give feedback, or send a Letter to the Editor, email scott@chelseacommunitynews.com.