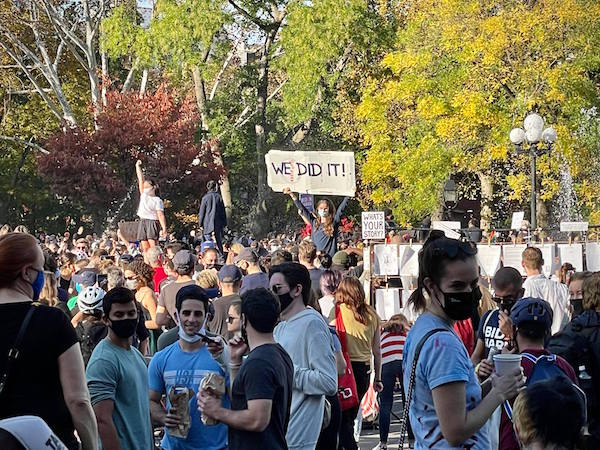 Writing the Apocalypse is a weekly series featuring the poems, essays, and recollections of Puma Perl, with subject matter influenced by her experiences as a NYC resident during the COVID-19 pandemic.
WE WON! | BY PUMA PERL
Inauguration Day, January 20, 2009.
Barack Obama, our 44th President.
I wrote a short poem titled
"A Day of Great Hope."
In New York City,
reporters yelled into mics,
people danced in Times Square
and in Harlem and in nursing homes;
strangers hugged and shook hands.
Today, November 7, 2020,
is a day of some hope,
and overwhelming relief.
A weight lifts and all I know is:
WE WON!
I text it over and over
to people I love.
WE WON! WE WON! WE WON!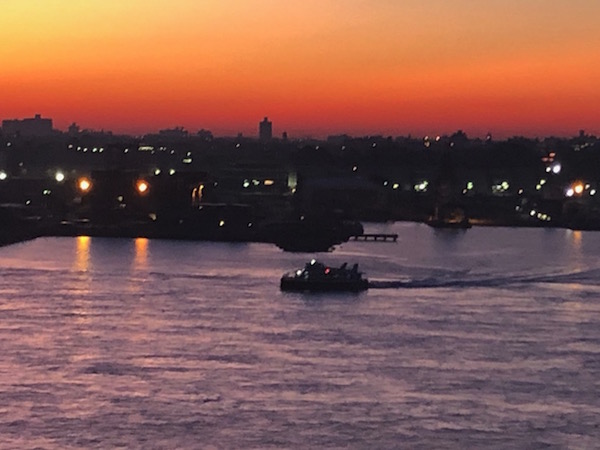 Felix Hernandez plays
"Midnight Train to Georgia"
on the Rhythm Revue.
When I hear the words "he's leaving"
I surprise myself by bursting into tears,
and I keep crying and I keep texting:
WE WON! WE WON! WE WON!
Lauren's in Port Authority
waiting on a bus
and hadn't yet heard.
Cynthia's out walking. She texts,
It's like getting out of jail!
Juliet's on Grand Street with Diva.
She said it exploded like the 7PM cheers
one hundred times over.
Roz is in a meeting in Florida
and repeats the same question:
are you sure? are you sure? are you sure?
Ingrid says they were on the FDR
when a lone jogger charged down
the path waving a blue bandana
and everyone began to cheer and cry.
Joe texts back WHOOPIE!
WE WON! WE WON! WE WON!
I can't wait to get outside
and I want to wear something blue;
everything in my closet is black.
On a midnight tee-shirt buying spree
while watching the returns
I ordered one with a Lucinda Williams
lyric written across the front:
         you took my
        joy I want
        it back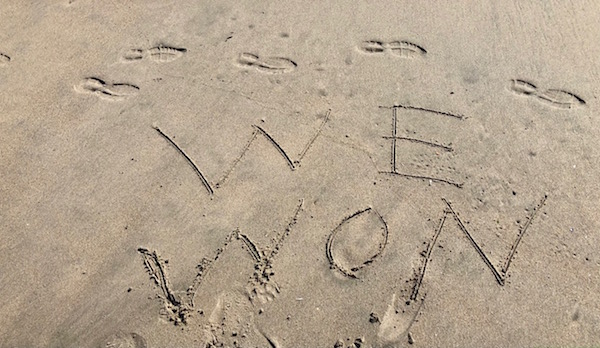 Perfect.
For a moment, we've got it back.
Later will come later.
Once I'm out, I realize
how ridiculous I am in a black leather jacket.
Eventually, I stick it in my bag.
It's strangely quiet on my block
and business as usual in Bodega Alley.
Wheelchairs, wine, and methadone.
As I walk, it gets louder.
A small brass band behind Trader Joe's,
cars honking on Delancey Street.
Not sure whether it's victory or traffic,
but a handful of bicyclists and I
wave and applaud anyway.
Runners pump their fists high
as they head towards the bridge.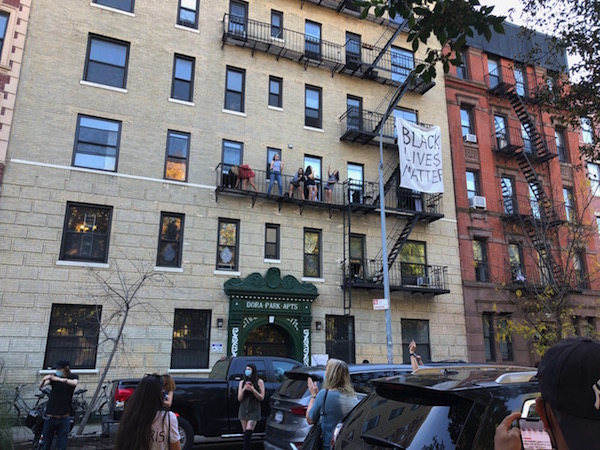 On Clinton it's either victory
or a 70-degree Saturday
and then I hit Stanton.
Sanitation trucks honk their horns,
music blasts from windows,
waitresses lead cheers
as they serve drinks.
Five girls and a radio
dance on a fire escape in a building
where I once lived on 7th Street.
Up and down the block people join them.
Line dancing on the Lower East Side.
Even the air heaves a collective sigh.
I go to the Avenue B Flea, planning
to spend every cent in my pocket and I do.
Later, we sit outside Gruppo's
drinking beer and wine and eating pizza,
blasting 80's music, The Roots and Jane's Addiction,
Nenah Cherry, Fugazi, Kriss Kross, Madonna.
Drivers slow down to honk and wave.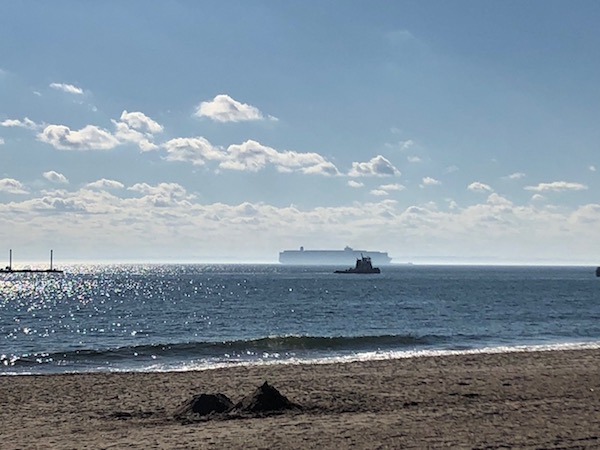 I've waited four years to dance, says Josephine.
Everybody breathes.
One week after Election Day,
the right wing increases its grumbling.
I pick up the dog and drive to the beach.
Throughout my life, Coney Island's marked
my most momentous experiences.
I've fallen in and out of love,
on and off the Wonder Wheel.
I've used drugs and gotten clean,
learned how to swim, drive and work,
attended more weddings and funerals
than I could ever count.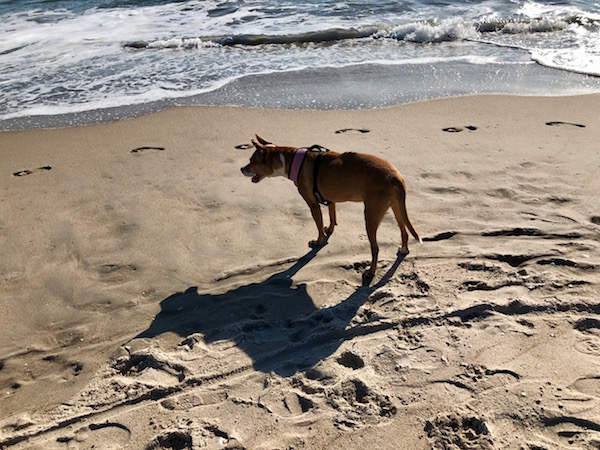 When I don't know where to go,
it's where I go, every grain of sand
embedded in my heart as deeply
as every Lower East Side Street.
Latin music plays on the pier.
Diva wanders happily on the sand.
I try to interest her in chasing a stick
but she no longer sees any point in it.
I pick it up and write a love letter in the sand.
WE WON! 
© puma perl, 11/10/20
Puma Perl is a poet and writer, with five solo collections in print. The most recent is Birthdays Before and After (Beyond Baroque Books, 2019.) She is the producer/creator of Puma's Pandemonium, which brings spoken word together with rock and roll, and she performs regularly with her band Puma Perl and Friends. She's received three New York Press Association awards in recognition of her journalism, and is the recipient of the 2016 Acker Award in the category of writing. Her most recent books can be found by clicking here.
Chelsea Community News is made possible with the help of our awesome advertisers, and the support of our readers. If you like what you see, please consider taking part in our GoFundMe campaign (click here). To make a direct donation, give feedback, or send a Letter to the Editor, email scott@chelseacommunitynews.com.