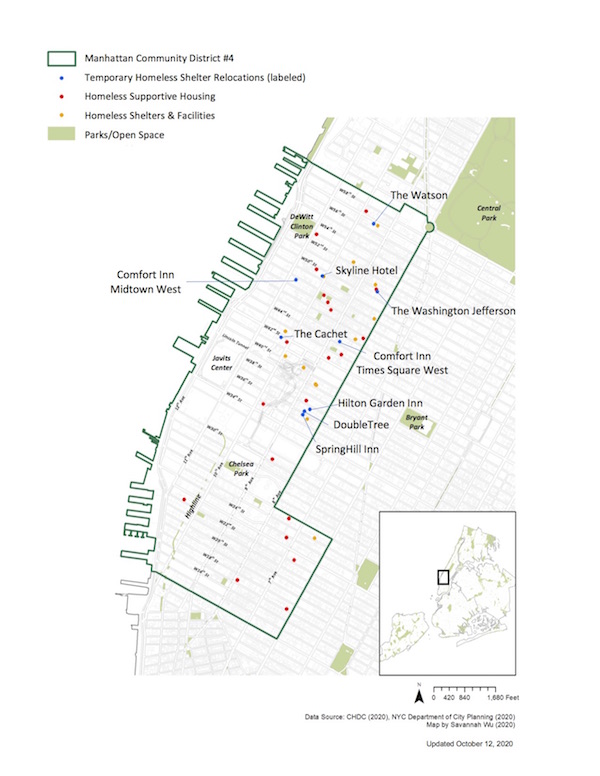 Via Zoom: Manhattan Community Board 4 (CB4) Committee Meetings | To visit the (recently redesigned, to great effect) home page of CB4, click here. Below, find info for some of their regular monthly committee and working group meetings.
Tuesday, November 17, 5:30pm: The Social and Racial Justice Task Force addresses old and new business. For Zoom registration, click here. To access the meeting by telephone, call 646-518-9805. When prompted, the Webinar ID is 939-0427-4399. Also on Tues., Nov. 17, 6:30pm, the Clinton\Hell's Kitchen Land Use Committee (CHKLU) meets. Planned business includes a presentation by the NYC Department of Housing Preservation & Development (HPD), made prior to the Pre-ULURP Presentation on 705 10th Avenue, DEP Project between 48th and 49th Street. For Zoom registration, click here. On Wed., Nov. 18, 6:30pm, the Transportation Planning Committee meets. There will be an update/presentation regarding the Flatiron/23rd Street Partnership's Business Improvement District expansion, followed buy a vote on the matter. For Zoom registration, click here. A second presentation is scheduled, this one from the Mind Body Project, a meditation and fitness establishment proposed for 217 Seventh Ave. Completing their "Presentation: Trilogy" (we made that up), the committee will hear from the NYC Department of Transportation, regarding pedestrian extensions on Eighth Avenue (presentation was tentatively scheduled as of press time). There will be discussion, and then a vote, on these three matters: A request from residents of West 22nd Street (btw. 8th/9th) to keep blocks an Open Street permanently; the 30th Street Heliport at Hudson River Park; and Sidewalk Maintenance. On Thurs., Nov. 19, 6:30pm, Housing, Health and Human Services Committee (HH&HS). Representatives from the Midtown Community Court will discuss District Harm Reduction Initiatives. For Zoom registration, click here. On Mon., Nov 23, 6:30pm CB4's Executive Committee (EXEC) meets. For Zoom registration, click here. Having made the rounds of the monthly committee meetings, passed GO, and presumable collected their $200 (figuratively speaking; don't wast your time following the money–it's a volunteer gig), the full board of CB4 meets on Wed., Dec. 2, 6:30pm via… you know where this is going: Zoom. To access, click here.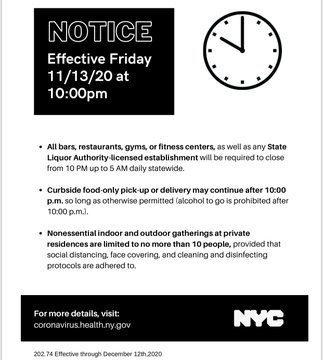 Down to Earth Farmers Market: Saturdays in Chelsea | Down to Earth Farmers Market has a presence in Chelsea, Saturdays, 9am-3pm, through December 19, along the sidewalk on the North side of W. 23rd St., east of Ninth Ave. The Market has altered its shopping guidelines, in accordance with COVID-19 precautions.
Click here to read the guidelines, and arrive prepared to browse while maintaining social distance. To visit the website page specific to their Chelsea Market, click here. Go to the Manager's Tent to use your SNAP EBT card and get tokens to spend with our vendors. Health Bucks available. FMNP WIC/Seniors checks can be used at the farm stands through November. Note: Food scrap recycling collection is on pause. Please do not bring items for composting to the farmers market.
–Compiled by Scott Stiffler
Chelsea Community News is made possible with the help of our awesome advertisers, and the support of our readers. If you like what you see, please consider taking part in our GoFundMe campaign (click here).To make a direct donation, give feedback, or send a Letter to the Editor, email scott@chelseacommunitynews.com