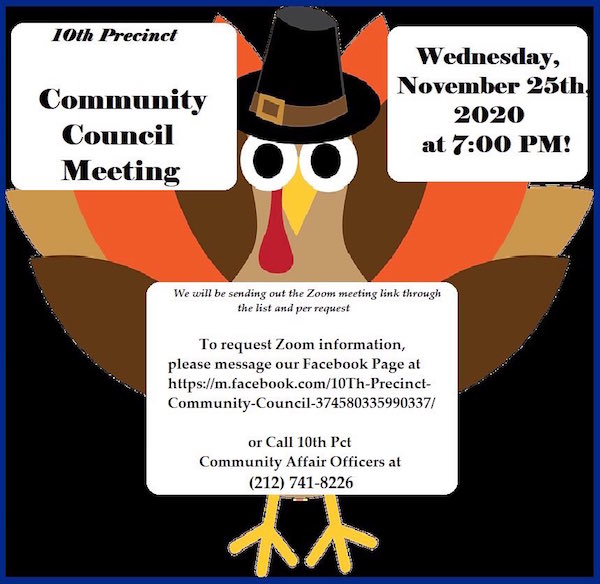 Wednesday, November 25, 7pm via Zoom: The 10th Precinct Community Council |Twenty-Four hours before what's left of the turkey becomes fodder for those excellent morning-after-Thanksgiving sandwiches, the 10th Precinct Community Council is putting on a lavish spread of its own–in the form of local crime stats, public safety tips, updates on quality of life hotspots, and frankly, well, frank answers to whatever's asked in its anything-goes Q&A session. The Council, which convenes on the last Wednesday of the month, will mark its Nov. 25 occasion by taking place for the second-time-ever via Zoom. Last month's inaugural foray into the online format saw Council President Larry O'Neill hand over the virtual podium to the 10th's new Commanding Officer, Captain Robert Gault, who arrived at his new assignment on Sept. 21 after two years heading the Times Square Unit.
Click here to see our full report on the September Council meeting, and click here for our own Q&A with Captain Gault. To attend the Wednesday 7pm meeting via Zoom, click here. Between monthly Council meetings, click here to visit their Facebook page.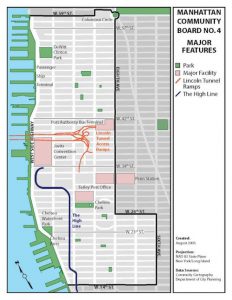 Wednesday, December 2, 6:30pm via Zoom: Manhattan Community Board 4 (CB4) Full Board Meeting | On the first Wed. of the month, Manhattan Community Board 4 (CB4) convenes its full board (these days, via Zoom), to vote on agenda items culled from the work of its committees. To attend the meeting via Zoom, click here.
Those in the Zoom "Attendee" section can obtain a 2-minute slot to speak before the Board, as part of the upfront Public Session. To do so, deploy the"Virtual Hand Raise" button before 6:45pm. (apart from this form of participation, Attendees are not shown on screen, and cannot be heard.)
Public Session participation isn't just for the last-minute set: You can reserve in advance, up to noon on the day of, via a link provided by CB4 (easily found on the Calendar page of CB4's recently redesigned, much-improved website. Can't make it in real time? CB4 has all of their recent board meetings, and many committee meetings, archived on their YouTube channel, which can be accessed by clicking here. You can also attend via conference call, the number is 646-518-9805. To visit the home page of CB4's website (recently upgraded design makes it easier to find what you want, click here).
Down to Earth Farmers Market: Saturdays in Chelsea | Down to Earth Farmers Market has a presence in Chelsea, Saturdays, 9am-3pm, through December 19, along the sidewalk on the North side of W. 23rd St., east of Ninth Ave. The Market has altered its shopping guidelines, in accordance with COVID-19 precautions.
Click here to read the guidelines, and arrive prepared to browse while maintaining social distance. To visit the website page specific to their Chelsea Market, click here. Go to the Manager's Tent to use your SNAP EBT card and get tokens to spend with our vendors. Health Bucks available. FMNP WIC/Seniors checks can be used at the farm stands through November. Note: Food scrap recycling collection is on pause. Please do not bring items for composting to the farmers market.
–Compiled by Scott Stiffler
Chelsea Community News is made possible with the help of our awesome advertisers, and the support of our readers. If you like what you see, please consider taking part in our GoFundMe campaign (click here).To make a direct donation, give feedback, or send a Letter to the Editor, email scott@chelseacommunitynews.com