BY DONATHAN SALKALN | With the New York State Legislature obtaining an absolute democratic majority, one that would withstand a veto by Governor Andrew Cuomo, many progressive movements are mobilizing to advance legislation in the upcoming session in Albany. One such progressive bill being considered is Parker-Cahill Bill S3608/A39, calling for a tax on all carbon-based fuels. It is a bill co-sponsored by Chelsea's State Senator Brad Hoylman and State Assembly Member Richard Gottfried, and has been stuck in the legislature's committee discussions for nearly two years.
At the Nov. 19 Chelsea Reform Democratic Club's (CRDC) Zoom general meeting titled Does New York Need Carbon Taxing?, Zoom attendees met two strong environmental advocates who spoke of a way to flip the switch on global warming. Both are pushing for a carbon tax for New York State that would set an example for the rest of the country and world in bringing the end of fossil fuel consumption. The speakers were Charles Komanoff, economist and director, Carbon Tax Center, and Andrew Ratzkin, attorney and environmental and energy expert with the Westchester County Climate Smart Commission. The meeting was organized and moderated by CRDC executive committee member Kathy Nizzari.
Charles Komanoff, who possibly gained his love of the planet while living near W. 22 St.'s Clement Clarke Moore Park during the 1970s, has since dedicated much of his life fighting to neutralizing the use of carbon. He told attendees that as long as fossil fuels are the cheapest source of energy, Americans will continue to burn them.
"There's talk that solar and wind is cheaper than coal, oil, and gas," said Komanof. "Yet that's not nearly as true as it needs to be. With gas at $2.09 a gallon [with $1.35 being taxes], it's very hard for other things to compete."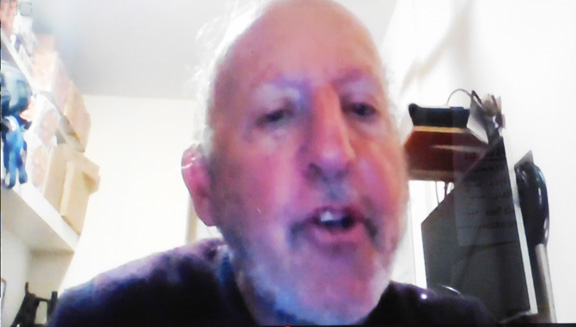 In explaining how the tax would diminish the use of carbon-based fuel, Komanoff used cigarette smoking as an analogy: "Cigarettes are so much less widespread as they were twenty, forty, sixty, eighty years ago. We didn't do it by making chewing gum cheaper. We did it by taxing the hell out of cigarettes. A carbon tax would work in the same way." And although cigarette smoking has always been consumed by all parts of the populace, Komanoff explained the disparity in class use of carbon fossil fuel: "The rich use so much more fossil fuel than the middle class, which in turn uses much more than the poor," he said.
"The United States has gone down the path of sprawling suburbs and giant SUVs and everyone flying everywhere," noted Komanoff, saying a carbon tax "makes biking less expensive simply because the alternative—driving is more expensive. It makes subways and buses cheaper than Ubers and taxis. It makes that 10-mile trip to the mall cheaper than a 40-mile trip to the mall."
Stressed Komanoff, "We're talking about influencing billions of daily decisions as well as long-term investments that will all bend toward a more economical use of fossil fuels and will speed the adoption of solar and wind and energy efficiency." There will also have to be, he noted, "a contraction in the amount of aviation in the world in order to deal with the climate crises."
While Komanoff spoke in worldly terms, Andrew Ratzkin spoke of a carbon tax in New York State—specifically the Parker-Cahill Bill S3608/A39—that would place on a tax on all greenhouse gas emissions.
"The bill phases in over 10 years," noted Ratzkin. "It starts at $35 a ton of carbon emissions that translates to 27 cents a gallon at the pump, more or less. At its highest extreme, after ten years, it reaches $180 per ton of carbon emissions that translates to $1.58 per gallon… A carbon tax doesn't increase the size of government but does increase the incentives to reduce carbon emissions in every aspect of American life and the economy."
According to a report by Sara Hsu of SUNY New Paltz, the carbon tax bill—originally introduced In New York State, Assemblymembers Kevin Cahill and Barbara Lifton and Senators Kevin Parker and Liz Krueger in 2015—estimated the carbon tax revenue would eclipse $14 billion by 2040.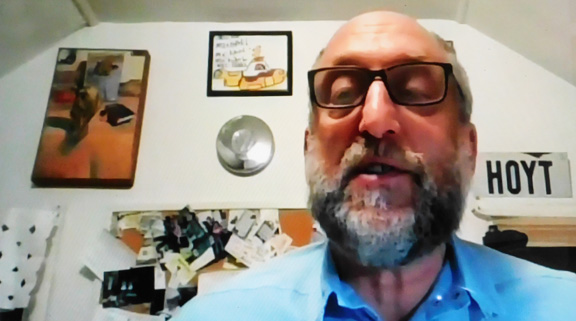 Ratzkin said the New York State's Climate Leadership and Community Protection Act (CLPCA) which passed in Albany, with much fanfare, in 2019 needs work to realize its vision. The law requires New York State to reduce greenhouse gas emissions by 40% by 2030 and 85 % by 2050. Ratzkin noted that the law doesn't offer any plan as to how to reduce greenhouse gas emissions in New York State, nor anyway to pay for it."There are gaps in the CLPCA," he said. "One is the policy, as there is none. And the other is the funding for all the good things the CLPCA is supposed to do, which also is none. A state carbon tax addresses each of those things."
The bill would also be "re-distributive in design with 60 percent of proceeds distributed to the low and-moderate incomes of individuals of up to 115 percent of the average medium income," Ratzkin said adding, "With COVID-19 blowing a hole in New York State's budget to the anticipated $15 billion, it might be nice to have another source of revenue."The bill, said Ratzkin, "increases the incentives to reduce carbon emissions in every aspect of American life and the economy. Even a small carbon tax starts to send a political and market signal to investors that this is a market that will be shrinking over time."
Summarized Komanoff, "Capitalism will provide financing as long as the demand is there. As long as there are SUVs to be filled up, as long as there are drafty houses, and inefficient appliances, and where people can fly everywhere, every weekend—capitalism will find a way to fuel those vehicles, drafty houses and aircraft. A carbon tax will make those activities so [more] expensive. We need to change the way we live if we're going to stop burning the planet."
Donathan Salkaln is a member of the Chelsea Reform Democratic Club.
Chelsea Community News is made possible with the help of our awesome advertisers, and the support of our readers. If you like what you see, please consider taking part in our GoFundMe campaign (click here). To make a direct donation, give feedback, or send a Letter to the Editor, email scott@chelseacommunitynews.com.