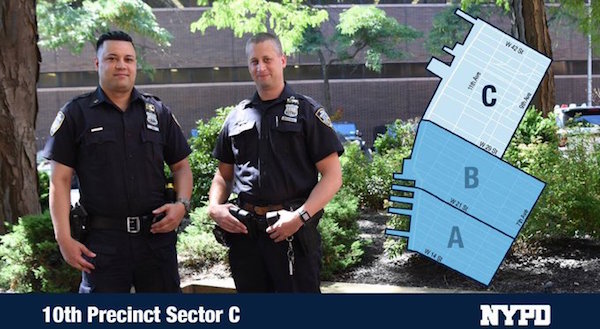 Fri., Dec. 11, 7pm: The 10th Precinct's Sector C Build the Block Meeting | By dividing Chelsea's 10th Precinct into three areas of coverage to which a specific pair of police officers are assigned, the Build the Block program strives to strengthen the quality and effectiveness of local law enforcement. Tonight's meeting concerns Sector C (or, "Charlie"), which spans W. 29 St. to W. 43rd St., 9th Ave. to the Hudson. With many residents expressing concern over the risk of COVID-19 infection, Build the Block meetings went online as of August. The final installment of 2020 follows suit by providing quality screen time with Sector C police officers Ahad Hamdani (Ahad.Hamdani@nypd.org) and Daniel Sendrowski (Daniel.Sendrowski@nypd.org). The email addresses are there for a reason: Build the Block encourages communication between locals and their local precinct. To join the meeting by way of Zoom, click here. Meeting ID: 408 925 1033 | Passcode: mqCdm5. To visit the 10th Precinct's online presence, click here.
Fri., Dec. 11, 10am-2pm & Sat., Dec. 12, 1pm-5pm: Coat & Sock Drive Hosted by Manhattan Community Board  (CB3)  and Rauschenbusch Metro Ministriesday | Drop off new or like new coats and new socks for children and adults at Metro Baptist Church (410 W. 40th St. btw. 9th & 10th Aves.). They will be distributed to local shelter families and individuals. See the below flyer for details.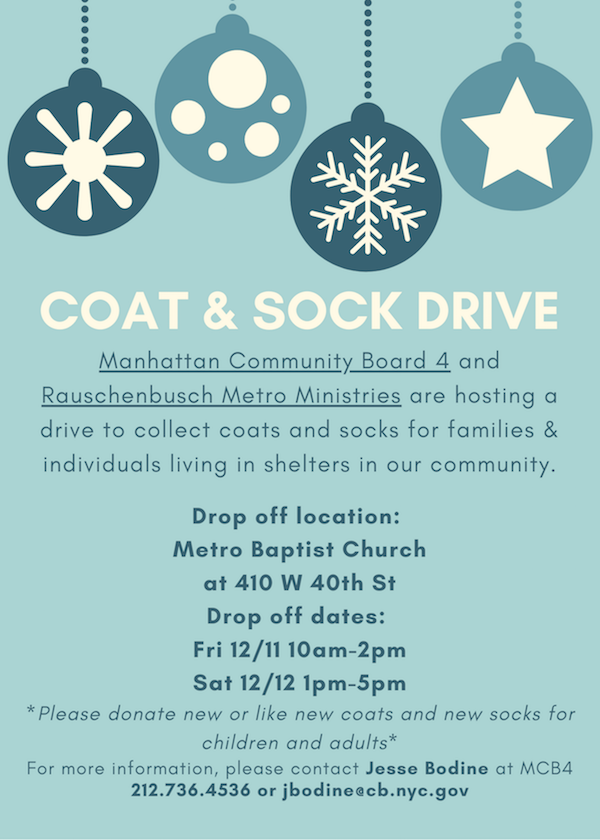 Sun, Dec. 13, 6pm: Chelsea Community Church's 46th Annual Candlelight Carol Service | We're grateful for online access to one of our most highly anticipated annual outings, but sincerely hope to be back in the pews at this point next year. In the meantime, compelled by COVID-19 precautions, online attendance will suffice quite nicely, thank you. The service will consist of music and readings, and Twas the Night Before Christmas will be read by Chelsea resident (and singer/songwriter of distinction) Rosanne Cash. The service can be viewed by clicking here. For more info, see the below flyer.
Down to Earth Farmers Market: Saturdays in Chelsea | Down to Earth Farmers Market has a presence in Chelsea, Saturdays, 9am-3pm, through December 19, along the sidewalk on the North side of W. 23rd St., east of Ninth Ave. The Market has altered its shopping guidelines, in accordance with COVID-19 precautions.
Of this week's available items, they note: "As the season of thankfulness turns towards the holidays of lights, we find doughnuts at the intersection. It's what road trip day dreams are made of but also a classic end-of-the-harvest-season food. Facing down chilly weather and the very shortest days of the year inspires a craving for deep fried dough that leaves fingers, chins and sweater fronts twinkling with cast-off sugar. At the farmers market and road side stands you might find cider doughnuts, and making apple fritters at home is a good project for a quiet winter morning. In between is the opportunity to eat jelly doughnuts during Hanukkah. The classic Hanukkah doughnut is made from a yeasted dough that forms airy bubbles, leaving room for a generous slug of fruit jelly or vanilla or chocolate custard in the center. Apple cider doughnuts are a Northeast tradition that dates to the 1950s when an enterprising Russian immigrant sold dry doughnut mixes and doughnut making machines to orchards to drum up sales during u-pick season. The doughnuts are made with baking soda, resulting in a craggy exterior and cake-like texture, apple cider that's been cooked-down into a syrup, and mulling spices like cinnamon and nutmeg. If you are frying at home we have two apple fritter recipes to point you to: this one for apple rings dredged in an egg and flour batter, and this one for cake-like nuggets made with shredded apple."
Click here to read the shopping guidelines, and arrive prepared to browse while maintaining social distance. To visit the website page specific to their Chelsea Market, click here. Go to the Manager's Tent to use your SNAP EBT card and get tokens to spend with our vendors. Health Bucks available. FMNP WIC/Seniors checks can be used at the farm stands through November. Note: Food scrap recycling collection is on pause. Please do not bring items for composting to the farmers market.
GONE BUT NOT FORGOTTEN: The below event will have aged out of the calendar by the time you read this:
Thurs., Dec 10, 6pm: The Full Board Meeting of Community Board 5 | CB5 (whose area of coverage incudes parts of Chelsea) does its full board meeting deed the virtual way, as is the way of so many public meetings these days. The general public should register in advance here: https://bit.ly/38J4NRo. A draft version of this meeting's agenda is available at this link https://www.cb5.org/cb5m/calendar/2020-december/#full-board. View the CB5 calendar via http://www.cb5.org/calendar for meeting updates and agendas.
–Compiled by Scott Stiffler
Chelsea Community News is made possible with the help of our awesome advertisers, and the support of our readers. If you like what you see, please consider taking part in our GoFundMe campaign (click here).To make a direct donation, give feedback, or send a Letter to the Editor, email scott@chelseacommunitynews.com