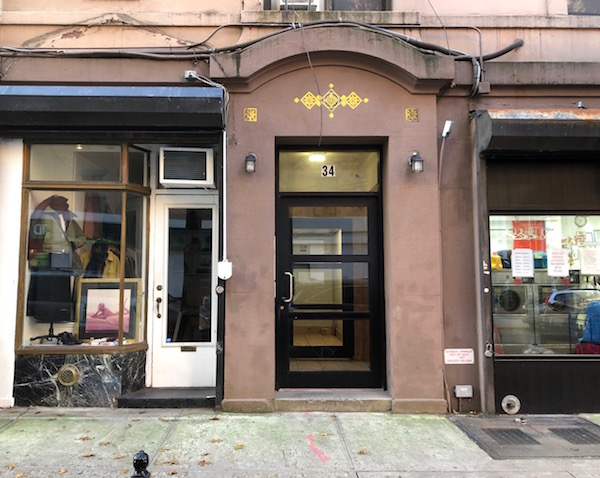 Writing the Apocalypse is a weekly series featuring the poems, essays, and recollections of Puma Perl, with subject matter influenced by her experiences as a NYC resident during the COVID-19 pandemic.
Black Friday Walk | TEXT & PHOTOS BY PUMA PERL
Lines snaking around Broadway
Designer sneakers on sale
Down the block,
at City MD,
half a dozen people wait
for COVID tests
Back on 1st Street, sad faces
and shopping carts linger
outside Mary House, hoping
for a clean pair of socks
with their coffee and oatmeal
Everybody's waiting for something
I walk, unaware of my destination,
until I turn onto University
I pass the Writer's favorite shops,
and wonder if he would have ordered
a Thanksgiving dinner from Agata
had he survived through the holidays
I stand outside his door,
stare down the empty street,
and at the lock he turned
100,000 times or more
Mostly sober those last years
Mostly alone
except for the walker
I see the familiar images through his eyes,
like Magritte painting a cigar or the moon
The moon is not the moon,
it is the sun today
but it's not the sun either,
not anymore for the Writer
but it's still the same apartment
An impassable flight of stairs
A desk stuffed with manuscripts
and a computer filled with jazz
remain in the dusty room
They are waiting, too
Back on University
I stop at Madman Café
where we met for good coffee
and stale pastries
I decide to "treat myself"
because it's his expression
The coffee's delicious
and so is the cheese Danish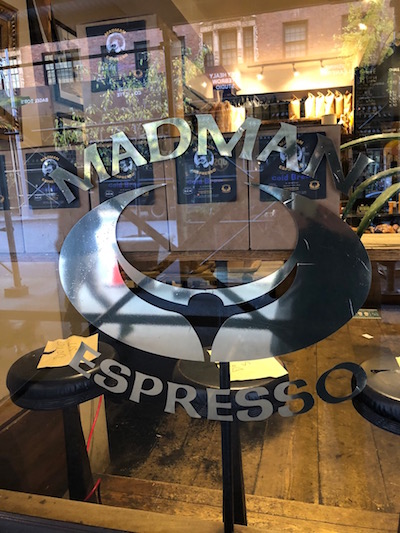 Although we talked about it
he never got to sit outside
with me at Madman
or walk down
to the Noodle Shop
where I drank sake
and he drank tea,
never bought the couch
he had his eye on,
black leather with reclining seats
He wrote that he wanted to hold hands
and listen to Monk
(of course, stated only in writing)
and I thought but didn't say
I'm more of a rock and roll girl,
playing the radio, sitting
on a maroon velour bench seat
in a 1980 Delta 88
I continue home, past 3rd avenue,
no longer a 24-hour stroll
Past my 10th street apartments,
Past Tompkins Square Park
where our kids played
in their red yellow blue sneakers
and mismatched socks,
down Avenue B, the DMZ
There is no DMZ anymore,
just a few bodegas hanging on
At Clinton, I consider stopping
at the market
but all I really need is flowers
I rebuke myself
for "needing" flowers
as I pass more food lines,
more carts filled
with blankets and single boots
Do I really need flowers?
I stop at the market.
I need flowers.
I carry them home.
© puma perl, 12/09/20
Puma Perl is a poet and writer, with five solo collections in print. The most recent is Birthdays Before and After (Beyond Baroque Books, 2019.) She is the producer/creator of Puma's Pandemonium, which brings spoken word together with rock and roll, and she performs regularly with her band Puma Perl and Friends. She's received three New York Press Association awards in recognition of her journalism, and is the recipient of the 2016 Acker Award in the category of writing. Her most recent books can be found by clicking here.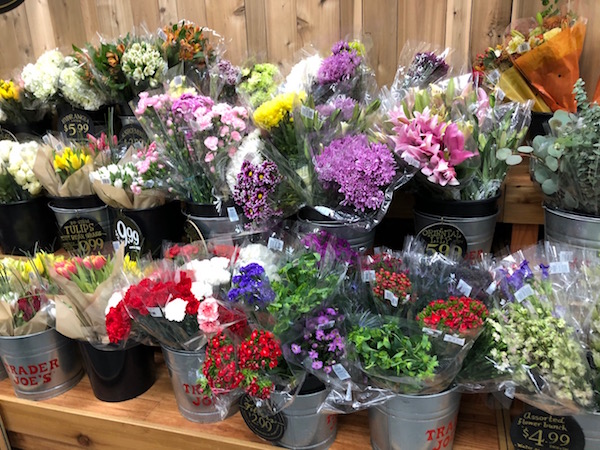 Chelsea Community News is made possible with the help of our awesome advertisers, and the support of our readers. If you like what you see, please consider taking part in our GoFundMe campaign (click here). To make a direct donation, give feedback, or send a Letter to the Editor, email scott@chelseacommunitynews.com.