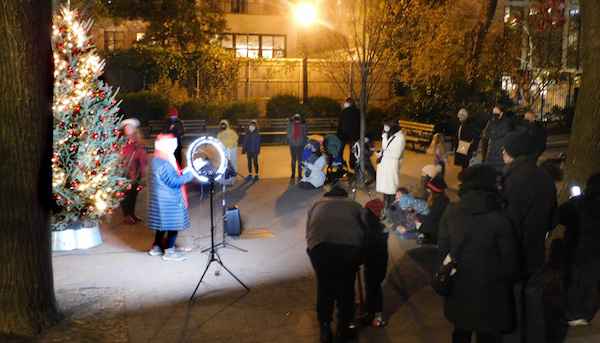 BY DONATHAN SALKALN | On a brisk Tuesday evening, Dec. 8, parents and youngsters arrived all bundled in their warmest of winter garb, gloves, and COVID-19 masks—and those watching virtually in the safety of home—were treated to music, poetry, and camaraderie at the lighting of Clement Clarke Moore Park's holiday tree.
On behalf of the West 400 Block Association Vice President Jean Blair, addressed the gathering by way of a microphone, camera, and social distancing, both personally and virtually. "We want to wish all of our members, friends, and neighbors a healthy and happy holiday season," she announced. (The Association, comprised of  the 400 W. 21st, 22nd & 23rd Sts. blocks, is steward of the park, which borders W. 22 St. and runs along much of 10th Ave. btw. W. 21 & 22 Sts.)
Longtime West 400 Block Association member and CBS Sunday Morning correspondent Martha Teichner read to the gathering A Visit from St. Nicholas (aka Twas the Night Before Christmas), which Clement Clarke Moore wrote 197 years ago, not far from where she stood. Teichner's eloquent presentation compelled the children to pause between extended periods of running around, playing, and shouting in glee.
Adding to cheer was Metropolitan Klezmer's Pamela Fleming, whose compelling performance on trumpet cut through the air to announce, in no uncertain terms, that the holiday season was well upon us.
Another star of the evening was the 12-foot-tall Fraser fir, decorated the previous day by 400 Block Association President Susan Numeroff and her holiday committee of elfs: Laura Solimene, Joanne Downes, Marilyn Vasta, Olive Numeroff, Peter Florescu, and Wade Lew, along with Blair.
This year's trees are pricey. Due to COVID-19, only half the usual number of tree lots are lining New York City's streets. Even local favorite "Big Tom" decided not to drive down from Alaska. You'll find a young man named Gilbert selling trees at Tom's spot in front of the Rite Aid on W. 22nd St. and Ninth Ave. This year's most popular trees are the 6 to 7-foot-tall Cook Firs and Fraser Firs ($120 to $150 each). They come from either Quebec or North Carolina.
Gilbert was kind enough to donate half of the Fraser Fir's $400 price tag to the West 400 Block Association and Chelsea community.
BONUS CONTENT I: To read our article about the park's Sept. 2019 opening following its upgrade, click here.
BONUS CONTENT II: To view footage from the event—presented by the West 400 Block Association—click on the middle of the below tree. Following that, find two additional photos from the Dec. 8 tree lighting.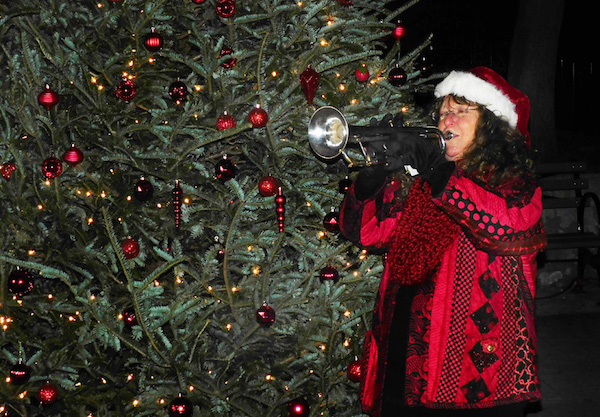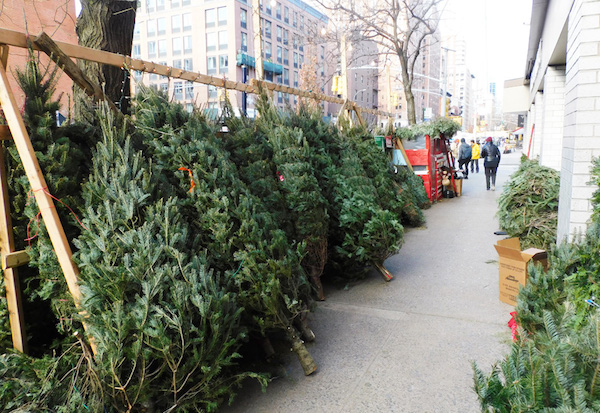 Chelsea Community News is made possible with the help of our awesome advertisers, and the support of our readers. If you like what you see, please consider taking part in our GoFundMe campaign (click here). To make a direct donation, give feedback, or send a Letter to the Editor, email scott@chelseacommunitynews.com.