Down to Earth Farmers Market, Chelsea: Final Market of the Season on Sat., Dec. 19 | Down to Earth Farmers Market has a presence in Chelsea, Saturdays, 9am-3pm, through this Saturday, December 19, along the sidewalk on the North side of W. 23rd St., east of Ninth Ave. Since their season began, the Market has altered its shopping guidelines, in accordance with COVID-19 precautions.
This week, Orwashers will bring holiday desserts like tarts, babka, cookies and tea cakes, and Meredith's Bread has ready-made gingerbread houses. Heimat New York will visit with fresh seasonal fruit liqueurs made here in New York. Abundance Acres Farm is stocked with maple sugar in fun shapes, made from their own maple syrup. Pop one in your coffee or hot cocktail and give them as stocking stuffers. Bombay Chutney Company will have their frozen heat-and-eat Indian dishes – stock up and have nicely spicy soups and stews through the winter. Gift boxes of chutneys and spices are available for pre-order and shipping. Order via WhatsGood or go to their stand to get the details.
WhatsGood is offering a SPECIAL DISCOUNT on pre-orders: get 35% off all orders of up to $100 (max discount $35) when you use code DEC35. Available to all WhatsGood shoppers, this week only!
Click here to read the shopping guidelines, and arrive prepared to browse while maintaining social distance. To visit the website page specific to their Chelsea Farmers Market, click here. Go to the Manager's Tent to use your SNAP EBT card and get tokens to spend with our vendors. Health Bucks available. FMNP WIC/Seniors checks can be used at the farm stands through November. Note: Food scrap recycling collection is on pause. Please do not bring items for composting to the farmers market.
Anticipating their final Market of the season, a Down to Earth spokesperson issued this statement, via their weekly newsletter: "We're closing out the year and the 2020 farmers market season by inviting you to discover all the warmth the market has to offer. We have warm wishes in holiday gift ideas, warm holiday meal ingredients, warm regards in boxes of cookies and other sweet treats for those who have earned an end-of-year "thank you." Not to mention the warmth of hot beverages, spicy sauces and spirits for spiking your winter drinks. Underneath everything we do there runs the warm current of community, which is vital to the market's health. We give you our very warmest thanks for your support through a difficult year and look forward to seeing you in 2021. The farmers market will close for the season after this weekend and will re-open in May 2021."
GONE BUT NOT FORGOTTEN: EVENTS THAT HAVE AGED OUT OF THIS WEEK'S UPCOMING,
NOW PRESERVED IN INTERNET AMBER, AVAILBALE TO YOU IN PERPETUITY 
Sun, Dec. 13, 6pm: Chelsea Community Church's 46th Annual Candlelight Carol Service / Now Available to view, as a video, on their Facebook page (see "clicking here" below) | We're grateful for online access to one of our most highly anticipated annual outings, but sincerely hope to be back in the pews at this point next year. In the meantime, compelled by COVID-19 precautions, online attendance will suffice quite nicely, thank you. The service will consist of music and readings, and Twas the Night Before Christmas will be read by Chelsea resident (and singer/songwriter of distinction) Rosanne Cash. The service can be viewed by clicking here. For more info, see the below flyer.

Tues., Dec. 15, 11am in Times Square: Rally to Save NYC Restaurants, Bars & Jobs | Yesterday,NYC Hospitality Alliance urged all via Twitter (@theNYCalliance) to show up and stand up, at Dec. 15's Times Square rally. See the below promo poster for details. "MASKS REQUIRED," notes the poster, with the tweet reading, "Our small businesses and the hospitality industry need help. Join the 'Rally to Save NYC Restaurants, Bars, and Jobs' tomorrow, December 15 at 11 am in Times Squares."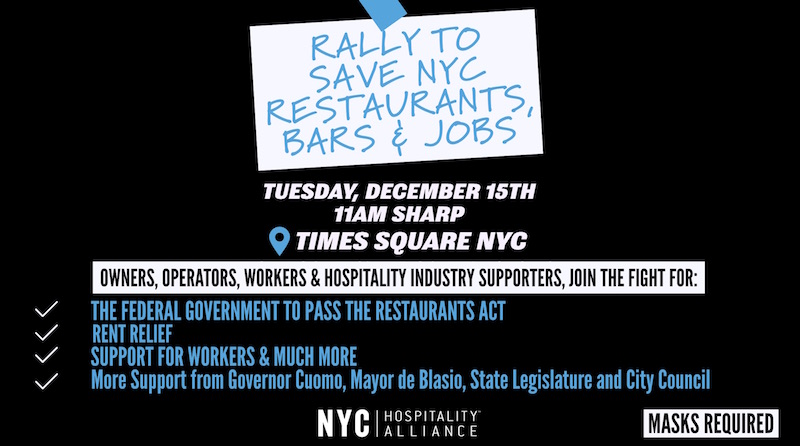 Thurs., Dec. 17, 6-8pm Online Public Virtual Forum: Chelsea NYCHA Working Group Proposal for Renovation and Preservation of Elliott-Chelsea and Fulton Developments | After the notion of a public/private partnership was first floated as a way to pay for repairs and ongoing maintenance at New York City Housing Authority (NYCHA) properties, Working Groups were held to address the needs and concerns of Chelsea's NYCHA tenants. This Virtual Forum brings you up to speed on what came out of those meetings. See the below flyer for details. NOTE: With a runtime of just over 90 minutes, the unedited lifestream recording of this Zoom-based Forum is available to view via CNB4's YouTube channel. To access that recording, click here.
Thurs., Dec. 17, Virtual and Teen Chanukah | New York Hebrew, a W. 19th Street-based after-school educational program, has been making the most of our social distancing situation, by holding a number of events at nearby Chelsea Green Park–and their Chanukah schedule, seen below, is no exception. Today's final two events are of the virtual variety. See the below flyer for details, and click here to visit their website and find out how their students "learn, understand and experience Jewish life to the fullest!"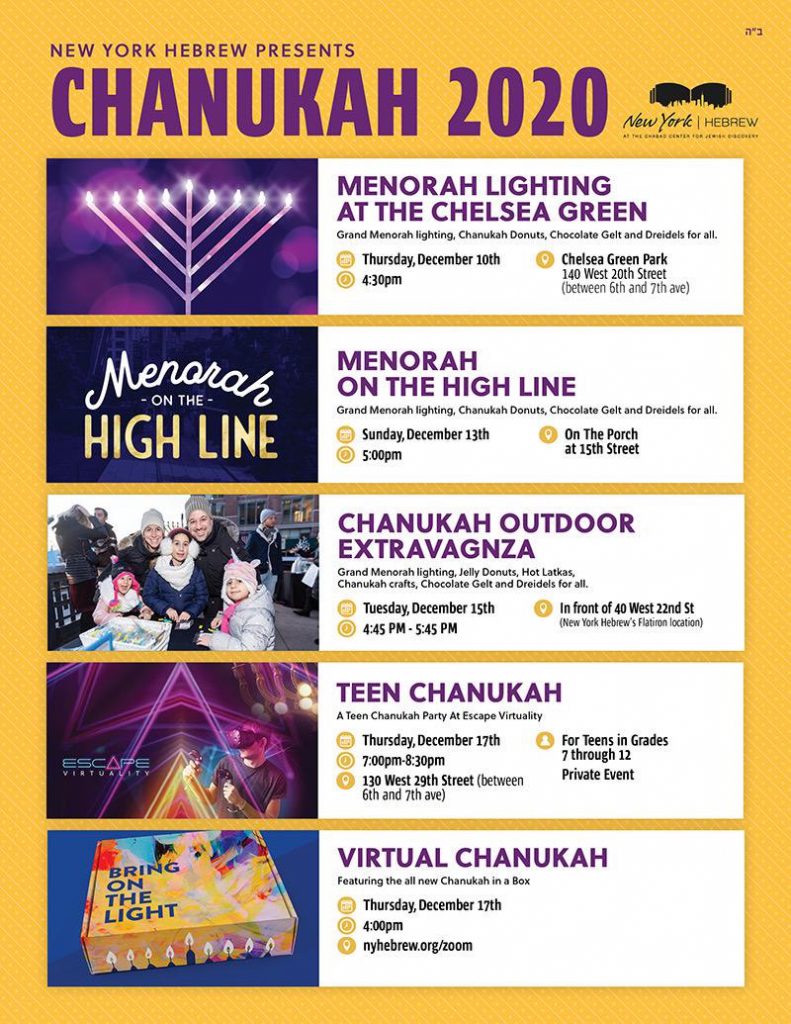 –Compiled by Scott Stiffler
Chelsea Community News is made possible with the help of our awesome advertisers, and the support of our readers. If you like what you see, please consider taking part in our GoFundMe campaign (click here).To make a direct donation, give feedback, or send a Letter to the Editor, email scott@chelseacommunitynews.com.