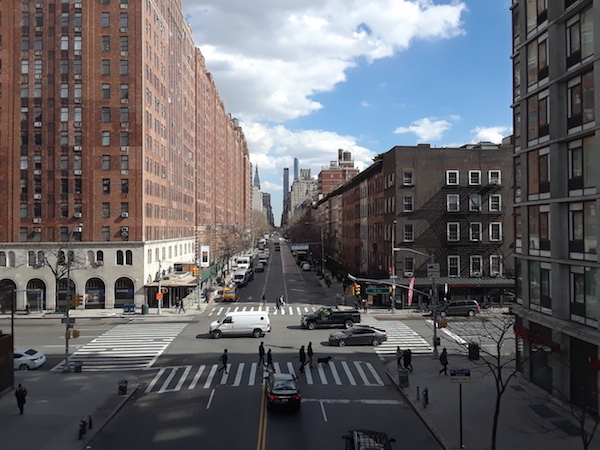 An Open Letter to New York City and State Leaders
Wanted: A Legal Protection for a Commendable Model
On May 22, 2019 Mayor Bill de Blasio signed Executive Order 47, one of the most consequential measures supporting the city's community media industry, directing all city agencies to spend at least 50 percent of their annual print and digital advertising budgets on community media publications.
The initiative has been a resounding success, as shown in an independent report by the Center for Community Media (CCM) at CUNY's Craig Newmark Graduate School of Journalism. In the fiscal year after the executive order was signed, New York City spent a record $9.9 million on community media publications, 84 percent of its total print and digital advertising budget. We were offered a lifeline as we saw city agency campaigns rolling in, many of us receiving them for the first time.
We are more than 230 print and digital publications serving communities in all five of the city's boroughs, publishing in 37 languages. Without advertising from city agencies, many of us would not have survived the pandemic that saw so many businesses—who had advertised in and even distributed our newspapers—shutter across the city. Many of these businesses may not return, and now more than ever, we have an essential role to play in helping our readers survive and rebuild in the wake of this pandemic.
These public service campaigns reached vital communities of color and immigrant communities, in many languages, creating awareness about the resources available to them during the pandemic, guiding them on how to access critical services, and encouraging stronger civic engagement from an informed and responsive citizenry.
As we move into a new year and get ready for the 2021 municipal elections, it's time to build on the remarkable progress made by the de Blasio administration. Important steps are necessary to build on the progress made by the mayor:
1. A renewed commitment from city leaders to continue the current policy of allocating at least 50 percent of the total print and digital ad budgets to the local community media, while maintaining a robust ad budget
2. City Council legislation to solidify this commitment and protect it from political or administrative changes
3. Effective implementation of the new legislation in its true spirit
We also ask that the New York State government and Legislature follow suit. Like the City, the State will also find the community media a necessary partner in building a more engaged society.
Kowshik Ahmed, Editor, Weekly Bangaleesddsdd
Najmul Ahsan, Publisher, Weekly Parichoy
Manuel Alcantara, Editor, Peruanisimo News
María del Carmen Amado, Newspapers Group General Manager-Editor, Westchester Hispano, New York Hispano
Czarinna Andres, Co-Publisher, QueensPost
Lovlu Ansar, Executive Editor, Bangladesh Pratidin
Ruben Avxhiu, Editor-in-Chief, Illyria
Michael Babwar, Publisher, Caribbean Times News
Liudmyla Balabai, Managing Editor, ForumDaily Inc (ForumDaily.com)
Kevin Benoit, Founder, Editor-in-Chief, Parlé Magazine
Helen Cadena, Ad Sales Representative, Ecuador News, Ayllu Times
Isseu Diouf Campbell, Publisher, Africa in Harlem
Ibrahim Chowdhury, Editor, Prothom Alo
Angie Damlakhi, Owner, Allewaa Alarabi Newspaper
Silvana Diaz, Publisher, Noticia, El Correo NY
Sheikh Musa Drammeh, Publisher, Parkchester Times
R. Farrukh, Publisher, Weekly Awaz
George Fiala, Publisher, Red Hook Star Revue
David Mark Greaves, President & Publisher, Our Time Press
Sunil K. Hali, Publisher, Divya Bhaskar North American Edition, The Indian Eye Newsweekly
Rick Ho, General Manager, Sing Tao Daily
Manzoor Hussain, Executive Editor, Weekly Dunya International
Paul Jackson, Publisher, Harlem Times
Léopold L. Joseph, Publisher/Editor-in-Chief, Haiti Observateur
Adnan Khalil, Chief Editor, Al Hawadeth Newspaper
Maude LeBlanc, Editor-in-Chief, Haiti Progres
Henry Levy, Editor & Publisher, Jewish Post
Debbie McGoldrick, Senior Editor, Irish Voice Newspaper
Alec Meeker, Owner, Bushwick Daily
Kamlesh C. Mehta, Publisher, The South Asian Times & Forsythe Media Group, LLC
Hameed Minhas, Publisher, New York Awam
Síle Moloney, Interim Editor-in-Chief, Norwood News
Mutiu Olawuyi, Editor-in-Chief, Parkchester Times
Kishor Panthi, Editor-in-Chief, Khasokhas
Cristina DC Pastor, Founding Editor, The FilAm
Pearl Phillip, Editor-in-Chief, Caribbean American Weekly, The Immigrant's Journal & Workers' World Today Publications
Garry Pierre-Pierre, Founder/Publisher, The Haitian Times
Edward B. Prial, Publisher, The Chief Leader
Ilayas Quraishi, Chief Operating Officer, Parikh Worldwide Media, LLC and ITV Gold
Mahfuzur Rahman, Editor & Publisher, Weekly Bornomola
Mizanur Rahman, Editor, Thikana
Ricky Rillera, Executive Editor, Philippine Daily Mirror
Prof. Indrajit S. Saluja, Chief Editor, The Indian Panorama
Angchhiring Sherpa, Publisher, Everest Times
Sharanjit Singh, Publisher, The South Asian Insider and Punjabi Dunya
Mica Soffer, Publisher, COLlive.com
Scott Stiffler, Founder/Editor, ChelseaCommunityNews.com
Danny Tisdale, Founder and Publisher, Harlem World Magazine
Sunil Tristar, Managing Director, eMalayalee Online, IndiaLife Online, IndiaLife Television, Pravasi Channel
Angel Vazquez River, Local Sales & Marketing Director, El Diario
Momar G. Visaya, Executive Editor, Asian Journal
Stephen Witt, Publisher, KingsCountyPolitics.com, QueensCountyPolitics.com, NewYorkCountyPolitics.com
Jeong Shin Yoon, Publisher, The Korea Daily New York
Liena Zagare, Editor & Publisher, BKLYNER
Chelsea Community News is made possible with the help of our awesome advertisers, and the support of our readers. If you like what you see, please consider taking part in our GoFundMe campaign (click here). To make a direct donation, give feedback, or send a Letter to the Editor, email scott@chelseacommunitynews.com.