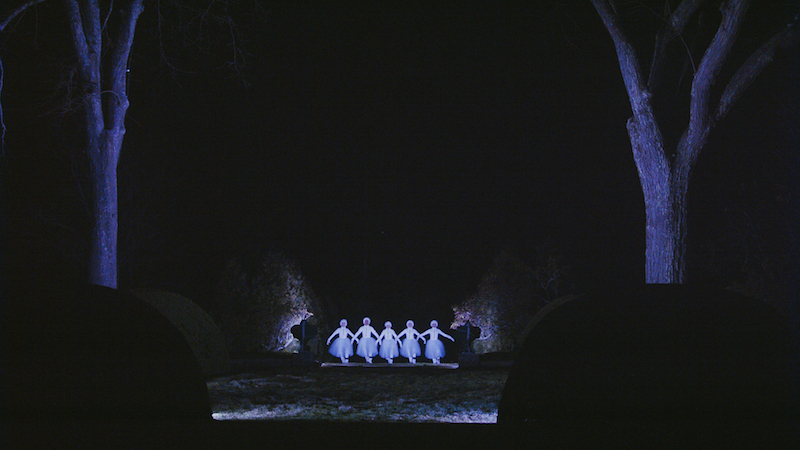 BY ELIZABETH ZIMMER | The rich, F. Scott Fitzgerald once famously wrote, are different from you and me. This month, the well-heeled who possess adequate private transportation (and some essential workers, and members of area families hard-hit by the pandemic) might be able enjoy the seasonal delights of a new Nutcracker ballet, produced in full compliance with COVID-19-safe arrangements and performed by New York City Ballet (NYCB) dancers, to live and recorded music, and in costumes by the likes of Oscar de la Renta. To catch this immersive experience one must travel to the bucolic precincts of northern Dutchess County, two hours from Chelsea. For a $5,000 donation, up to four in a "pod" can attend the 90-minute show.
Just outside Amenia, New York, Troy Schumacher's Dance Collective has been presenting The Nutcracker at Wethersfield, staged in a neo-Georgian manor house surrounded by acres of gardens, pools, a greenhouse, and other perquisites of the landed gentry. The dancers have been quarantining in the area since early November. When you pull into the Wethersfield parking lot, you're given a Black Watch surgical mask by an attaché with a clipboard, exposed to a message from Schumacher and a hip playlist on your car radio, and then escorted by liveried servants (wearing big white mittens) into the gorgeous home. The exterior lighting of the various sites, by John Cuff, is terrific. When the front door opens you fully expect to be handed a glass of champagne and an hors d'oeuvre, but no such luck; we're still in a pandemic, after all.
You stand on your mark at a safe distance and watch the classic party scene from the 19th-century ballet classic, minus the eager children; the performers wear clear plastic masks so you can see their smiles. And then you are politely herded into another room with a spectacular painted ceiling for a live musical interlude (Lauren Cauley on violin), while a second small group of visitors attends the party. From outside the parlor windows, nestled beside a huge pyramidal torch, you peer in as young Marie confronts some roly-poly mice, and turn around just in time to see the Nutcracker Prince (Taylor Stanley the evening I visited) vanquish the Mouse King on an adjacent hillside.
Next you wander across a field toward a dry pool and watch four exquisite snow maidens slowly approach down a slope from afar. You follow another path to a huge white tent where you finally get to sit down, at a table covered with beautiful napery and a display of cakes and pastries—all of them, alas, fake. The dancing, in-the-round on a raised Marley platform, is first-rate, with bouquets of female Flowers in full bloom (Marc Happel of the NYCB costume shop wrangled the costumes, in collaboration with big-name designers) and, the evening I attended, NYCB principal dancers Sara Mearns and Stanley in the climactic duet between the Sugar Plum Fairy and her Cavalier. It was a treat to watch these artists from up close; imagine being at a wedding and having dancers of this caliber getting down on the central dance floor! Mearns is a big girl, and Stanley a reedy fellow; at times in their acrobatic partnering I feared for their safety, but all ended well.
When last I checked there were no four-figure tickets available, so thankfully, for those who aren't making the trip upstate, Schumacher's company will stream a recording of the event immediately following the live run, available free on demand from Wed., Dec. 23 at 5pm and Dec. 26 at midnight. Access it at NutcrackerAtWethersfeld.com. There will be a live stream Sun., Dec. 20 at 5pm. via Twitch.tv/BalletCollective.
Closer to home, two venerable, smaller-scale Nutcrackers are adapting to the pandemic by sharing an intimate, COVID-19-safe run at Arts on Site in the East Village. David Parker and Keith Michael, two choreographers who happen to be life partners and who have each developed charming, enduring Nutcracker versions for small spaces and smaller ensembles, join forces to present The Nutcracker/Cracked—a 45-minute program in which New York Theatre Ballet performs excerpts from Michael's Nutcracker alongside The Bang Group, in excerpts from David Parker's Nut/Cracked.
Michael's, aimed at children and performed by the New York Theatre Ballet, has run for years at Florence Gould Hall with that troupe's superb dancers, costumes, and scenery. And Parker's 2002 favorite, for years on view at New York Live Arts, is a hoot, featuring members of his Bang Group in tap shoes, on bubble wrap, slurping noodles, and celebrating the season with music ranging from Tchaikovsky to Duke Ellington and Fred Waring. (Fri.-Sun., Dec. 18-20 at 6:30pm and 8:30pm, 12 St. Mark's Place, Studio 3R, $30. Reservations at https://artsonsire.ticketleap.com/arts-alive/dates.
As you are no doubt already aware, all the major ballet companies have scrubbed their 2020 Nutcracker seasons, but New York City Ballet has partnered with Marquee TV to bring a recording of last season's George Balanchine's The Nutcracker®  to your home screen. A "ticket" costs $25 and allows you to start the performance at your convenience any time between now and Jan. 3; you'll have 48 hours to finish it after first play. And along with it comes a 30-day free trial of Marquee TV itself. Sounds like a win to me, especially for families cooped up with little kids. Tune in at https://www.marquee.tv/videos/nycb-nutcracker-2020.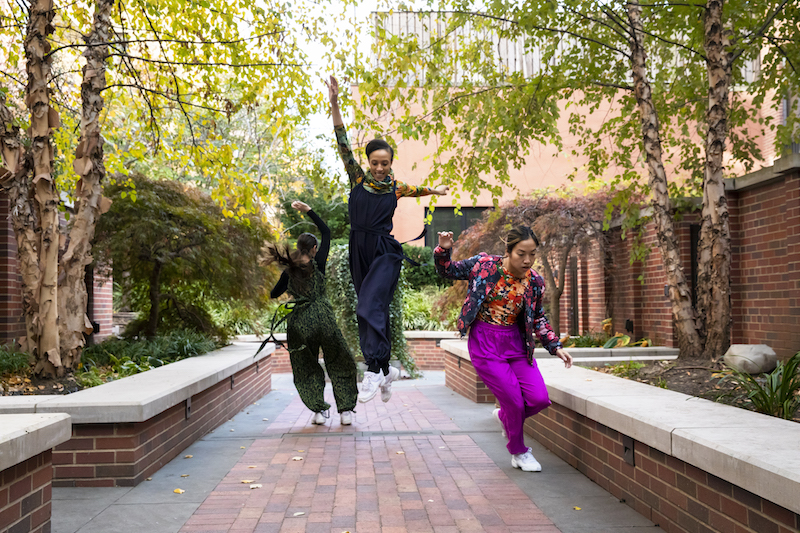 Now, if Christmas frou-frou is not your jam, you can still celebrate in front of the electronic hearth with Pam Tanowitz Dance, streaming from the Joyce Theater a new work and a second piece made up of fragments of her older dances, repurposed for this time and our current situation, in witty costumes by Reid Bartelme and Harriet Jung. Some of the city's best contemporary dancers (Jason Collins, Christine Flores, Zachary Gonder, Victor Lozano, Brittany Engel-Adams, Lindsey Jones, and Melissa Toogood) traverse the Joyce, both its quirky stage and its raked auditorium, empty of audiences but inhabited by stagehands, videographers, and the voice of a stage manager calling cues. Social distance is the name of this game; my favorite image in Gustave Le Gray, No. 2, the new piece, is the quartet of performers hugging themselves, a gesture I highly recommend to anyone who's feeling deprived of hugs from others.
Take the time to explore Finally Unfinished: Part 2, a "digital curio cabinet" designed by Jeremy Jacob that's apparently a collection of many of Tanowitz's favorite things: movies, books, music, animations of her dancers, souvenirs of her earlier work. It's all perfect company for (yet another) quiet evening at home. Join the party at https://www.joyce.org/p268a6o94893a6n3. On Demand through Sat., Dec. 26.
Chelsea Community News is made possible with the help of our awesome advertisers, and the support of our readers. If you like what you see, please consider taking part in our GoFundMe campaign (click here). To make a direct donation, give feedback, or send a Letter to the Editor, email scott@chelseacommunitynews.com.