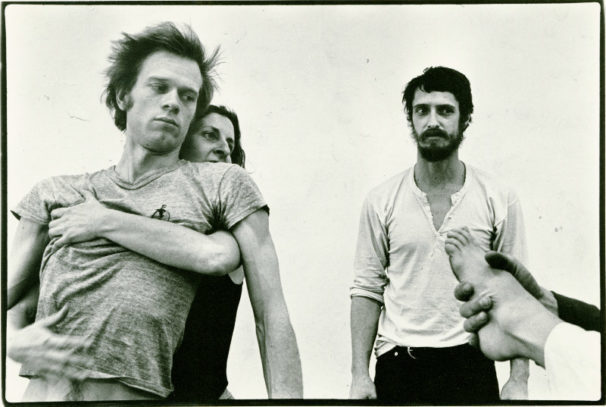 BY ELIZABETH ZIMMER | You are spending altogether too much time staring at screens, perhaps soaking up the extra lumens that these short, often dull December days do not provide. The obvious antidote is old-school: Read books! You don't need to plug them in, they're forgiving if you fall asleep mid-sentence, and you can either save them for posterity or give them to your nearest and dearest, who deserve to time-travel—and to play—as much as you do. Four new publications target the whole range of dance fans, from the tiniest kids to the most sophisticated internationalists.
The Grand Union: Accidental Anarchists of Downtown Dance, 1970-1976, by Wendy Perron, is both dance history and cultural analysis. Perron, herself a dancer, choreographer, teacher, curator, critic, and longtime editor-in-chief of Dance Magazine, descended on New York City from Bennington College just as the artists who made up the Grand Union were hitting their stride, individually and collectively. Yvonne Rainer started the process with her Continuous Project—Altered Daily, which evolved into an ensemble of half a dozen performers who went on to change the course of American dance, among them David Gordon, Steve Paxton, Barbara Dilley, Nancy Lewis, Douglas Dunn, and the late Trisha Brown. Each possessed unique capacities, and all went on to forge significant careers. Perron tracked down video of performances the group offered all across the country, no easy task as they flourished at the dawn of the video revolution. If you are old enough to remember when SoHo was a collection of industrial lofts and a red-light district, you'll take special pleasure in Perron's careful reconstruction of the politics, the people, and the places that made Grand Union possible. Wesleyan University Press, 384 pp. 65 photographs, $27.95. To order, click here. To read Elizabeth Zimmer's endorsement, click here.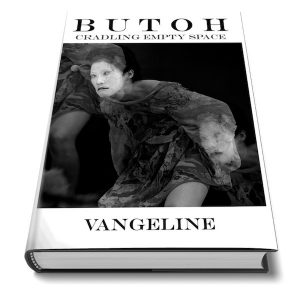 Butoh: Cradling Empty Space, a remarkable new volume by French-American teacher, dancer, and choreographer Vangeline, is the perfect introduction to a dance form that emerged in Japan after World War II, the result of cross-pollination between Western art forms and Japanese artists, and was very much in vogue in the United States in the 1980s and '90s. The author calls it "a handbook for the butoh practitioner, the (art) historian, the dance critic, and the curious reader." It is all these things and more, at once mysterious and clear, scientific and poetic, scholarly and journalistic, psychological and esthetic. Vangeline's a terrific writer and the book is well-edited, a rare accomplishment in the "wild west" of contemporary self-publishing. Butoh, she observes, "cultivates a special relationship between gravity, consciousness, and our experience of time," trafficking as it does in altered states of consciousness. Her book is full of graphs, charts, and wonderful photographs. It grapples with issues of sexism and racism in the Butoh community, comparing it to similar struggles in American ballet troupes. New York Butoh Institute, 244 pp, $35.99. To order, click here.
If you are reading this, you may not be the intended audience for Misty Copeland's new Bunheads, but you may know someone who'll love it. In my case, the happy recipient was the four-year-old daughter of my Caucasian nephew and his Pakistani-American wife. Copeland, the first Black principal dancer at American Ballet Theatre, has taken the libretto from the 19th century comic ballet Coppélia, and used it as a template to introduce an entire population of skinny, sepia-toned student dancers. (The only blond in the wonderful illustrations by Ghanaian artist Setor Fiadzigbey is, as it happens, also the only boy, a frequent occurrence in ballet schools all over.) The story is simple: On her first day in ballet class, a young brown girl named Misty falls in love with the medium and demonstrates her innate gifts; on her second day she lands the leading role. Penguin Young Readers Group, 32pp., $17.99. To order, click here.
And finally, a shout-out to MODERN WOMEN: 21st Century DANCE, a brand-new coloring book for dance fans of all ages. Photographer Julie Lemberger took more than 60 favorite shots from a 20-year archive of dance photographs, and, as a "pandemic project," transformed them into gorgeous illustrations of multicultural, multi-generational dance artists suitable for coloring with pencils, crayons, even markers. Full disclosure: she invited me to write the Foreword, and I fell in love with the entire enterprise. Get your colored pencils and markers ready! Self-published, 88pp., $20. To order, click here.
Chelsea Community News is made possible with the help of our awesome advertisers, and the support of our readers. If you like what you see, please consider taking part in our GoFundMe campaign (click here). To make a direct donation, give feedback, or send a Letter to the Editor, email scott@chelseacommunitynews.com.