Well-Rounded: '23 Days of Flatiron Cheer' Square Deals will Extend to End of Year | From social distancing to Zoom microphone mishaps to canned goods you'll never use, the list of things we won't miss about 2020 is long–so it's good to know that some of the best features about the first few weeks of December are sticking around through the end of this tumultuous year, if not beyond. Wrapping up its official calendar of events this Wednesday, many of the retail and culinary delights that formed the backbone of the ninth annual 23 Days of Flatiron Cheer will continue on, they assure us. The extensive restaurant and bar-based programming was "designed to accommodate potential changes to coronavirus restrictions," said Megan Garcia, Director of Marketing & Outreach for Flatiron 23rd Street Partnership, the area BID and the brains behind the bargains meant to bolster area businesses.
"The current closure of indoor dining does not affect the program," assured Garcia, which features "deals that include outdoor dining, takeout, delivery, and gift card purchases, both in person and online." For more information, visit flatirondistrict.nyc. Still in down-to-the-wire mode for gift-giving? Click here to visit the Partnership's Holiday District Deals page. Do your shopping on site, and stop by the Flatiron Public Plazas on Broadway, Fifth Ave., and 23rd St. There, though Jan. 1, 2021, you'll be well-positioned to document your moment in time at Point of Action, an interactive art installation that encourages participants to contemplate "how we connect to the people we see every day so that we can move forward together," said Nina Cooke John, Founder and Principal of Point design firm Studio Cooke John.
Six-foot circles affixed onto the Flatiron Public Plazas create nine "spotlights," each with its own vertical metal frame. Ropes weave through each frame and part, like a curtain figuratively pulled aside, to make room for the viewer to take the spotlight, connect with other viewers across the Plazas, and take action as they move out and beyond. Lighting emitted from a halo above each circle strengthens the framing; lights embedded into the sides of each frame add another layer to the viewer. Pro tip: Plan your visit for the short time it takes to go from daylight to dusk to darkness, and experience Point of Action in all of its cerebral, cinematic, instagrammable glory. For more information on the Flatiron 23rd Street Partnership, click here to visit their website.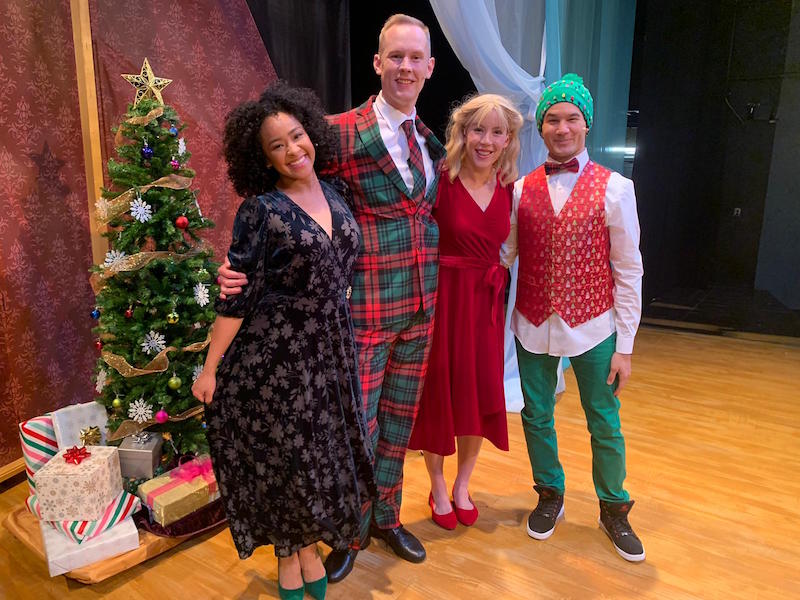 Streaming through Jan. 10, 2021: My First Nutcracker | Billed as a breezy introduction to the classic story children will be encountering every holiday season for the rest of their lives, My First Nutcracker puts itself in contention for Family Night viewing of choice on mere concept alone—but its affiliation with New York City Children's Theater (NYCCT) seals the deal. Filmed live at Theater Row, the interactive, visually appealing family musical debuted last year to critical acclaim from theater's most brutally honest critics—the audience members, ages 3-8, it was created for. Mary Angela Granberry makes her My First debut alongside original cast members Corry J. Ethridge, John Pickup, and Claudia Lynn Rightmire. Through Jan. 10. Tickets are $25 per family. The show 45-minute show arrives with bonus at-home videos and activities for kids. To order, visit the NYCCT website by clicking here.
NEXT WEEK: YOUR CHANCE TO INTERACT WITH THE NYPD, VIRTUALLY
VIA THE ANYTHING-GOES Q&A SECTION
OF THE 1OTH PRECINCT COMMUNITY COUNCIL MEETING
GONE BUT NOT FORGOTTEN: EVENTS THAT HAVE AGED OUT OF OUR CALENDAR
NOW ARCHIVED ON THE WEB
AVAILBALE ON DEMAND
BY FOLLOWING THE BELOW "CLICK HERE" PROMPTS
Sun, Dec. 13, 6pm: Chelsea Community Church's 46th Annual Candlelight Carol Service / To view the service, click here and go to the "videos" section. For more info, see the below flyer.
Thurs., Dec. 17, 6-8pm Online Public Virtual Forum: Chelsea NYCHA Working Group Proposal for Renovation and Preservation of Elliott-Chelsea and Fulton Developments | After the notion of a public/private partnership was first floated as a way to pay for repairs and ongoing maintenance at New York City Housing Authority (NYCHA) properties, Working Groups were held to address the needs and concerns of Chelsea's NYCHA tenants. This Virtual Forum brings you up to speed on what came out of those meetings. NOTE: With a runtime of just over 90 minutes, the unedited lifestream recording of this Zoom-based Forum is available to view via CNB4's YouTube channel. To access that recording, click here.
–Compiled by Scott Stiffler
Chelsea Community News is made possible with the help of our awesome advertisers, and the support of our readers. If you like what you see, please consider taking part in our GoFundMe campaign (click here).To make a direct donation, give feedback, or send a Letter to the Editor, email scott@chelseacommunitynews.com.