BY PUMA PERL | The first time I saw Joey Paulina, he was clad in a tight royal blue dress and stilettos, executing perfect backflips down the center aisle of the Bowery Poetry Club. Once onstage, he hit more octaves than I could count and managed to be both operatic and hilarious. Whether at his West Village hair salon or on the Lucky Cheng's drag cabaret stage, the scope of his interests and the range of his talent continues to expand.
Born Joseph Pauline, he is also known as Joey P. Ryan, following his marriage to Jamie Ryan, and as Paulina, The Princess of Power. Recently, a salon client, rock musician Ricky Byrd, nicknamed him "Joey Hair," lending a nice New York City gangster touch.
Raised in Philadelphia by a single mom, Joey grew up surrounded by women, including a grandmother, great aunts, his mother's sister, and his own sister.
"I thought I was a woman," he recalled, while applying my color at his Eighth Avenue hair salon, The Hair Whisperer. "It was rough. I was pretty, effeminate, with soft features, and queer as a picnic basket. By the time I was 10, I would go to the women's section, pick out sneakers and put them in the men's section so my mother would buy them. I liked the sound that women's sneakers made."
Asked how long he's been performing, Joey replied, "Since I got here. Right out of the womb." He recounts tap dancing and singing for his grandmother in the kitchen, starting gymnastics at age six, his acceptance into the Philadelphia Boys Choir & Chorale in second grade and, as a member of their First Choir, traveling the world as ambassadors of goodwill for UNICEF. It was 1979, the International Year of the Child, and they gave a command performance for Egyptian president Anwar Sadat, who commented to him, "Such a big smile for such a little boy." His adventures included standing next to Bob Hope at the Great Wall of China in 1979. At age 13, in 1982, his voice changed, ending his choral career. He went on to compete in gymnastics on the state level.
Joey paints a picture of attaining security in his identity, despite having no gay friends or mentors. While his family did not reject him, neither were they equipped to understand him. "When you're queer, you become fair game," he noted. Critical to his survival were excelling in a variety of activities and learning to build self-esteem based upon his accomplishments. These included academic excellence, extracurricular activities like the Foreign Language Club, and, significantly, the track team.
"I toughened up quick," he remembered. "Fortunately I was a track team star. Fast and strong and smart are all important and keep you safe, and I was all three of those things."
Following high school graduation and a stint as a language major at a local community college, Joey relocated to Los Angeles in hopes of becoming a dancer. While he did get some work, he discovered he was the wrong physical type for the profession. "Too short and too white," as he succinctly puts it. In February of 1993, at the age of 23, he moved back East, this time to New York City, arriving during an intense snowstorm.
"I remember watching the snow from where I was staying, on Houston and Avenue A. Bette Midler was singing Do You Wanna Dance? and I was thinking about how grown-up I was; I knew I'd finally made it home." That was many snowstorms ago.
As a club kid, he already knew lots of people, including the current owners of Phoenix Rose, the site of his salon, and he began performing right away. He quickly found the East 7th St. apartment where he still lives today.
"My landlord wants me dead," he laughed.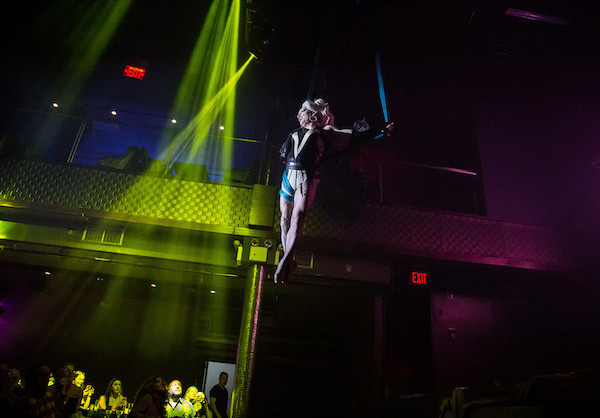 Early in his career, Joey began defining himself as a "gender illusionist," not as a drag queen, although he made his name performing in drag shows.
"I always related to a European flavor," he explained. "I've always been attracted to women even though I'm gay. The points [physically, mentally] are laid out in a different way with men. I'm married to a man. With Jamie, all the points line up, even the incongruent ones. All of the working out I've done has given me more of a man's physique. I even have chest hair now."
The start of his drag career "was fun," he recalled, describing his beginnings as a LIPS girl and eventually moving on to Lucky Cheng's. "Everything was so new," he noted. "By the time I began at Lucky Cheng's, I'd made a name for myself in drag. There weren't a lot of people who looked like me doing what I could do—schtick, comedy, the rap, gymnastics. I was sexy and funny. Usually you weren't both. You had to be sexy or funny."
As time went on, he realized that he needed to apply his skills to a second career. Since he was already well-versed in hair and makeup, he enrolled in beauty school, obtained his license, and worked in a series of high-end studios before joining up with Patricia Field, who he already knew from House of Field back in the Webster Hall days. Five years later, in 2014, Ms. Field closed her Bowery shop. Joey rented space for a year before opening his own shop on the lower level of Phoenix Roze. He's always had a genius for making his own way.
"If you live in New York and know gay people, you know me. I'm like these plants," he declared, pointing to the greenery in the salon. "I seed and sprout wherever I go."
When you become Joey's client, you join his family. Holiday decorations, including spider webs for Halloween, along with wrapped candies and an everchanging backdrop, enliven the space. Last February, he hosted a Fuck Valentine's Day salon, complete with music, poetry, snacks, and, of course, decorations. As musician Ricky Byrd put it, "not only does Joey Hair give me the perfect elder rock boy cut—yeah, it seems like I'm one of the rock elders now)—every time, we gossip straight through the clipping. Not to mention he plays great music."
And, of course, there are the plants, which play a considerable role in the way he has dealt with keeping a positive outlook during the COVID-19 crisis, and the ways he's continued to move forward, handling his business while observing precautions and protocols.
"These plants," he explained, "let me know I'm doing right by what is to be done right by. They live even after they hit the floor. That lily over there fell over seven times and I say, 'Stand up, girl' and there she is. If I were not a good person, if I were not meant to be doing what I'm doing, that would not happen; life would not regenerate in my chair. I've also seen plenty of news stories about COVID recommending that you bring green into your space. I feel like the strong people left in New York will stay like the fucking cockroaches that we are, and that we thrive best with each other, staying in our dark corners."
The recent pandemic, of course, has put a temporary stop to his performing and encouraged reflection on the next steps, which include writing his memoirs and the possibility of a screenplay or show to follow. He's been getting his website (https://thehairwhisperernyc.com) up to speed, and further developing his brand through an ever-widening assortment of merchandise including shirts, totes, masks, and calendars.
As for performing, "If I don't return, I morph into something else. I want to be a different me coming out of this. If I do this [performing] again, I want to do it differently."
After 25 years in the business, including 17 at Lucky Cheng's, he feels "the tentativeness of my life is based on my choices. I've done nothing but art my whole life and managed somehow, mostly because of the women in my life," he noted, as I was getting ready to leave. "I've learned from each and every one of you. I was always fluid and that helps me go with the flow, because that's what we New Yorkers do: We flow on."
Happy to be in Joey's people and plant life circle, I head back out into the chaos of our New York streets and subways. According to Joey, one thing is certain: "I'm doing my thing already. I've already made the good choices in my life."
And I guess that I am pretty certain, too. It's an encouraging feeling, and gives me something more to hold onto as I head up Eighth Avenue to the A train.
The Hair Whisperer / Downstairs at Phoenix Roze
13 Eighth Ave. (at W. 12th St.)
Visit the website for more information
Follow Joey on Instagram: https://www.instagram.com/joey_paulina/ and #thehairwhisperernyc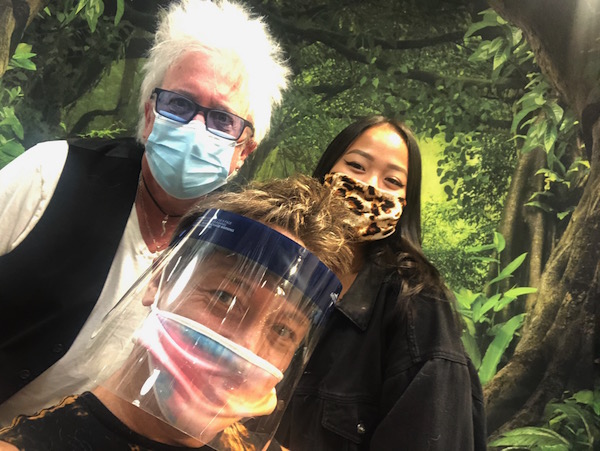 Chelsea Community News is made possible with the help of our awesome advertisers, and the support of our readers. If you like what you see, please consider taking part in our GoFundMe campaign (click here). To make a direct donation, give feedback, or send a Letter to the Editor, email scott@chelseacommunitynews.com.