Thurs., Jan. 7, 9am-4:30pm: Free COVID-19 Testing | See the Below Flyer for Details.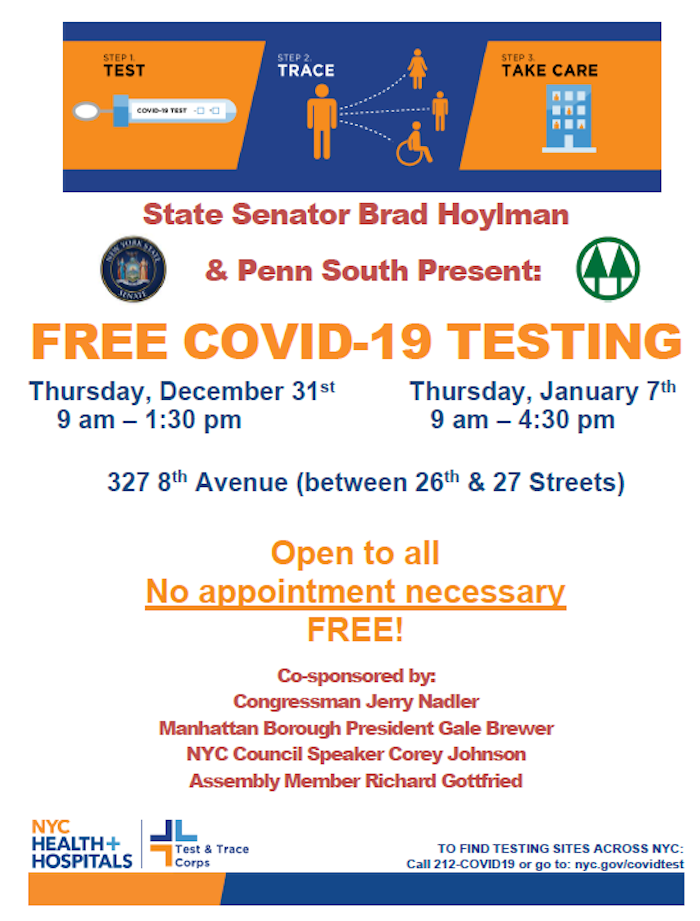 See the Below Flyer for Details on MULCHFEST (through Sat., Jan. 9)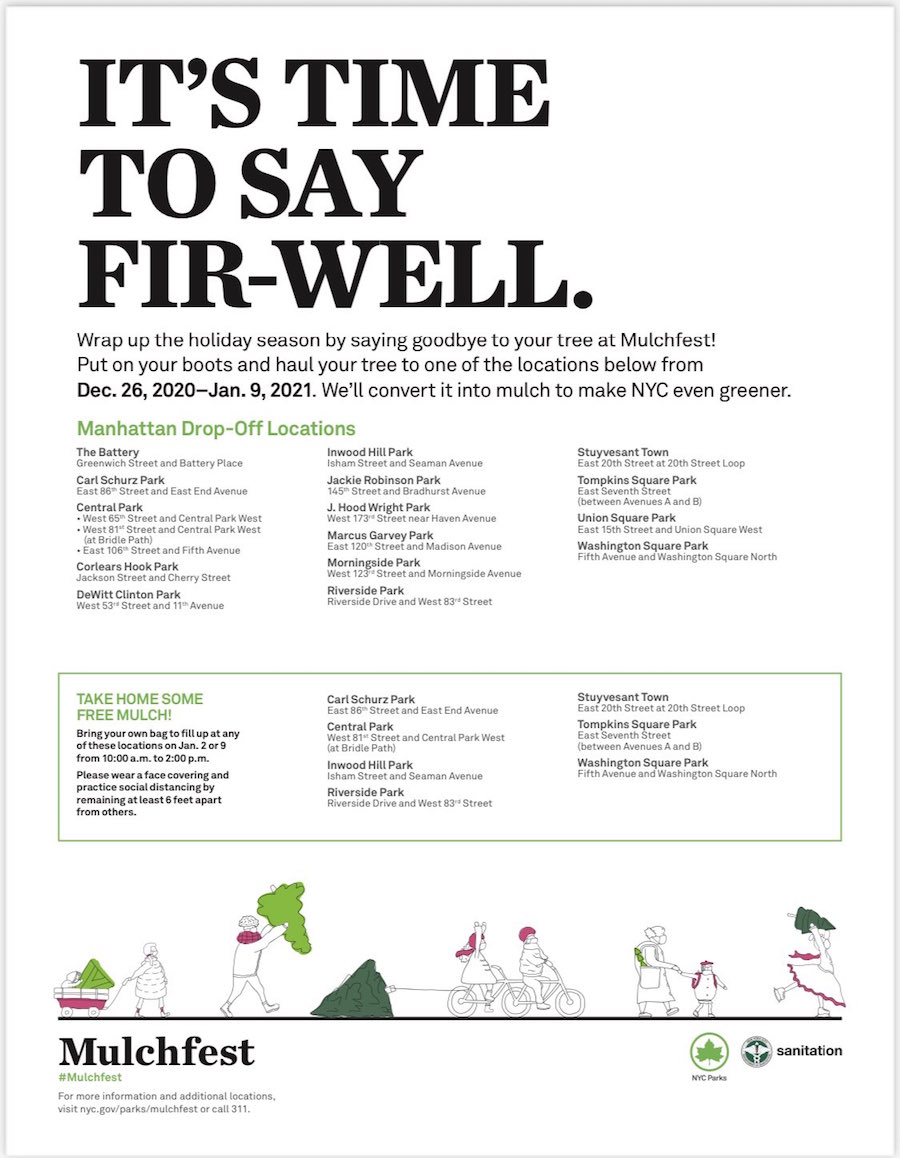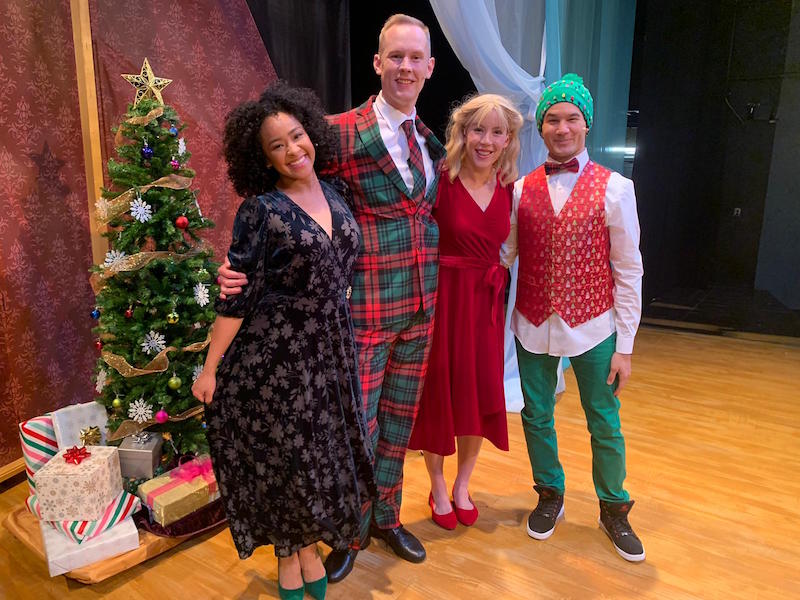 Streaming Through Sun., Jan. 10: My First Nutcracker | Billed as a breezy introduction to the classic story children will be encountering every holiday season for the rest of their lives, My First Nutcracker puts itself in contention for Family Night viewing of choice on mere concept alone—but its affiliation with New York City Children's Theater (NYCCT) seals the deal. Filmed live at Theater Row, the interactive, visually appealing family musical debuted last year to critical acclaim from theater's most brutally honest critics—the audience members, ages 3-8, it was created for. Mary Angela Granberry makes her My First debut alongside original cast members Corry J. Ethridge, John Pickup, and Claudia Lynn Rightmire. Through Jan. 10. Tickets are $25 per family. The show 45-minute show arrives with bonus at-home videos and activities for kids. To order, visit the NYCCT website by clicking here.
BELOW, SEE EVENTS THAT ARE FEATURED THIS WEEK
BUT HAVE, SINCE INITIAL POSTING,
"AGED OUT"
Through Tues., Jan. 5: The West 400 Block Association's Annual "Treecycle" Program at Clement Clarke Moore Park | It's getting to be that time of year again–when the trademark decoratives of another certain time of year have aged out of relevance and, well, otherwise aged not-so-gracefully. In a year where little to no normalcy was the norm, many of our holiday traditions remained intact, including the purchase of trees and wreaths from sidewalk vendors. With the new year here, it's time to clear out even the best of the Christmas clutter. That can be done in one simple trip to Clement Clarke Moore Park (10th Ave. & W. 22nd St.), where the park's beloved pair of seal statues will stand sentry over those trees and wreaths. Upon collection, they'll "help provide mulch for our community green spaces," notes the W. 400 Block Association's event promo flyer (see it, directly below).

Wed., Jan. 6, 6:30pm: Manhattan Community Board 4 (MCB4) Full Board Meeting | New year, same routine–albeit a relatively recent one: Until the pandemic era of 2o2o took hold, MCB4 meetings were brick and mortar affairs, with no digital footprint, let alone a live video recording immediately archived to be viewed at will, via MCB4's YouTube channel. As 2021 begins, MCB4 finds more members of the public accessing their work than ever before, via Zoom. So it goes on Jan. 6, as the full board convenes to vote on matters brought to them by various committees who held their own monthly meetings in the weeks prior. To view the letters scheduled to be voted on, click here and see the complete packet. Before that, however, several presentations are scheduled, including an appearance before the board by Midtown North Precinct Commanding Officer, Deputy Inspector Megan O'Malley (part of MCN4's 2020 commitment to rotate appearances by the top brass from all NYPD precincts placed within their area of coverage). Following DI O'Malley, representatives from the Ryan Health Center will present, on the topic of neighborhood COVID-19 testing. Members of the public are encouraged to voice their concerns, via the Public Session. MCB4 First Vice Chair Jeffrey LeFrancois lets no moss grow on the proceedings, timing each speaker's slot at two minutes, and chiming in with a practiced timbre that warns speakers they have 15 second to wrap things up. You have until 6:45pm on Jan. 6 (the day of the meeting) to register for the Public Session. Click here to do so. But what good is signing up if you can't get to the meeting. In order to do so (you know where this is going by now). click here. To visit the MCB4 website, click here.
–Compiled by Scott Stiffler
Chelsea Community News is made possible with the help of our awesome advertisers, and the support of our readers. If you like what you see, please consider taking part in our GoFundMe campaign (click here).To make a direct donation, give feedback, or send a Letter to the Editor, email scott@chelseacommunitynews.com.